If you think eating fried rice is bad for your weight loss, you may change your opinion after trying this low-calorie mushroom fried rice. Very easy to make, less spicy and ideal for batch cooking as well.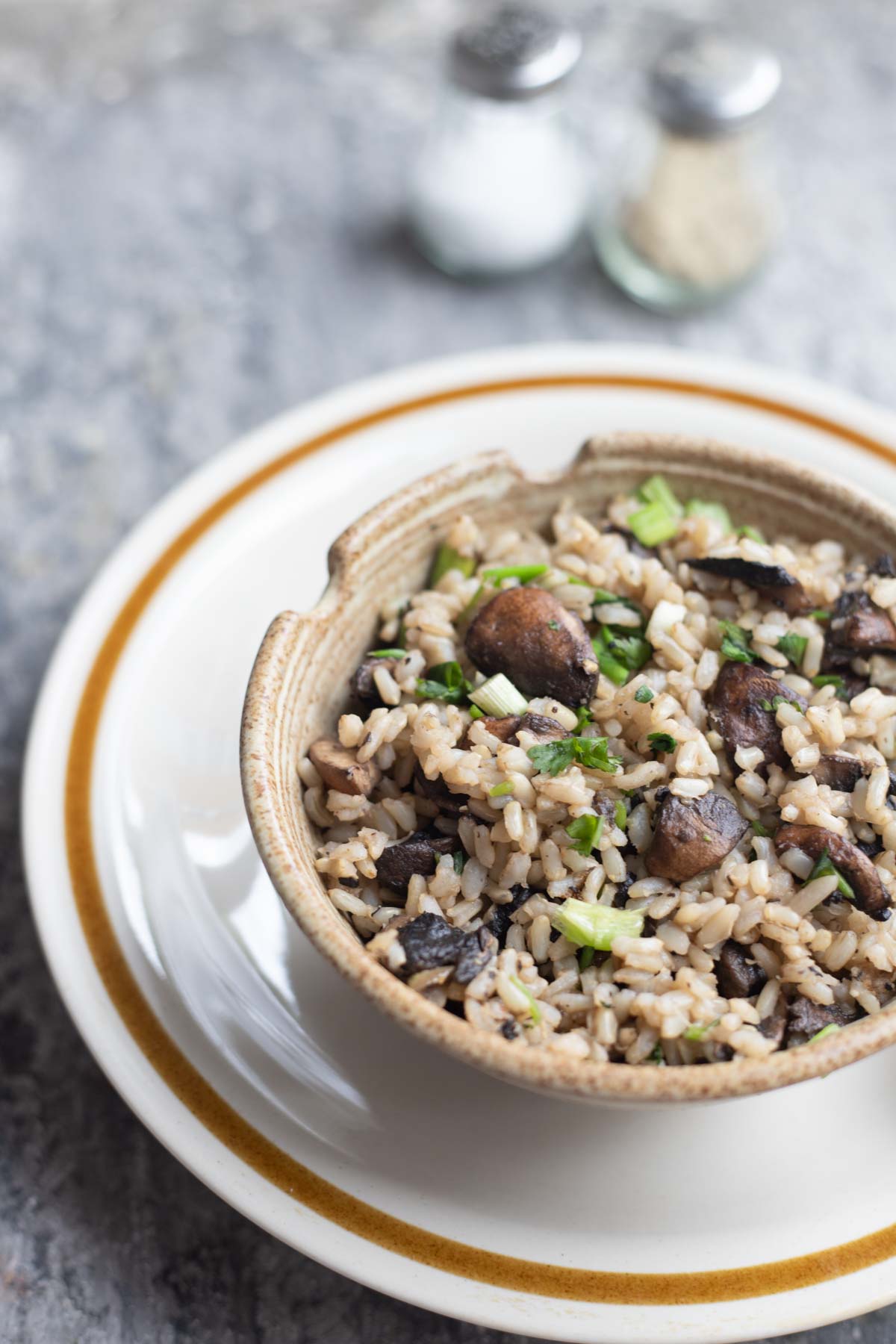 If you are looking for more rice recipes here is my collection for more rice recipes.
Mushroom Fried Rice
Fried rice is a very filling dish that I absolutely loved while I was on my weight loss journey. Mushroom fried rice and egg fried rice are my favourite quick meals as I always keep some rice stocked in the fridge. I would load my fried rice with as many vegetables as possible to bulk it up.
I cannot begin to think how much I hated mushrooms in the past. For a vegetarian like me, mushrooms somehow resembled meat and I always avoided them. But thanks to my weight loss journey, these little gems are my best friends now.
The fried rice you get in restaurants is very oily and I reserve it for very special occasions. or when I have to eat outside. you can make flavourful and tasty mushroom fried rice at home itself.
Mushrooms for Weight Loss
Mushrooms are very low-calorie vegetables and hence great for weight loss. an excellent source of both fibre and protein, mushrooms are particularly useful for plant-based diets. Mushrooms also help to burn fat in the body because their nutrients help to regulate glucose levels in the blood.
They can be cooked very fast be it you want to add them to stir-fries, soups, salads and complement a number of different food dishes. Also since there are several varieties available the possibilities for making different dishes are endless.
Mushrooms are packed with many with vitamins, minerals, and antioxidants, they have lots of water content and adding mushrooms make your meal full without making without taking on more calories than is necessary.
How to cook rice for fried rice
I generally prefer to keep my rice refrigerated for at least a day when I want to make mushroom fried rice, Or better yet, even make them in big batches and freeze it? Rice should not be mushy and the grains should be a little hard and separated.
Type of rice –Any rice works well but I somehow don't like the texture of basmati rice for fried rice as it will be easily broken when stir-fried on a high flame, which gives that smoky texture to fried rice. I like to use any short-grain or medium, even jasmine or sushi rice works fine. Personally, I like to use brown rice as it can withstand the high heat and still stay in shape 😀
I'm not going to go into the debate of brown rice vs white rice for weight loss but I honestly love brown rice as it makes me feel full for longer with its lot of fibre content.
Struggling with how to cook rice? I usually make it in my instant pot , for white rice, I use 1:1.5 ratio of rice to water and 1:2 for brown rice. I honestly don't attempt to cook brown rice on stove top as it can take very long and wastes lots of power. If you don't have an option, better to soak rice for at least 2 to 3 hours to reduce the cooking time
Spread the rice into a wide plate and let it cool down completely before freezing or attempting to use it for fried rice.
What goes into mushroom fried rice?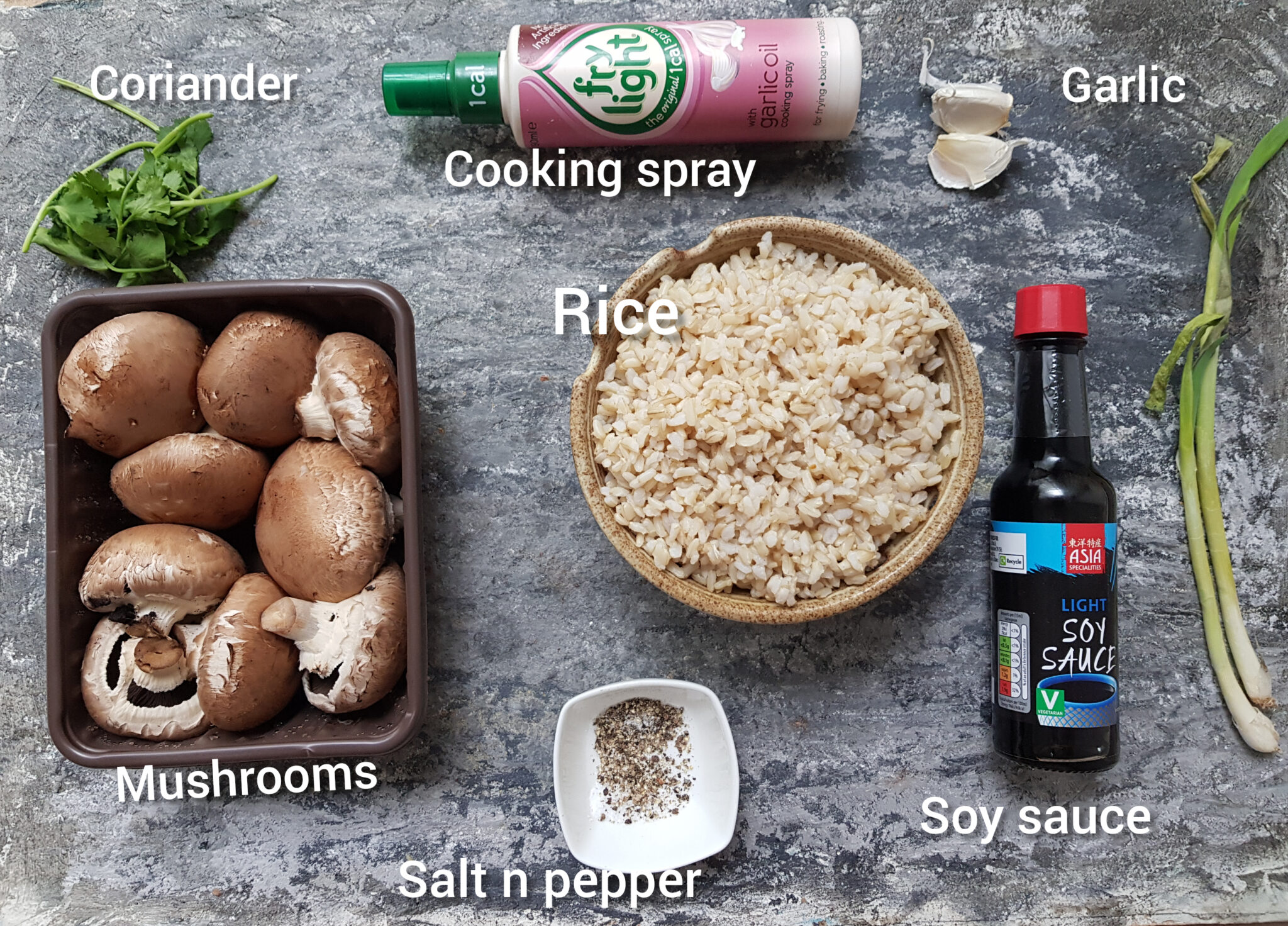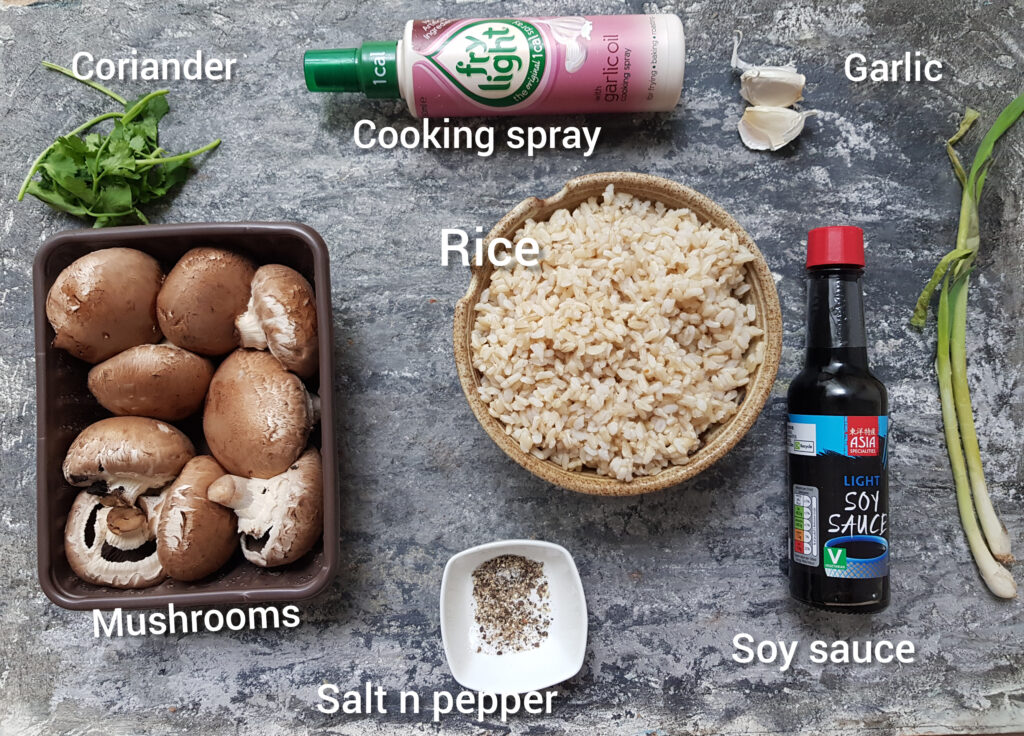 Now that we talked about the star ingredient, rice above, let's discuss about other types.
Mushrooms: Use any type as long as you can chop them into medium sizes pieces. White, chestnut, Portobello any type works well.
Garlic simple, don't attempt to make fried rice if you don't have this.
Soy Sauce : I used a light version with less sodium.
Coriander: It would be great if you can use celery or parsley but I don't have both and settles for coriander, you can skip it if you don't like it.
Spring onions : a must for any fried rice and adds unique flavor.
Pepper : Both crushed black pepper and powdered white work fine but I love the texture that freshly ground pepper corns add to the fried rice.
Oil : you don't honestly need tons of oil to make fried rice, I use a cooking spray and it absolutely is sufficient to make the dish flavorful.
How to Make Mushroom Fried Rice
Time needed: 30 minutes.
Instructions for mushroom fried rice
browning garlic

Heat a wide-bottomed pan and spray cooking oil. Add finely chopped garlic and saute until brown.

Cooking mushrooms

Once the garlic is browned, add chopped mushrooms and cook until the liquid is evaporated. you can do this over medium heat making sure the mushrooms are lightly browned.

Adding herbs

Once the liquid is evaporated, add fresh herbs like coriander or parsley and mix well, the more you add the more flavorful rice will be. You could also use chopped green onions if you don't have both.

Adding spices and sauce

Make a well in the mushrooms, add crushed pepper, salt and soy sauce by keeping the flame high, mix quickly ensuring the bottom is not burnt. If required you could spray some cooking oil at this stage.

Adding rice and onions

Add the cooled down rice mixing well and fry on high flame until well combined, Sprinkle chopped spring onions and serve.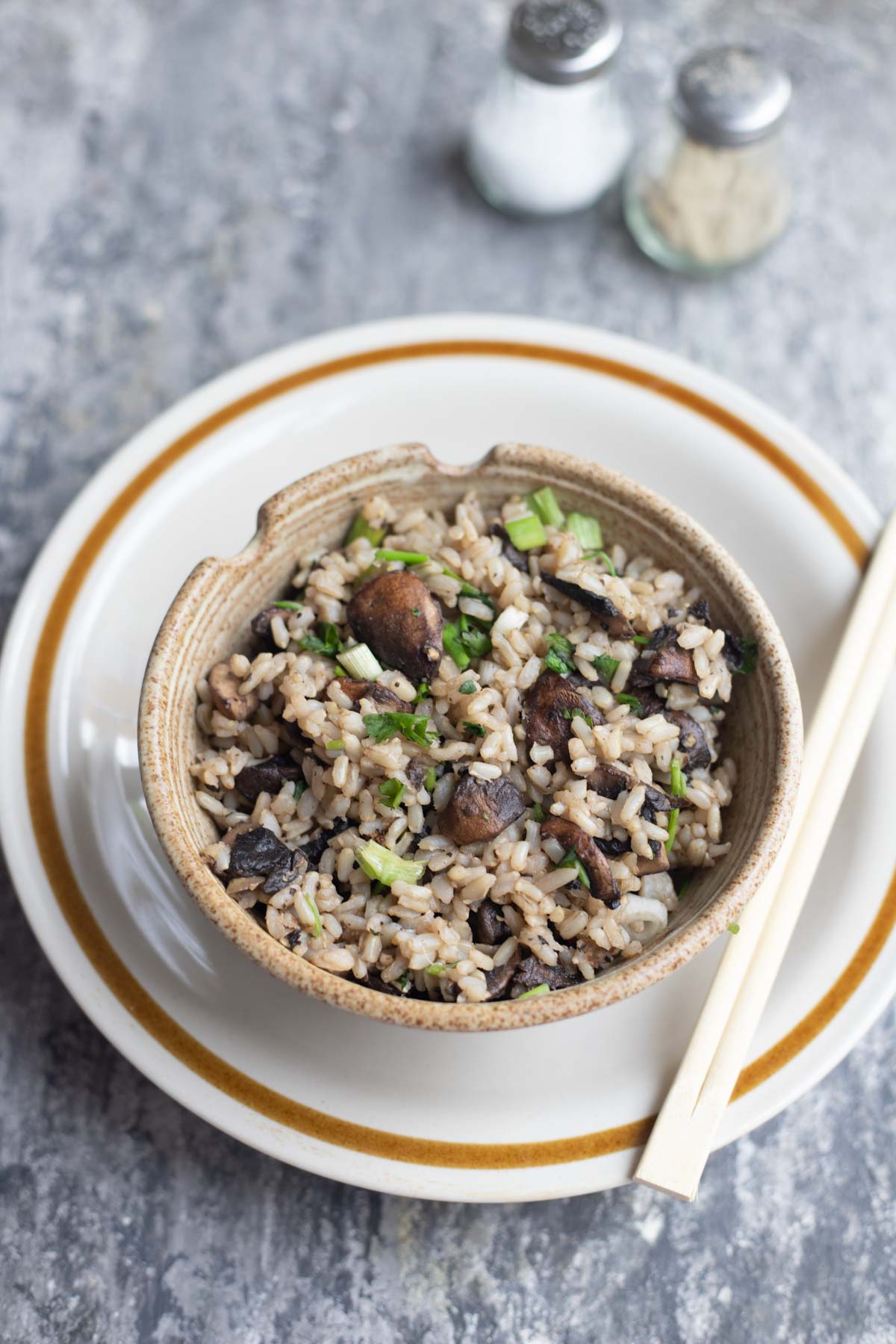 FAQ
Can I skip rice?
You could use cauliflower rice in place of rice, make sure you cook until any liquid is evaporated.

Can I use leftover rice?
It's the best for fried rice, a day old rice works perfectly.
Can I add white pepper powder?
Yes you can, but freshly crushed pepper adds lot more depth to dishes and I simply love it.
Can I add more vegetables to this mushroom fried rice?
You could use finely chopped carrots, beans, broccoli to make it more flavorful and nutritious.
How To Store Fried Rice
although the fried rice freezes well, I would recommend to freeze plain rice and make this fried rice fresh when you are ready.
This can be stored in fridge for 3-5 days well but the more you refrigerate the more hard rice grains may become.
Microwave just when you are ready to eat or better even if you can re-heat using a wok on stove top.
How to serve
Mushroom fried rice can be served as it is , but if you are eating fried rice for weight loss, reduce the portion of rice and serve along with stir fried tofu and vegetables.
I often make mushroom fried rice for my lunch box and weekend outing as it is very easy to carry and eat with a spoon. sorry, I have no idea how to even hold a chopstick 😉
More Rice Recipes
Print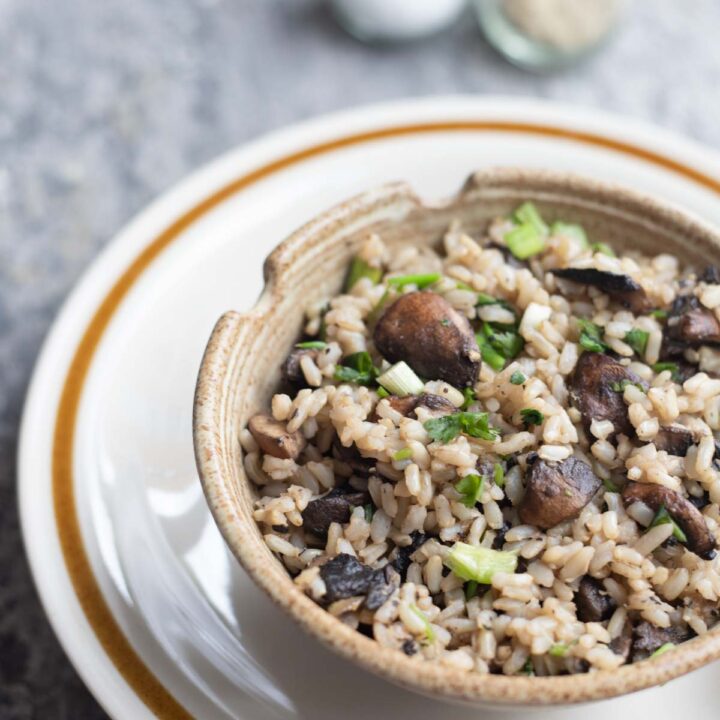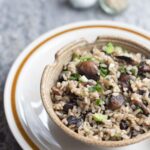 Mushroom Fried Rice
---
Author:

Siri

Prep Time:

10

Cook Time:

20

Total Time:

30 minutes

Yield:

2

1

x

Diet:

Vegan
Description
A flavourful easy and low-calorie mushroom fried rice recipe that is great for weight loss and calorie counting diets.
---
2 cup

  cooked brown rice

250g

Mushrooms  roughly chopped

2

spring onions finely chopped

2

springs of coriander finely chopped

2

cloves garlic finely chopped

1 tsp

  pepper crushed

½ tsp

sea salt

1.5 tbsp

light soy sauce
Cooking Oil spray
---
Instructions
Heat a heavy-bottomed wok and spray cooking oil. Add the chopped garlic and saute until brown.
Add chopped mushrooms and stir fry on medium to high flame until all the water is evaporated and mushrooms are lightly browned.
Add in freshly chopped coriander or parsley or green onions and mix well.
Make a well in the mushrooms, add crushed pepper, salt, soy sauce and mix well on high flame for 30 seconds.
Add the cooled down rice, chopped spring onions and stir fry on high flame until well combined. Serve hot.
Notes
The rice needs to be absolutely cool and grainy, else the fried rice becomes mushy.
parsley and green onions work well than coriander. 
Add more oil if required just before adding the soy sauce. 
Soy sauce contains salt already, so make sure you add salt accordingly.
Category:

Mains,Lunch

Method:

Stove Top

Cuisine:

Asian,Chinese
If you are looking to lose weight, be sure to check out my articles for motivation and also down a free e-book for my weight loss snack ideas.