Healthy Instant Pot Rajma Masala ideal for weight loss and calorie counting diets. Low-fat, healthy, gluten-free and suitable for vegans. Served with basmati rice or Indian flatbreads, this Indian Rajma Masala is sure a crowd-pleaser.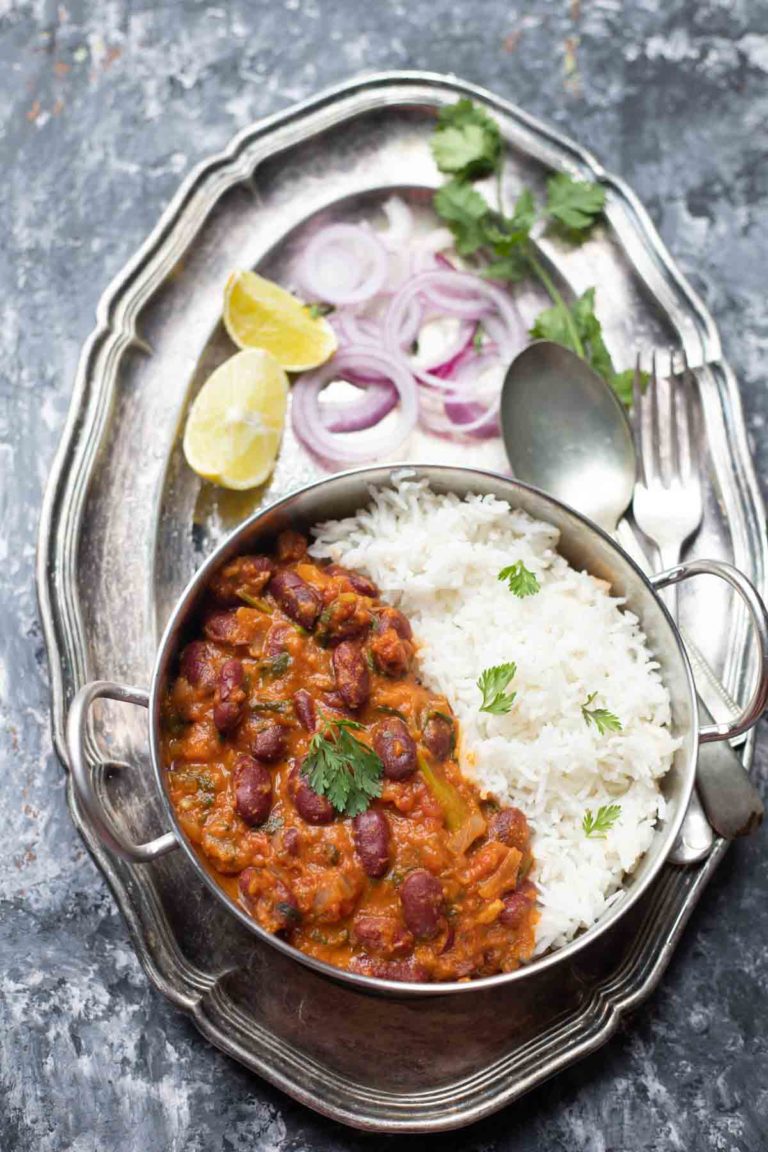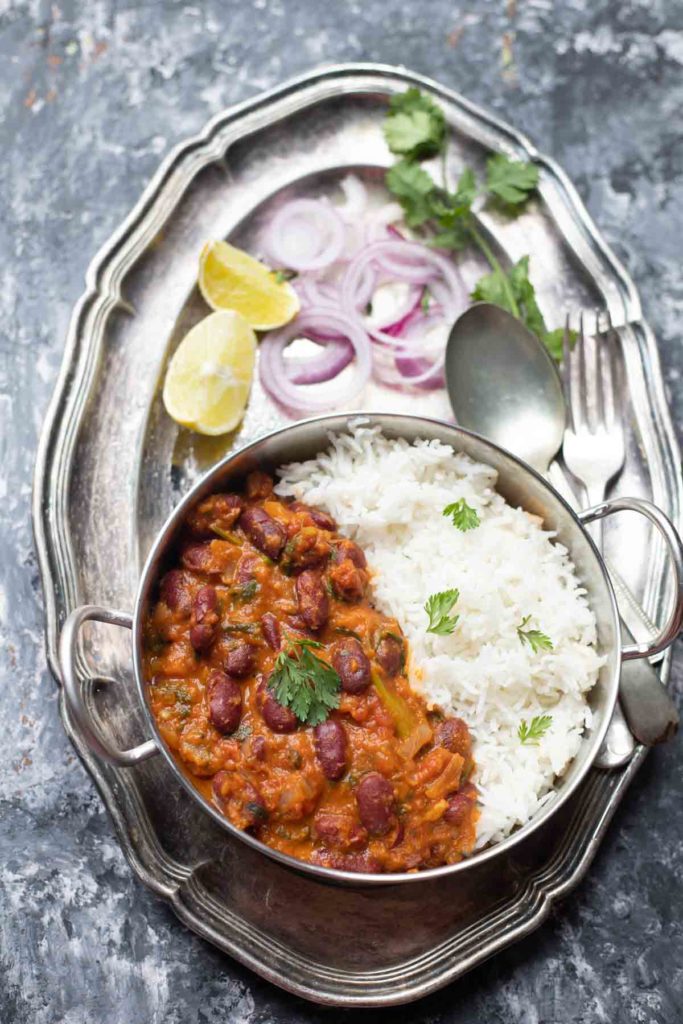 Rajma masala aka Red Kidney Beans Curry is one of the most popular curries from Northern parts of India. This is usually not seen in the Indian restaurants and takeaway menus in Britain but if you go to authentic Indian restaurants, this rajma masala is a sure thing available on the vegetarian curry list. Growing up in a South Indian household, we were not used to these luxurious North Indian varieties unless we go to occasional vacations. But once I was out for a job and started living with friends I have learnt to explore and try cooking dishes from all cuisines, one such is this tasty Rajma Masala.
So What is Rajma ?
Rajma Masala is a vegetarian Indian curry made with red kidney beans simmered in onion tomato gravy cooked along with mild spices. The traditional rajma masala is usually rich in ghee/butter and loaded with fresh cream that is high in fat. So I started making instant pot rajma masala with less fat substitutes suitable for my weight loss goals and to maintain a healthy lifestyle in general.
Being a vegetarian from childhood, I am always on the lookout for different sources of plant protein, so this healthy Instant Pot Rajma Masala is a natural fit in my weight loss diet too.
The red kidney beans are soaked overnight to get the perfect texture.
Ingredients and substitutes
Which type of kidney beans to use
There are several varieties of kidney beans available in the market, you will get dark red kidney beans, light coloured ones and also in short and long shapes. instant pot rajma masala can be made using short or normal red kidney beans and tastes equally good. I have made with both short and regular kidney beans.
Using canned beans is also another option and reduces cooking time and comes handy when you forget to soak dry beans. You can cook dry beans in instant pot without soaking however I prefer to soak them for sure.
Onions – You can use finely chopped red or white onions or paste. I find chopped onions easy to cook.
Tomatoes – again you can use chopped or pureed but if you want a glossy gravy, go with puree. Try to get red and ripen tomatoes if you can, otherwise, canned ones work perfectly.
Ginger garlic paste – Use freshly made if you can but otherwise this is the best I trust. Usually, this is much cheaper in Indian grocery stores than online.
Spices – Obviously homemade freshly ground spice powders are best but store-bought ones are perfectly alright. If you can get hold of Rajma Masala spice powder, you will not need these many spices.
Kasoori Methi – dried fenugreek leaves add a nice taste to any North Indian curries but you can skip if not available.
Oil/Ghee – whatever you use, make sure you don't pour loads! Ghee obviously gives a nice flavour but I made using sesame oil.
Cream – is purely optional and I don't use. If you want to reduce calories, use a few tablespoons of milk in the last stage of simmering.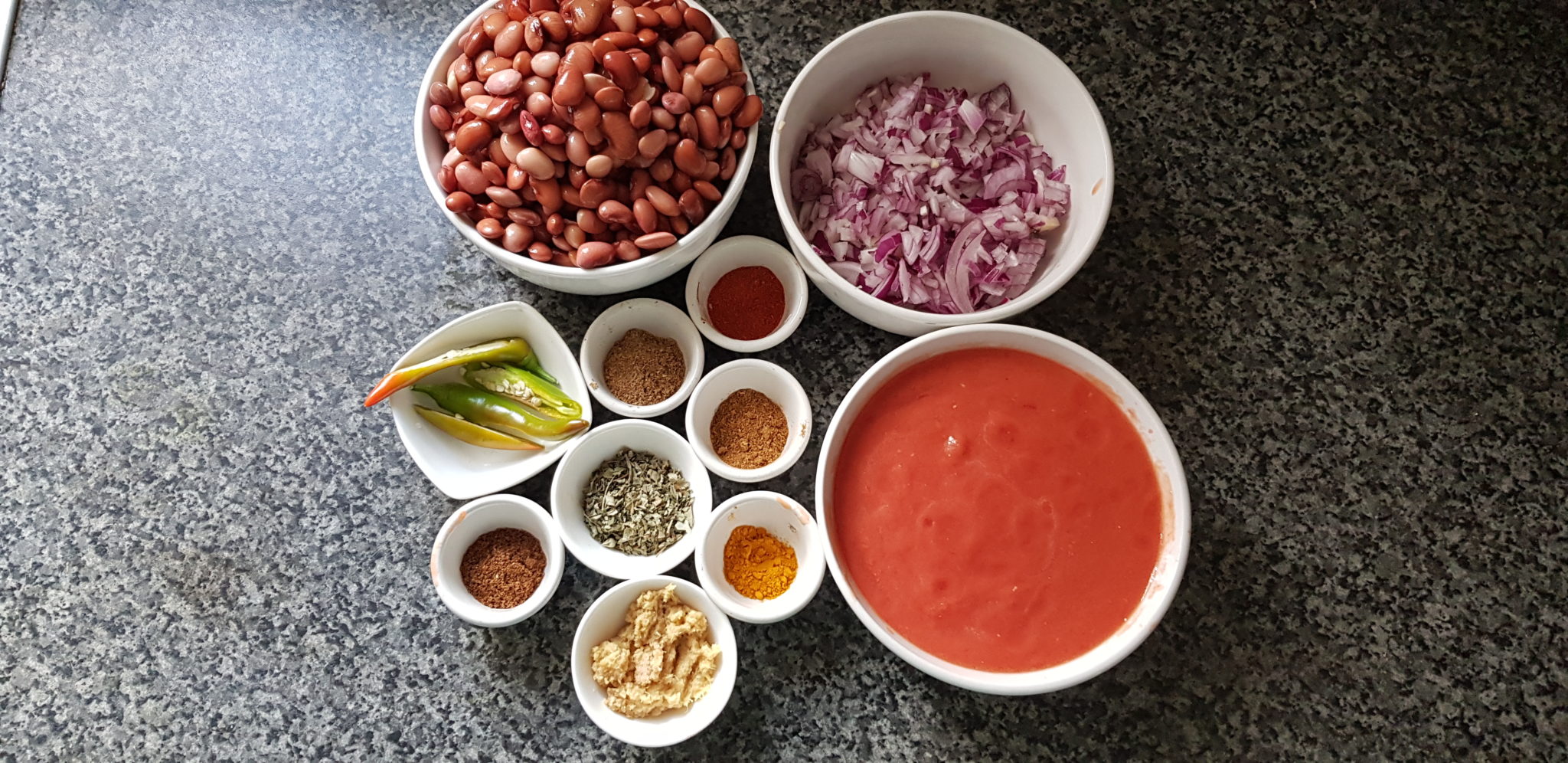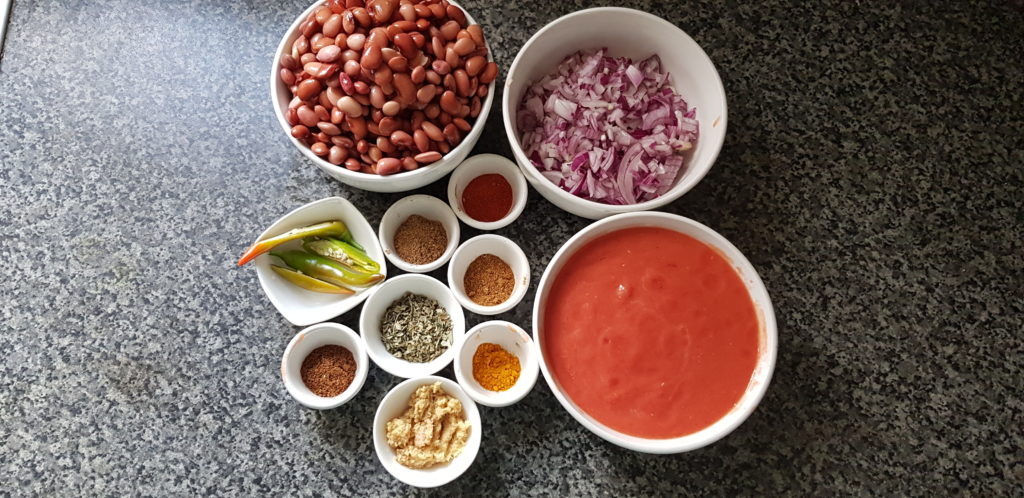 How is Instant Pot Rajma Masala healthy?
The beauty of making foods in any pressure cooker is that you will need less amount of oil.
Also, any dish prepared with beans can be a filling meal and you often don't need a side dish too except a big bowl of salad to increase the filling power of the meal.
Beans are rich in protein content that is good for building muscle which can help reducing fat.
Further, it reduces overall cooking time to a greater extent and you can utilize that time for other chores or exercise.
I guess I have given enough reasons to make this instant pot rajma masala for your next meal ;). go and pick some variety of beans in your next food shopping as we are going to make all the Indian takeaway varieties too like Channa Masala etc.
Should I soak the beans for making Instant Pot Rajma Masala?
Soaking the beans overnight or at least for 5 hours is recommended. soaking makes the cooking process easy and also wont be hard on your stomach. Am not sure if it is more of a psychological feeling but soaking takes no special effort so I go for it anyways. Choose what works best for you.
Also, few studies suggest that soaking beans and legumes aid in better digestion and also reduces Phytic Acid Effects which you want to read more here.
What if I don't have time to soak beans?
My quick tip would soak them in hot boiling water at least for 30-60 minutes before proceeding to cook.
If you can't afford any soaking time, you can still go ahead with raw beans but need to increase the cooking time up to 45 – 55 minutes and also need more water. Beans when soaked already absorb some water so when using raw you will need at least 3-4 cups of water per cup of beans.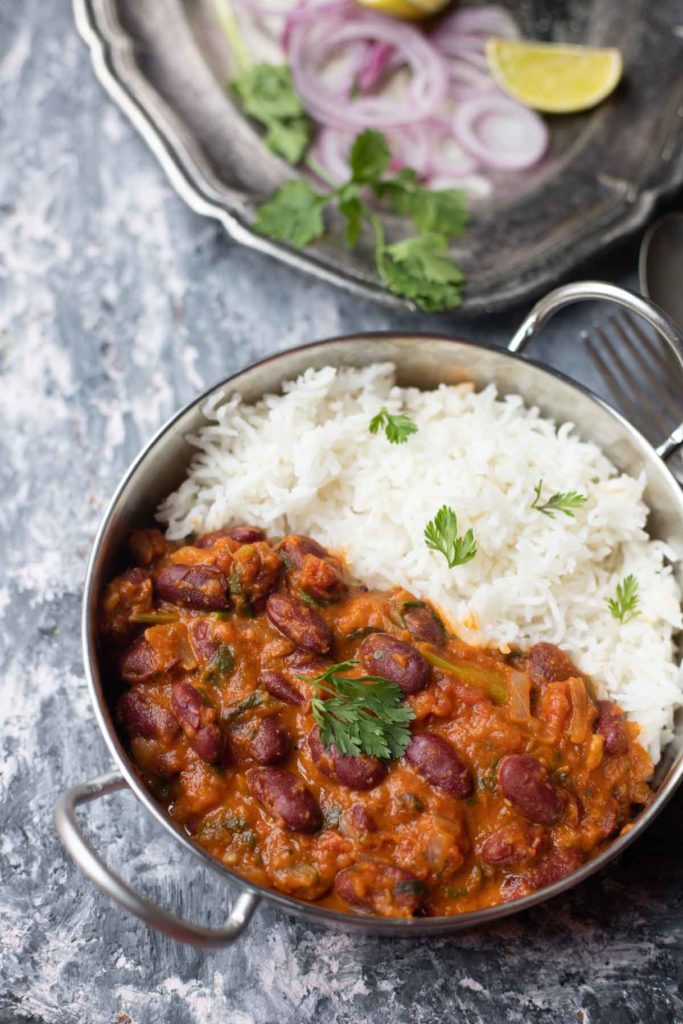 How to serve Rajma Masala?
Rajma Masala is best served with basmati rice and the combination is famously called as Rajma Chawal(rice) and is a popular set meal served in dhabas(roadside eateries) across the Northern parts of India. It is the best winter warmer and comforting hot food.
Rajma masala is also best served with Jeera Pulav or Peas Pulav. Often I serve this with brown rice also. You might also want to check this Instant Pot black bean rice.
This can also be a protein-rich vegetarian side dish for Rotis, chapatis and naans with some crunchy onion and cucumber salad.
What diets Instant Pot Rajma Masala is suitable for?
This is suitable for vegan and gluten free diets if you stick to use oil rather than ghee.
If serving for vegetarians, you can use ghee or butter instead of oil. to make the curry creamy, you can also add a few tablespoons of milk.
Watch how to make Instant Pot Rajma Masala
How to make Rajma Masala in normal Pressure Cooker?
Follow the same procedure and cook the curry for at least 3 whistles. Once pressure is off, simmer for 5 minutes to thicken the curry.
Please remember that normal pressure cooker is not efficient for cooking beans unless you soak them ahead for several hours, so do not attempt to make with raw beans.
I wouldn't recommend making Rajma masala on the stovetop as it is quite time-consuming. You will need to cook the curry in a stovetop for at least 1 hour by following the same recipe. This would involve stirring in between to make sure the curry is not burnt at the bottom.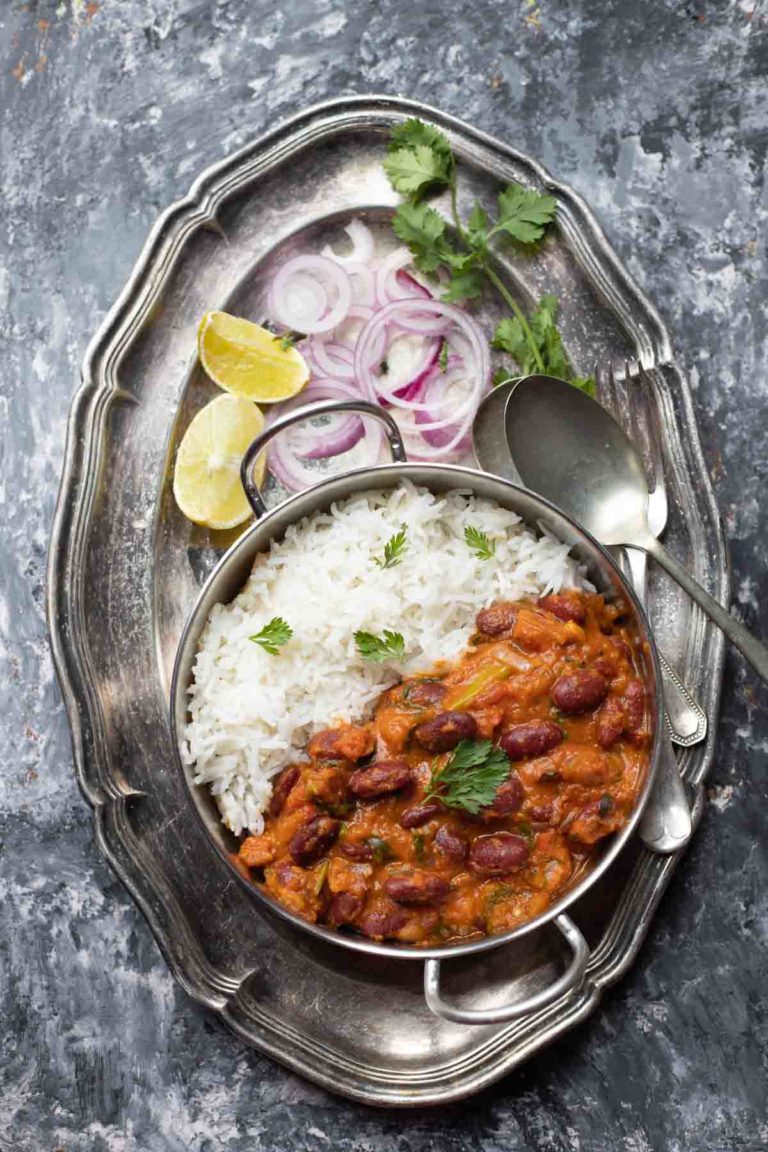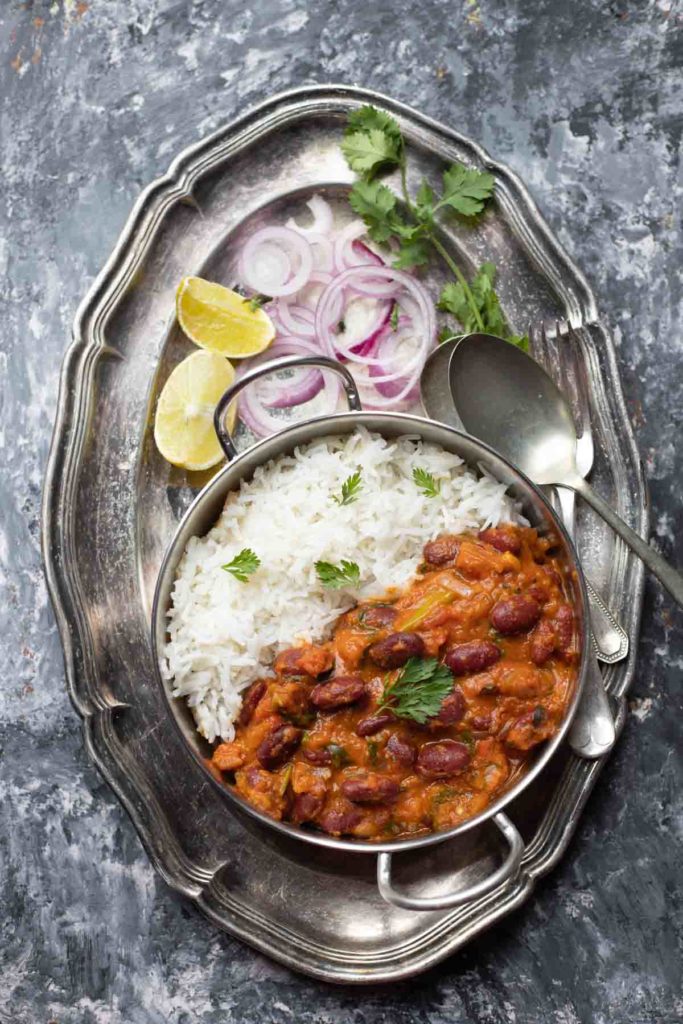 What if my beans are not cooked well?
Beans sometimes don't get cooked properly if they are quite old stock. If for any reason beans are not cooked well after the specified time, simply close the lid again and cook for 10 more minutes and release the pressure naturally. This should set the curry well.
Also depending upon the beans and soaking time you may end up with more liquid in the curry which is not an issue. Simmering in saute mode will fix this issue easily.
Can I cook rice also along with this curry ?
Absolutely yes and that's one reason I love instant pot. Before closing the lid, place trivet and place your washed rice in a bowl along with necessary water and proceed to cook. To help protect the colour and odour of rice, place a lid on the rice bowl. Cooking brown rice is ideal along with rajma as the time matches perfectly for rice and beans. You can cook white rice as well however the texture may be little firm as you are cooking for a long time but nothing problematic there.
Storage and Freezing Instructions
Rajma curry stays in fridge well for good 3 days. Just reheat it in a pan for 10 minutes on low flame. If required add some hot water as the curry thickens in fridge.
This curry is suitable for freezing up to a month. Make sure you pack the curry in a freezer friendly bag or box and label it with date. When ready to use, leave on a counter top overnight and reheat or microwave straight from freezer for at least 5 minutes.
Print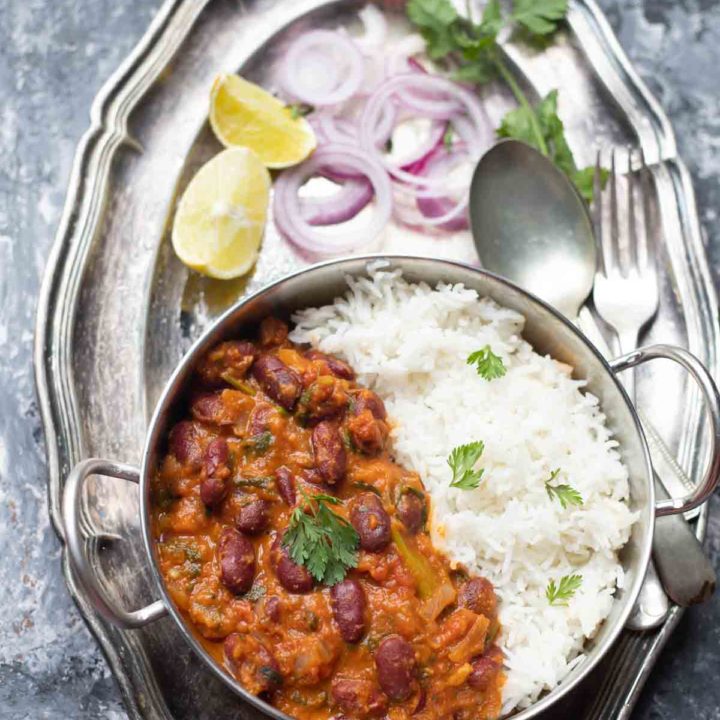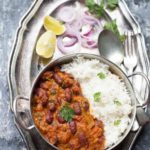 Healthy Instant Pot Rajma Masala(Pressure Cooker+Stove Top)
---
Author:

Siri of Fat Rainbow

Prep Time:

5 hours

Cook Time:

45 minutes

Total Time:

5 hours 45 minutes

Yield:

4

1

x

Diet:

Vegan
Description
A healthy one-pot Indian curry made with red kidney beans simmered in onion tomato gravy seasoned with roasted spice powders. Instant Pot Rajma Masala is a fulfilling vegan and gluten-free dish served best with basmati rice or any Indian flatbread.
---
1 Cup

dry red kidney beans soaked overnight or at least 5 hours

2

Big onions finely chopped

4

big tomatoes pureed or a can of diced tomatoes blended

1 tablespoon

ginger-garlic paste

½ tablespoon

vegetable or sunflower or sesame oil

2.5 cups

of water
Spices
1 tablespoon

coriander powder

½ tablespoon

cumin powder

½ tablespoon

red chilli powder

½ teaspoon

turmeric powder

1 teaspoon

garam masala

1 tablespoon

dried fenugreek leaves or Kasuri methi
Salt to taste
---
Instructions
Rinse the beans well under cold water and soak for at least 5 hours.
Blend 4 or 5 large tomatoes and make a fine puree.
On the Saute mode at 'NORMAL' mode which is equivalent of medium heat Please note that you may need to switch between NORMAL and LOW modes while sauteeing the ingredients as using less oil means more chance of burning. usually, the bottom will be burnt with NORMAL mode esp using less oil.
Once you see ON on the display, add oil which will be heated in few seconds.
Splutter cumin seeds and add in slit green chilli and fry for few seconds.
Add in chopped onions, season with salt and fry until they turn soft. If needed use splashes of water t avoid burning the bottom.
Add ginger-garlic paste and fry until the raw smells go off.
Then add in spice powders like cumin, coriander, red chilli, turmeric and saute well by scraping the bottom. This should take a couple of minutes on low flame.
Then add in tomato puree, adjust salt and cook for 5 minutes to take off the raw smell, you can skip cooking this puree but I prefer to do so.
then add in soaked rajma/red kidney beans and mix well so the flavours are all incorporated well. Pour in 2 to 2.5 cups of water and adjust any salt.
Close the lid, turn the pressure valve to sealing mode and cancel the saute mode.
Press the MANUAL OR PRESSURE COOK mode and set the timer for 35-40 minutes.
Once done, allow the pressure to release normally which should take 15-20 minutes. 
Optionally put the saute mode again at LOW, add in garam masala, kasuri methi and bring the curry to your desired thickness if there is excess water.
Serve hot with basmati rice or roti along with some cucumber and tomato salad or raitha.
Notes
No need to blanch tomatoes in hot water to make a puree, just blend them in a blender. You can also prefer to use finely chopped.
Make sure you toggle between Low to Normal modes while on Sautee mode of the instant pot. As we are not using more oil, we need to make sure the bottom is not burnt at all. If required use splashes of water.
always ensure you scrape the bottom while closing the lid as the instant pot will give you burnt message and stop cooking if the bottom is burnt.
For a more creamy texture, use onion paste instead of chopped onions. 
also, you can use a few tablespoons of milk while simmering at the end if you want a rich texture.
You can use ghee/butter in place of oil but stick to the portions mentioned to protect your weight loss.
Can use canned beans as well and reduce the cooking time to  8 minutes.
If you haven't soaked the beans overnight or for 5 hours, increase the cooking time to 55 minutes at least.
Green chillis can be skipped if you can't handle much heat but since tomatoes are used this curry will not be very spicy.
Serve with basmati rice or jeera pulav or roti with plenty of salad or cucumber raitha.
Category:

Mains

Method:

Pressure Cook

Cuisine:

Indian
Keywords: rajma masala, kidney beans, vegan, gluten-free, instant pot, curry
This post may contain affiliate links which means if you buy the product I will earn a small commission which goes into the maintenance of this website. Your purchase price will not get impacted at all.
If you ever try this recipe, please consider rating it and tag me on Instagram with a hashtag #fatrainbowcooks.