You can make instant pot brown rice and beans tonight! No need for any soaking!.Completely gluten-free and vegan. Play with additional flavours as you like.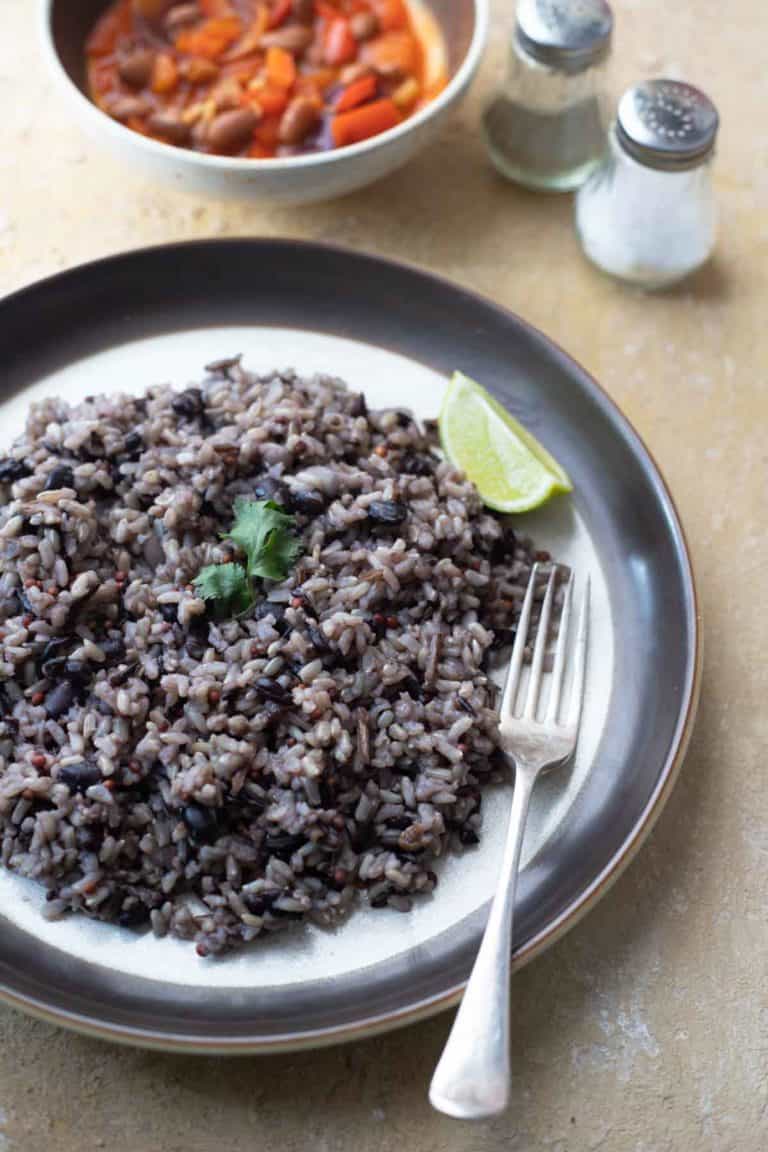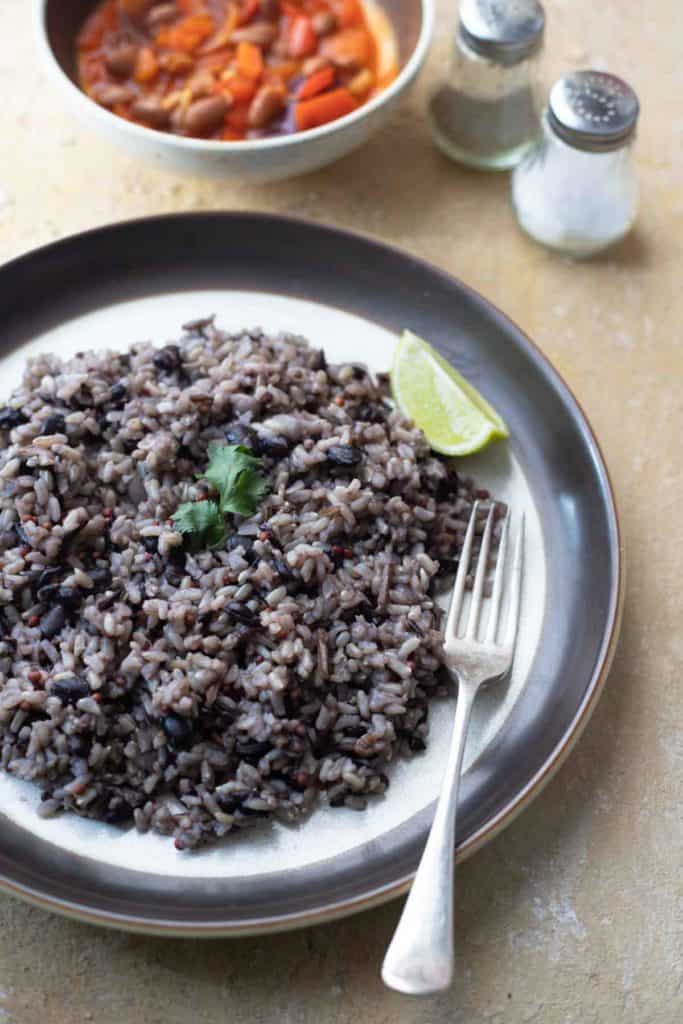 One of the best decisions I made to purchase my instant pot is because I don't have to stop or change the plan for making my meals just coz I have forgotten to soak my beans or lentils. Being a vegetarian, beans are an integral part of my diet and someone who had always struggled with weight, I have to look for all means to make healthy meals without much of oils in them.
This healthy instant pot brown rice and beans can be made under 30 minutes which you can utilize for making other dishes that go with the rice. I deliberately did not add other vegetables as this multi-purpose rice and beans can be used in different meals.
You might want to check Instant Pot Mushroom Risotto.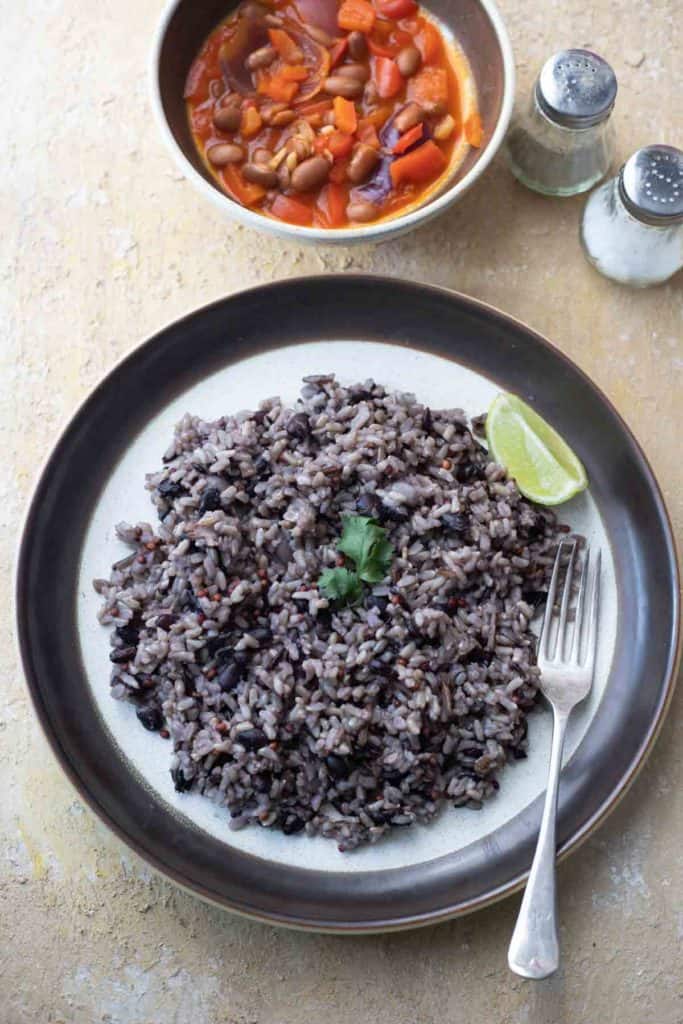 Ingredients and Substitutes
Brown rice – you can use any variety long or short but i have no experience using brown basmati rice yet. The recipe may work well for brown basmati rice too but it may require less liquid if you want to experiment.
Black beans – this is a classic type of beans to use for instant pot rice and black beans.
Quinoa – I added it includes a bit of protein in the rice. You can use white or red quinoa.
Sea salt is optional.
Is soaking necessary to make instant pot rice and beans?
Personally I prefer to soak all my lentils and beans wherever I can but this recipe doesn't call for soaking and instant pot does its job well with dried beans too. So you don't need to soak the beans or rice in advance.
Soaking of beans help to remove the oligosaccharides, which are a type of fiber found in beans that some people have trouble digesting. So apply caution while making this decision.
What about adding other beans like kidney and pinto beans?
I have not personally tried them yet cooking for rice and beans but in my experience, they take a longer time to cook. This guide may help you with the cooking times for other beans.
Can I add flavourings?
Sure, you can customise this instant pot brown rice and beans in the way you want ! Add onions, tomatoes, carrots and spices like cumin, coriander powders, bay leaf etc. Instead of cooking with plain water, use vegetable stock cubes to make it more flavorful.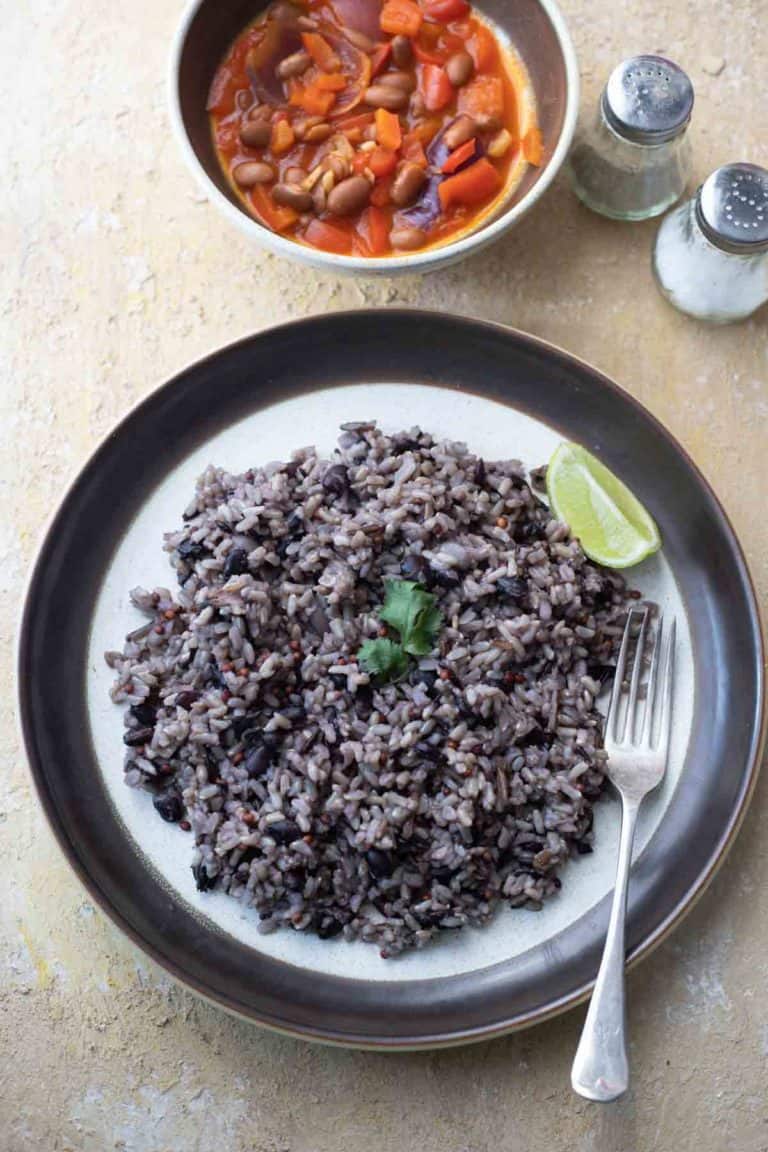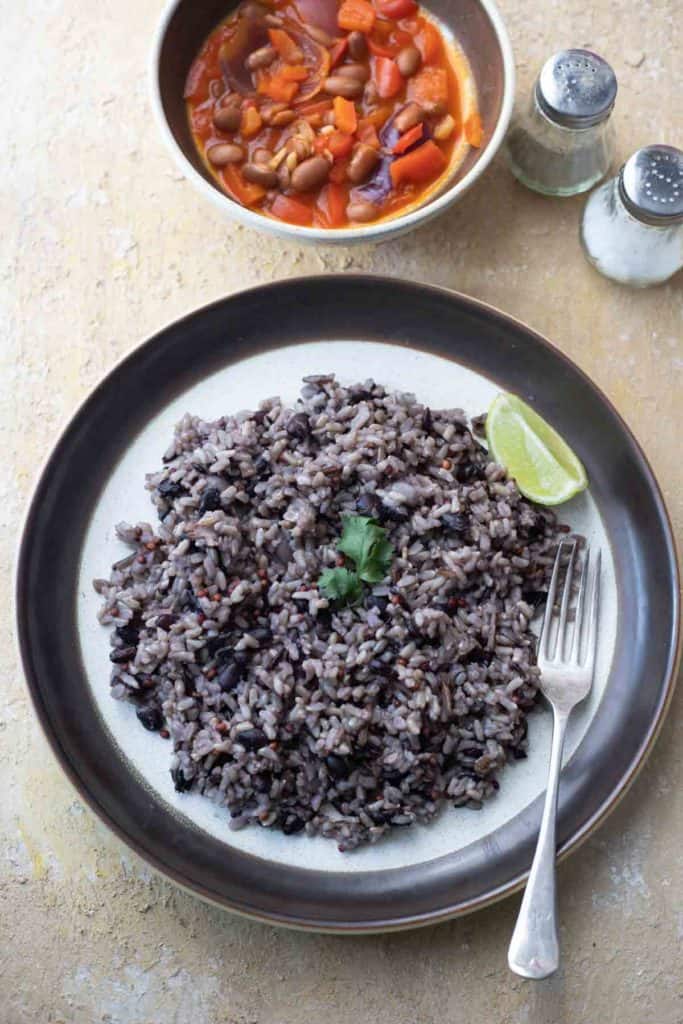 Cooking times
My testing for instant pot brown rice and beans took roughly 21 minutes without having to soak the ingredients, but pressure cooking with instant pot is a bit of trial and error method. The cooking times depend on the kind, quality and age of ingredients.
also the instant pot will take 10 minutes to build up the pressure before cooking for 21 minutes. If you want to speeden the pressure building process, try using boiling water.
If you have soaked the beans overnight, I would still apply the timer for at-least 15 minutes as the brown rice can take more time to get cooked. If you are cooking soaked beans alone, i might cook for only 10 minutes though.
What if my rice and beans turn out crunchy or mushy?
Like I said pressure cooking involves a bit f trial and error. Until you master cooking in the instant pot, be open to trials. If the brown rice and beans come out crunchy, put the lid back and lock the pressure valve. Optionally sprinkle some hot water and do this step if the rice and beans are very hard by any chance. Most of the times, this should fix the issue.
You cannot, of course, fix the consistency correctly for the mushy rice and beans but trying to cook for additional 2 minutes may help. Also using saute mode can help to evaporate the excess liquids at least.
Natural release or Manual Release?
I prefer natural release for obvious reasons but if you are in a hurry give it at least 10 minutes after the food is cooked before releasing it manually. Releasing immediately will leave you with some excess liquids in the rice and beans.
How to serve Instant Pot Brown Rice and Beans?
Serve with any warm curries.
Use in burritos.
Use in any salads that call for rice.
With any big salad or raitha made with yoghurt, cucumber, onion and tomato.
You can use this binding the ingredients in burgers or vegan meatballs too.
Storage and Freezing Instructions
This instant pot brown rice and beans can be kept well in refrigerator for upto 5 days. Store in a close container.
Also rice and beans is perfectly suitable for freezing until one month. Make sure you use freezer friendly covers or container and stick a date note to it.
Microwave it directly before serving war,, do not re-heat.
Eating rice for weight loss
It is perfectly fine to eat rice during your weight loss journey. Wholegrain and complex carbs provides essential nutrients and required energy for body to perform necessary tasks. The fiber in wholegrain keeps you full for longer times and discourage excess eating. I am against avoiding any particular group of foods and ate white rice too during my personal weight loss journey. the only problem comes when you cannot really control portions of eating hot piping white rice which happens to me often being a South Indian 😉
Print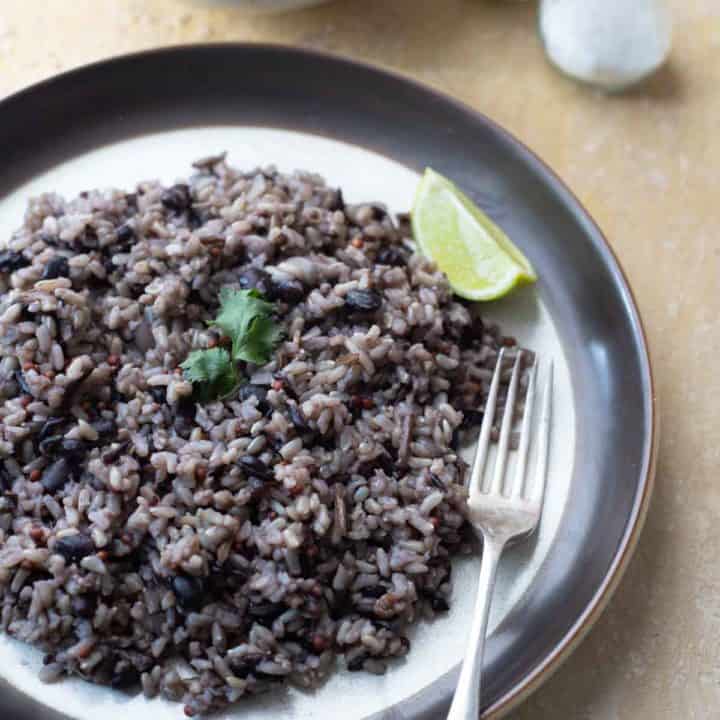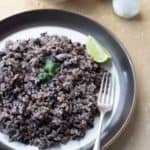 Instant Pot Brown Rice and Beans
---
Author:

Siri of Fat Rainbow

Prep Time:

5

Cook Time:

21

Total Time:

26 minutes

Yield:

3

1

x

Diet:

Vegan
Description
 Instant Pot Rice and Beans is an easy one-pot rice dish that can be used in different meals like salads, burritos and served with any curry.
---
1 Cup

Brown Rice rinsed

1 Cup

black beans

¼ cup

quinoa(optional)

1 teaspoon

sea salt(optional)

4.5 cups

of water or vegetable broth. 
---
Instructions
Place all the ingredients in the inner pot of instant pot and pour water.
Close the lid and make sure the pressure valve is turned to sealing mode.
set the manual (pressure cooker) mode with the timer set to 21 minutes.
Allow the pressure release naturally or wait for at least 10 minutes before you can release the pressure manually. For releasing manually or quick release as we call, turn the pressure valve to venting and remove the lid carefully.
Garnish with coriander optionally and serve warm with any hearty curry or use in salads, fill in burritos etc.
Notes
This recipe is only suitable for brown rice and black beans.
Look for bean cooking times on the internet and adust the timings if you want to use any other kinds of beans.
Optionally, you can flavour the rice with diced onion, tomatoes, coming and coriander powders.
Category:

Mains

Method:

Pressure Cook

Cuisine:

Mexican
Nutrition
Serving Size:

1

Calories:

318

Fat:

2.7g

Carbohydrates:

64g

Fiber:

5.9g

Protein:

9.2g
Keywords: rice, beans, instant pot, black beans, brown rice
This post may contain affiliate links which means if you buy the product I will earn a small commission which goes into the maintenance of this website. Your purchase price will not get impacted at all.
If you ever try this recipe, please consider rating it and tag me on Instagram with a hashtag #fatrainbowcooks.