One pot vegetarian protein pulao made with easy kitchen stapes ideal for a week day quick meal. Perfect for family dinners and can be made in less than 30 minutes, vegan and high protein meal! Each serving has approx 19g of protein!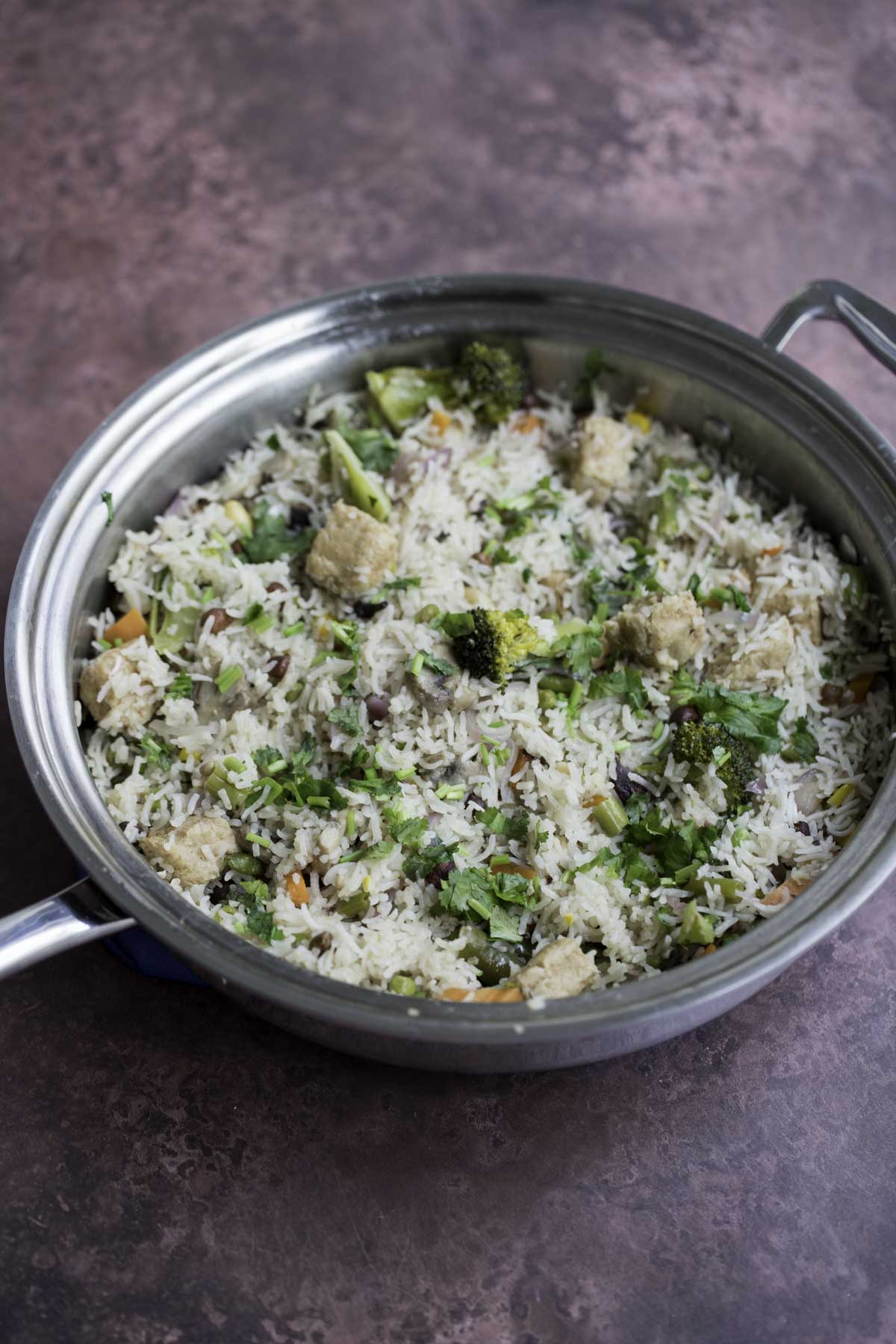 As a vegetarian i always struggle to hit my protein goals , don't get me wrong, yes there are plenty of vegetarian sources for protein but it is always a challenge to get a decent amount in one dish, at-least for me.
As a serious gym goer and someone who is always looking to build strength (and hence muscle) than just losing weight I always try to plan my protein intake for the day. So the big question?
Why is protein important for us?
Protein is the basic building block of our bodies, they contain 'amino acids' which are used to build and repair muscles and bones and also to produce hormones , of course protein is a great energy source too.
Whether you are looking to lose weight or build muscle or just maintain a healthy life style, protein is an essential component to include in our diets
Protein can reduce hunger and boost metabolism, but you won't lose weight if you don't eat fewer calories than you burn.
Vegetarian source of protein
It is a well-know fact that meat eaters get their protein easily but it's not too difficult for vegetarians also if we plan our meals properly. Here are few vegetarian source of protein for you.
Soya Chunks ,Tofu,Seitan
Chickpeas,Lentils/Legumes/Beans
Nutritional yeast,Hemp seeds,Quinoa
Green peas,Chia seeds,Oatmeal
Nuts/nut butters,Vegetables like broccoli,asparagus, spinach ,artichokes are also good source of protein.
Ingredients for Vegetarian Protein Pulao
Basmati rice- you can use wild rice to boost the protein of this pulao
Vegetables like broccoli, carrots, onions, green peas, mushrooms, green beans
Protein – soya chunks, black chickpeas. you can also use frozen soya protein, tofu or micro protein sources like quorn.
Whole spices like cumin, cloves, cinnamon and bay leaf.
Ghee or oil for cooking the veggies and protein.
Coriander for garnishing
How to make protein Pulao?
Before going ahead with the process I want to share my views about cooking utensils here. About an year ago, I started disliking my non-stick cookware , yes there are theories, pros and cons for every kind of product out there in the market . But I began to miss the taste of my home made food that I grew up eating with that was always made in stainless steel or cast iron cooking utensils.
Now this doesn't mean I'm immediately and essentially throwing all my existing non-stick cookware out of the window, that's meaningless to me and to the environment too. Instead I will reduce or cut my future investment on non-stick cookware and gear myself towards stainless steel utensils.
Why stainless steel is good?
One of the major benefits of using stainless steel cookware and bakeware is that it is very safe for almost all types of cooking. Both home cooks and professional chefs prefer stainless steel.
Cheap quality stainless steel will corrode as you cook more acidic foods and also weaken with age. A good quality stainless steel cookware is quite opposite and also it will not leach metal from its surfaces into the food even when cooked at high temperatures for a longer period.
When it comes to picking a brand of classic stainless steel cookware you may want to consider 360 Cookware. This is made in the United States and comes with a lifetime warranty.
I also got a cookie sheet and can't wait to bake my protein cookies!
The thickness or gauge of stainless steel is among the highest of any brands on the market. This metric is one of the most important aspects when it comes to choosing a brand of stainless steel cookware. And all of these are ticked by 360 cookware for me.
My experience with 360 Cookware Sauce Pan
Well, I expected I would have to do a bit of hand work to scrape the bottom which we don't need to while using non-stick but this pan kind of surprised me. Yes the food sticked to the bottom a little bit that really comes clean when you allow the food to cool down a bit and the sticky part added additional taste to the food if you know what I mean 🙂
I might do a more comprehensive review soon on 360 cookware and special discount code too ,so stay tuned 🙂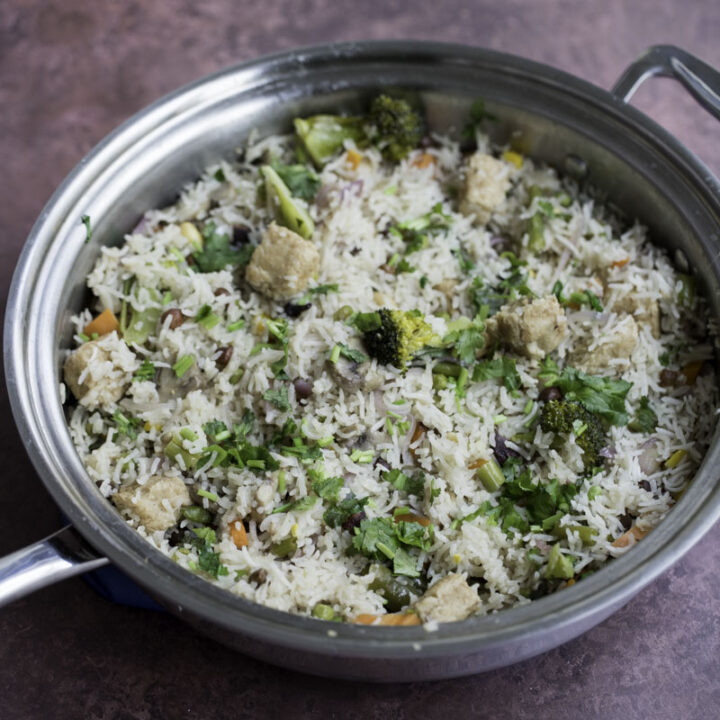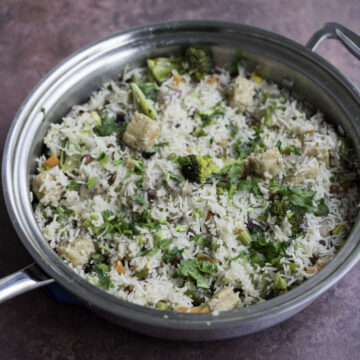 Vegetarian Protein Pulao
A one pot vegetarian protein pulao made with fresh veggies and protein , Ideal for weekday meals
Equipment
https://www.360cookware.com/collections/saute-pans/products/stainless-steel-3-5-quart-saute-pan-with-cover
Ingredients
1

cup

basmati rice

uncooked

½

cup

black chickpeas

boiled or canned

½

cup

soya chunks

1

small

onion

sliced

1

teaspoon

black cumin

3

cloves

½

inch

cinnamon

1

carrot

chopped

¼

cup

green peas

4

green beans

chopped

1

cup

mushrooms

sliced

½

cup

broccoli

florets

1

tablespoon

ghee

or vegetable oil
Instructions
Wash and Soak basmati rice in enough water for atleast 30 minutes. Soak soya chunks in hot water for 10 minutes, squeeze and keep aside.

Heat a tablespoon of oil(or ghee if using) and add whole spice, fry for 30 seconds and add in slit green chilli, sliced onions with a little sprinkle of salt.

After onions turn transparent, add in vegetable chunks and cook on low flame for 5 minutes. then add in soya chunks and black chickpeas. Fry for 5 more minutes by scraping the bottom.

Add in coriander powder, garam masala and cumin powder. mix well and fry for couple more minutes.

Add the soaked rice and fry for 3 minutes making sure the rice is not getting burnt at the bottom. Add 2 cups of water to 1 cup of rice, adjust any salt and increase the flame to high. Cook on high flame for 5 minutes and reduce it to low-medium. Cook it covered for further 15 minutes or until rice is tender.

Fluff up the rice and enjoy hot with raitha or a curry.
Nutrition
Calories:
462
kcal
Carbohydrates:
79
g
Protein:
19
g
Fat:
7
g
Saturated Fat:
3
g
Polyunsaturated Fat:
1
g
Monounsaturated Fat:
2
g
Cholesterol:
13
mg
Sodium:
34
mg
Potassium:
557
mg
Fiber:
7
g
Sugar:
5
g
Vitamin A:
3634
IU
Vitamin C:
10
mg
Calcium:
148
mg
Iron:
4
mg
Come and follow me on:
FACEBOOK | INSTAGRAM | PINTEREST
TWITTER and YOUTUBE
You can also subscribe to Fat Rainbow so that you never miss any new updates and also get free healthy snacks e-book. If you try this recipe, let us know! Leave a Comment, Rate It and Tag us in your photos #FATRAINBOWCOOKS on INSTAGRAM