The perfect creamy healthy instant pot mushroom risotto is a low-fat version of traditional risotto but made with less cheese and absolutely no alcohol. Perfect for batch cooking!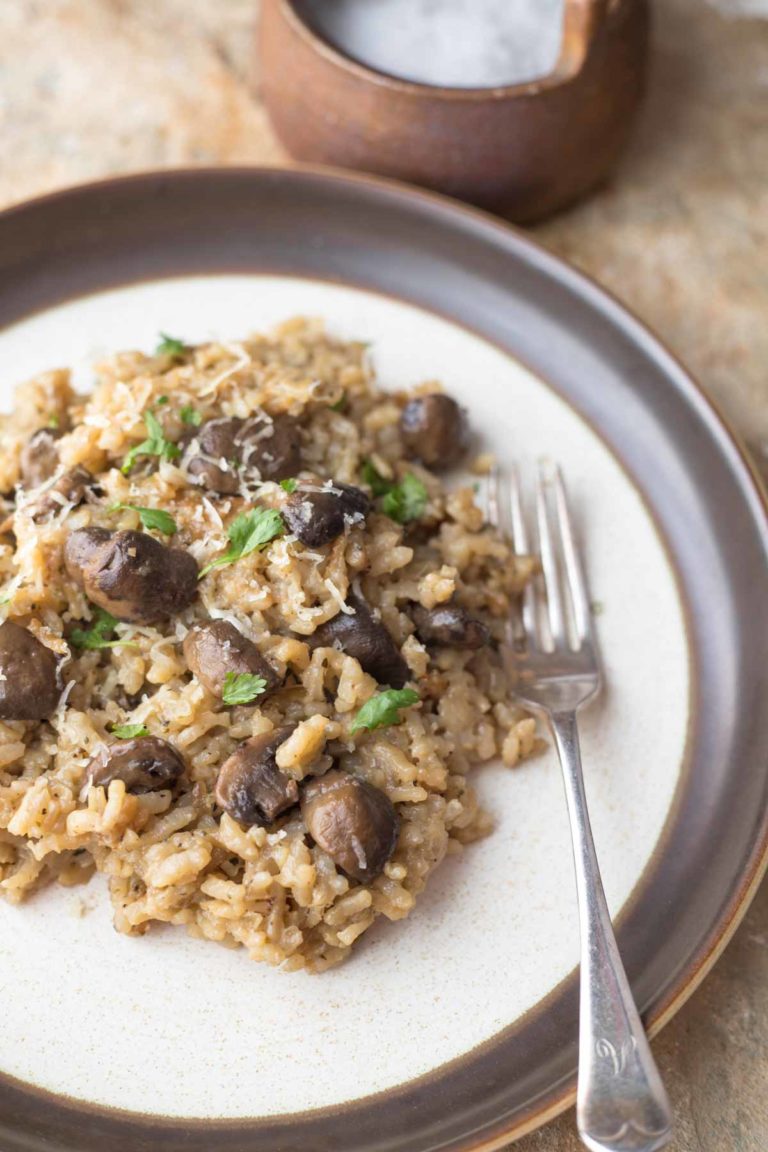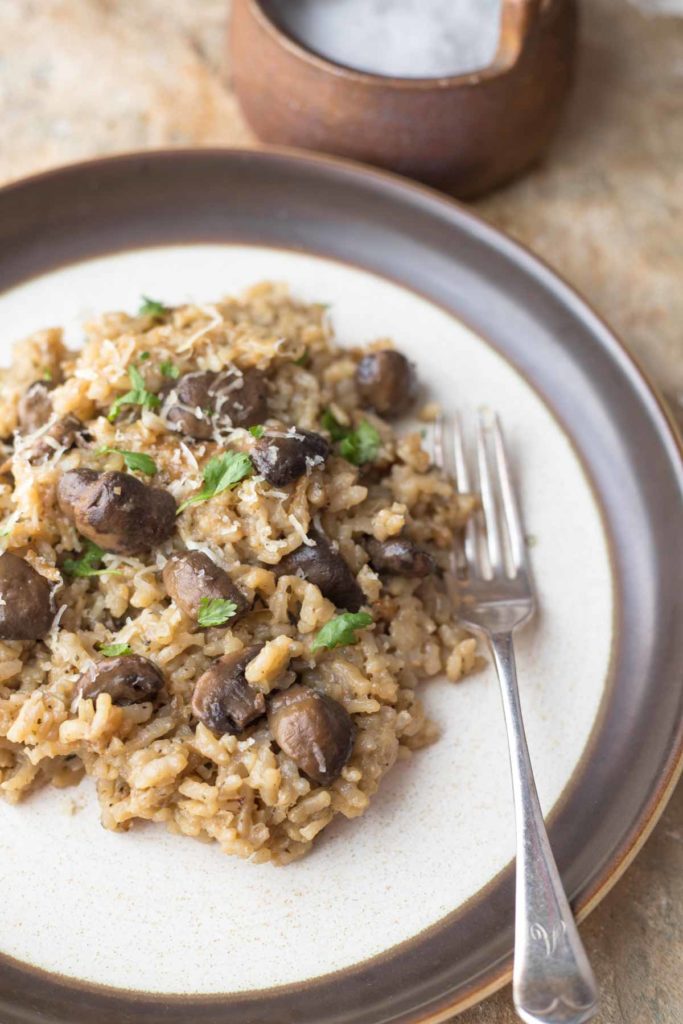 This creamy healthy Instant Pot mushroom risotto is a game-changer as it doesn't involve any stirring and interval cooking like a traditional risotto made on the stove top. I always make this in big batches and store so to have healthy weeknight dinners without much effort on the go. I love a good Italian minus the wine so we are using just plain vegetarian stock and of course cheese to make it taste good just like how we get served in restaurants.
People who try to lose weight often discard carbs completely from their diet but am not one such even if it means my weight loss is slow! My brain cannot function properly without carbs and the best way for me is to combine it with many fresh vegetables possible to make it more filling and nutritious. If the recipe calls for a cup of mushrooms I would try to double them !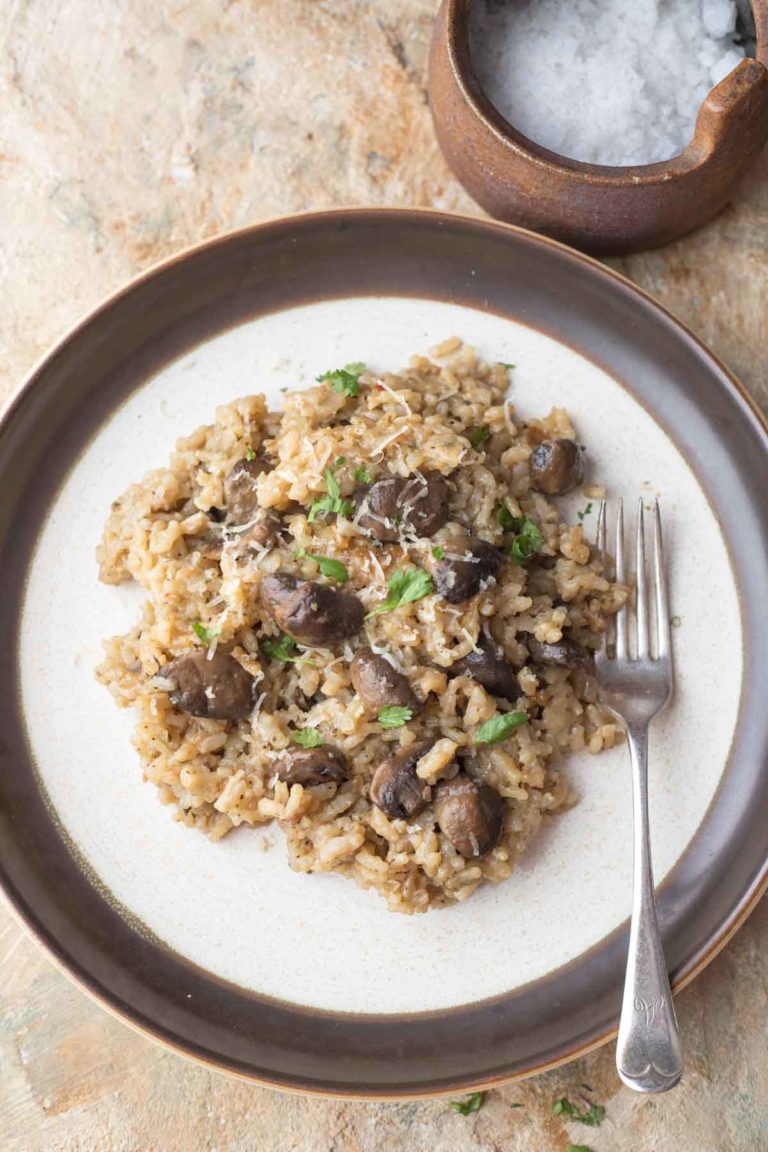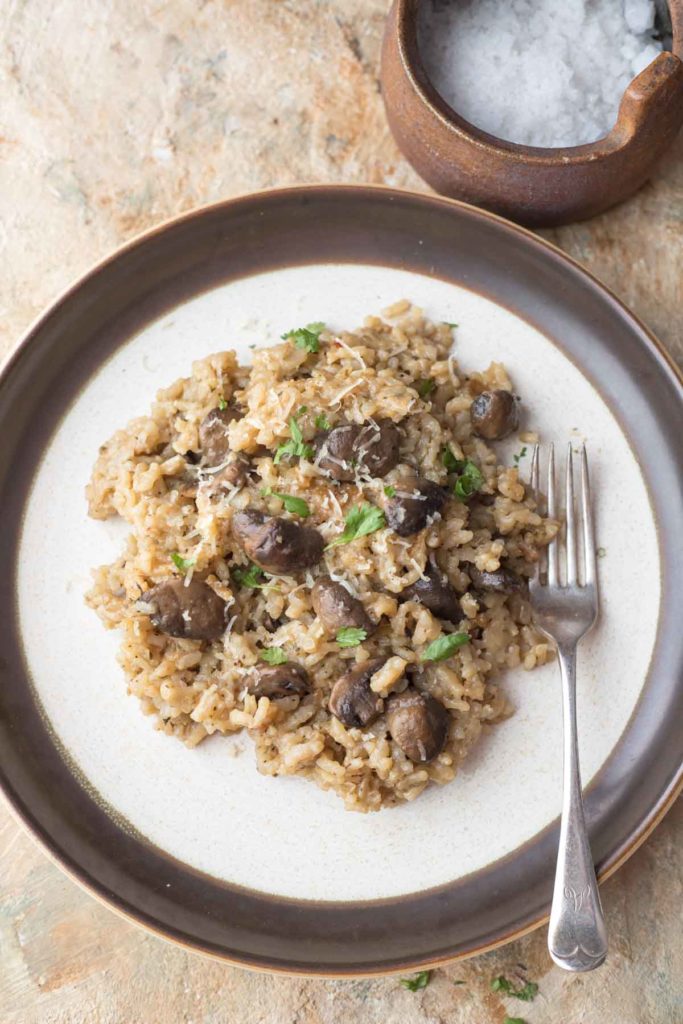 Making this mushroom risotto in an Instant Pot is a very easy affair as you don't need to pay attention on the grains constantly while they are getting cooked. Neither the recipe for instant pot mushroom risotto involves adding water in batches and stirring continuously.You saute everything in one pot and pressure cook while you are busy in sorting others things of your life 😀
Ingredients for Healthy Instant Pot Mushroom Risotto
Arborio rice – is a special Italian variety of rice used for making risotto, I have also used normal short-grain rice and sticky rice many times with the combination of arborio, it worked perfectly fine.
Mushrooms – Any white/brown mushrooms will go, low-calorie and very nutritious.
Parmesan – Cheddar will go fine too, I always buy a block and make my own grated cheese it is economical than to buy pre-made grated cheese, also I love grated cheese as less amount of it can cover large surfaces of food. I used a low-fat version.
Vegetable stock – I used garden vegetable stock pots from Oxo.
Garlic – mandatory!
Low-calorie cooking spray – either olive or garlic flavours preferably.
Salt and pepper, the essentials. I also like to use a pinch of white pepper.
Fresh Parsley – I use coriander too when am out of parsley.
Dried Herbs – I like to add mixed Italian herbs than just dried thyme.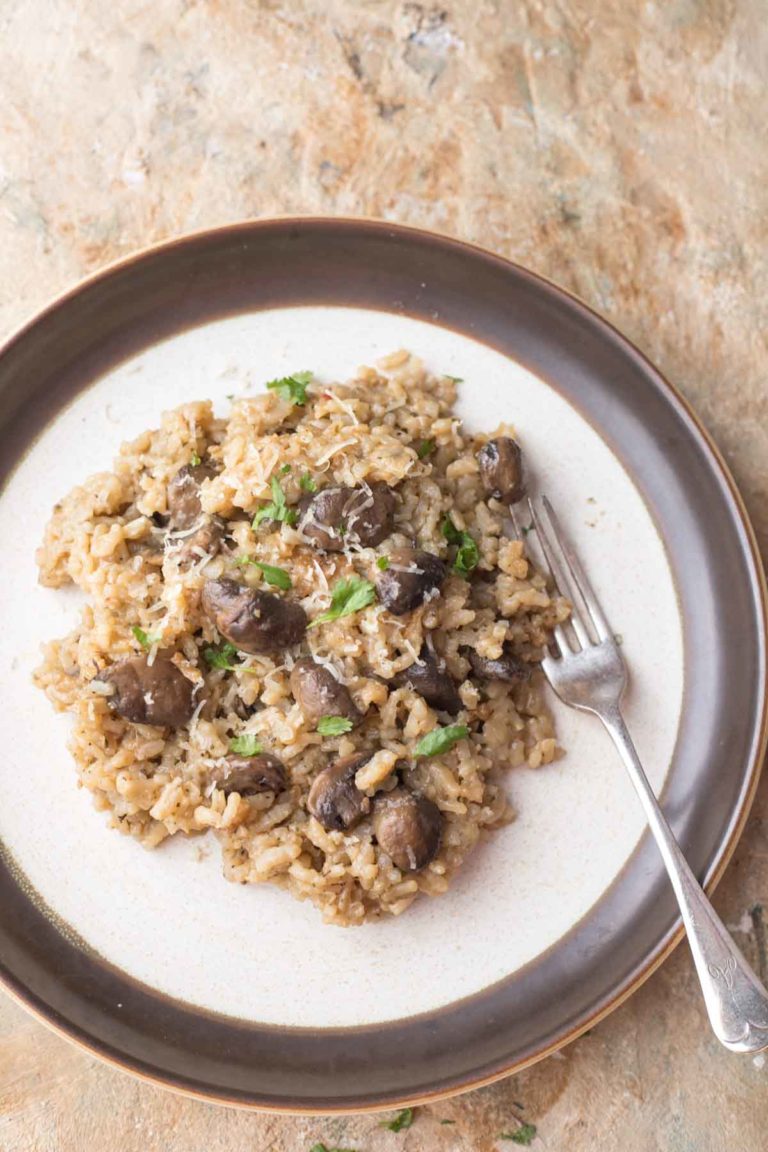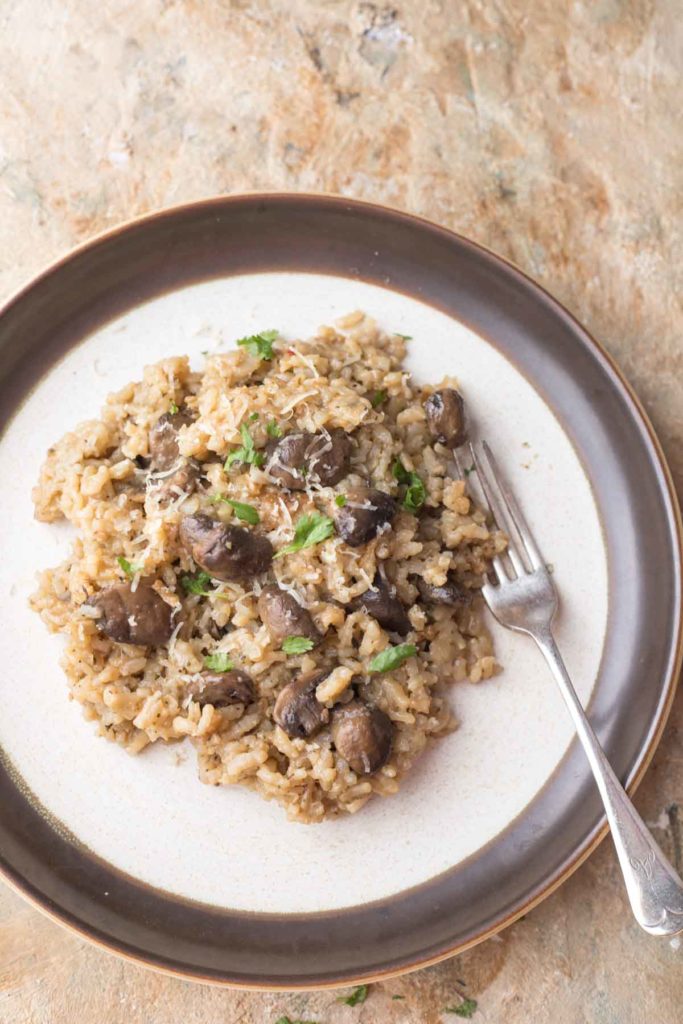 I love all my rice dishes but this particular mushroom risotto is my favorite .Making it as a one-pot dish in Instant Pot saves me time giving many nutrients in one go. You have control on the amount of cheese that goes in as always 🙂 It is far healthier than the ones you get in restaurants of course. If you are hearing about Instant pot for the first time, it is a multi-function electric pressure cooker that has several functions in it like saute, pressure,cook, steam, soup and yogurt maker etc. I highly recommend it for anyone who is looking to lose weight as it
makes batch cooking and cooking in general very easy
encourages healthy cooking with less oil.
saves so much of time and energy so you will not get tempted to order a takeaway.
One many ask why you cannot do this using traditional pressure cooker, but instant pot wont demand your attention even to check pressure level or to switch off once it is done with cooking food, you can even set the timer for the cooking to start at a later point of time.
What diets the mushroom risotto is suitable for?
Instant Pot Mushroom risotto is suitable for vegetarian and gluten-free diets. If serving for vegans, try using a vegan grated cheese. This tastes good without cheese too!
How to serve Italian mushroom risotto?
Since it is already loaded with fresh mushrooms I would prefer to serve this with any leafy salad like rockets or lettuce and cherry tomatoes will be good too.
Storage and Freezing instructions
The mushroom risotto can be made ahead and stored in fridge for 4 to 5 days. The recipe is suitable for freezing, however I would prefer not to add cheese in the risotto if am freezing for a long time. I would ad cheese just before serving once the rice is heated or microwaved.
I don't have Instant Pot?
This recipe for healthy instant pot mushroom risotto is suitable for making in pressure cooker too. follow the same procedure and pressure cook until 4 whistles. once done, cook on low heat again for 5 minutes until any liquids are thickened.
If choosing to make the mushroom risotto on stove top, simmer the ingredients on low flame for 30 minutes. once the liquid is evaporated add in little more water and cook again for further 10 minutes stirring in the cheese at the end.
Print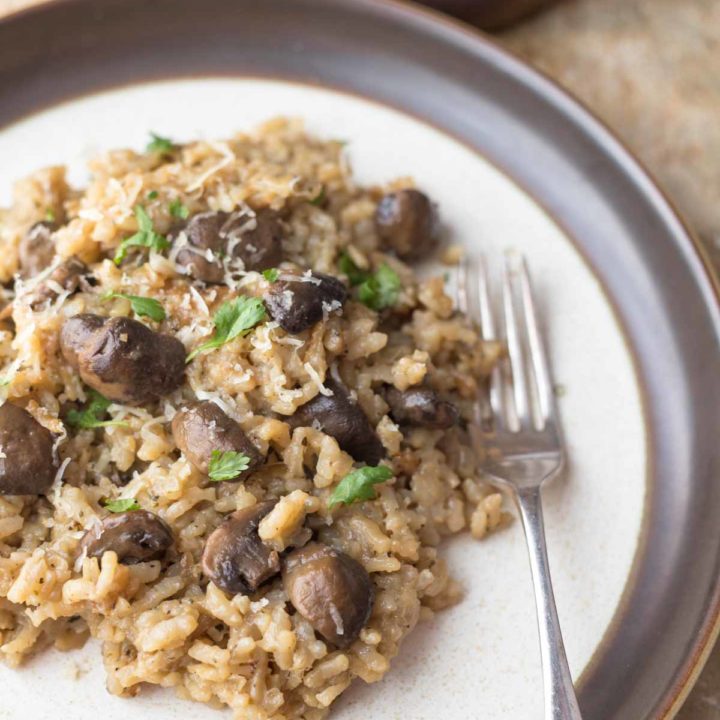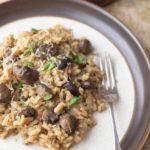 Healthy Instant Pot Mushroom Risotto
---
Author:

Siri

Prep Time:

5

Cook Time:

30

Total Time:

35 minutes

Yield:

3

1

x

Diet:

Vegetarian
Description
Healthy Instant Pot Mushroom Risotto is a one-pot dish full of nutrients and ideal for batch cooking can make a perfect weeknight dinner.
---
1 cup

arborio rice

150 g

baby mushrooms sliced or whole

2

garlic cloves chopped finely

1

small onion chopped 

1 teaspoon

mixed Italian herbs

1

pot garden vegetable stock
Butter or olive or garlic flavoured cooking oil spray

60 g

grated low-fat Parmesan or cheddar cheese
---
Instructions
Turn on the saute mode on Instant pot with medium mode.
Once it says 'ON' spray cooking oil and add in chopped garlic and fry lightly.
Add in chopped onion and mushrooms.
Add salt and fry for a minute until they become soft. Please note that the medium mode on instant pot tends to burn the pot surface quickly so try to fry the veggies using a splash of water always. You could always use the 'low' mode but then it is a very time taking process for me hence I prefer cooking with water in medium mode by occasional stirring.
Add in the stockpot contents, Italian herbs, salt, freshly ground black pepper and roughly 3 cups of water.
allow the water to boil and add in rice stirring until the flavours are incorporated into rice well.
Adjust salt, close the lids and cancel the saute mode.
Switch on the pressure cooker manual mode and set the timer to 5 minutes.
Once it is done(it usually takes at least 15 minutes time to build up the pressure before setting itself to cook for 5 minutes) allow the pressure to release naturally and open the lid.
Stir in the grated cheese and sprinkle freshly chopped parsley and serve hot!
Notes
I always supplement my less-oil cooking using a splash of water so the bottom is not burnt using instant pot.
If you don't have arborio rice just use any short grain rice or even sticky rice. Works the same.
If you don't have time use the manual release for the pressure valve to release pressure.
Optionally, you can also add in 1 chopped carrots along with mushrooms and add a handful of baby spinach at the end when you add cheese.
Rock salt adds more flavour than table salt.
Category:

Lunch

Method:

Cook

Cuisine:

Italian
Keywords: low-fat, italian, rice, mushroom
This post may contain affiliate links which means if you buy the product I will earn a small commission which goes into the maintenance of this website. Your purchase price will not get impacted at all.
If you ever try this recipe, please consider rating it and tag me on Instagram with a hashtag #fatrainbowcooks.