This is the ultimate slimming spinach mushroom frittata perfect for breakfast or brunch or even a light lunch when served with extra salad. Perfect if you are counting calories or looking for a high protein meal in your weight loss journey.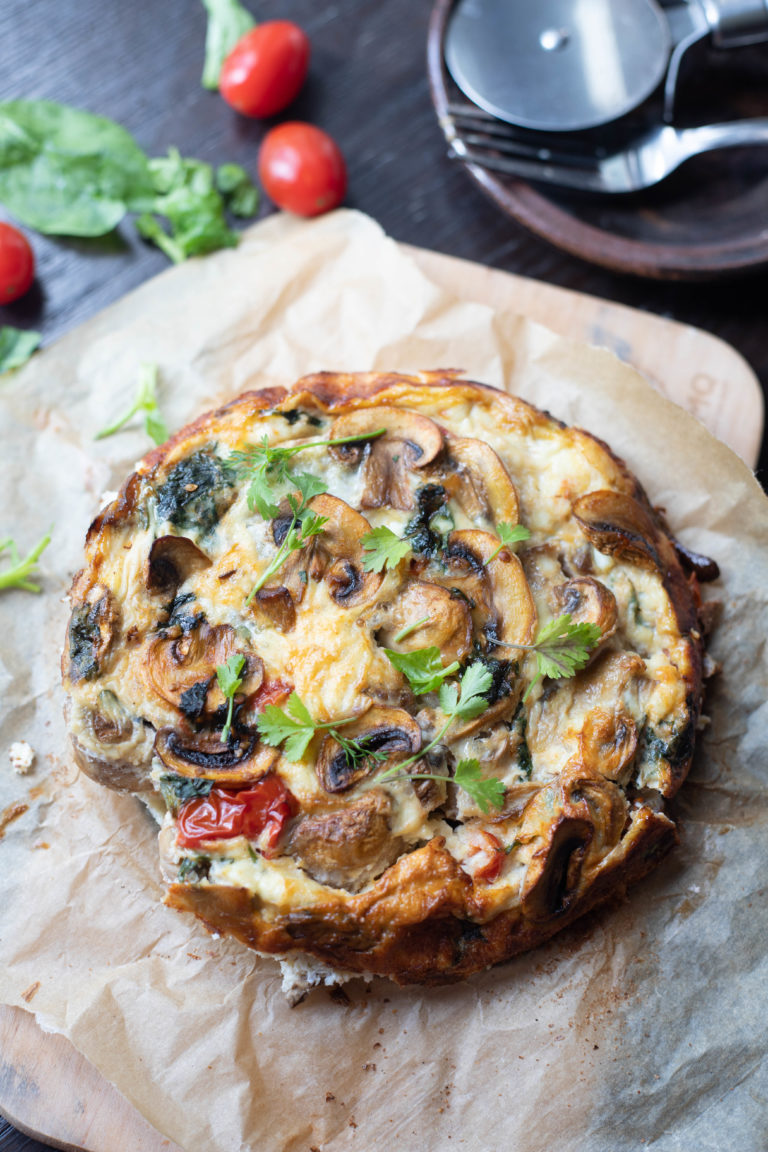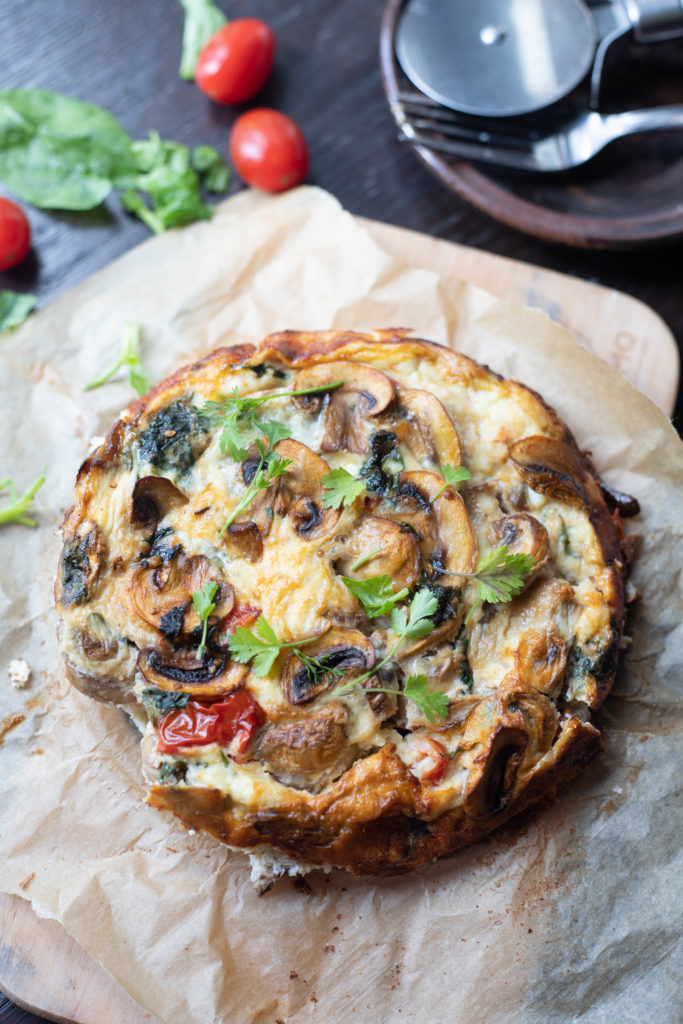 This healthy vegetable frittata is a great low-calorie and healthy make-ahead meal with loads of high water content vegetables like spinach, tomatoes, mushrooms. It is important we choose to eat filling yet low-calorie meals as much as possible while trying to lose weight. I wouldn't skip eating carbs but will try to boost my protein and vegetable intake. This slimming spinach mushroom frittata is an ideal breakfast to kick start the day and is very easy to make. It can also be a great lunch box meal and stores well in the fridge but as any foods, its best to eat fresh!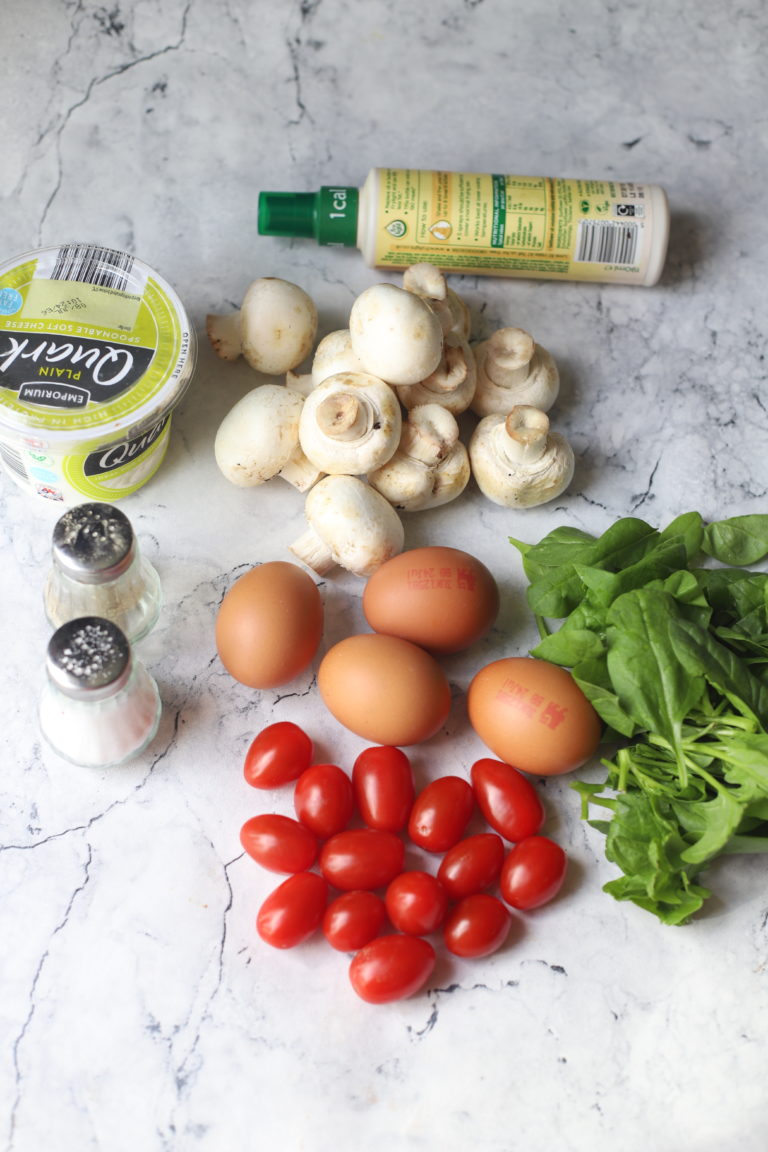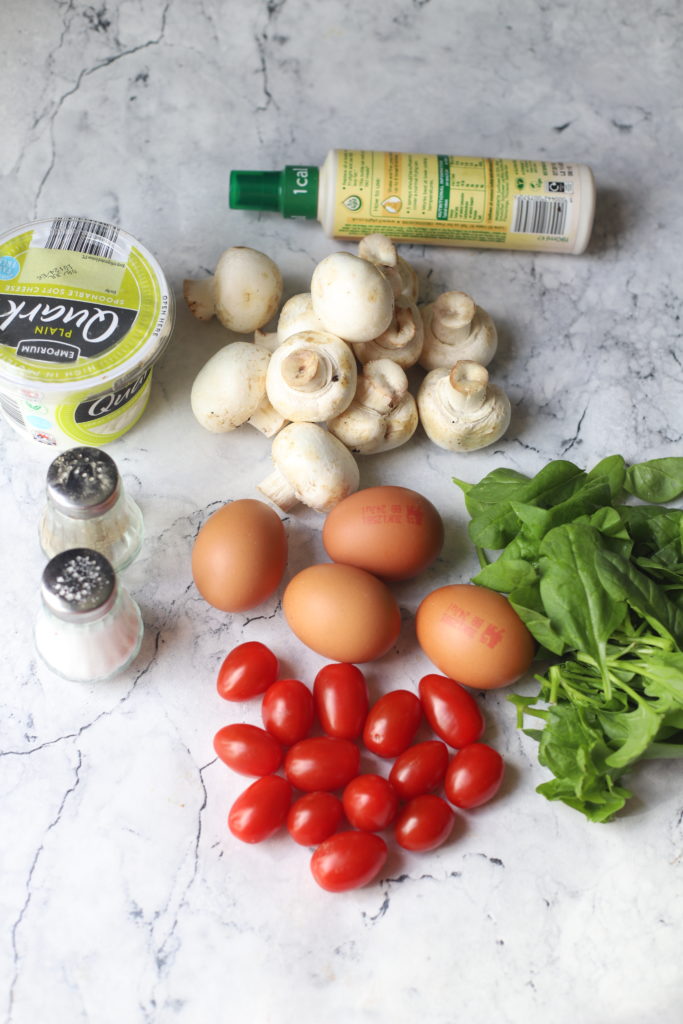 Ingredients
Eggs I used large free range eggs
Mushrooms Any variety is fine and I used button mushrooms.
Spinach I used tender baby spinach fro our own family garden.
Cherry Tomatoes pack full of flavour and nutrients.
Quark this high protein and low-fat cheese add nice moisture to a frittata
Low-Calorie cooking spray The most important calorie saving tool
It is important to wash vegetables like spinach and mushrooms well under cold running water several times as there can be lots of mud and invisible worms. I had such unpleasant experiences many times. Recently I had taken a batch of spinach out of my fridge that was stored soon after the harvest for 4 days. To my utter surprise, I found a tiny worm cosied up under the leaves in the plate that freaked the hell out of me. Learnt my lessons!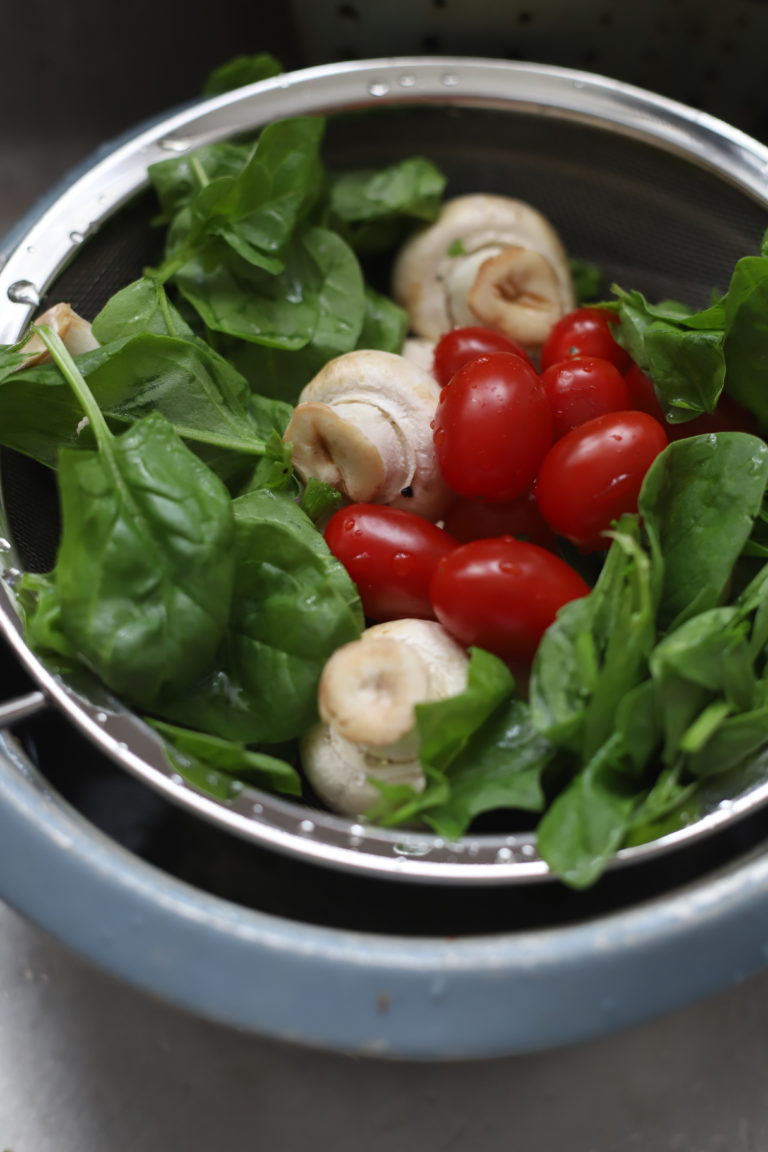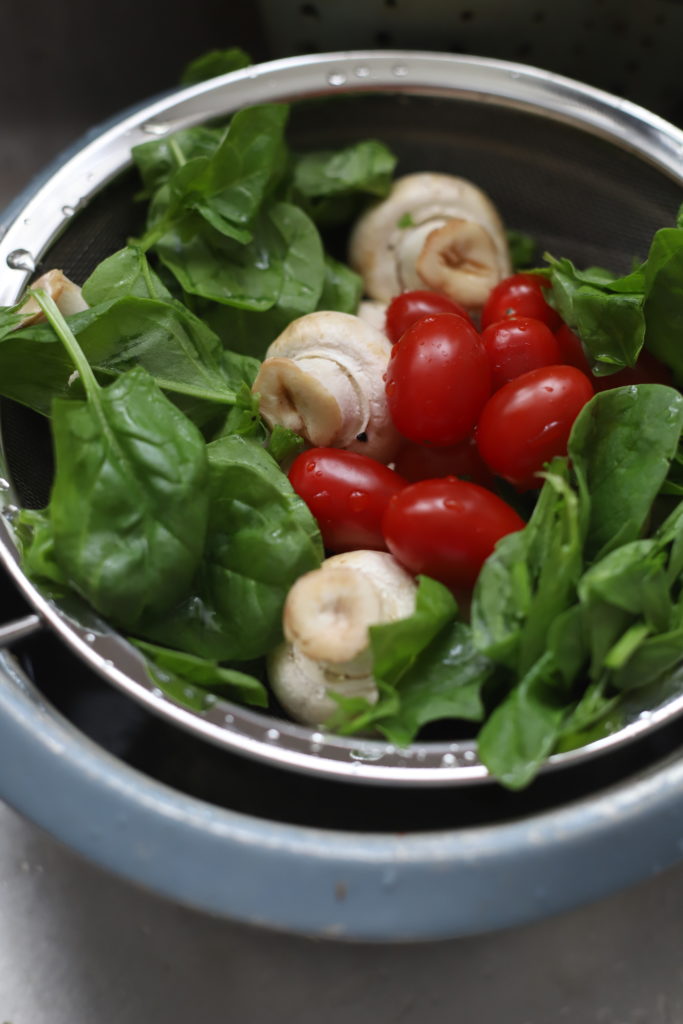 Why eat slimming spinach mushroom frittata?
It contains load of protein that comes from eggs and quark. Quark is the secret ingredient that I added to increase the protein content to the frittata. It also gives nice moisture to it as we add no additional butter or oil.
No extra oil as usual and using low-calorie cooking spray which gives us total control over the calories in this vegetable frittata
Loads of vegetables are included like spinach, tomatoes and mushrooms which is quite important for any slimming eating plans or general health.
A very filling meal with loads of proteins and less carbohydrates which is the key for weight loss.
Can the spinach mushroom frittata be stored in the fridge or suitable for freezing?
Like any foods this is best eaten fresh but you can happily store this slimming spinach mushroom frittata in fridge for 3 days.
Choose a clean closed container for storing in the fridge. Once you are ready to eat, microwave it straight from the fridge for at least 5 minutes. Or it can be consumed once it comes to room temperature.
This is not ideal for freezing as cooked eggs become rubbery in extremely cold temperatures but we can still try freezing it, Take out from the fridge at least 2 hours before consuming and MW it once it's thawed. I have never tried this and appreciate if someone who has done can comment below with their results.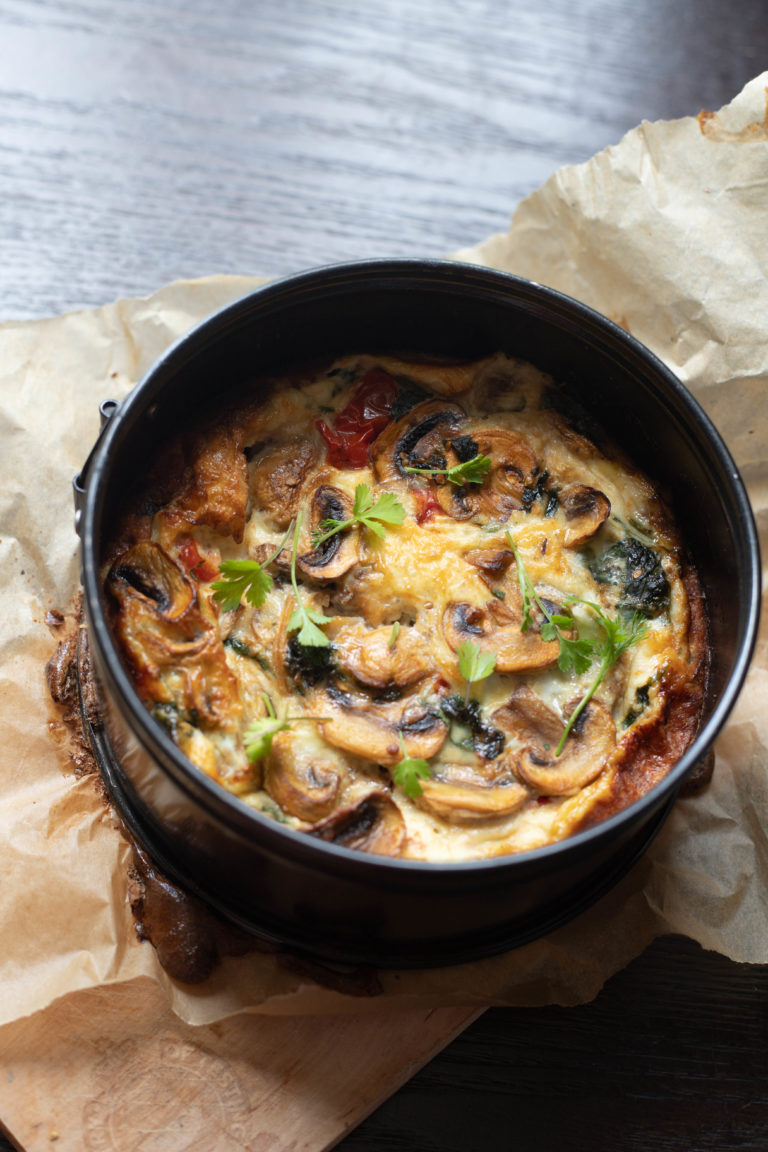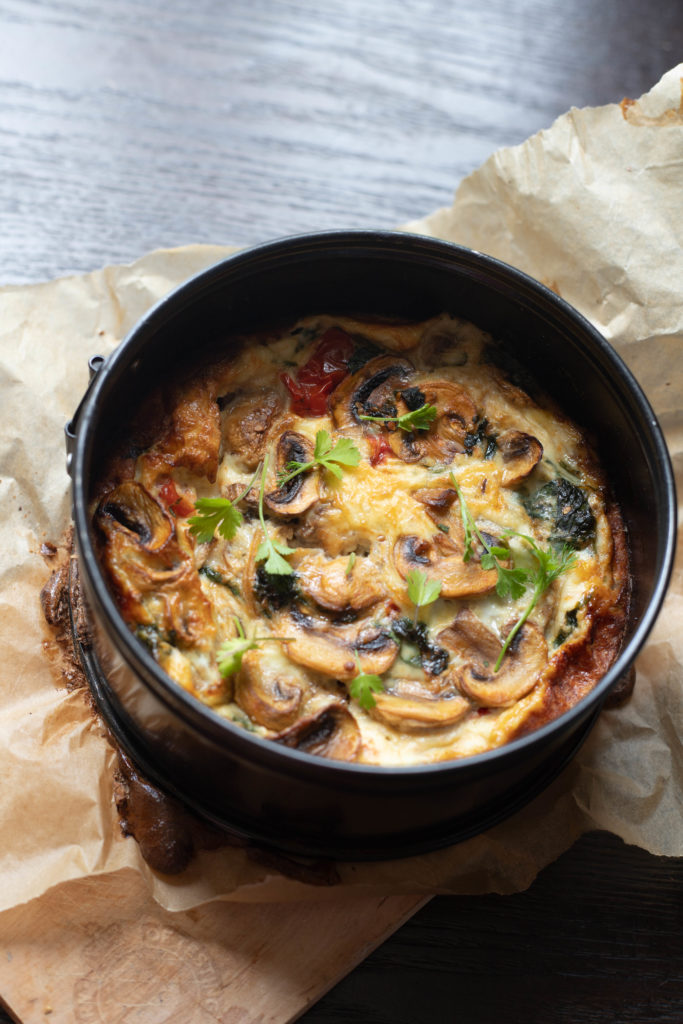 What kind of diets this vegetable frittata is suitable for?
My version of slimming spinach mushroom frittata is ideal for vegetarian diets. It is also a nice gluten free meal as we don't add any flours in it.
Can I add additional proteins or vegetables in this?
Why not? Add in mixed bell peppers, zucchini, aubergines and any other leafy vegetables of your choice. You could also add additional protein like tofu or paneer(Indian cottage cheese) and chicken if you are a non-vegetarian.
The more vegetables you add the more filing and nutrient rich this meal will become and help us in our weight loss journey. This can be a great way to make kids eat vegetables too.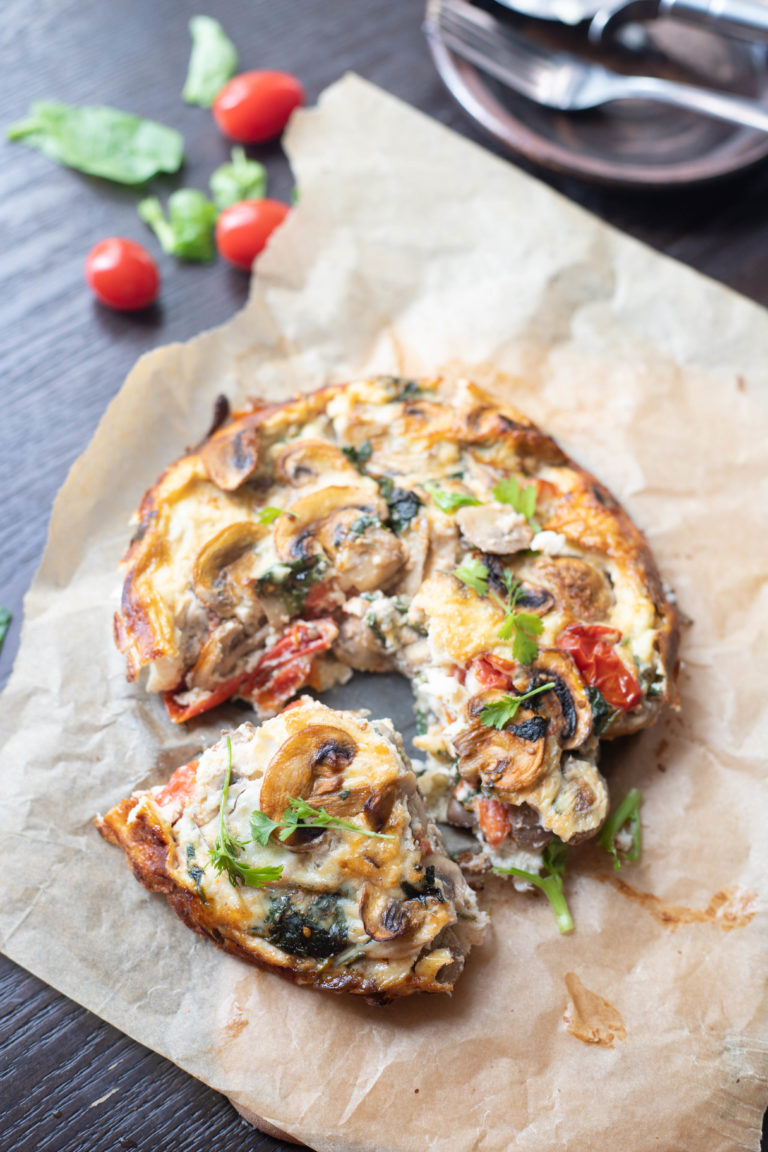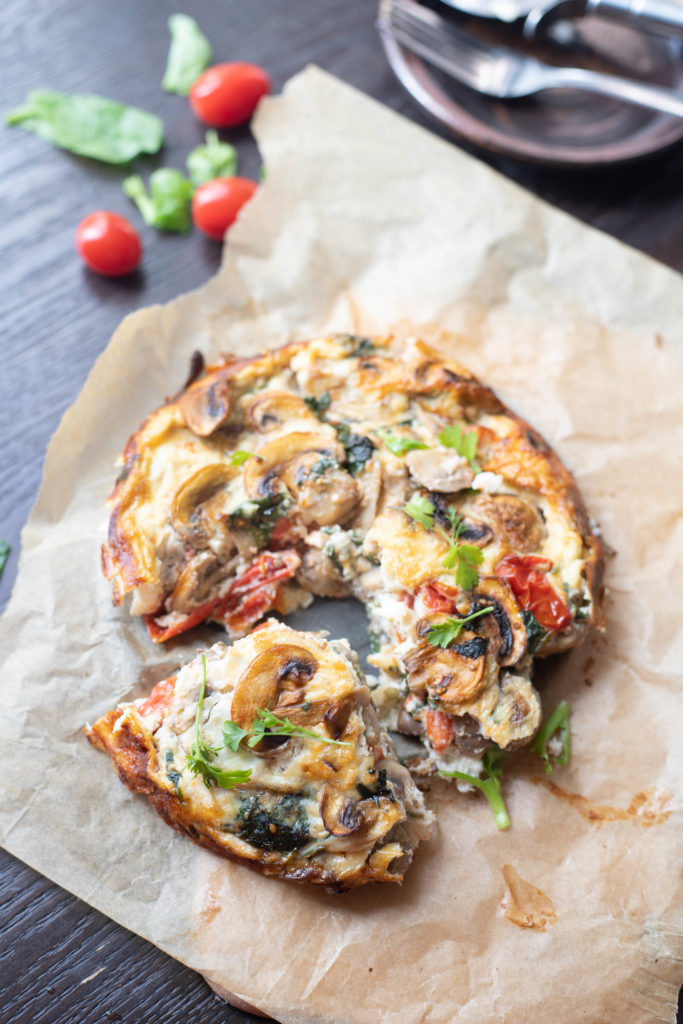 How to serve this vegetabe frittata?
My slimming spinach mushroom frittata is great on its own for breakfast, just slice it up and enjoy.
If you are eating it as a lunch, serve with a side of mixed leaf garden salad and cucumbers.
You could also add in some healthy baked masala french fries as a side for a filling lunch.
If you ever try making this recipe please consider tagging me on Instagram fatrainbowgirl
Video recipe for slimming spinach mushroom frittata
Subscribe to my YouTube channel here
Print
Slimming Spinach Mushroom Frittata
---
Author:

Siri

Prep Time:

10

Cook Time:

20

Total Time:

30 minutes

Yield:

2

1

x

Diet:

Low Calorie
Description
Slimming friendly spinach mushroom frittata is a great low carb meal with loads of protein and nutrient-rich vegetables, so easy to make and ideal for weight loss or if you are counting calories.
---
4

large eggs

3 tbsp

fat-free quark

1 cup

spinach leaves

200 g

button mushrooms

100 g

cherry tomatoes
pinch of salt
pinch of pepper
cooking spray
---
Instructions
Line a glass container or a cake baking pan with low-calorie spray or with a baking paper(check video)
Heat the low-calorie cooking spray in a non-stick pan preferably and saute mushrooms for 3-4 minutes covered. 
Add in tomatoes and spinach and season well with salt and pepper.the vegetables need not be cooked thoroughly as they are going to get baked. This whole step should take less than 10 minutes.
Crack open eggs into a mixing bowl and season with salt and pepper.
Spoon in quark and whisk well with a fork or whisker. Spray some oil optionally.
Pour in some beaten egg into the baking tray and layer with some vegetables.
Repeat the above step until egg mixture and veggies are over such that the vegetable layer is on the top. Spray some oil on the top layer.
Bake for at least 20-25 minutes at 180C until the top forms a thin golden crust by checking in between.
Check by inserting a toothpick in the middle, if it comes out clean we are done, otherwise bake for 10 more minutes.
Allow it to cool down for at least 15 minutes before removing from the pan as the frittata can break if not cooled done properly.
Serve with any optional salad or slice it up and eat as it is!
Category:

Breakfast

Method:

Bake
Keywords: frittata, eggs, quark