Paneer Tikka is a popular Indian appetizer that can compete tall with Chicken Tikka. Here am presenting you the healthiest no oil version that is perfect for weight loss or if you are counting calories for general fitness.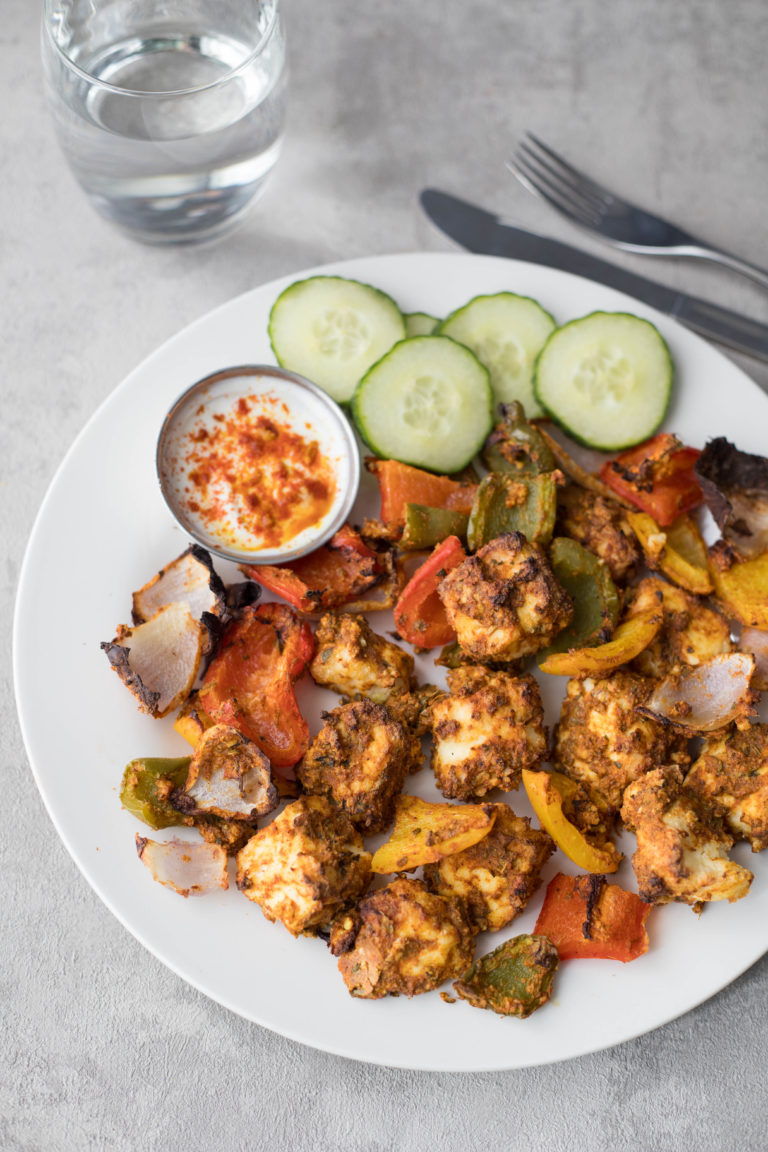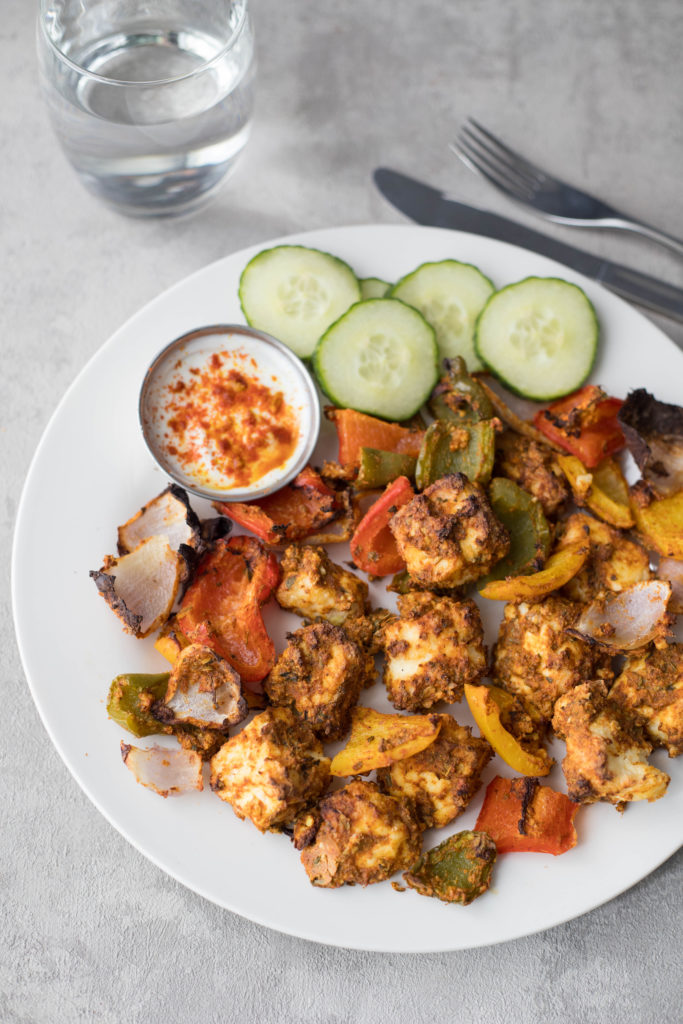 If you are a vegetarian and love Indian food, you are gonna love this healthy paneer tikka. It can give a tough competition to the world-famous chicken tikka in my view. Tender paneer pieces coated with fresh homemade tikka marinade and baked perfectly to form these nice golden-crusted melting beauties. And the bell pepper and onion chargrilled along with paneer add a nice crunch to the dish also balancing the nutrients we need in an ideal healthy meal for weight loss.
check out other low-calorie delicious paneer recipes for weight loss
Paneer is kind of an Indian cheese which tops the list in Indian restaurant menu when it comes to vegetarian dining. Although you can get paneer in Indian stores here in the UK. home made paneer is the best and easy way to enjoy this dish. Also home made paneer is also very economical and free of any preservatives plus full of fresh flavours!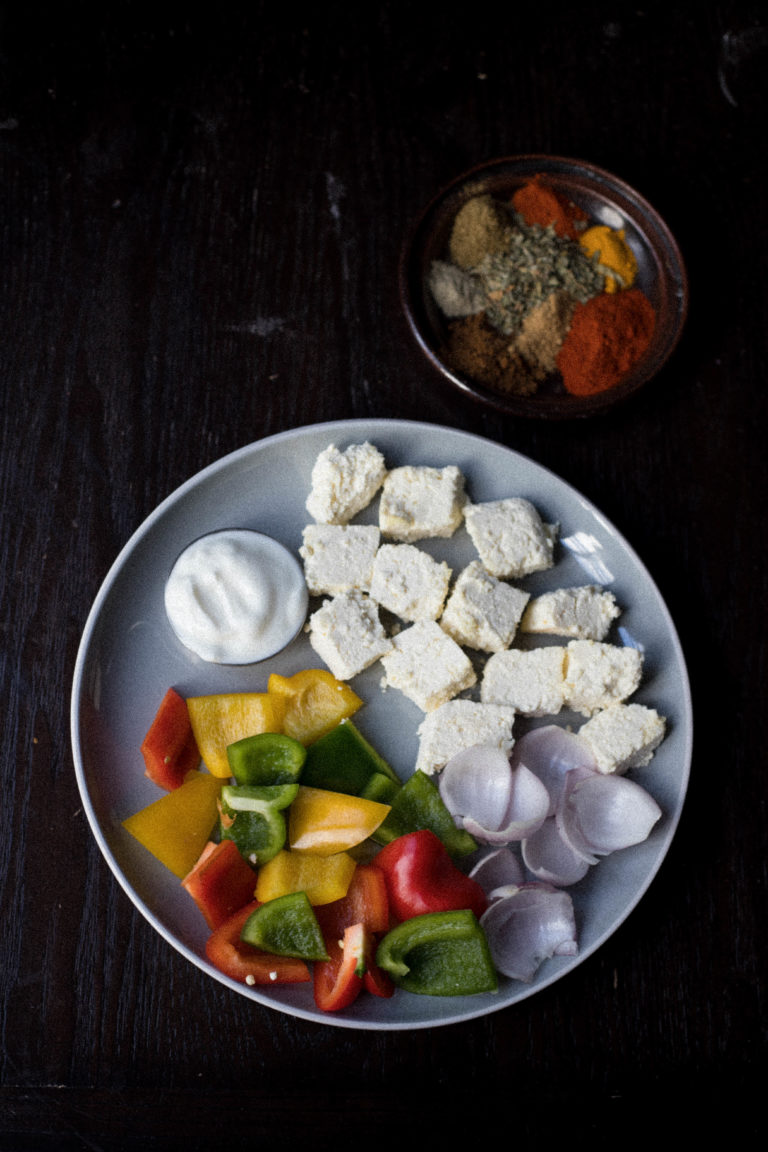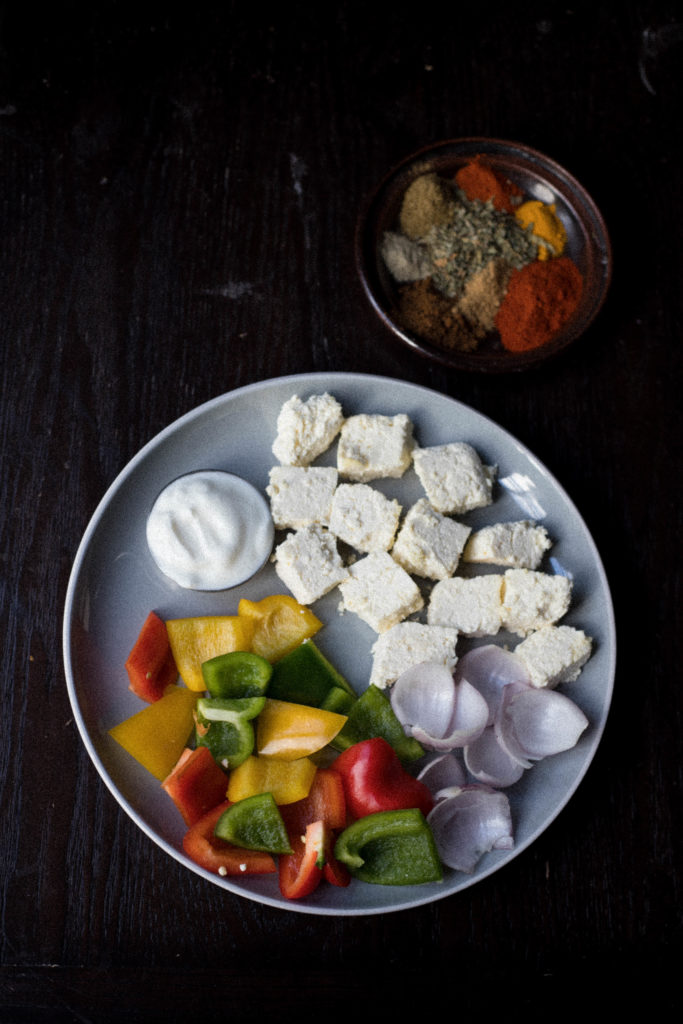 Taking about this Indian healthy paneer tikka or any weight loss meal, spices play a prominent role for me personally. when you are reducing the comfort of additional oils in the dishes, spices really fill that gap well. I try to include a variety of spices in my cooking be it Mexican or Indian or Italian.
Most of the recipes on Indian food showcase loads of garam masala alone while in fact it is only added in smaller quantities to enhance the flavor of the dish. A perfect marinade for this healthy paneer tikka comes from
thick Greek-style yoghurt or hung curd that forms the base of the marinade.
paprika and chilli powder to give that lovely colour and mild spiciness.
coriander, cumin and white pepper powders.
turmeric has many anti-oxidants and widely used in everyday Indian cooking.
Gram masala the perfect blend of whole spices. You will actually never buy once you try making it at home. Simply roast the whole spices like cloves, green and black cardamom, cinnamon, bay leaves, black cumin, whole coriander seeds on a low flame until they turn aromatic. Then blend into fine powder and store in an airtight container.
Kasuri methi or dried fenugreek leaves are a must for all North Indian dishes that you see on restaurant menus. it adds a nice flavour to the dish.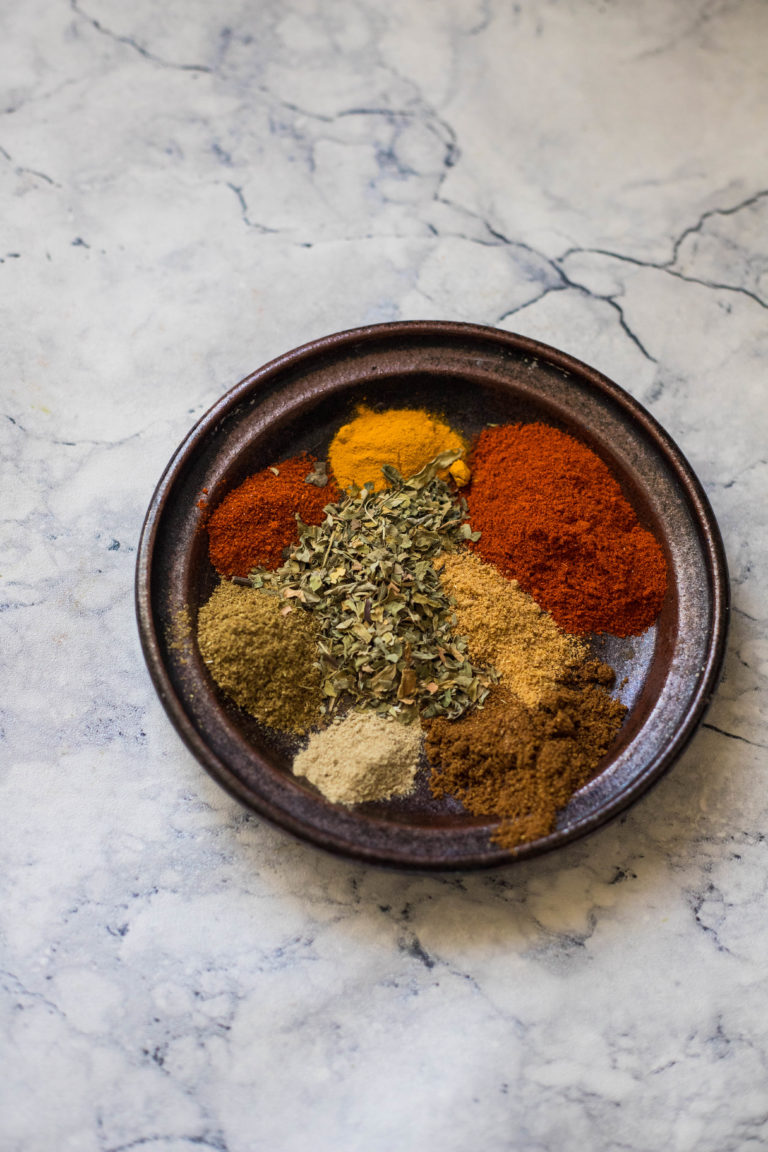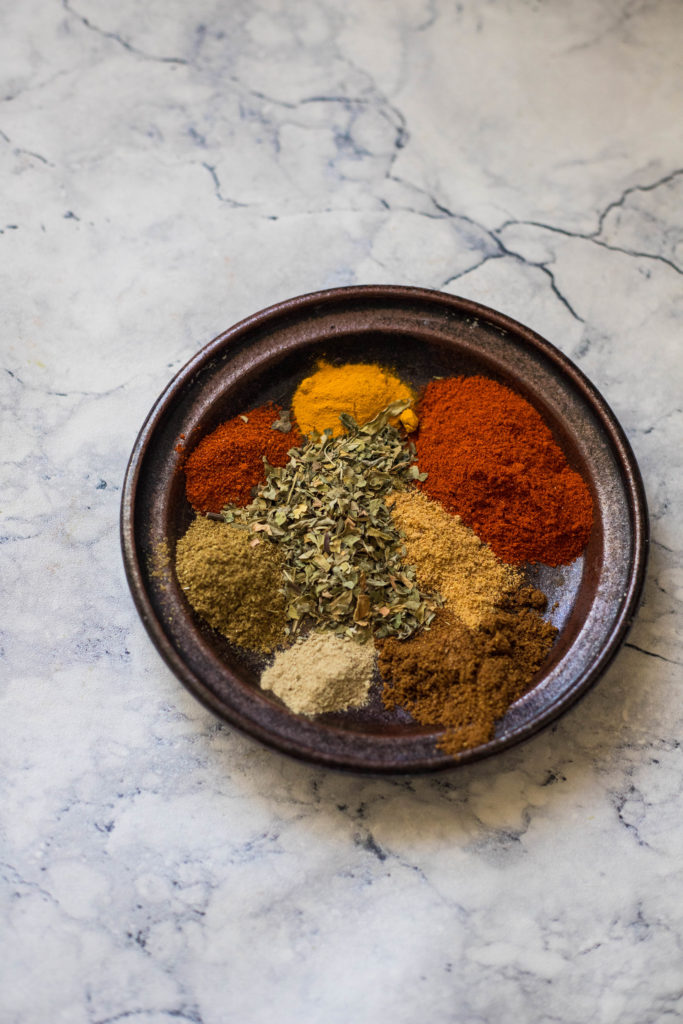 How to make Paneer Cheese at home?
Boil full-fat milk until froth comes and add in a juice of lemon or vinegar.
the amount of acid depends on the quantity and quality of your milk. It is used to curdle the milk.
Switch off the flame once you see the milk is curdled and let the water separates from milk solids.
Strain the liquid and wash the paneer well under cold running water to remove the flavour of lemon or vinegar.
place the paneer in a muslin cloth and squeeze any excess liquid. Tie to a kitchen tap and leave it for an hour or so so the liquid falls off.
Form into a block and place a weight on it for a few hours. I normally leave it on the countertop for 3 to 4 hours for the block to form properly.
Cut into cubes and keep in the fridge until you are ready to cook.
I would highly recommend checking out this detailed step by step recipe here though as I could not capture my process for you.
Excuse me for the bad picture below but I really wanted to show you how not to coat the paneer with marinade lol. Make sure you coat the paneer pieces fully than I did like below in a hurry.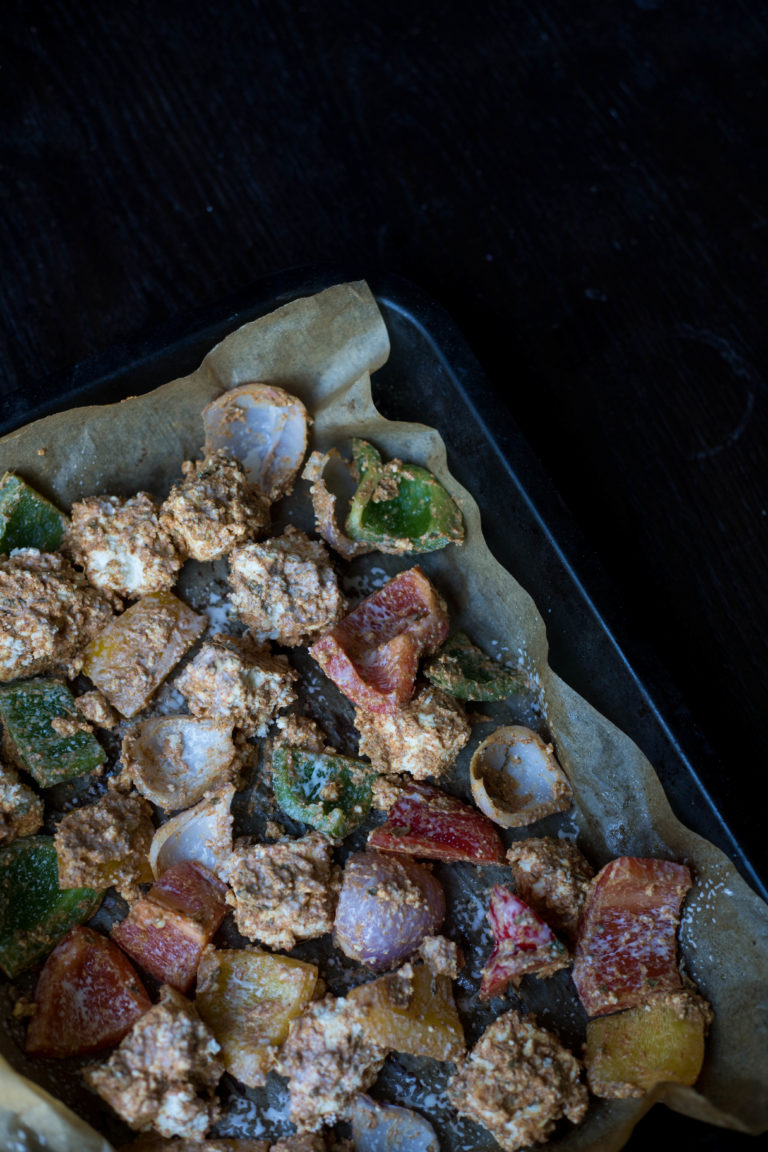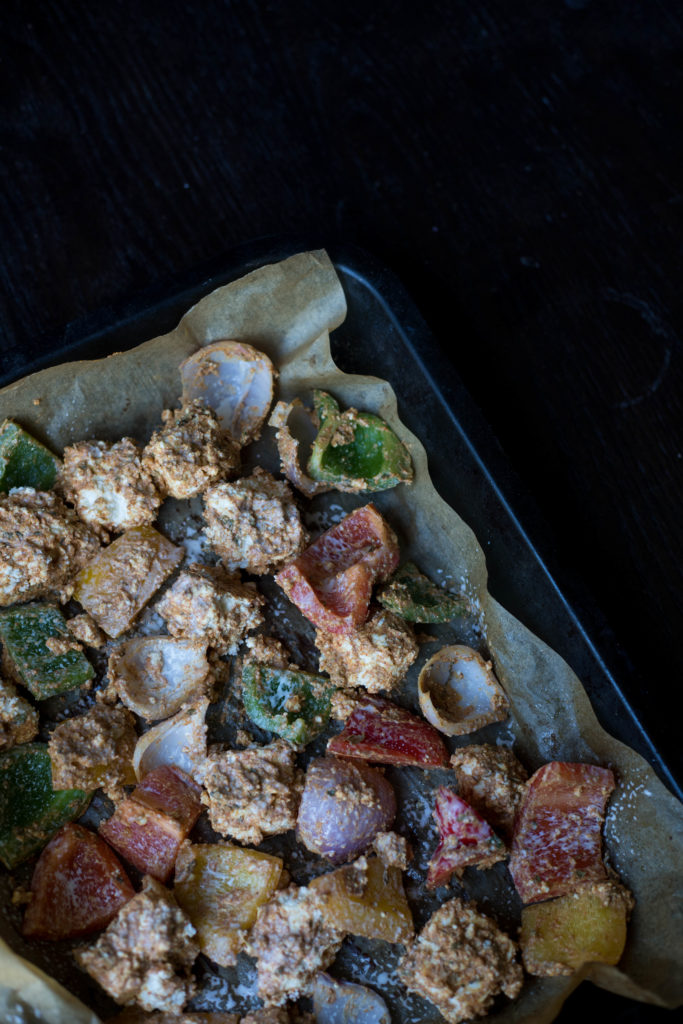 How is paneer tikka helpful for weight loss and how many calories in it?
Well, paneer is high in fat and protein content so I wouldn't class it as an every day meal esp if you are following a weight loss plan. However, it is good fat and indulging in healthy paneer tikka that was made with fewer oils once in a while is no bad thing. This homemade version saves you tons of calories from additional oils and gives you the freedom to include more vegetables that can make the dish more filling and satisfying. As always am using a low-calorie cooking oil spray to coat the paneer and veggies.
There are roughly 230 calories per 75g serving of paneer along with nice crunchy vegetables.
How to serve paneer tikka in a healthy way?
Restaurants often serve this with mint dips that have tons of oils and loads of preservatives in it. making mint yoghurt dip at home is very easy. just blend some thick greek yoghurt with fresh mint leaves, coriander and lime juice .add in optional salt and pepper and you have a healthy dip ready to serve with paneer tikka or any Indian starters ideally. Optionally you can sprinkle some paprika for extra spice.
As always any weight loss meal could be served with more veggies so go ahead and serve my healthy paneer tikka with your favourite garden salad that can include and not limited to cucumbers, cherry tomatoes and any greens.
Although not traditional you can try serving it with a side of lemon rice too.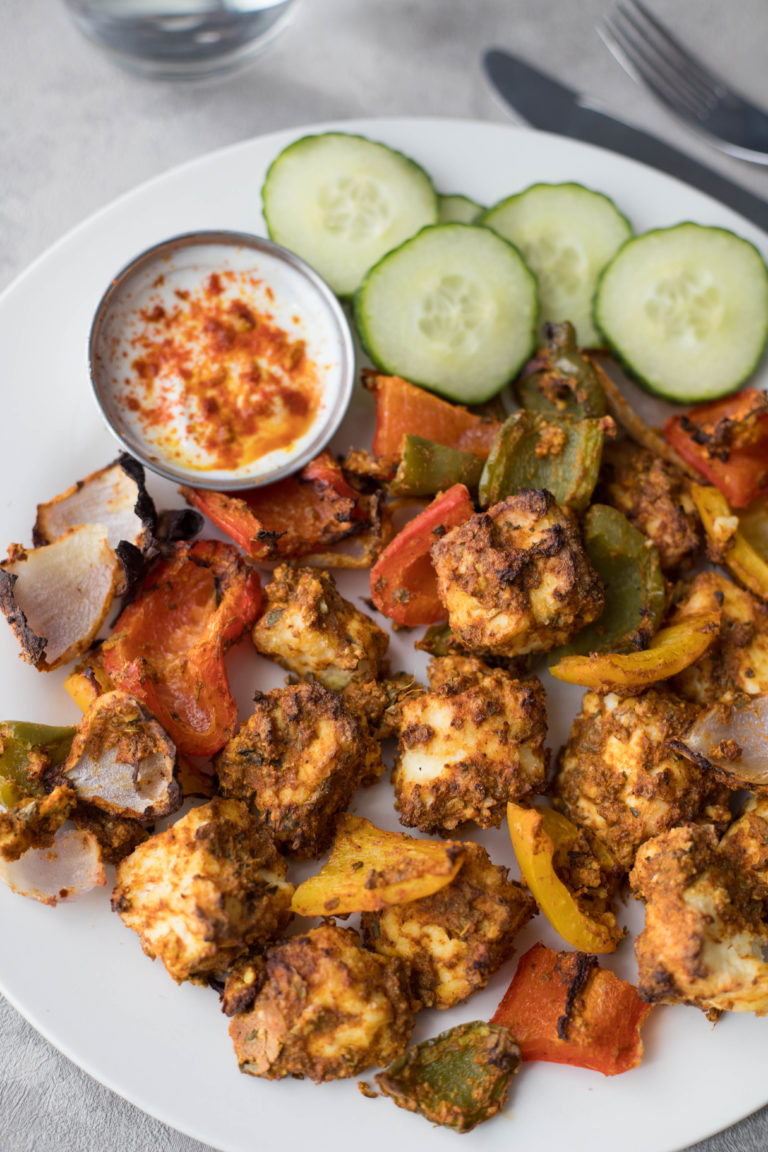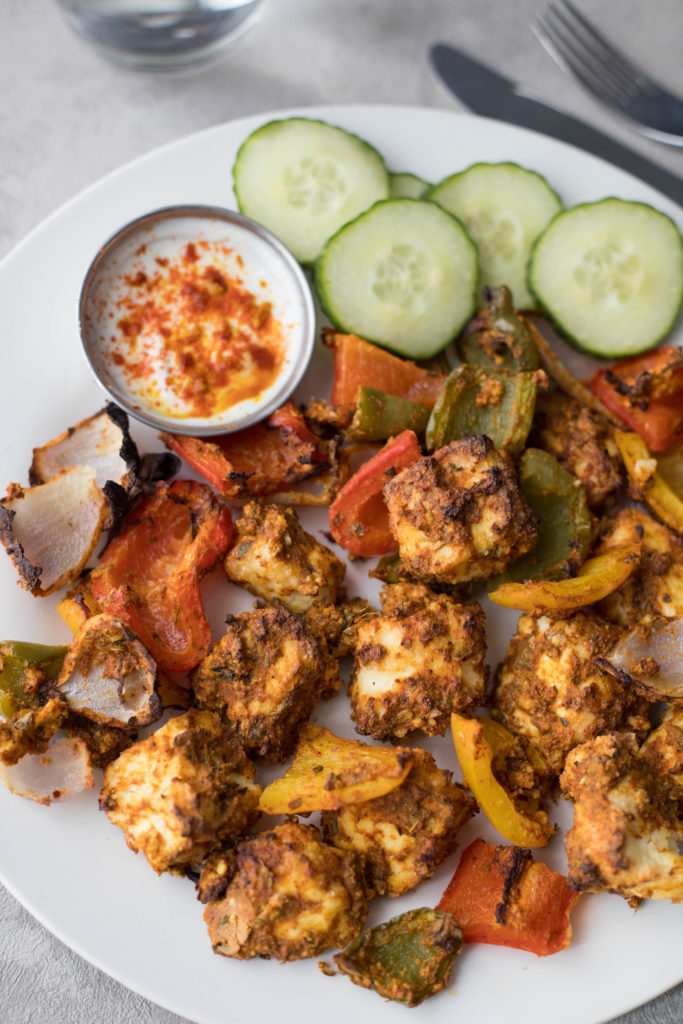 Can I freeze it or store in fridge for long?
You can absolutely make this well ahead and store in fridge which stays good for a week. reheat in microwave for couple of minutes before you can eat.
Although suitable for freezing I wouldn't recommend as diary products tend to expire soon. you can freeze the marinated or cooked paneer in a zip lock bag and store until the the best before date of the milk to be used. Microwave direct from freeze for at least 5 to 7 minutes and serve hot.
Video recipe for healthy paneer tikka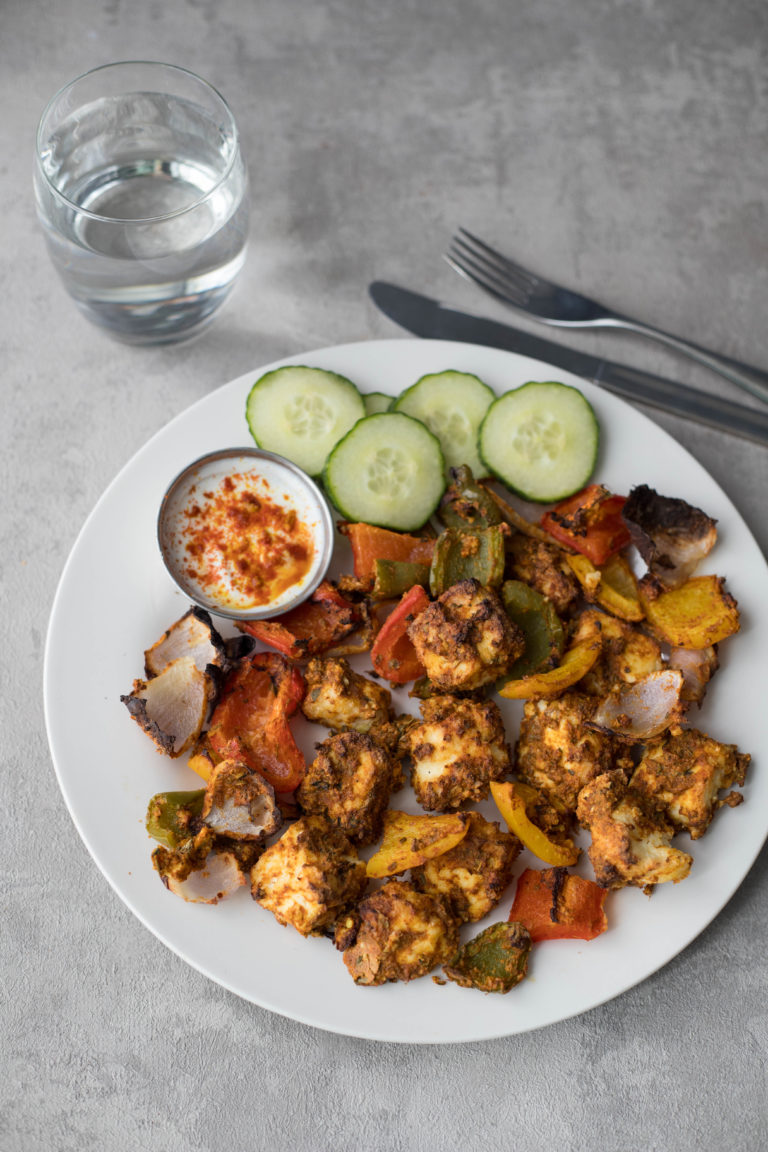 Print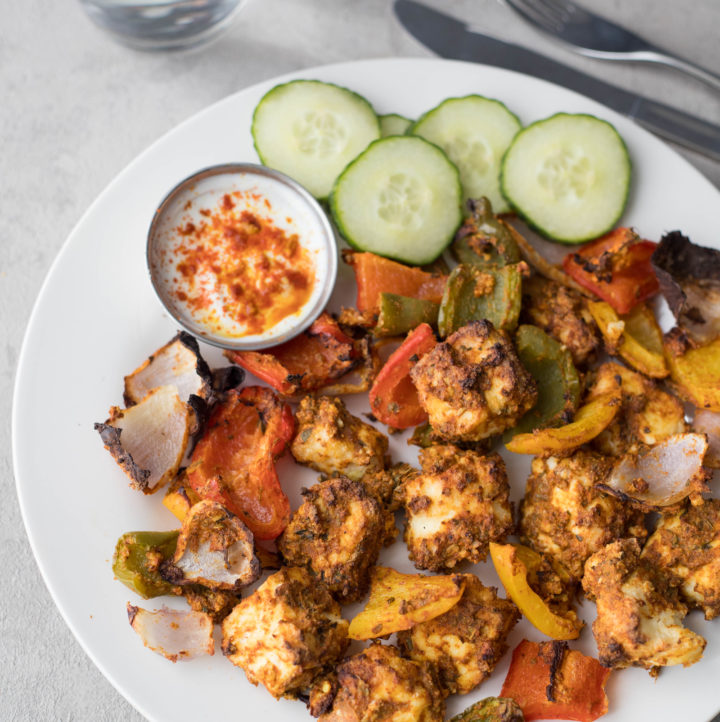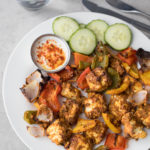 Healthy Paneer Tikka
---
Author:

Siri

Prep Time:

10

Cook Time:

30

Total Time:

40 minutes

Yield:

2

1

x

Diet:

Vegetarian
Description
Healthy paneer tikka is a popular appetizer made with Indian cottage cheese and fragrant spice powders. Perfect for weight loss and any calorie counting diets.
---
150g

paneer

1

small onion.

½

of red, yellow, green bell peppers each cubed

3 tbsp

low-fat Greek yoghurt

1 tsp

ginger garlic paste

1.5 tsp

paprika

1 tsp

chilli powder

1 tsp

coriander powder

1 tsp

cumin powder

½ tsp

garam masala

¼

  tsp turmeric powder

1 tsp

white pepper powder

2 tsp

dried fenugreek leaves
juice of a half lemon(I haven't used here as I ran out of lemons)
---
Instructions
Cut the onion into half and peel the layers one by one. Deseed the bell peppers and slice them into cubes.
Lightly beat the yoghurt in a bowl and add in all the spices along with a pinch of salt.
Adust yoghurt little bit as per the consistency and add in ginger garlic paste too, the coating should not be runny and slightly thick.
Coat the paneer pieces well first and then the veggies in the leftover marinade.
Line a baking tray with parchment paper and spread the paneer pieces and veggies with sufficient gap in between.
Spray low-calorie cooking spray on the marinated paneer and vegetables.
Bake in a preheated oven at 180C for 10 min by checking in between or until golden brown and then broil for 2 -3 min until charred.
Serve with a homemade mint yoghurt dip or just plain yoghurt sprinkled with paprika salt and pepper along with your favourite salad
Also, squeeze some lemon juice and my fav is eating with crunchy onion rings.
Notes
If you marinate the paneer and veggies for 1 hour the flavour comes out even nice.
the yoghurt should be ideally thick, also choose full fat or low fat according to your personal preferences.
The paneer and veggies should form a nice chargrilled layer.
Category:

Appetizers

Method:

Bake

Cuisine:

Indian
Keywords: paneer cheese, paneer, indian