Healthy peanut butter banana baked oatmeal welcomes you to the meal-prep club ;)Ideal for batch cooking and no excuse anymore for skipping breakfast.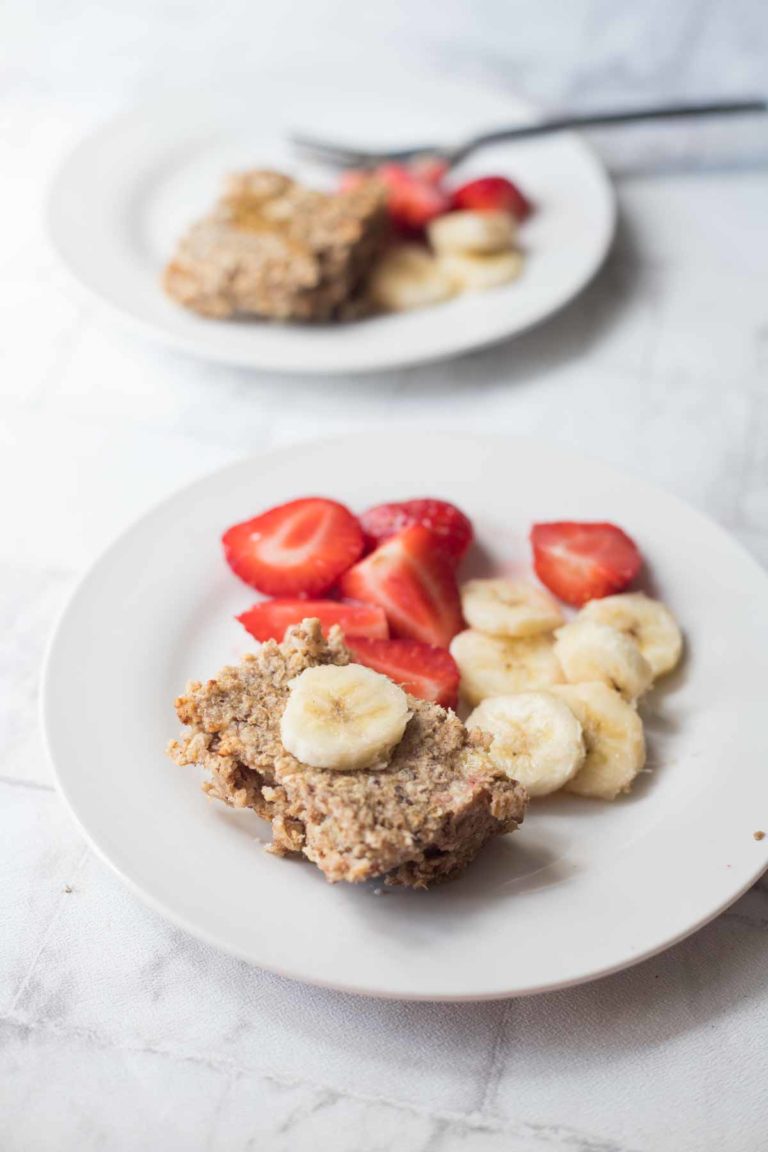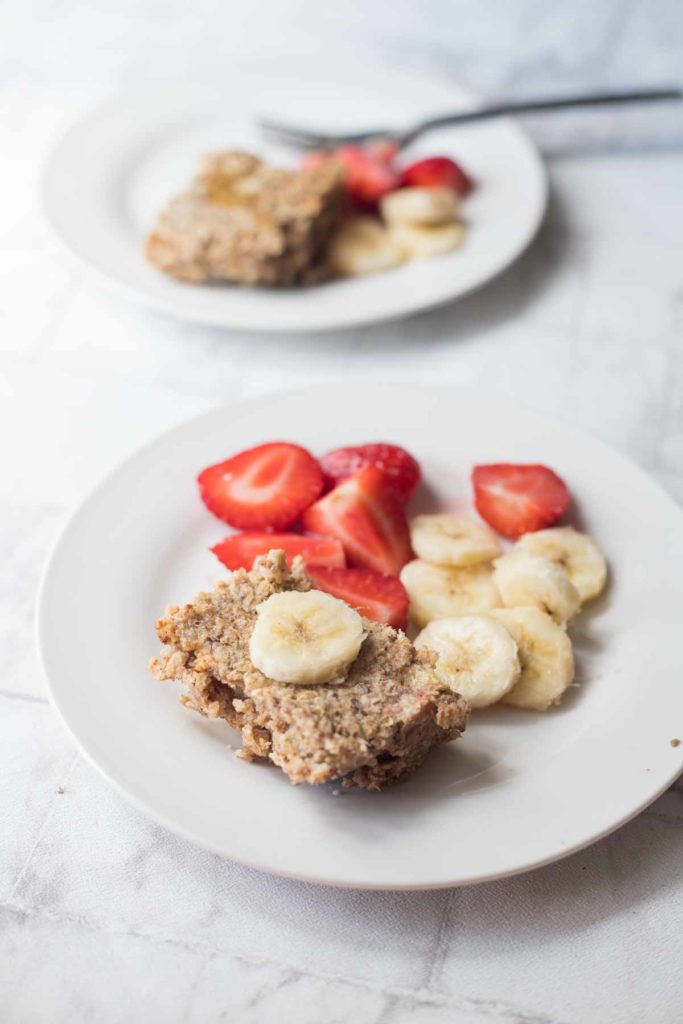 Honestly, I need variety in my food sometimes to stay motivated to my weight loss eating plan. Porridge is so boring to eat daily and I can't make time for a cooked breakfast either so it gotta be something like this banana baked oatmeal. something warm, chewy and sweet <3 served with extra fruit ticks all the marks for me
Tasty and healthy
Variety
Includes a lot of fruit
A controlled portion of carbs
protein(and not eggs)
Ready to eat whenever you want, brekkie? light diner? dessert? You are welcome!
And why it is suitable for weight loss or calorie counting diets?
No added sugars or oils.
Made with real fruits
Filling with oats and banana
Extra protein with Quark
Cute and small servings with fruits on the side.
Using powdered peanut butter which is way less dense than the peanut butter in calories.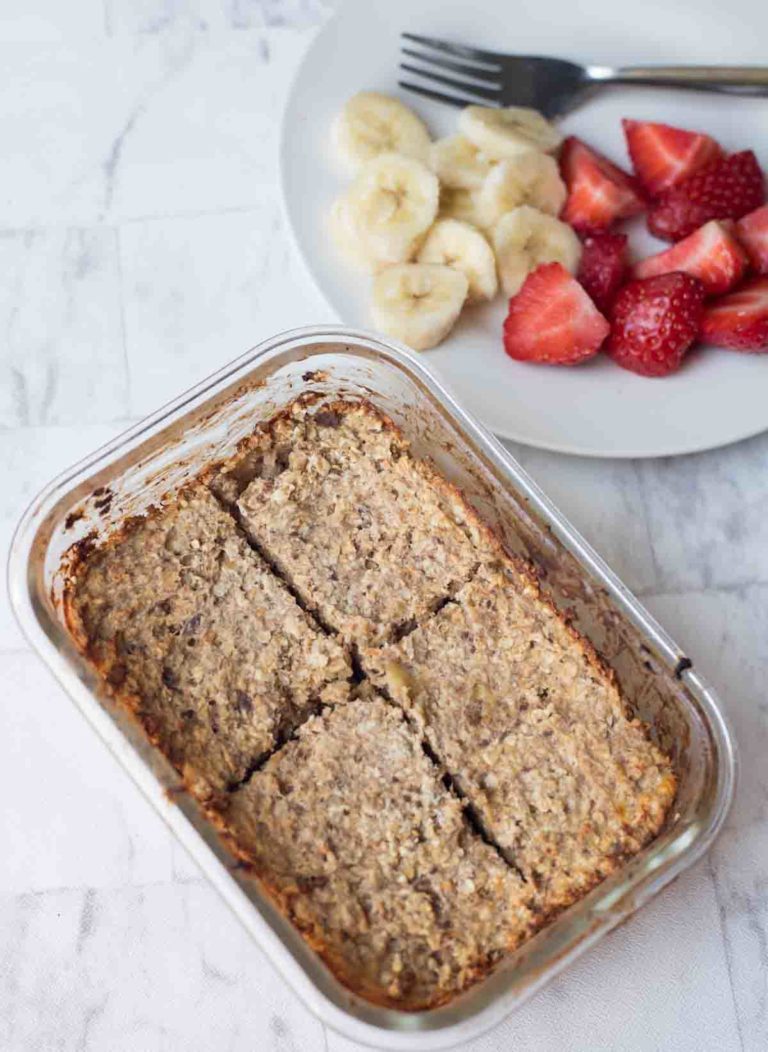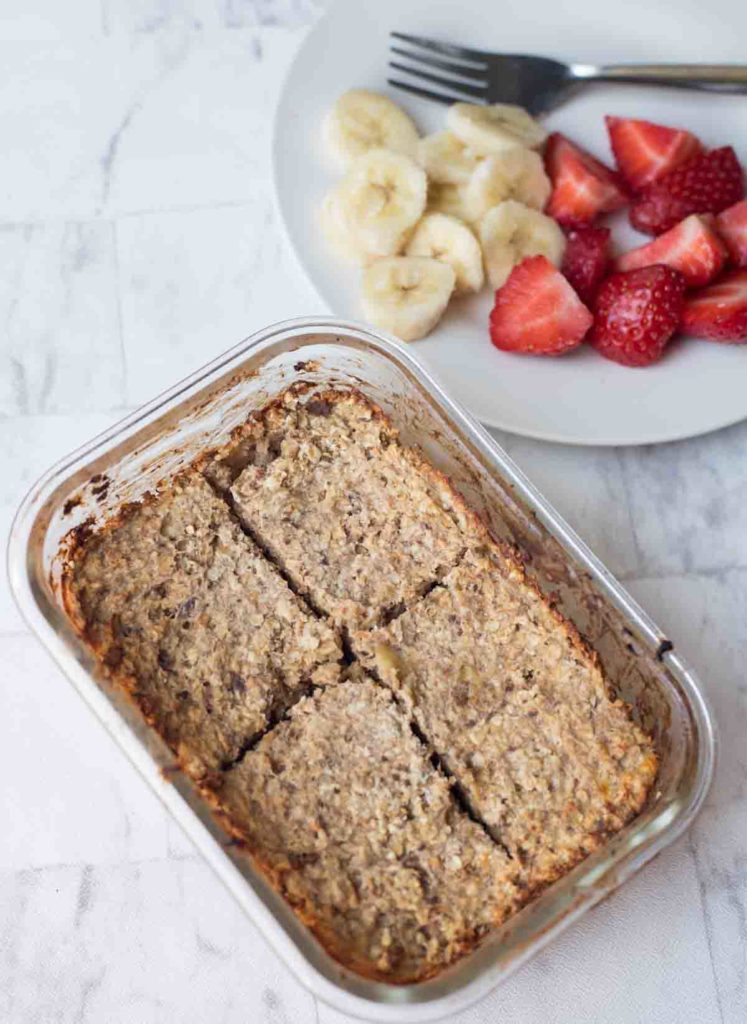 Ingredients for Peanut Butter Banana Baked Oatmeal
Humble oats You can use any kind of oats but the old fashioned oats are the best fi for baked oatmeal.
Bananas are rich in potassium and quite filling naturally. also they eliminate the need for any added refined sugars , Plus perfect sneaky way to get the fruit dose for banana haters like me!
Quark which is naturally rich in protein and low in fat. I used a low-fat version but feel free to use the one you are comfortable with.
Powdered peanut butter is made by pressing most of the natural oils from roasted peanuts, you get the same flavour but with fewer calories.
It is made by pressing out most of the natural oils from roasted peanuts and then grinding the nuts into a fine powder. You can easily add the powder in baking goods, oatmeals and smoothies to get a similar taste. Few versions might have added sugars to compensate for the fat removed so be conscious and check the nutrition labels always before buying.
Am not endorsing you to replace butter with powder but you know knowledge is wealth ;). Powdered peanut butter is a good fit for people like us who wants to lose weight or counting calories. Here is the one I got from TKMAX years ago for the first time(their food section is full of unique and flavorful products!)
Flax meal, am not a vegan and there is a reason why I used this here. Eggs are superfoods that can be easily cooked so I always try to reserve them for a separate meal on their own. So the best replacement for eggs is flax meal that can bind the ingredients well while baking. Basically, flax meal, when diluted with water, becomes an egg for any of your baking needs. We call it a flax egg! here is a helpful article for you on flax eggs.
Baking powder coz we are baking and cinnamon powder to go with bananas.
Cooking oil spray as always to reduce the calories in the dish.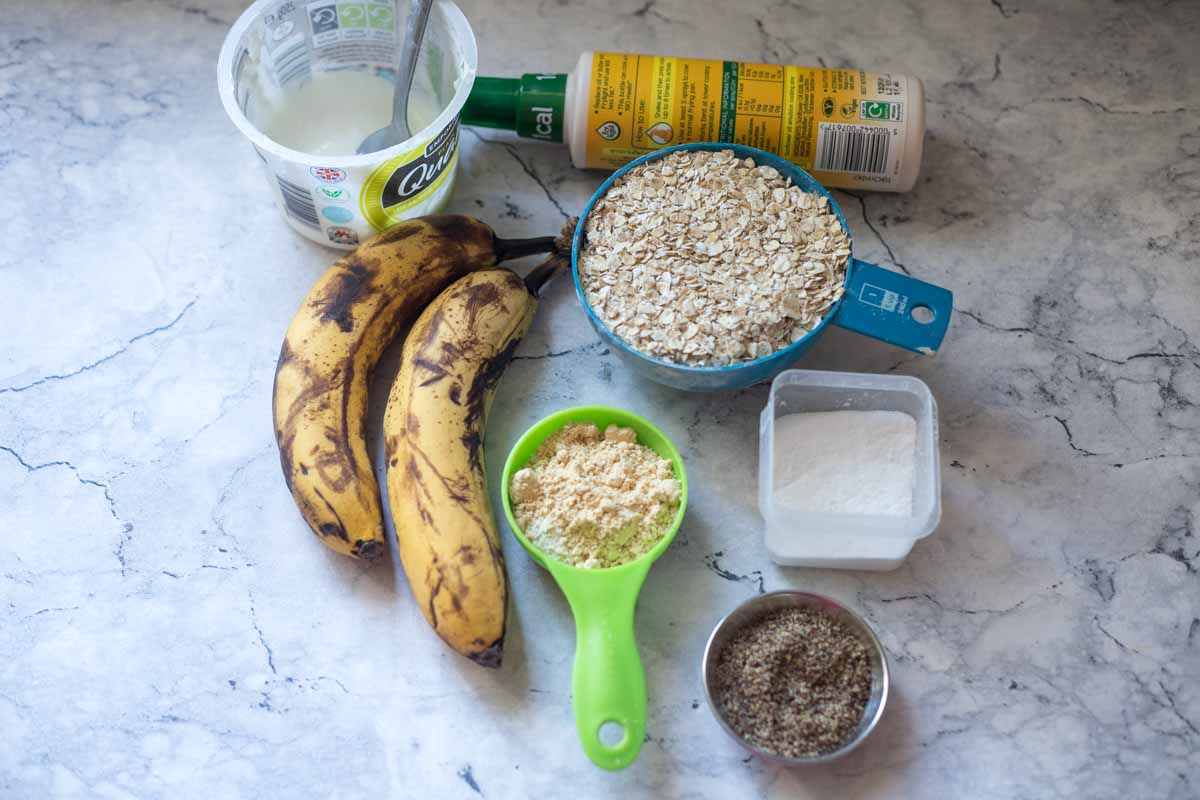 What kind of diets this come under?
It can be made vegan if you avoid quark with some plant based yogurt.
Suitable for vegetarians and also can be made gluten free if you make sure the oats are gluten free.
How to serve the peanut butter banana baked oatmeal?
Ideally suitable to eat as breakfast served with additional fruit. You can also have it as a light dessert too with fewer calories. nd there is no reason why you can't eat this for a brunch if you are doing any kind f intermittent fasting or on a lazy weekend.
Also if you don't like banana, so ahead and use any fruit of your choice. We can experiment this with peaches, apricots, apples. just use the puree to get the flavor you want.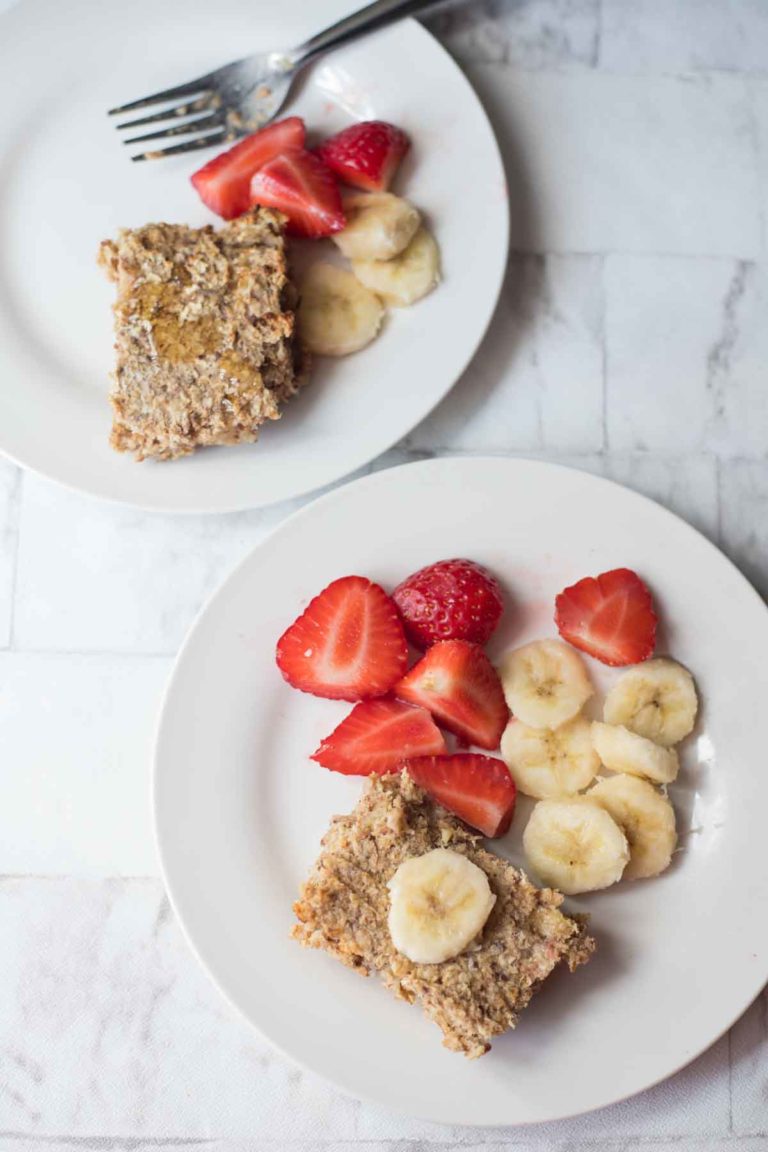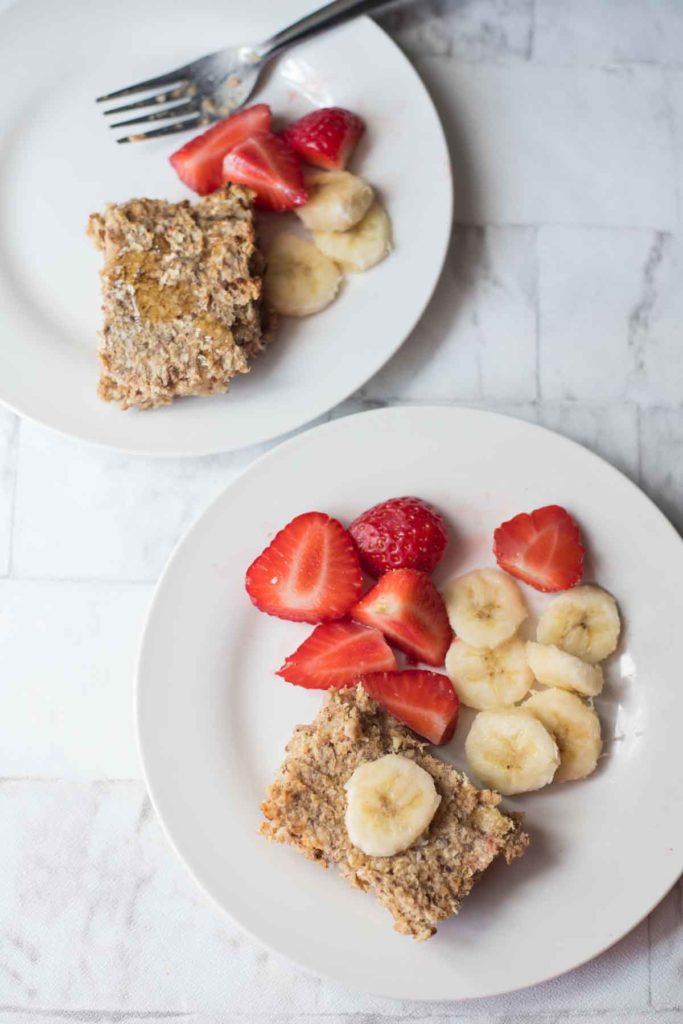 Video recipe for peanut butter banana baked oatmeal
Can I make this ahead or freeze?
Our peanut butter banana baked oatmeal is a great option for batch cooking and meal prep, Stays good in the fridge for a week in my experience but best served fresh.
If you allow any leftovers to cool, keep in a closed container and chill in the refrigerator in a container with a lid and chill.
Ideal to freeze for a month if you take care of the quark expiry date. Just wrap the individual portions in a freezer bag and cool them before freezing. always put a label so you don't forget the date you have made the food.
Print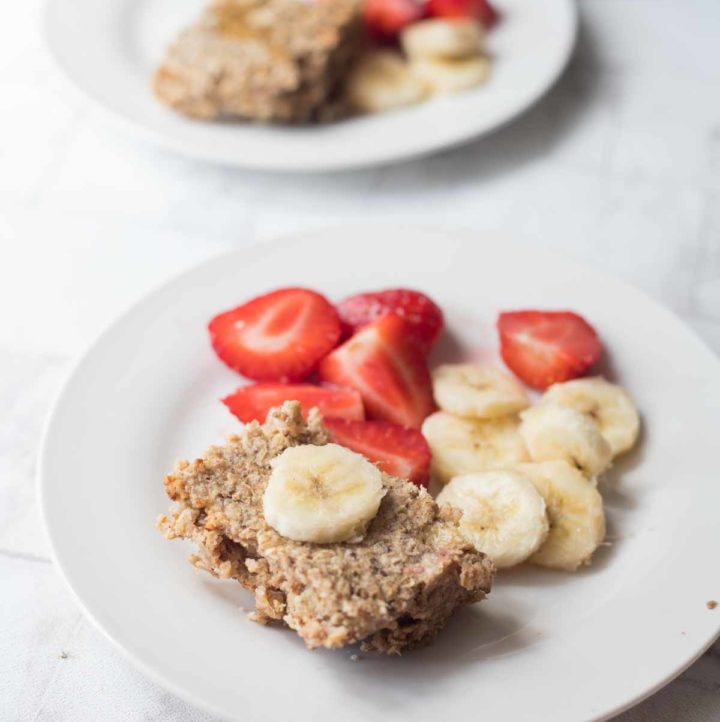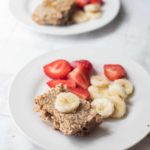 Peanut Butter Banana Baked Oatmeal
---
Author:

Siri

Prep Time:

10

Cook Time:

25 min

Total Time:

35 minutes

Yield:

4

1

x

Diet:

Low Fat
Description
Peanut butter banana baked oatmeal is an easy make-ahead breakfast for weight loss or any calorie counting diets. It is ideal for meal prep and batch cooking!
---
80g

Old fashioned oats

1 ½

bananas plus a half for serving

30g

powdered peanut butter

2 tbsp

flax meal

30g

quark(roughly

2

–

3

tbsp)

1 tsp

baking powder
cooking spray
Strawberries for serving(optional)
---
Instructions
Preheat the oven at 200C for at least 15 minutes.
In a bowl, mash the banana and mix in quark and flax meal.
Combine all dry ingredients like oats, baking powder, peanut butter powder,  cinnamon powder and add to the wet ingredients above.
Mix well and transfer the content to an ovenproof container(i used pyrex). Press the mixture well and spray cooking oil.
Bake it at 180C for 18-20 min by checking in between. 
Allow it to cool down before slicing and serving with additional fruit like half a banana and strawberries.
Notes
Please check the cooking times as it can depend on your device/oven and ingredients used. I always make sure to check in between irrespective of the recipe instructions.
The crust and edges should slightly become golden brown.
This recipes makes 4 squares and depending upon your hunger and how you serve this, you may need 1 or 2 squares. 
Category:

Breakfast

Method:

Bake

Cuisine:

Global
Keywords: oatmeal, peanut butter, banana, flaxmeal