If you live in a cold country and are missing perfect pillow-soft idlis, this instant pot idli batter recipe is for you! Idli is the king of South Indian Breakfast and needless to say is the healthiest breakfast since it is steamed without using any oil. Get tips and trick and ultimate step-by-step video guide to make the softest idlis ever!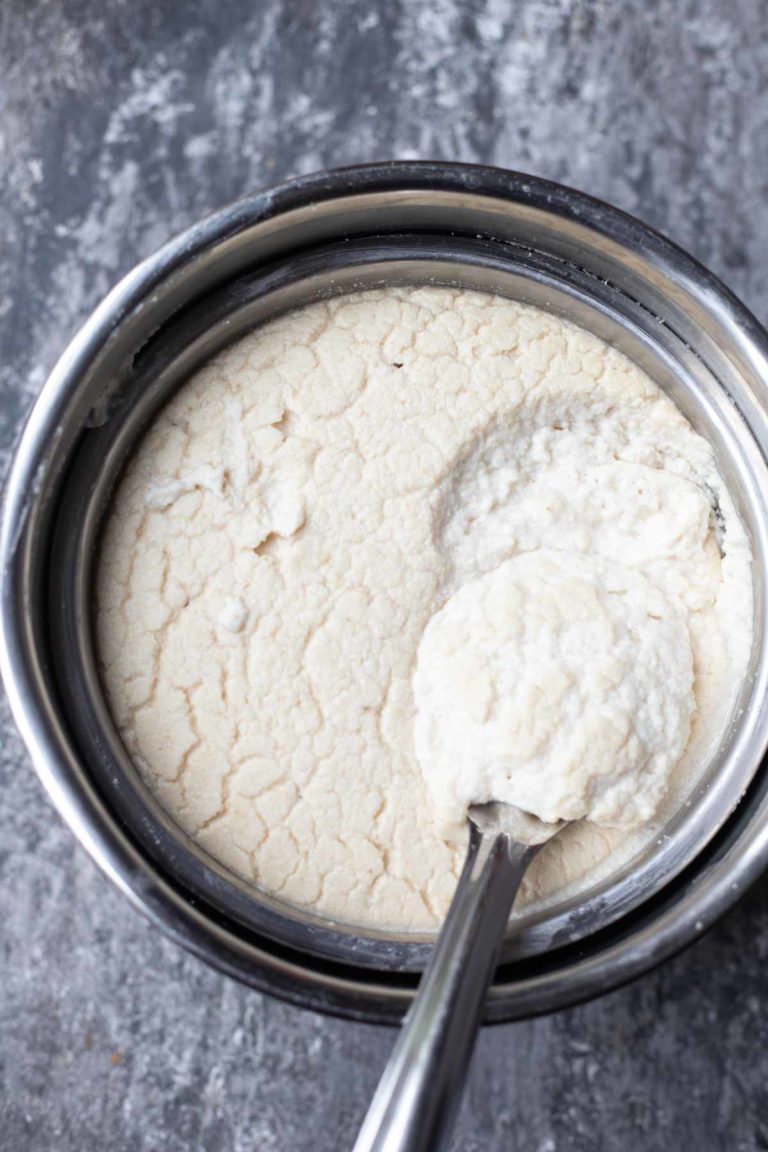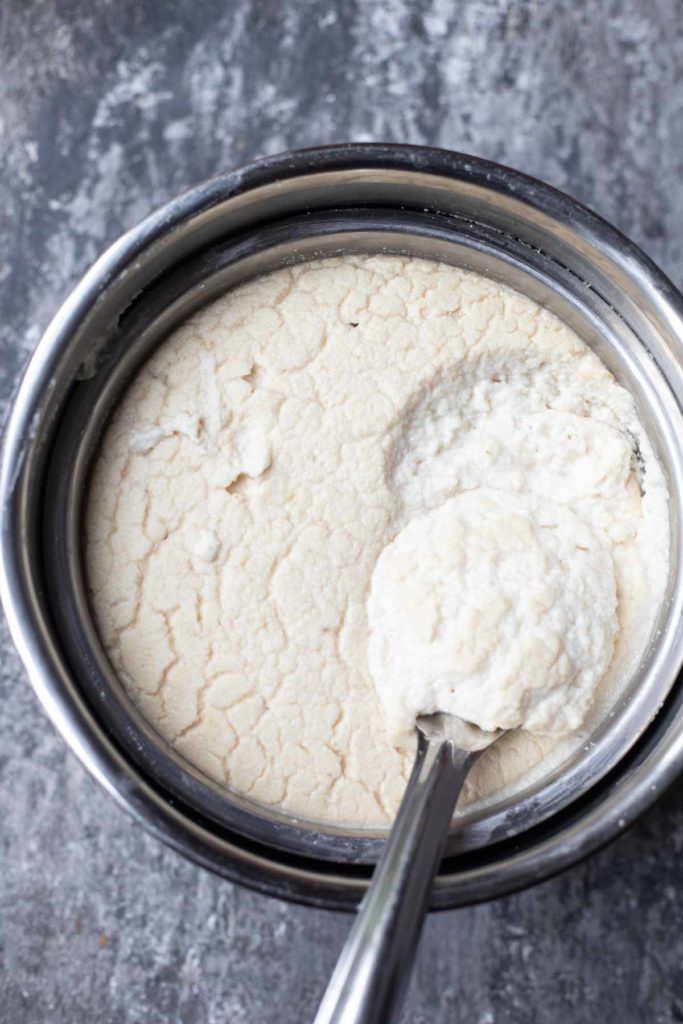 South India is famous for its traditional breakfasts like Idli,Dosa, Vada, Uthappam while in north parathas, chillas rule the breakfast time. For me soft idli top the list anytime. Today am giving you a food proof recipe for instant pot idli batter with idli rava.
What is Idli?
Idli is the healthiest breakfast for me with the right balance of proteins and carbs in it. Soft Idlis are a staple in the south Indian breakfast menu, like a full English breakfast for the British. It is a soft melt in the mouth(when properly done) steamed cake kind of made using urad dal and cream of rice called Rava(like semolina).
South Indians like me go crazy for soft idlis and these can be enjoyed with several assorted chutneys and sambar. I can have it for breakfast, lunch, dinner and snack. As much as I love the full English breakfast on the other side, I love these idlis more than that.
Idli for Weight Loss
Idli is a perfect breakfast to have when you are trying to lose weight.
The process of making idli involves steaming and hence no need of any oil to be used.they are not deep-fried in oil.
Idli also contains a good amount of balanced carbs and protein. In my view, idli consumption is one way of eating controlled carbs. If you are too worried about the rice content in it there are several ways to play around with the ingredients like adding brown rice, millets, oats, pulses into it.
Idli is rich in fibre and also fermented food helps in easy digestion and can keep us full for longer times, for example, a protein and nutrient-rich sambar idli can be a fulfilling meal and keep us full for longer than a simple sandwich.
It doesn't contain any added sugars like cereals or bread or pancakes.
South Indian Idli Batter
There are several ways to prepare idli batter in South India. Even though the base is urad dal and rice, the ways the ingredients are used is totally unique to each state like Tamilnadu(Madras), Andhra Pradesh, Kerala and Karnataka.
In this post, am giving the recipe for Andhra Style Idli which is not prepared with idli rice usually. Also let me know tell you this is not a multi-purpose idli dosa batter, we never use same batter for both idli in dosa in Andhra , at least in my household. We never like it that way.
For us, idli batter is totally different to dosa batter and we always use Idli Rava which is also called cream of rice or broken rice that is soaked and dried well before getting converted into rava. A good quality Idli Rava is more like fine semolina.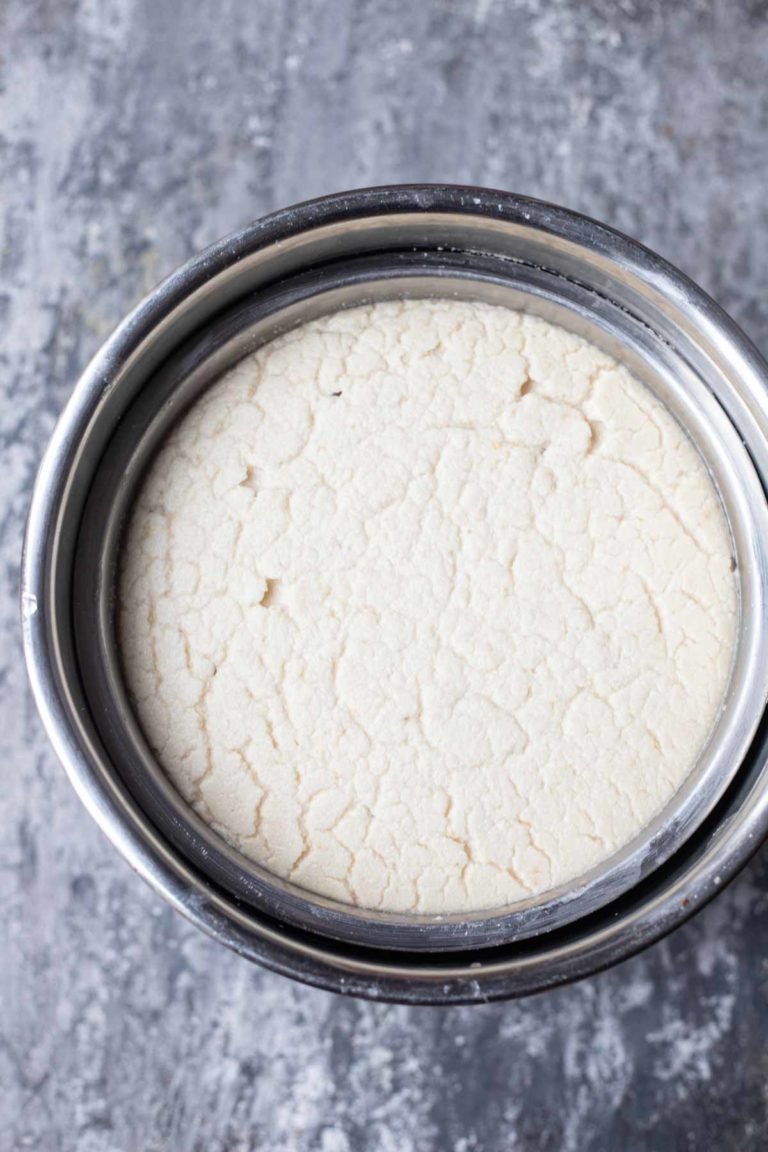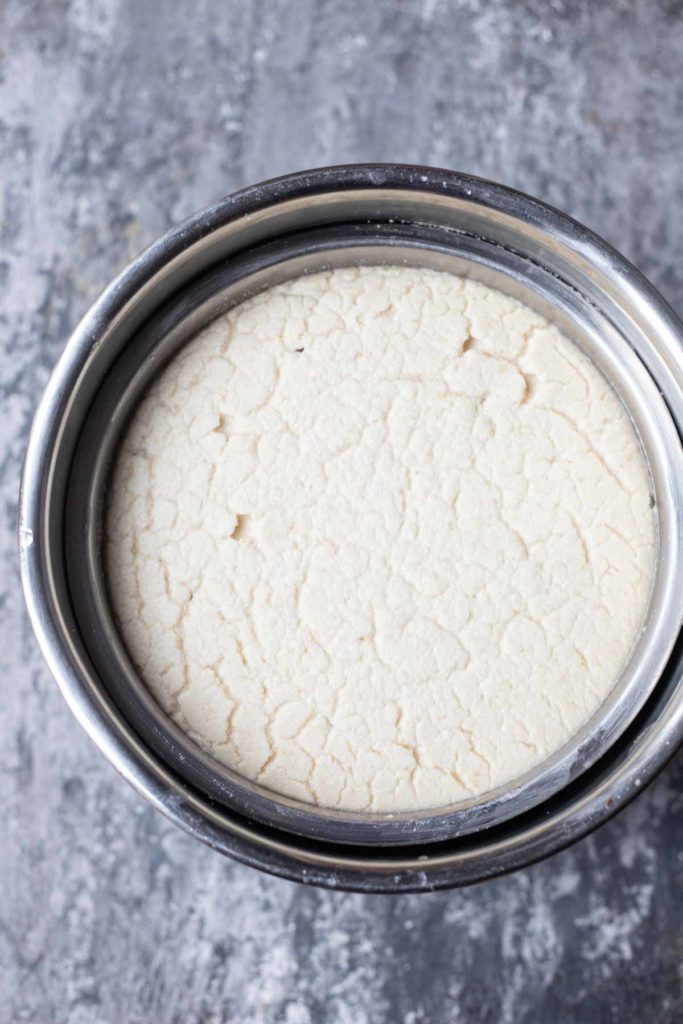 Why Instant Pot Idli batter you ask?
For us people living in cold countries like the UK and US, it is very difficult to ferment the batter on the countertop, hence instant pot is a better kitchen tool that can provide enough temperature to ferment the batter.
You could also use a slow cooker I believe but I have no experience using one.
What is Instant Pot? Where can I buy it?
Instant Pot is an electric pressure cooker that has multiple functions to pressure cook, steam, make yoghurt, cook beans, meat, chicken, eggs etc with less effort and attention to the cooking process so you can save time immensely.
Like you don't need to keep checking whether the rice has cooked or curry has spilt and count whistles like your normal pressure cooker. Most of the times you can dump your ingredients and switch on a button and e back in some time to have a ready-to-eat meal literally.
You can buy this in official instant pot stores or Amazon or Costco for the best prices. Usually, they have the best deals at the end of the year especially Amazon.
If you live in India your best option is to get it from any of the friends in the UK, they do sell on Amazon India but the price is very high and not worth it.
Ingredients for Instant Pot Idli Batter
The softness of idli depends so much on the quality of ingredients chosen along with how well the batter is fermented, here am listing out the exact ingredients that always resulted in soft melt in the mouth pillow idlis for me.
Urad Dal – I always used whole good quality white urad dal. You can also use split urad dal be it black(which has skin on it and is considered more fibre rich) or white but I haven't used myself.
Idli Rava – this almost decides the texture of the idli, Select a super fine variety of idli Rava that doesn't require hours of soaking. In the UK, we always buy Priya or Sree Krishna brand, their Rava is super fine and needs less soaking time.
Fenugreek/Methi Seeds – they help a lot for fermentation and also giving crispiness and colour to dosas too. Don't miss them if you need soft idlis.
Poha/Flattened Rice – I normally use thin poha but you can use thick as well. using poha helps in increasing the softness of idlis.
Salt – Rock salt is recommended by elders but I always g wrong with measurement so I stick to sea salt or table salt.
Ice Cold Water – I added this too because the amount and temperature of water added also decides the softness and puffiness of idli.
Idli Batter in Wet Grinder vs Mixer/Blender
I know wet grinder is the go-to machine for soft idlis they say but not having one really is never a show stopper for soft piping idlis. In fact, I will never invest on a wet grinder if am having instant pot all the time as it is more about fermentation and less about how the batter is ground.
If you have a wet grinder, well and good, go ahead and use it but my experience with this recipe never calls for a wet grinder. If you want to save counter space and time(which you spend cleaning the wet grinder), trust me and blindly follow this recipe using a general mixi/mixer/blender.
Washing the urad dal and Idli Rava
I made this as a paragraph coz it is important that you wash them well to get soft and white idlis.
Urad dal usually contain a lot of dirt so it is important you wash the dal under running water several times until you see the water clear.
Also mix fenugreek seeds with urad dal while washing itself.
Same goes for rava, using little salt while washing and soaking the rava helps in getting white idlis they say but I haven't tried personally.
Tips for making Instant Pot Idli Batter
These are the tips I follow for a making a well fermented idli batter in instant pot. I don't use any baking soda or any rising agents to the batter. Just pure and natural.
Use good quality urad dal and a very fine variety of idli Rava. don't miss fenugreek seeds which help in fermentation
Soak the urad dal for no more than 3 hours and never for overnight.
Soak the rava for no more than an hour if its very fine and if not max for 2 hours.
I use think poha which don't need soaking except to wash and use. If you are using thick flattened rice, make sure to soak well for at least 20 minutes or until soft.
Using ice-cold water is important while grinding the batter in a mixer. Unlike wet grinder, the mixer jar will get heated a lot while grinding which may kill the good bacteria in the batter that helps in fermentation. So ice water helps to balance the heat.
Few people use ice cubes too but I don't think it is necessary for the first instance.
Idli batter needs to be ground very well until you see a softened butter consistency. Like if you drop a blob of batter in water, it shouldn't disintegrate.
Never use excess water while grinding the batter. I use 1to 1.25 cups of water generally for 1 cup of urad dal.
also, the batter needs to be mixed well preferably with hands to incorporate air bubbles in the batter, like you mix for a perfect vanilla cake batter. Using a cut and fold method is perfect.
once fermented, the batter should not be over-mixed, it needs to be gently mixed so to allow the salt to spread evenly.
Fermenting Idli Batter in Instant Pot
This is more or less same procedure for instant pot idli batter or idli batter prepared under room temperature.
Usually, I ferment using the yoghurt mode either directly in the instant pot or using a pot in pot method, both yields the same result. Make sure you don't fill the batter to its max limit as it may overflow and can spill over resulting in need of heavy-duty cleaning
I normally ferment for 7.5 to 8 hours and the batter ferments exceptionally well most of the times in Winter.
In summer I try to check in between as the temperatures are usually higher and more hours of fermenting means more possibility for the batter to become sour quickly.
I never add salt while fermenting the dli or dosa batter, its something I have observed a lot in many of my close families who even ran small sized commercial breakfast centers.
Storing Suggestions for Idli Batter
I usually store the instant pot idli batter on the counter top for the first few hours after fermenting say for at least 5 hours.
then I will transfer to a closed lid container and store in fridge , it stays good and fresh for at least 3 days.
Frankly, I like the idli prepared with fresh and 1-day old batter, rest is only an adjustment on the taste for me, but do not listen to me, am an over perfectionist when it comes to idli lol.
How to make Soft Idlis
I believe all of you know how to make idlis but this is to give you some tips on how to get soft idlis from the instant pot idli batter.
Always use less content of batter to scoop in to the idli moulds, ecess batter gives hard and large idlis that dont taste well for me.
If possible use a musilin or soft cotton cloth to line your idlis on the idli mould.
As mentioned already, never over mix the batter once it is ferented, treat it genlty so the air bubbles in them are still alive.
Also don't mix excess water once the batter if ready , excess water will not make the idlis to puff up and can also result in flat hard idlis.
Steam the idlis for no more than 10-12 minutes on medium to high flame only after the water in the idli container is pre-heated enough.
Before you demold the idlis, allow the idlis to cool down for few minutes else they will break or the surface will not be smooth
How to know if the idli batter is fermented well?
You will see the batter is raised up well in the container.
Also you will notice some cracks on the top of the batter which indicates the batter is fermented well, you may notice a slight discoloration on the top which is totally normal and safe.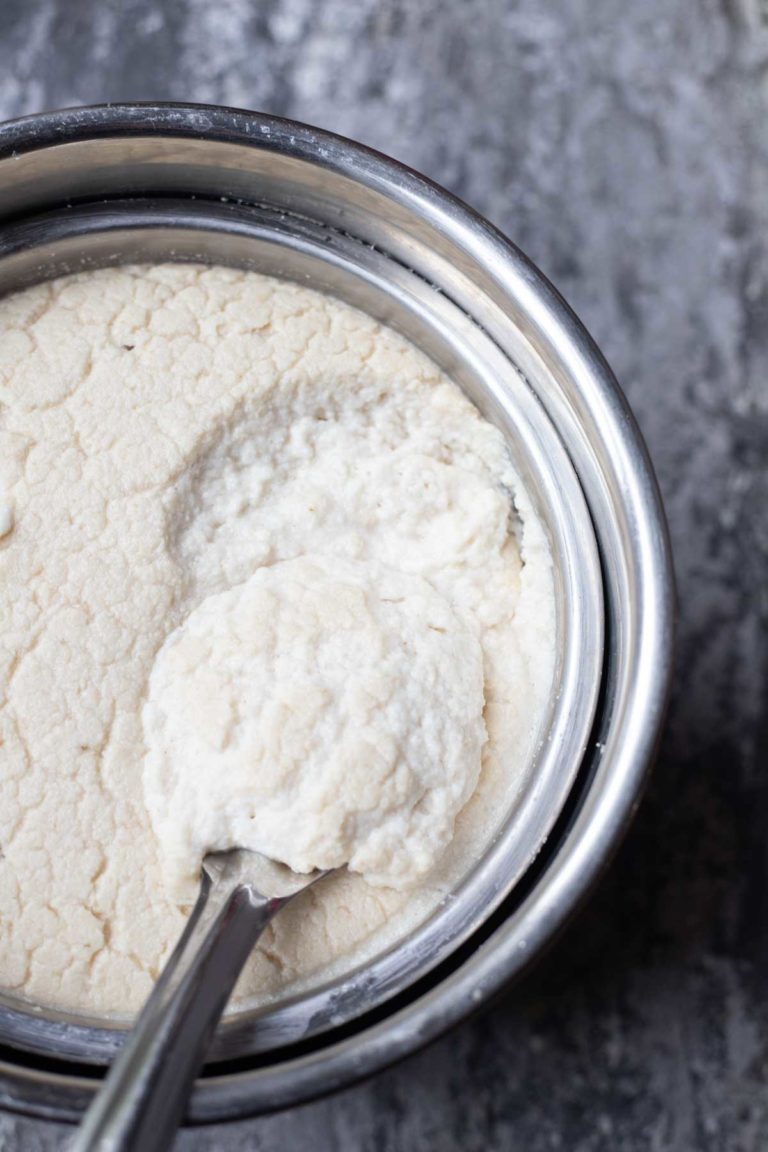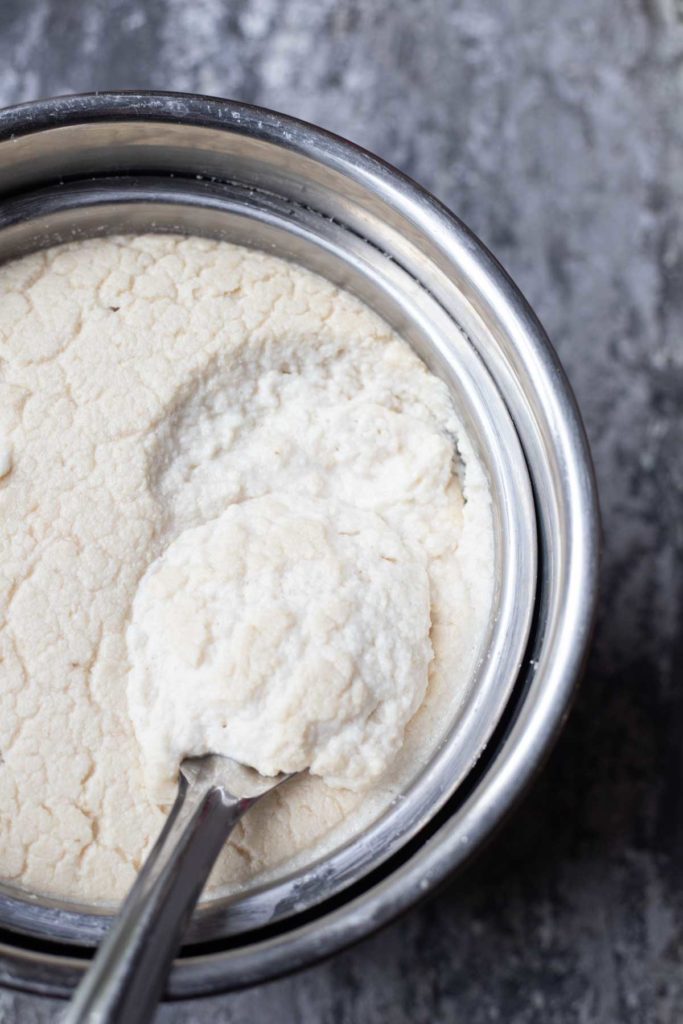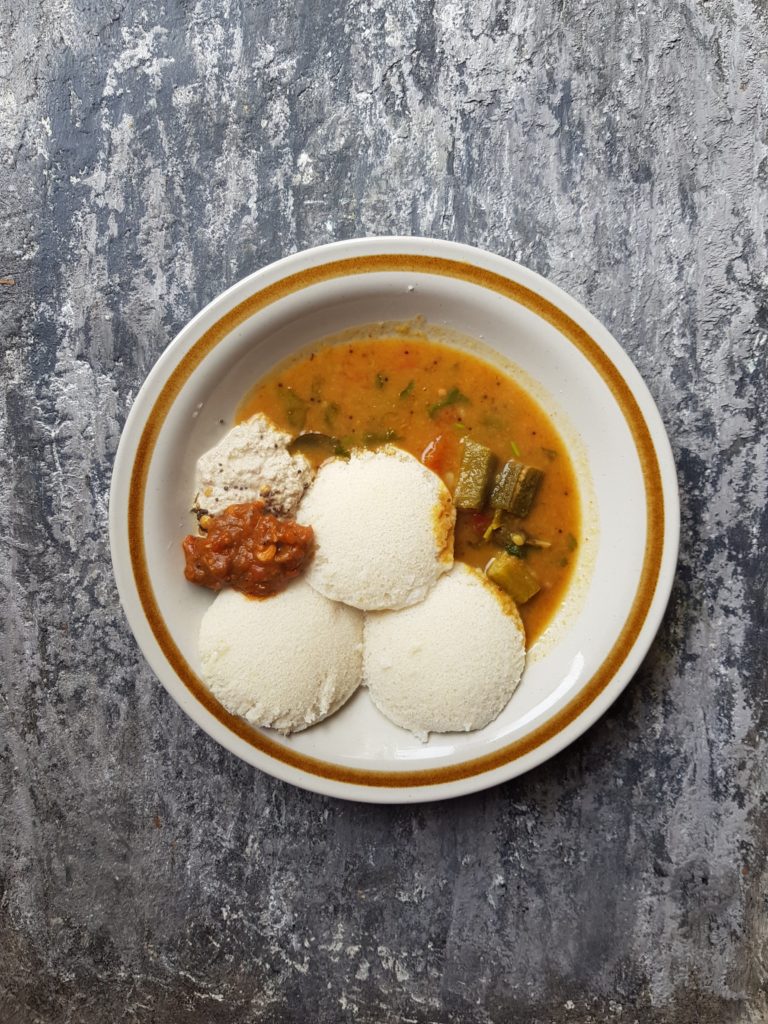 How to serve Idlis for weight loss
Idlis can become calorie rich and negate your weight loss efforts if not served properly.
Firstly, depending upon your daily calorie limit, serve yourself 3-4 idlis.
Agree idlis taste divine with coconut and roasted peanut chutney but they can quickly add more calories. So I ideally eat with less coconut/peanut chutney if am trying to lose weight.
Serve with nutrient and protein rich vegetable sambar.
Also making chutneys with fresh vegetables is another good way to serve idlis. Check out the recipes for this tangy raw green tomato chutney
Idli podis like karappodi, pappula podi/gun powder, lentils powders all needs ghee/oil to mix with. so either follow portion control if not applying few drops of ghee to idli and then rubbing with podi is one other clever way to avoid excess calories.
Idlis can also be served with tomato curry which is famous in Tamilnadu but am not huge fan.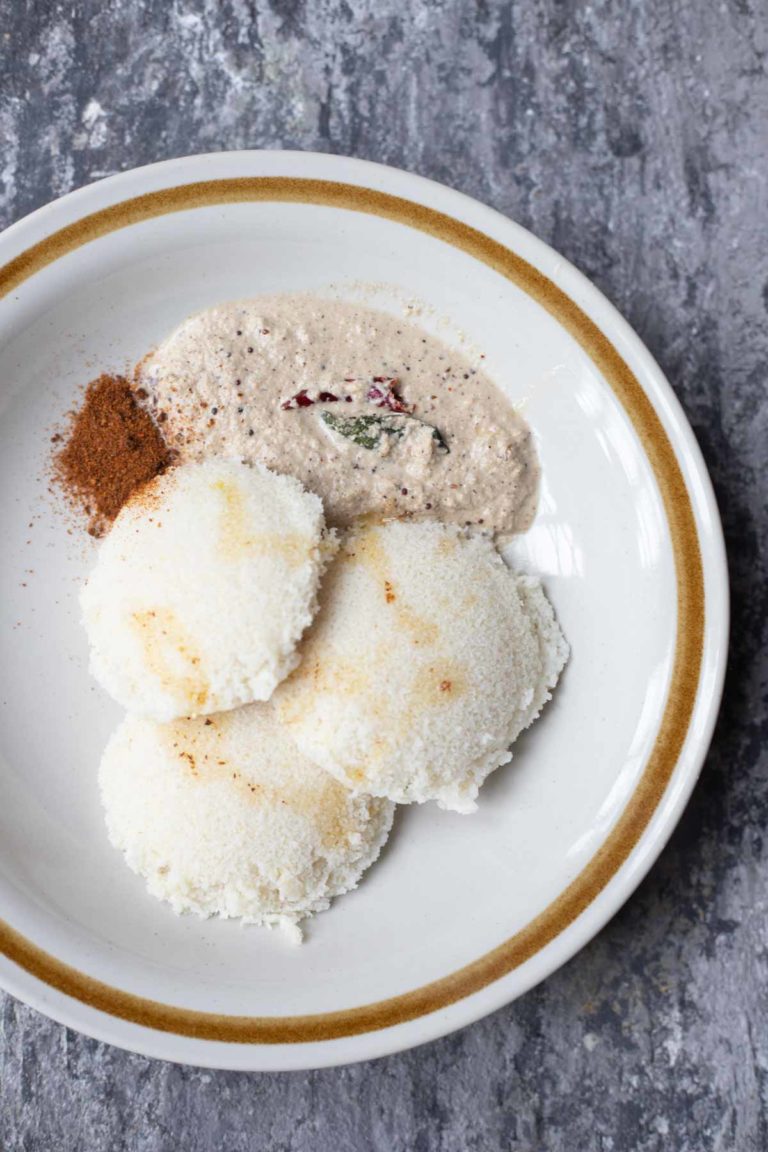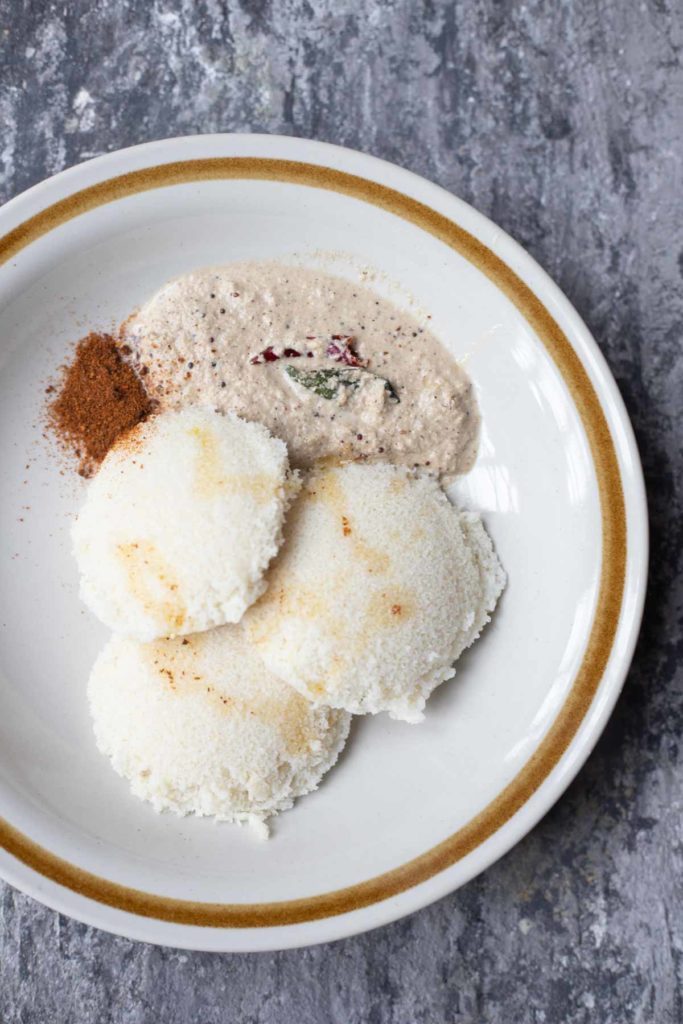 What if I don't have an Instant Pot?
I have written so much about how to ferment idli batter in the instant pot but I hear those who don't have one:) Your best option is to pre-heat the oven at 100 degree Celsius for 30 minutes, switch off the oven, wait for 10 minutes and place the idli batter container inside ensuring the temperature is warm and not very hot.
You can also try to keep in a closed Microwave oven. Another option is to heat water in large heavy bottomed container, place the batter container , store in a warm place next to heaters 🙂
These tips are for people who are struggling to get their batter fermented in cold countries.
Print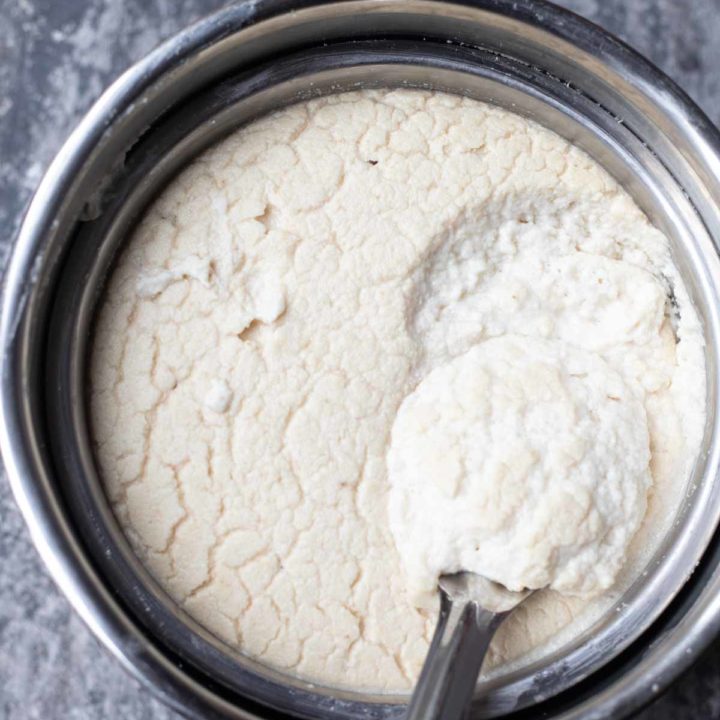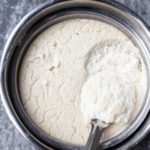 Instant Pot Idli Batter with Idli Rava
---
Author:

Siri

Prep Time:

8 hours

Total Time:

8 hours

Yield:

32

1

x

Diet:

Low Calorie
Description
A foolproof recipe for well-fermented instant pot idli atter that gives soft idlis every single time. Idli is a healthy breakfast option and is perfect for weight loss or calorie-counting diets.
---
1 cup

whole urad dal

2 cups

fine idli rava

1 cup

thin poha/flattened rice

½ tbsp

fenugreek/methi seeds

1

to

1.25

cups of ice-cold water

1 tablespoon

of sea salt or rock salt
---
Instructions
Wash urad dal and fenugreek seeds well under running water several times until you see clear water. Soak them for at least 3 to 4 hours.
Wash idli rava well until you see clear water and soak for 1 hour.
Just before grinding the batter, wash the thin flattened rice well and squeeze excess water.
Using ice-cold water, grind the soaked urad dal and fenugreek seeds into soft butter-like consistency batter in a normal mixi/blender or wet grinder the batter should be very smooth. then add flattened rice and grind once more.
Take out and add to instant pot inner pot or a pot that can fit enough into the instant pot.
Drain all the water from soaked idli rava. Start squeezing a handful of rava with your hands and keep adding to the soft urad dal batter until rava is finished.
Mix such that rava gets incorporated well into the urad dal batter. 
Once both are mixed initially, using your hand keep beating the batter in a way to incorporate air into the batter(check video) You can also use cut and fold method. 
Switch on instant pot and press yoghurt mode and set the timer for 7. 5 hours. place the batter filled pot and cover with a lid.allow it to ferment.
If using a pot in pot method, add 2 cups of water in the instant pot inner pot and place the batter pot.
Once the batter is fermented, mix the batter gently once, add required salt(usually try adding a tablespoon)and mix very gently, you should not over beat the batter.
Prepare idlis according to your preference, tips given in the post above.
Notes
Stick to the soaking times mentioned above.
Using ice-cold water is a must to avoid killing the good bacteria, I normally use tap water here in the UK as it is ice cold anyways.
If using thick flattened rice, soak for at least 15 minutes or until it becomes soft.
Do not overfill the batter to the brim of the container, leave plenty of space for it to rise.
In summer times, check the batter in between as it may take less time for fermentation.
Category:

Breakfast

Method:

Instant Pot

Cuisine:

Indian
Keywords: idli batter, instant pot, amdhra, indian
Other Idli Varieties
While this instant pot batter can give you the softest Andhra traditional idlis, there are many other varieties like oats idli, rava idli ,millets idli, vegetable stuffed idli which all has their unique taste. In any form, idli can be a great filling and healthy breakfast as long as you keep a check on the side dishes.
Are you an idli lover like me? Do you go crazy for soft idlis? I would like to hear from you if this recipe has worked well for you, if you have any questions please free to comment below, if the recipe worked for you, I would appreciate leaving a rating for the recipe.