Green Tomato Chutney or Andhra Pachi Tomato Pachadi with step by step photos. A unique chutney recipe bursting with South Indian flavours, pair it up with hot rice or dosas/crepes or idlis. Or even makes an excellent dip for corn chips or a whole grain cracker or flatbread, just like spicy hummus!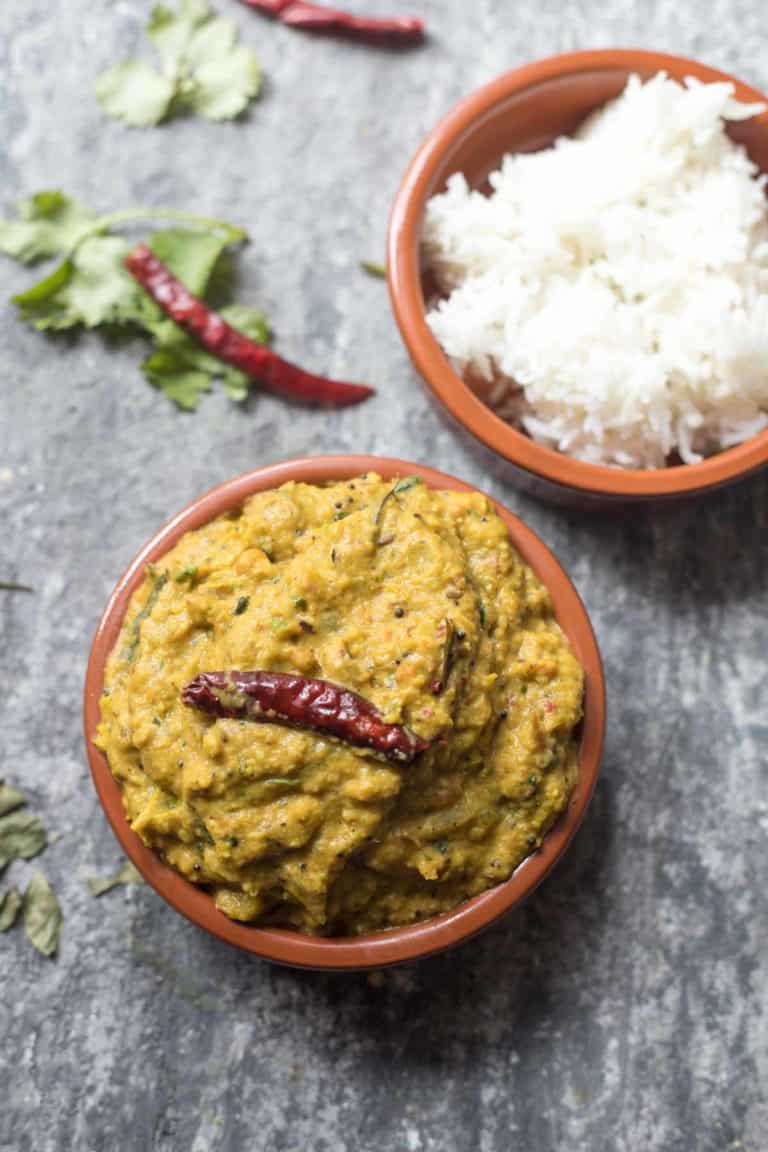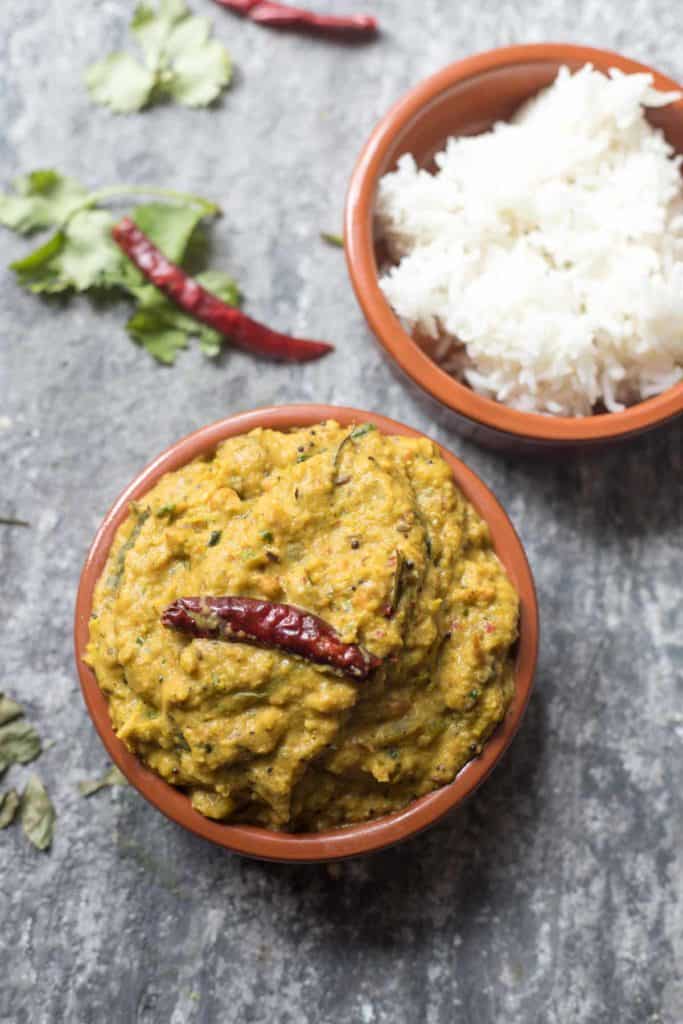 When our very own tomato plant started giving fruits, we were so excited, one fine day a heavy stem with many fruits fell off unable to bear the weight. We were so disappointed at first but then my lovely Amma(mom) reminded we can make fresh raw tomato chutney aka our Telugu Andhra Special Pachi tomato Pachadi as anyways we don't get them often in the food markets.
Andhra Pachi tomato pachadi aka Green Tomato Chutney is a spicy, tangy traditional chutney that is very native to South Indian state Andhra Pradesh(united earlier) who are spice lovers. Telugu people are very fond of freshly made chutneys made with different vegetables like lady's finger, ridge gourd, tomatoes along with chillis and different spices. We often indulge our meals with just plain boiled rice and one of these chutneys along with a dollop of homemade ghee.
Ingredients and Substitutes Andhra for Pachi Tomato Pachadi
Green Tomatoes – pick raw unripe ones, bigger ones are better. You can get them in local markets or start growing your own tomato plant(notes at the end), it's easier than you think 🙂
Green chillis – spicy ones are better but choose according to your preference.
Dried red chillis – You can skip but enhance the flavor and spiciness.
Roasted Groundnuts– Can use sesame seeds as well if you don't have them in stock, but need to dry roasted before.
Tamarind – not super necessary if your tomatoes are tangy enough but a serious Andhra chutney involves at least a small ball of tamarind to balance the spice flavours.
Garlic cloves – are a must and nutrient rich low calorie food.
Rock Salt – is very much needed for making traditional Andhra chutneys if you have. else use sea salt or table salt.
Curry Leaves – take the chutney taste to a different level.
And seasoning ingredients are all must if you want to take the taste of chutney to another level!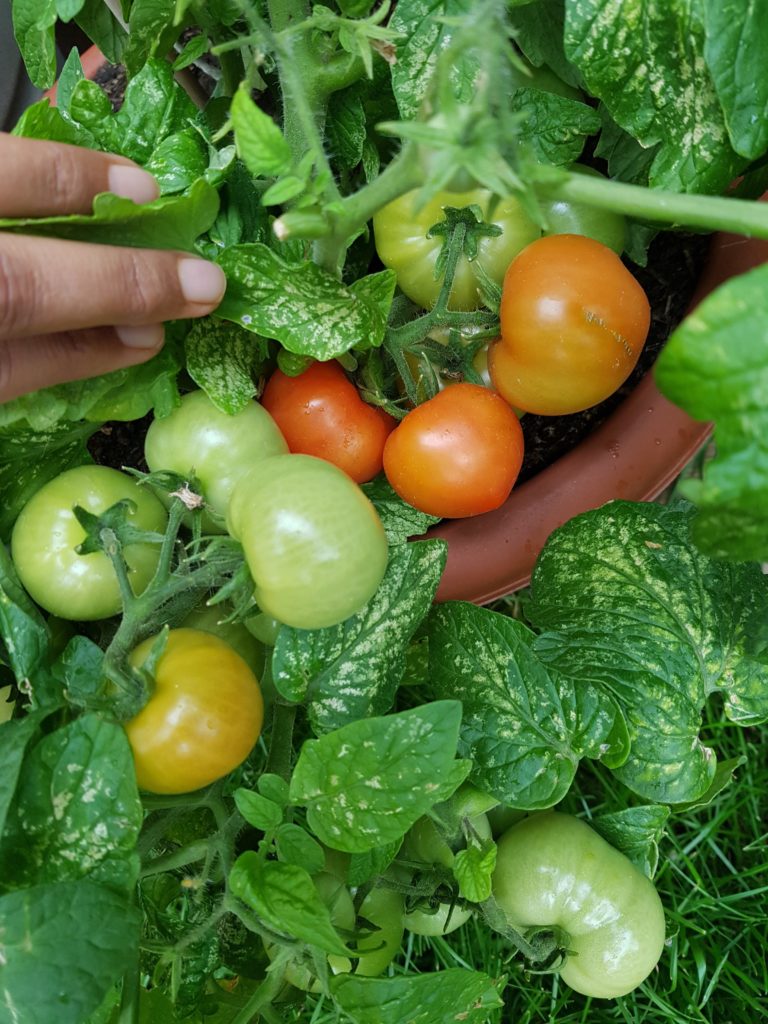 Why this chutney for Weight Loss?
When it comes to South Indian breakfast, we take chutneys and accompaniments seriously than the actual breakfast items like idli,dosa. There are several days my dad would pester my mum for not making a proper chutney to go along with dosas. But the downside of most of the traditional chutneys is that they are rich in calories as they are made from lots of groundnuts and oils predominantly.
Groundnuts can be very high in calories making them less suitable for my weight loss goals. I mean I cannot consume a bowl full of it(the way most south Indians like it!); so the easy low-calorie alternative is this kind of freshly made chutney made with fresh vegetables so we can consume in larger quantities without hindering our weight loss goals. So my Andhra pachi tomato pachadi i.e raw green tomato chutney wins my heart anytime.
How to serve Andhra Pachi Tomato Pachadi
I can get along with it for a whole week if I make a big batch of any of these chutneys. I pair it up with dosas, protein crepes/chillas, idlis, rice and whatnot, you have a healthy dip to go along with your wholewheat Ryvita crackers even!
Step by step recipe for green tomato chutney
Dry roast red chillis and keep aside.
Add oil and roast garlic cloves, keep aside.
Add in chopped onions and fry for 2-3 minutes.
Then add in tomatoes and green chillis , cook until they are tender which should take 12-15 minutes under low flame.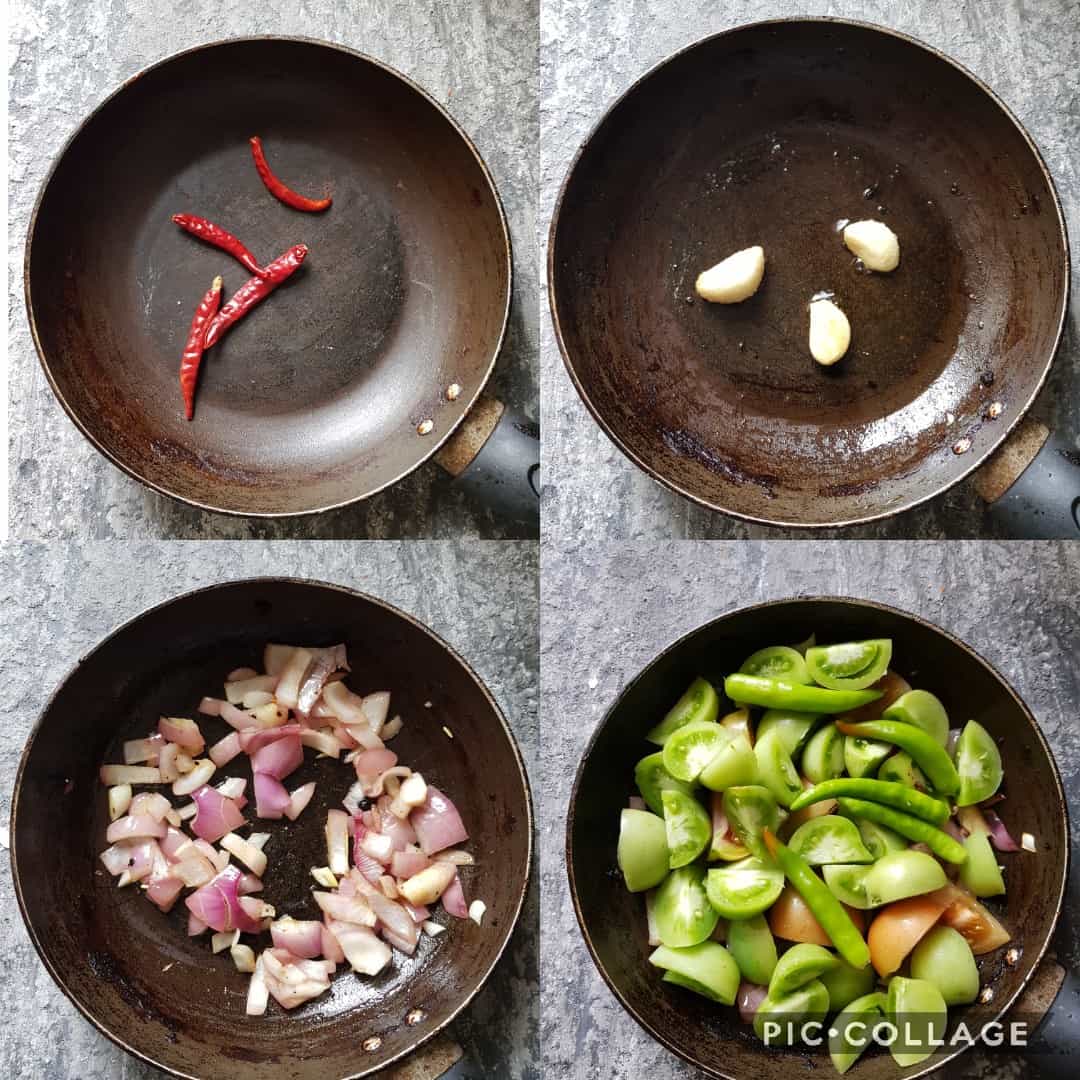 Here you can see the tomatoes getting cooked nicely.
In the last five minutes, add in turmeric, cumin seeds and soaked tamarind.
Cook well and cool down before proceeding to grind. If you don't allow to cool the mixture, there is high chance for it to splutter all over.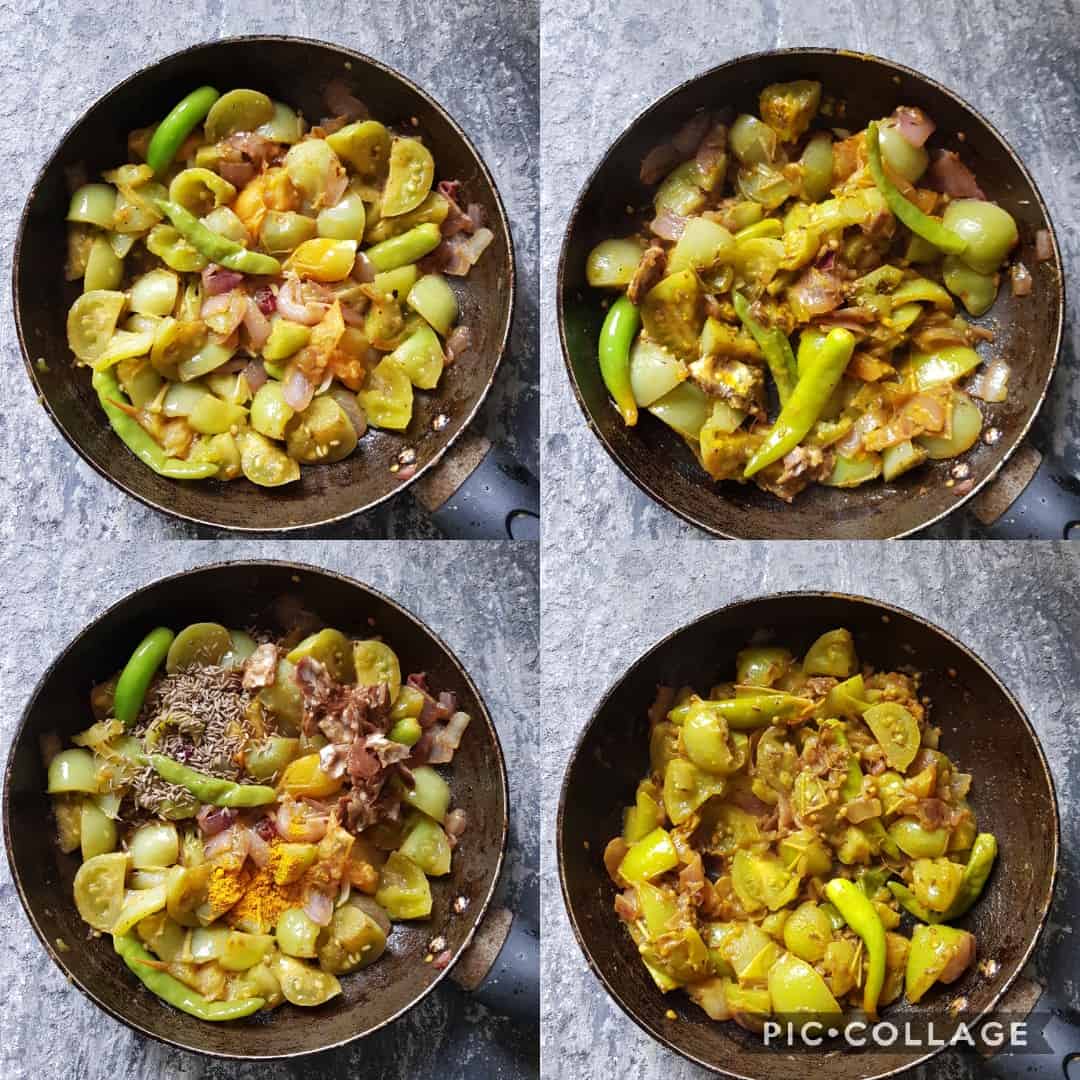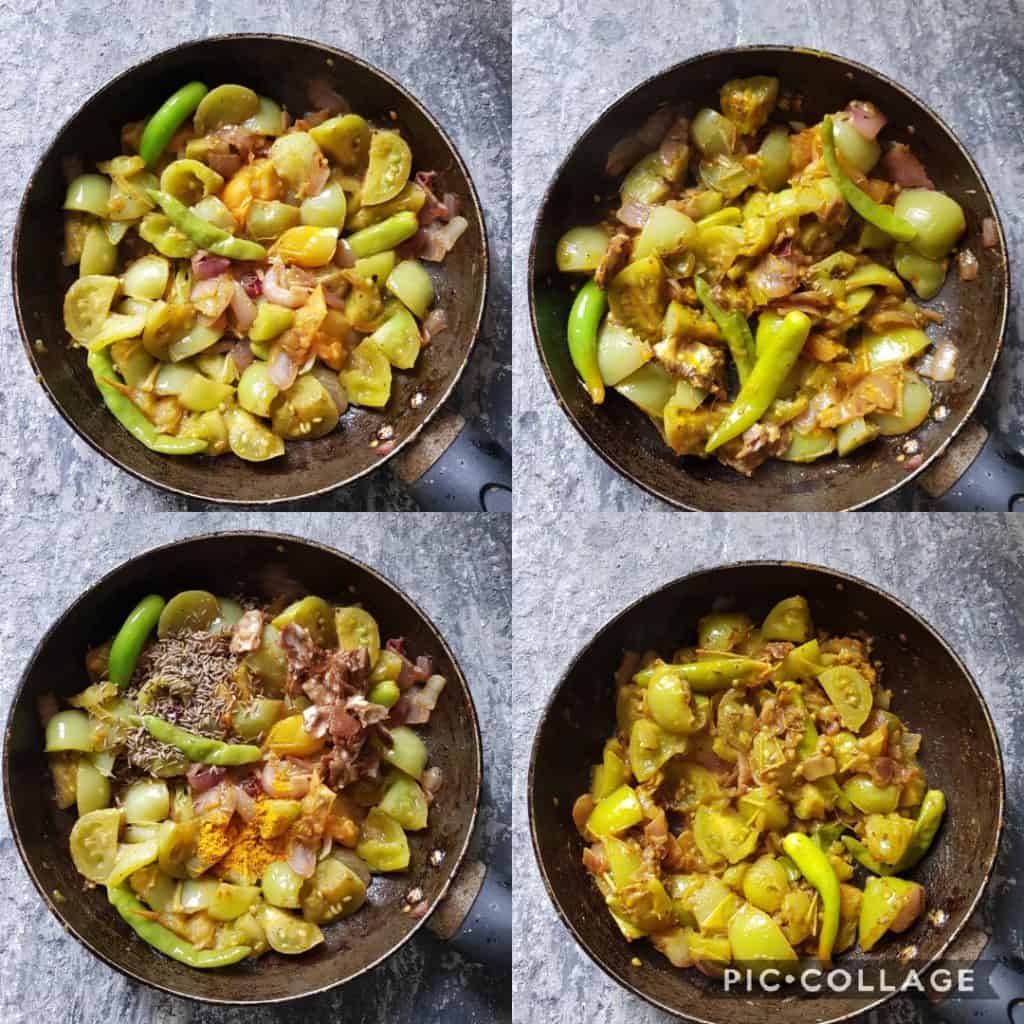 Take roasted groundnuts, garlic and chilli into a blender jar, pulse coarsely.
Add in cooled mixture of tomatoes and chillis, coriander and pulse slowly using hot water only. I do not personally like making a fine paste so I pulse roughly for few seconds.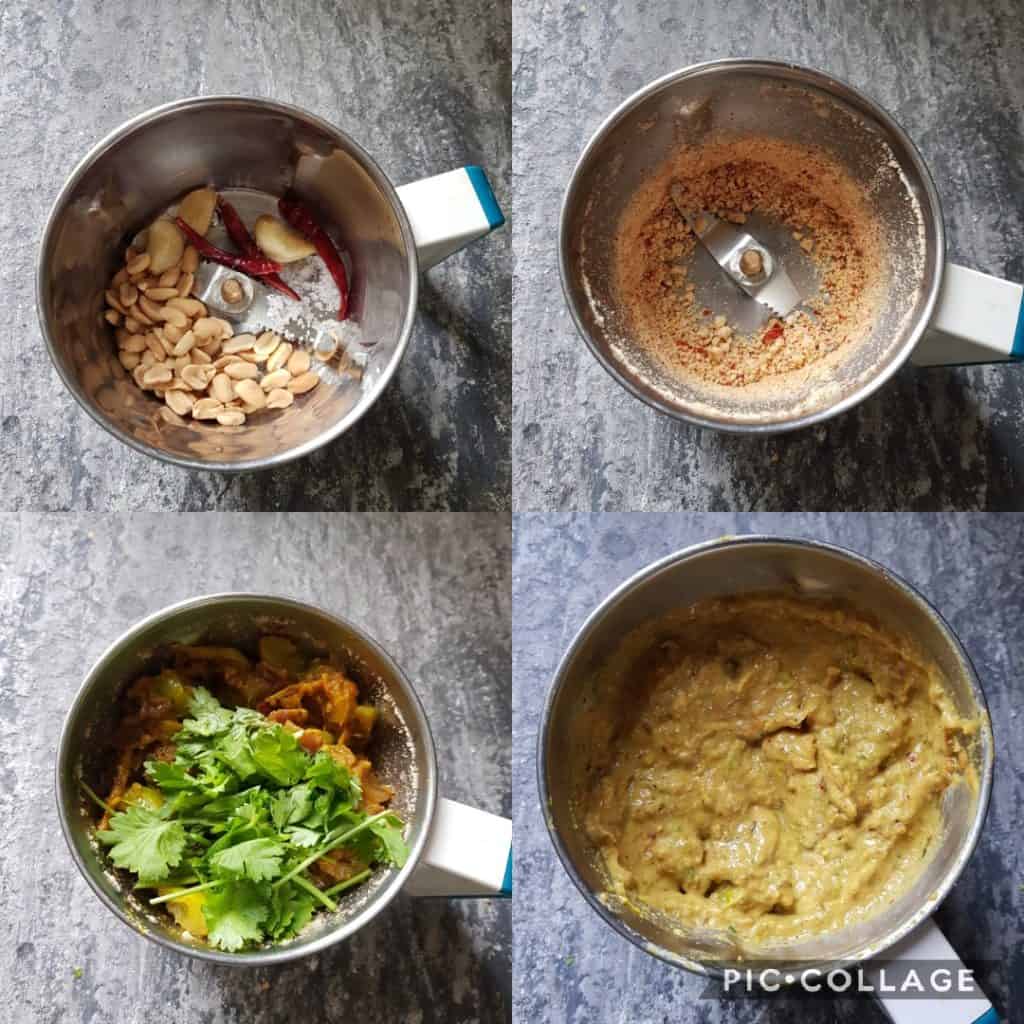 Seasoning the chutney – Heat oil in a pan and add in the ingredients listed.
Roast well and pour on the chutney. If the oil is not heated well the dals will be uncooked and leave an unpleasant taste in the chutney.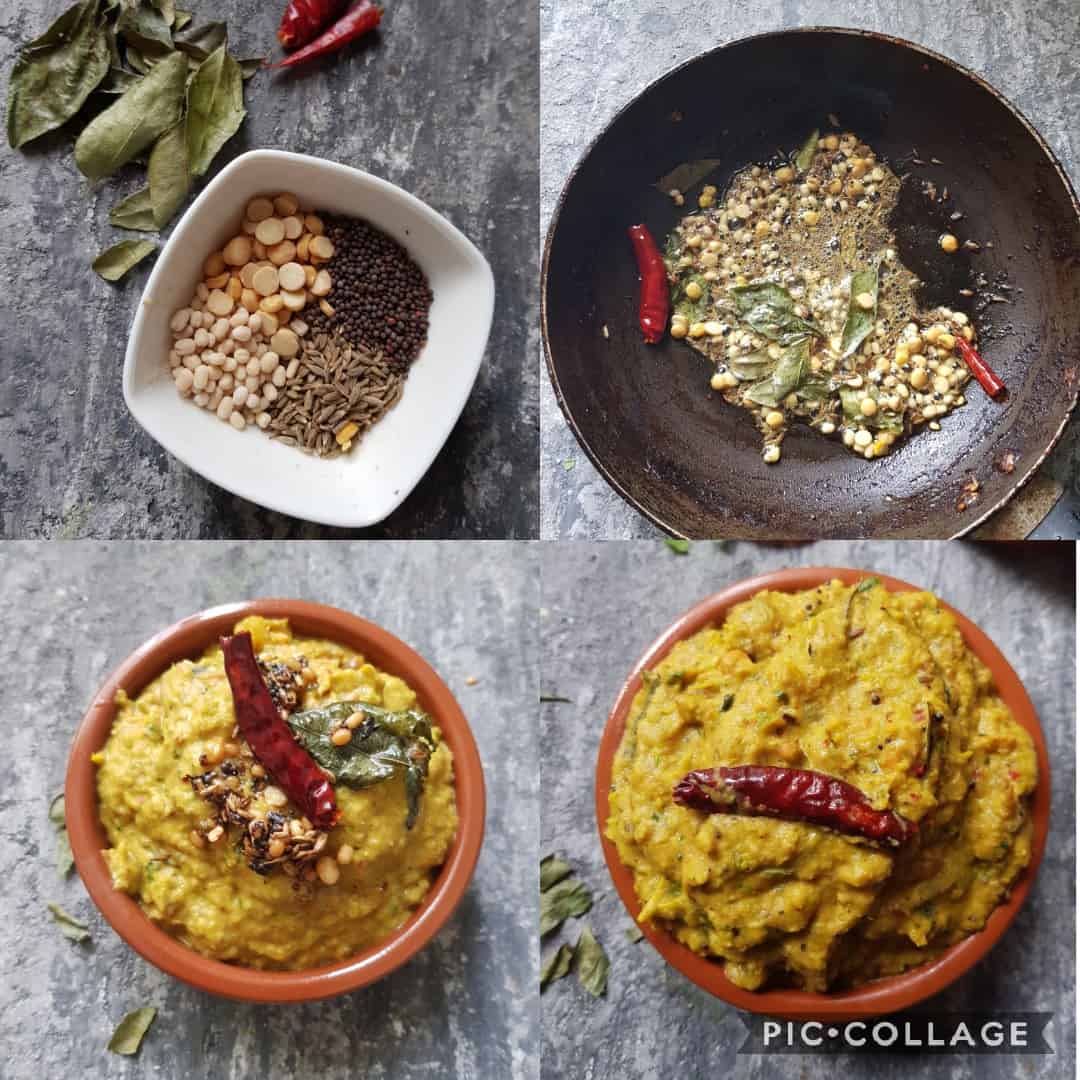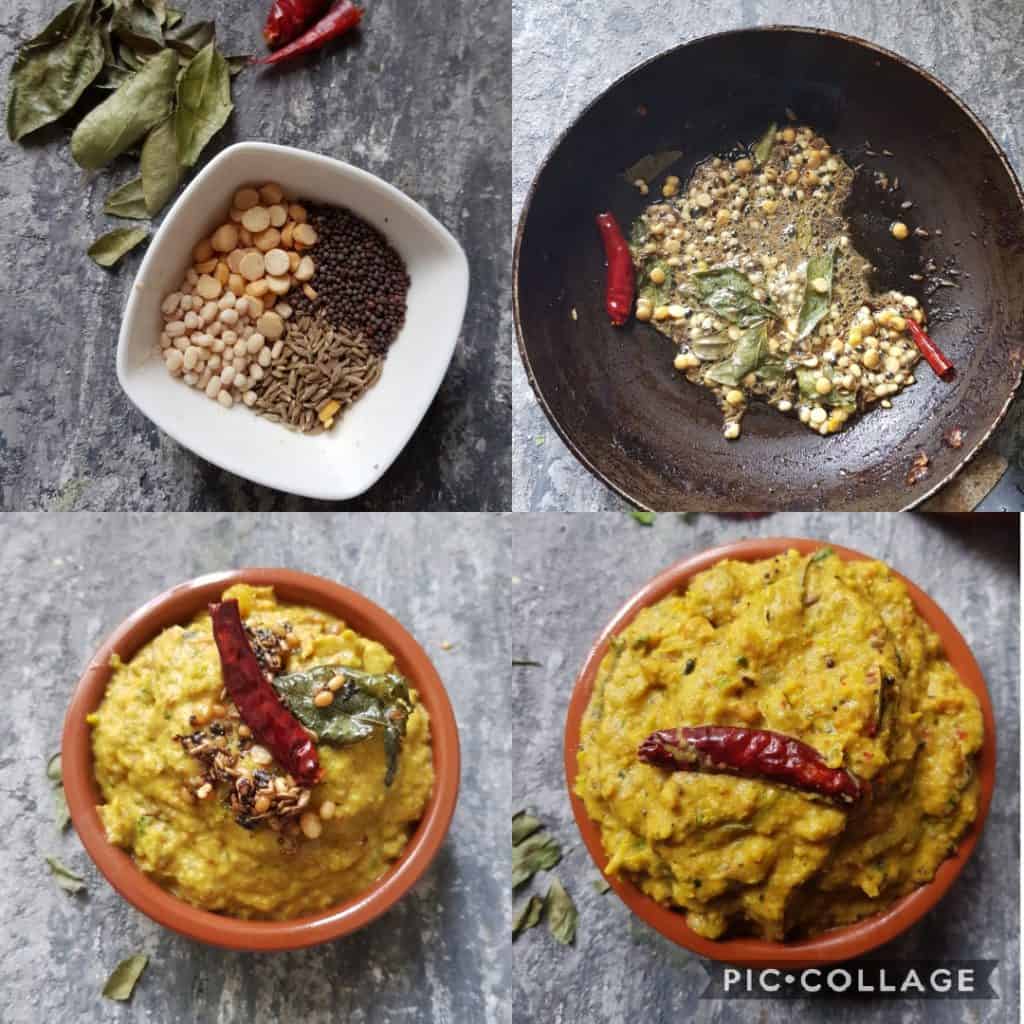 Storage Suggestions
This Andhra pachi tomato pachadi stays well in fridge for good 2 weeks, if you are in India, it can stay good in winters even kept outside. Please store it in a closed container to keep away from odours.
Green tomato chutney recipe is also ideal for freezing, pack in a freezer friendly bag or even a lass or steel box for upto 2 months. Just take it out and leave it on counter top for few hours before consuming.
Growing tomatoes at home
the below tomatoes are all harvested from our own little tomato plant. Growing tomato plant at home is very easy. It doesn't require much space, even a large balcony is sufficient enough, we grew ours in a pot from seeds, it needs a lot of sunshine and regular pruning. The stems can go heavy with fruit and may fall off so you need to arrange some support like a stick to the plant. We used an organic compost bought from one of the local farm shops. this link may be more helpful if you are serious in growing one!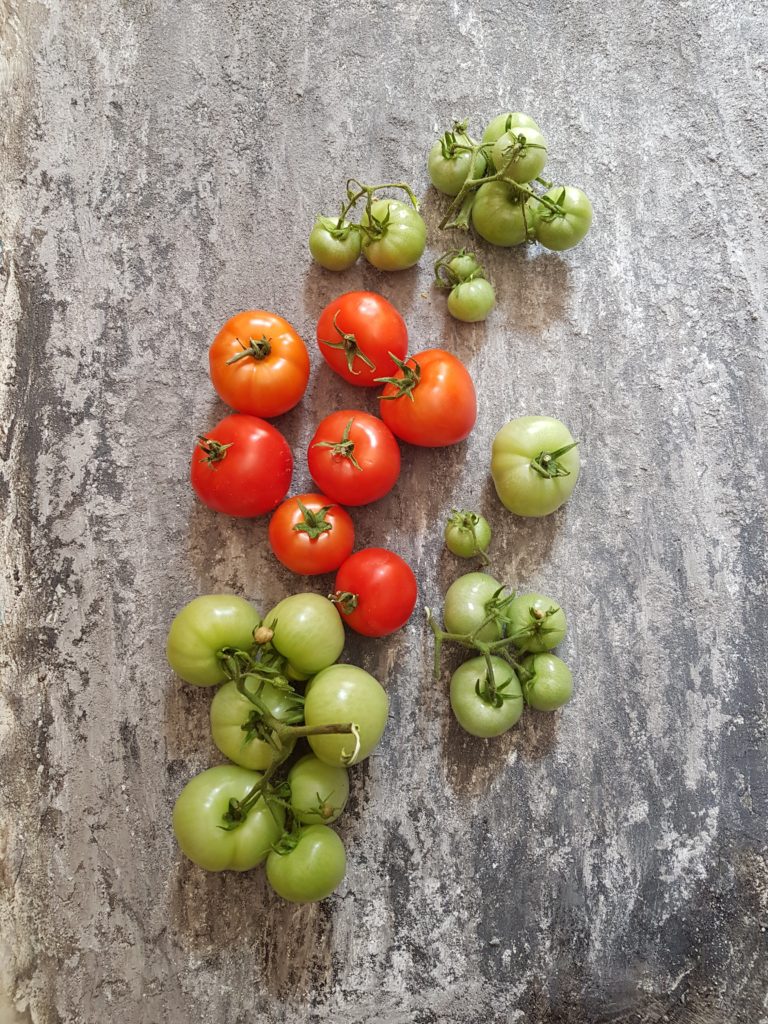 What diets this green tomato chutney is suitable for?
the chutney is suitable for gluten-free and vegan diets.
Here we relished the green tomato chutney with a plate full of hot Khichdi(a healthy protein-rich one-pot dish made with brown rice and yellow moong dal and vegetables). the other side dish is bendakaya vepudu(stir-fried lady's finger) and served along with minapa vadiyalu (homemade lentil crackers)popped in the microwave.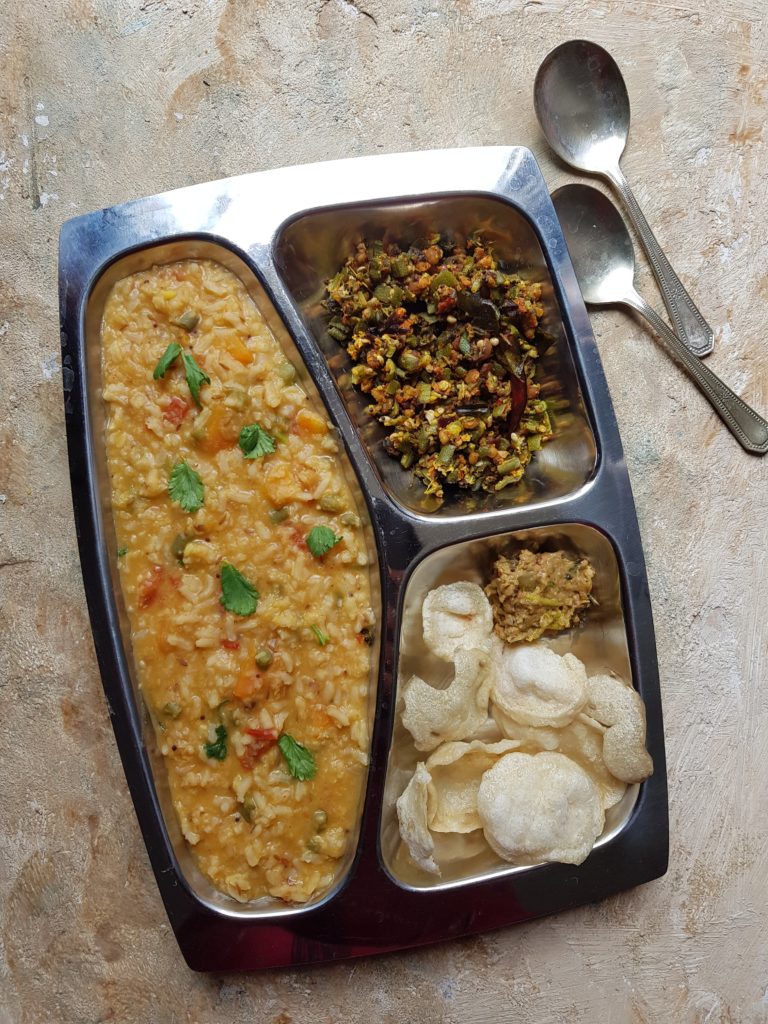 Print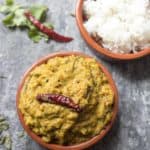 Andhra Pachi Tomato Pachadi
---
Author:

Siri

Prep Time:

10

Cook Time:

20

Total Time:

30 minutes

Yield:

3

1

x

Diet:

Vegan
Description
A spicy tangy South Indian pickle made with fresh green tomatoes and chillis along with controlled portions of groundnuts. Pair it up with dosas, crepes, idlis.
---
4

–

5

big green tomatoes or roughly ½ kilogram

4

–

5

green chillis

1

small onion roughly chopped

3

garlic cloves

3

dried red chillis

1

small half-lemon sized tamarind soaked in hot water

2 tablespoon

roasted groundnuts

1 tablespoon

oil(

½

for roasting veggies and

½

for tempering)

1 teaspoon

rock salt(tastes better than table salt)

3

–

5

springs of coriander leaves
hot water
For tempering/seasoning which is optional
1 tablespoon

oil

½ teaspoon

mustard seeds

½ teaspoon

cumin seeds

½ teaspoon

urad dal

½ teaspoon

chana dal

1

dried red chilli broken into halves

1

garlic clove crushed
a pinch of hing

1

spring fresh curry laves
---
Instructions
In a pan, dry roast red chillis and groundnuts(if not roasted already) and keep them aside to cool down. Remove the skin for peanuts optionally.
Heat a tablespoon of oil in a heavy-bottomed pan and roast the garlic cloves for a min. 
Add green chillis and fry until2-3 minutes and take them out. Add the chopped onions and fry for 2-3 minutes. 
Add in chopped green tomatoes , green chilli and cook until tender. This may take roughly 15 minutes under low to medium flame.
Add in a pinch of turmeric, soaked tamarind along with a teaspoon of cumin seeds.
Cook for 5 more minutes and allow it to cool down.
Take a mixer jar, first add in roasted dried red chillis and peanuts, rock salt. Grind coarsely.
Then add in cooked tomato and green chillis mixture, coriander leaves. pulse slowly so the chutney doesn't become too much of a paste. If required use hot water while grinding.
Take the chutney into a bowl and proceed for seasoning which is optional. But I highly recommend seasoning to get that authentic Andhra pachadi taste.
Seasoning is optional and gives a unique Indian touch to the chutney.
Heat oil in a small pan and splutter cumin seeds and mustard seeds.
Then add in dals, red chilli, hing, garlic clove and at last curry leaves.
Pour this on the chutney and mix well.
Notes
Adust the chillis according to your spic preference. This recipe is on the high spice end already.
Rock salt measurement can be too confusing, always add little first to test.
The amount of tamarind depend upon the tanginess of tomatoes, so please adjust accordingly.
Using hot water helps in preserving the chutney for long, so don't use cold water.
Category:

Lunch

Method:

Stove Top

Cuisine:

Indian
Keywords: andhra, pachadi, chutney,tomato, indian