Andhra style Kalchina Vankaya Pachadi – Smoked Eggplant Chutney is a perfect accompaniment for hot rice with ghee. This is more like a South Indian version of spicy Baba Ganoush if I may say so, completely vegan and gluten-free.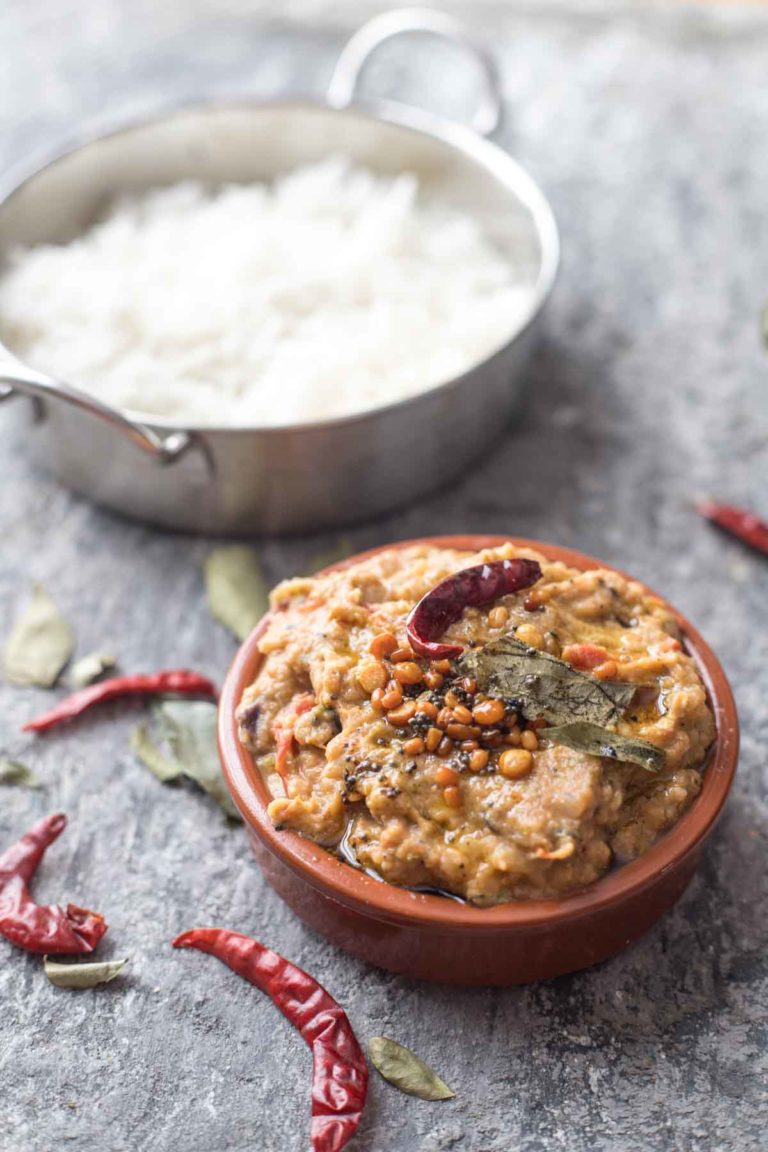 Detailed step-by-step recipe for Andhra Style Kalcina Vankaya Pachadi i.e Smoked Egg Plant Chutney from the traditional Andhra(a state from South India) cuisine is a famous chutney made with eggplants/Auburgine.
Andhrites take their everyday chutney very seriously and any chutney made with fresh vegetables is more than emotion for them. Unlike pickles, these chutneys are made with fresh vegetables, less oil and spices making it ideal for everyday meals.
In olden days, these are made in mortar and pestle and hence called roti pachadi(rolu= mortar and pestle,pachadi=chutney). My mum would make some kind of chutney almost every day be it with tomato,lady's finger, ridge gourd or ivy gourd etc.
this chutney Best eaten with plain rice along with a dollop of ghee. For Kalchina vankaya pachadi, we normally grill the eggplant on open flame carefully so it imparts a smoky flavour to the chutney. which is the uniqueness of this recipe.
We can make this kalchina vankaya pachadi with or without tomatoes. This is more like an Indian version of spicy baba ganoush which can be used as a dip too.
Check out the Andhra style green tomato chutney too.
Ingredients for vankaya pachadi
Aubergine/Egg Plants – This can be made with any kind of green or purple brinjal family. I used the big eggplant as the texture is perfect for the chutney.
Tomatoes – Take nice and red ripe tomatoes. Add a nice tangy flavour and I highly recommend.
Chillis – green chillis suit the best but if you don't have try to source red chillis.
Garlic Cloves – the king of any south indian chutneys.
Tamarind nicely balances the spice. if you don't have it add another ripe tomato instead.
Sesame seeds, ground nuts- these add a nice taste to the chutney, you can use either one variety or a mix of both. This is for additional taste and you can skip it if you cant tolerate nuts.
Fenugreek seeds – we need very little quantity, properly roasted fenugreek seeds add a nice flavour to any Andhra style chutney.
Cumin, urad dal, channa dal, mustard are the building blocks of Indian tadka, a chutney without tadka(seasoning kind of) is always incomplete.
Rock Salt – imparts an earthy taste , use sea salt or table salt if you don't have this.
Oil – Sesame oil is the best but you can use sunflower or vegetable oil.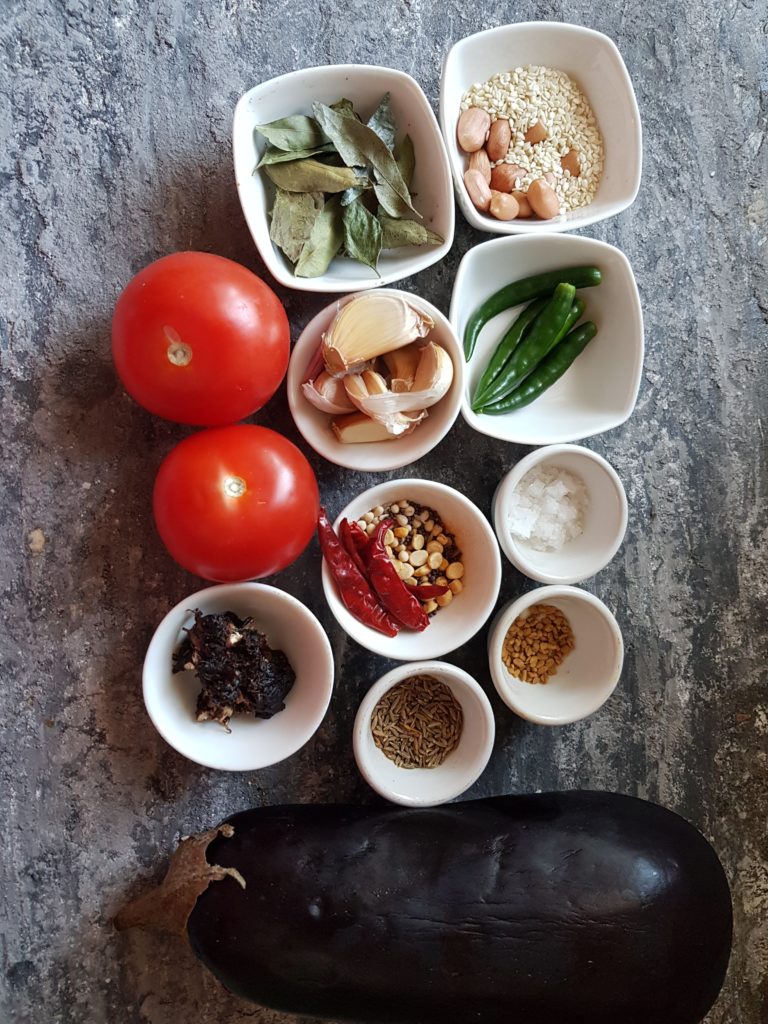 What if I don't have a gas stove/flame/grill ?
kalchina vankaya pachadi can be made from oven-roasted brinjals too if you can't do it on direct flame or a grill. just cut into half lengthwise and spray with some cooking oil, place on a baking sheet and roast for 20-25 minutes.
Allow it cool down and scoop the flesh to use in the chutney as usual.
If you try to roast whole aubergines there is a chance that the vegetable gets exploded due to the accumulated heat inside.
You can also simply cube the eggplant and roast on a pan with a little bit of oil. works well but you will just miss the smoky earthy flavour.
Tips to grill eggplant on a gas stove
apply little oil all over the eggplant(s).
If you are scared to handle it with bare hands, insert a skewer or a knife and start grilling
The eggplant will start oozing out water as it gets grilled slowly, so it is better if you place a foil under the burner plates so it can be easy for cleaning..
Once the eggplant is roasted on all sides, it will form a burnt skin all over. Place the eggplant on a plate and sprinkle water, once cooled down, peel the skin carefully.
The big eggplant especially has lost of moisture in it, so I recommend placing it in a strainer for a couple of minutes.
Here you can our family grew brinjal plant. Homegrown vegetables are always special, isn't it? What I observed is that brinjal plant doesn't need much special care except a nice deep pot and a good supply of rice water(water in which rice is washed).
Vankaya pachadi and brinjal dishes, in general, are a must in most of the Andhra weddings. Brinjal is considered as the king of vegetables. Kalchina vankaya pachadi is more of a household everyday dish, unlike regular vankaya pachadi. the smoky flavour that gets imparted from the direct flame into this chutney is to die for!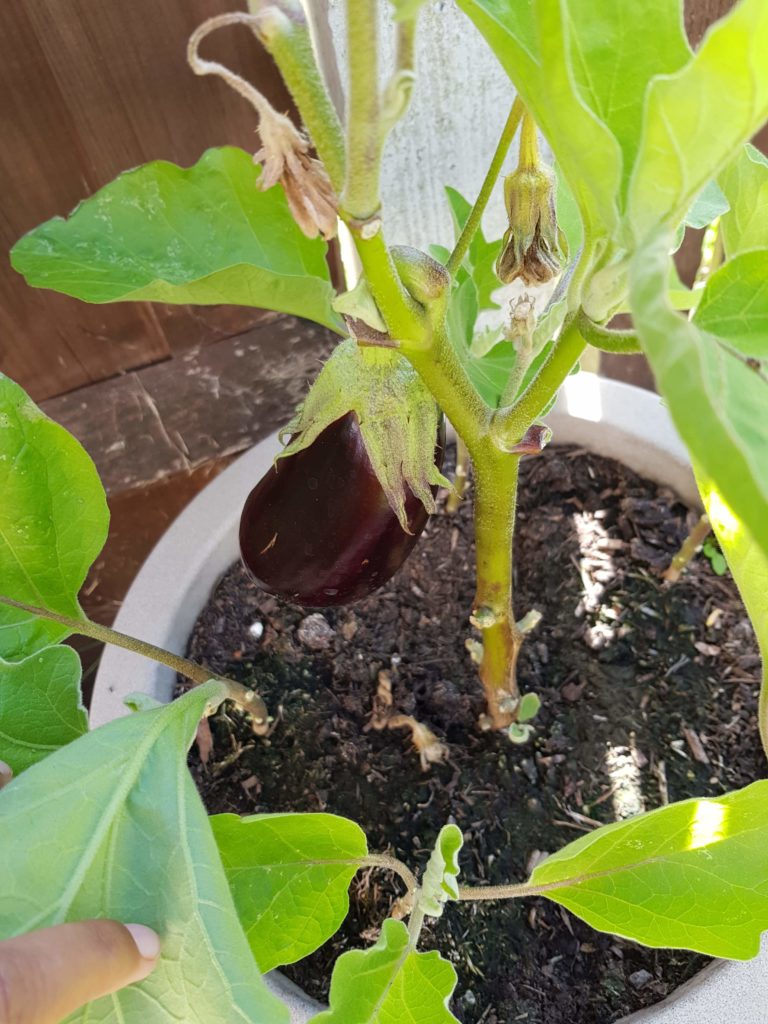 Step-by-step recipe for kalchina vankaya pachadi
1- Wash the eggplant well and pat dry it. apply few drops of oil and rub all over it. Carefully place on a gas stove open flame and grill on all sides well. If you don't have good practice use a metal skewer while grilling.
2- Allow it to cool down and peel the burnt skin completely. Cube the soft eggplant and keep it aside preferably in a strainer so any extra liquid will be filtered out.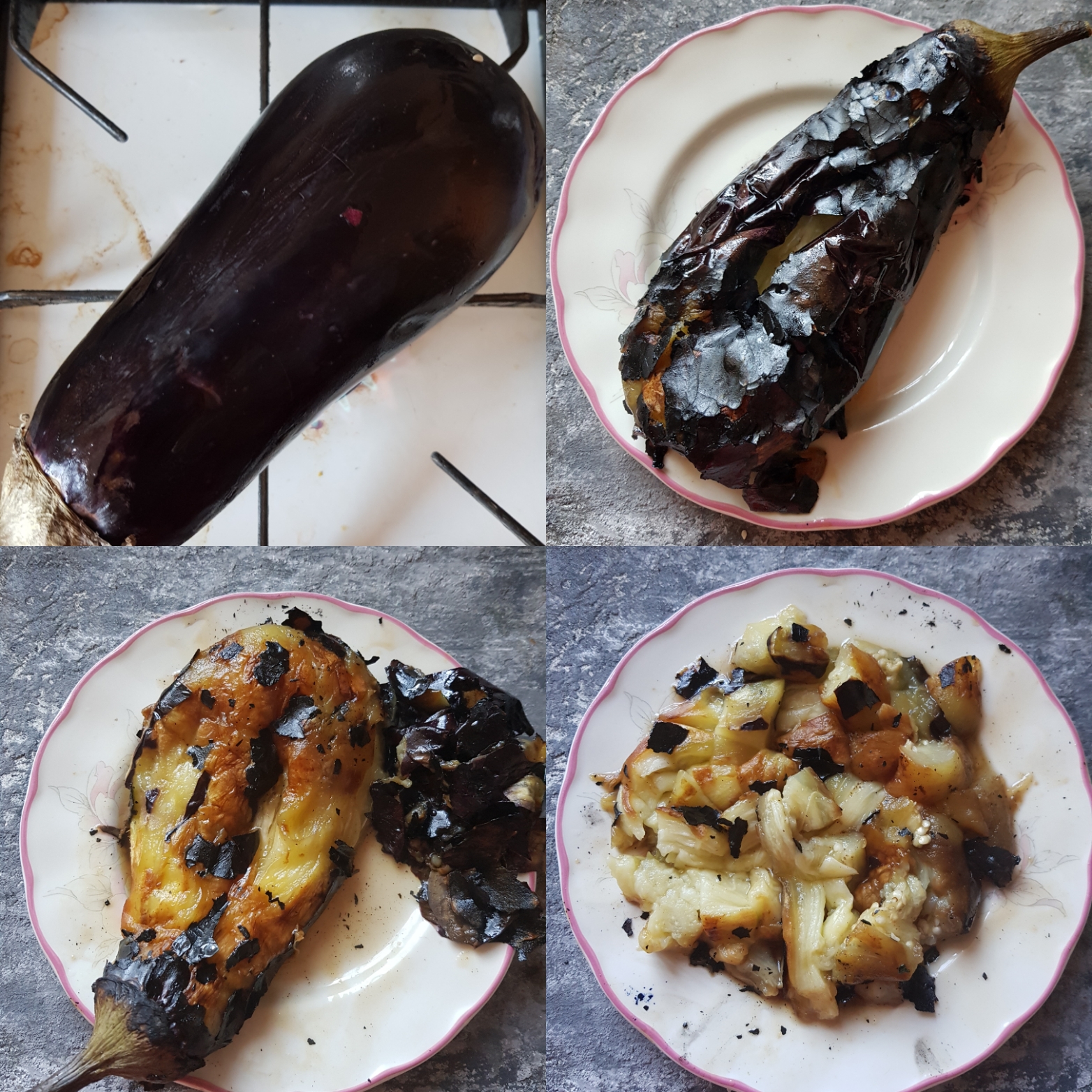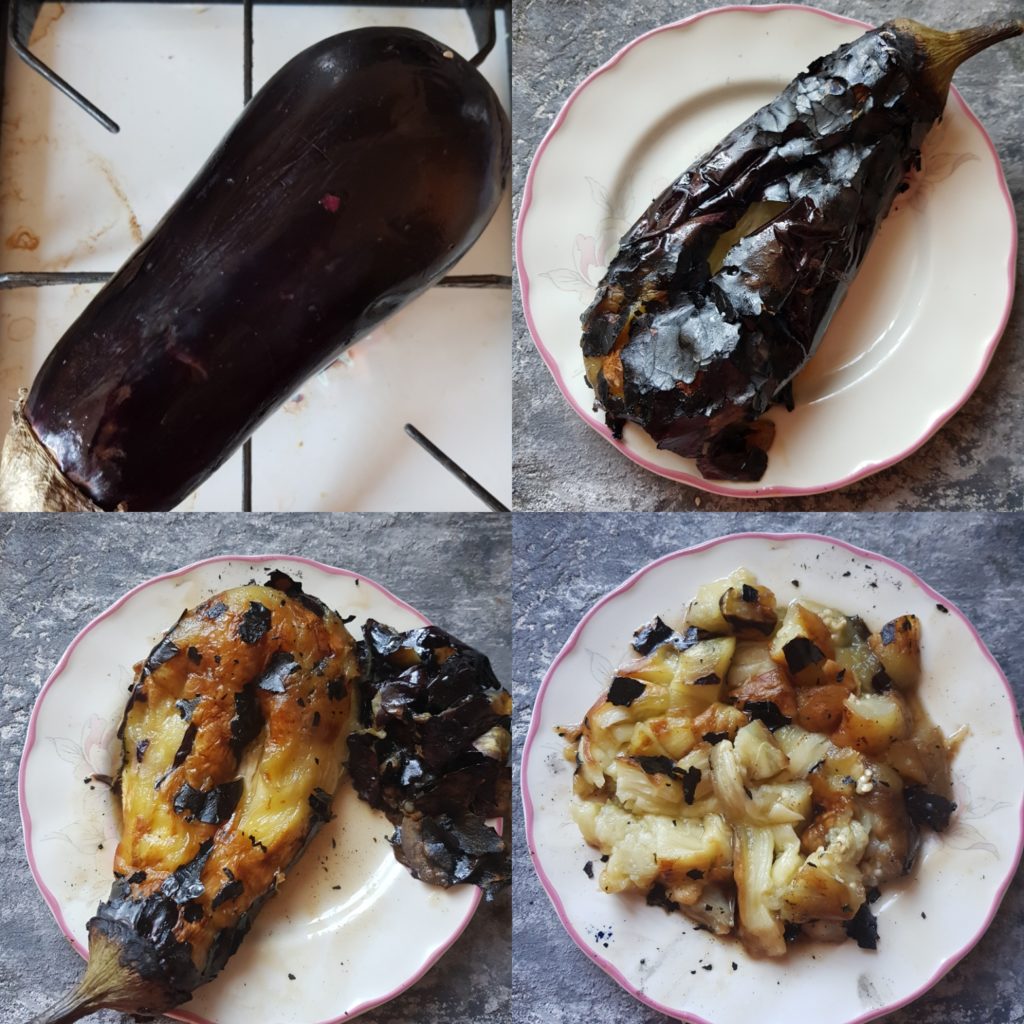 3- While the eggplant is getting cooled down, take a pan and heat a teaspoon of oil and add fenugreek seeds to fr until they turn golden. Then add in green chillis and cook for 2 minutes.
4- Add in chopped tomatoes and cook until they turn soft. Add garlic cloves, tamarind and switch off the flame in 2 minutes.
5- In a blender jar, add cumin seeds, toasted sesame seeds, roasted peanuts(please dry roast them if you don't have already roasted ones ready) and grind into a coarse powder.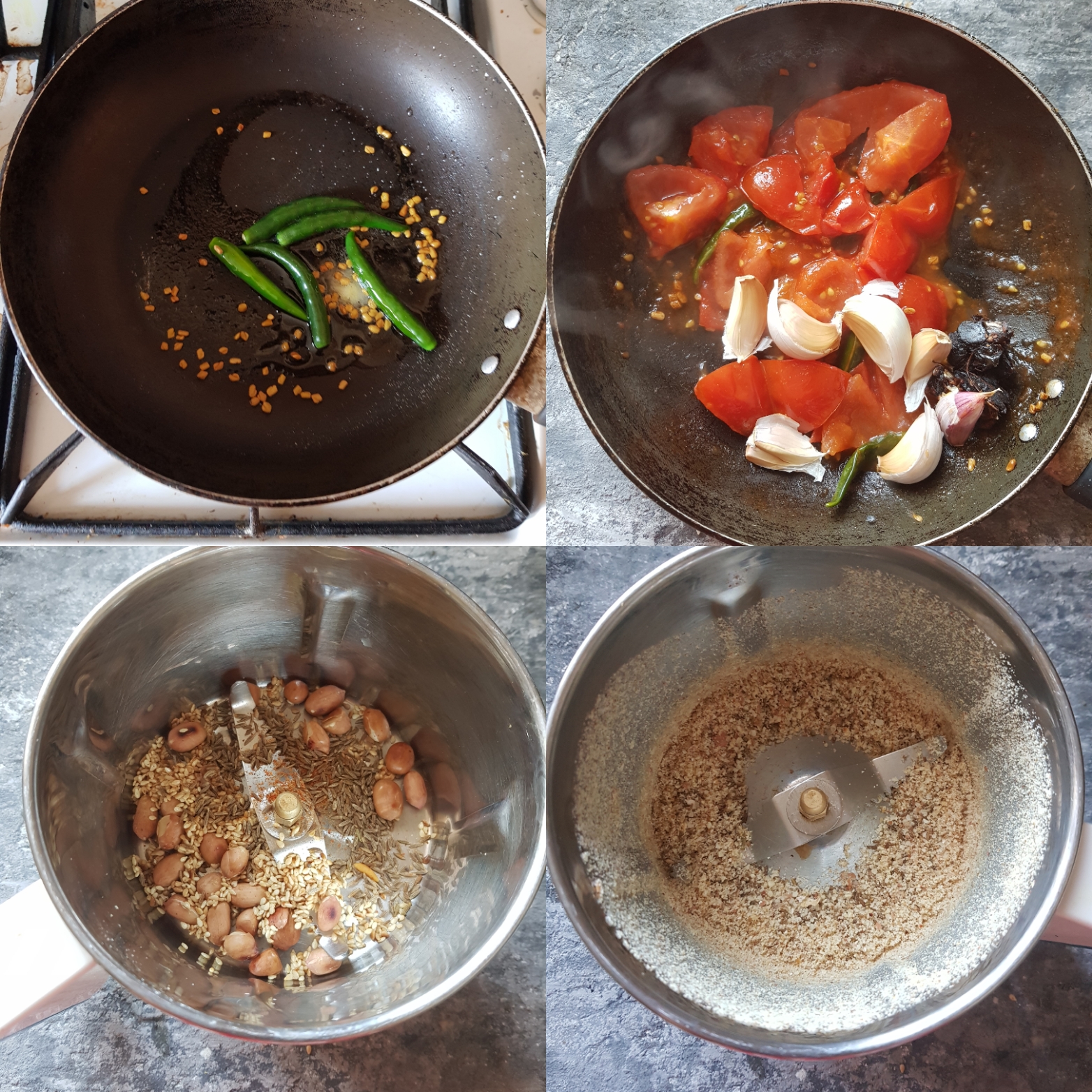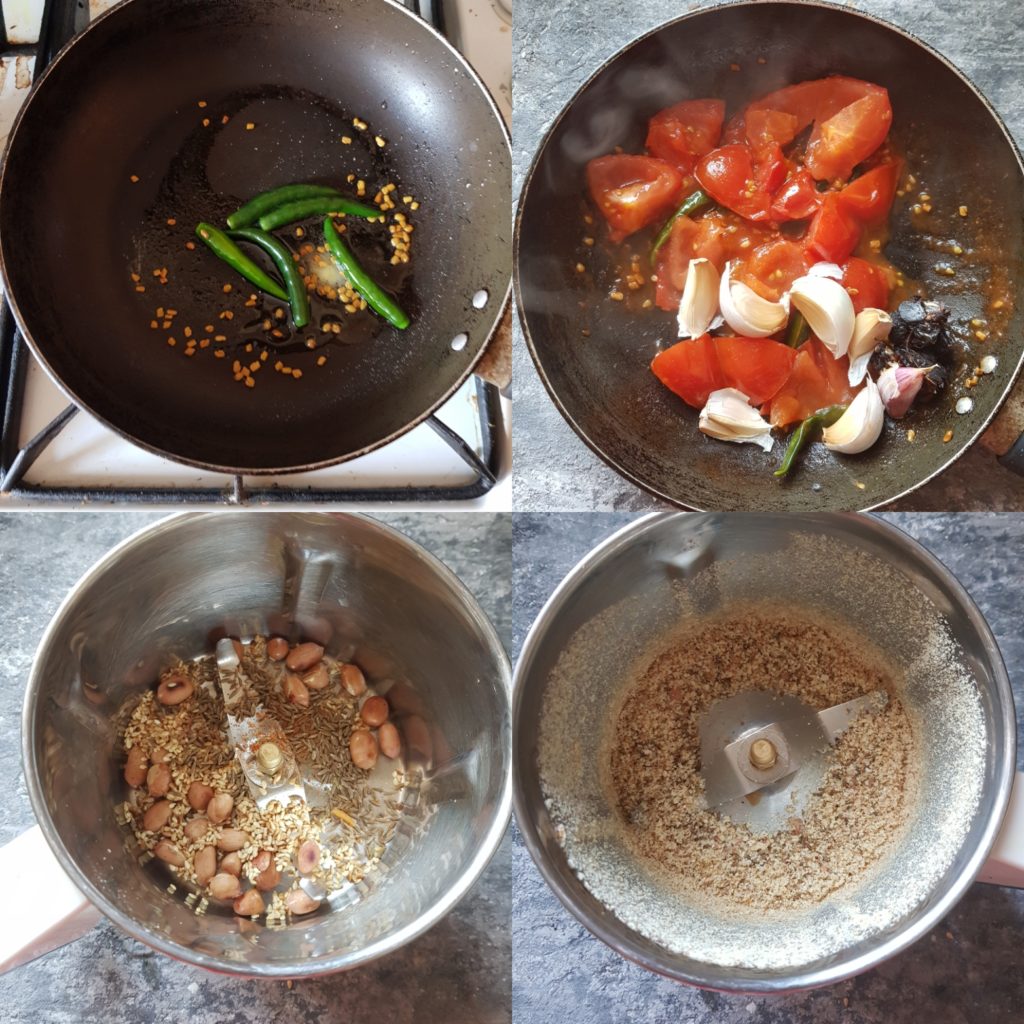 6- Add in the cooked and cooled tomato chilli mixture, cooled own eggplant cubes, rock salt as needed and blend.
7- Heat another teaspoon of oil in the same pan, crackle mustard seeds, then red chilis, urad dal and channa dal, fry them for few seconds until golden and finish the tadka by adding curry leaves.
8- Pour the hot tadka over egg plant chutney and mix well. Enjoy kalchina vankaya pachadi with hot rice and ghee.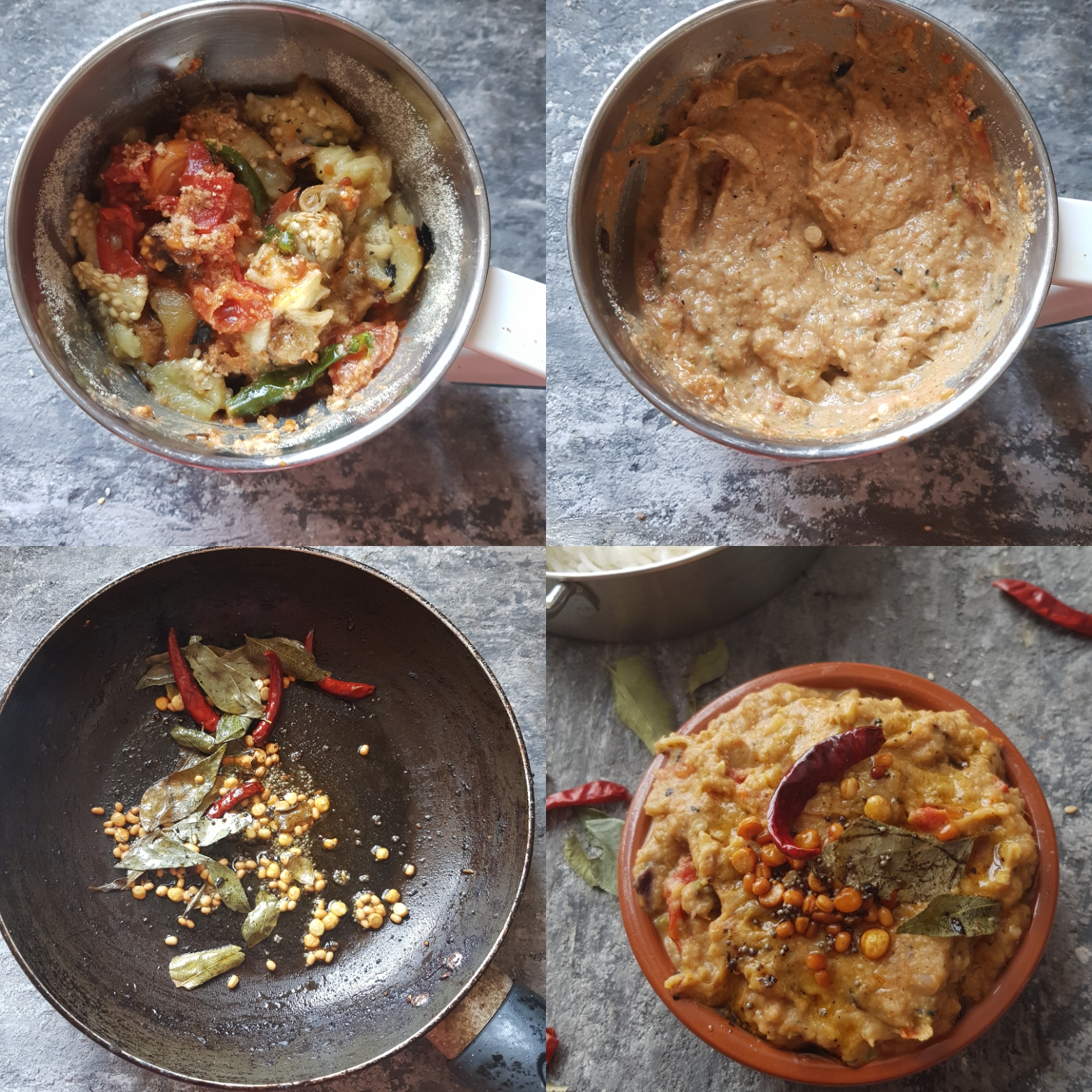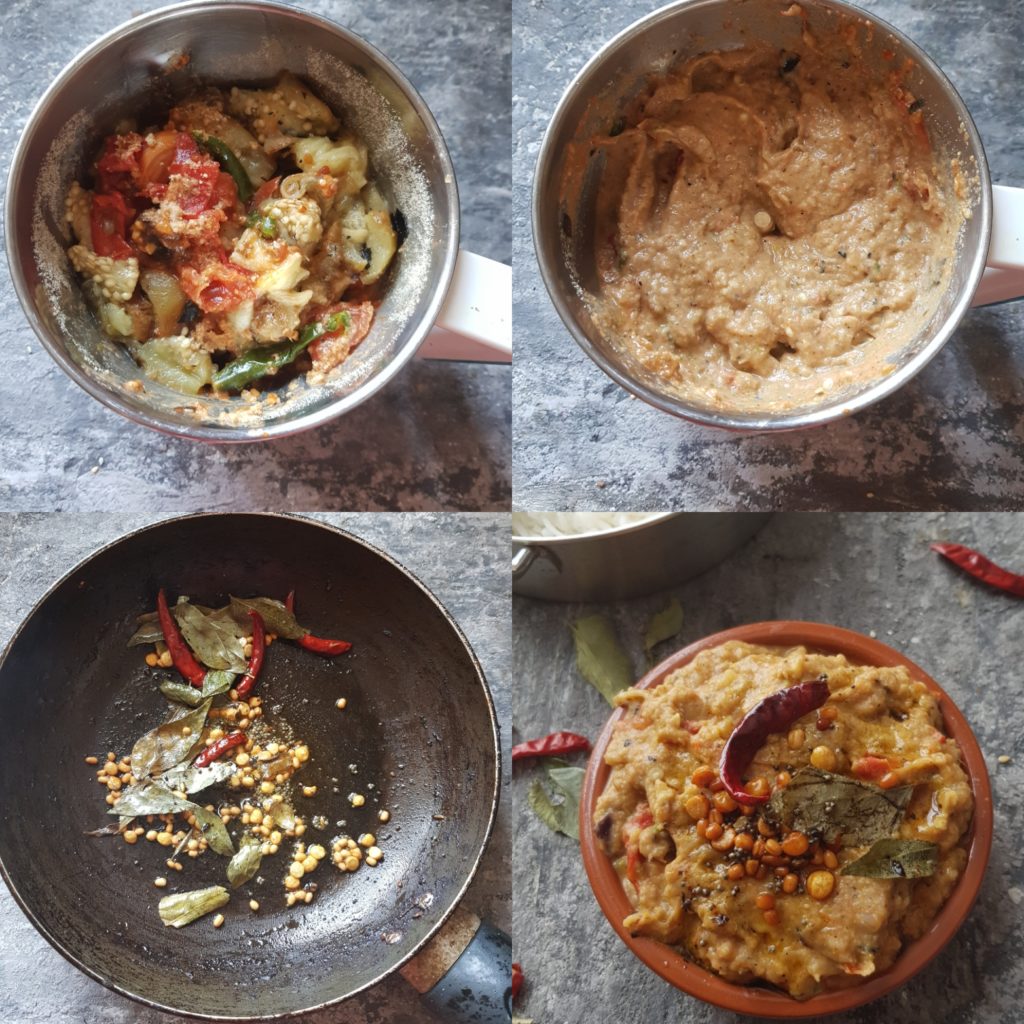 Serving Suggestions
Kalchina vankaya pachadi is best eaten with hot rice and a dollop of ghee. the smoky flavour is just to die for!
You can also use this eggplant chutney as a spicy dip for crackers, almost like baba ganoush.
This can also be eaten with chapatis and dosa or even this vegan omelette.
Storage Suggestions
Vankaya pachadi stays good at room temparture for a day. when refrigerated, it stays god for atleast days.
This recipe is not suitable for freezing.
Weight loss tips
You can skip groundnuts' to avoid additional calories.
Instead of eating peanut chutney for dosa, make these kinds of chutneys with plenty of low-calorie vegetables.
Use this as a dip instead of store-bought hummus and other condiments.
Print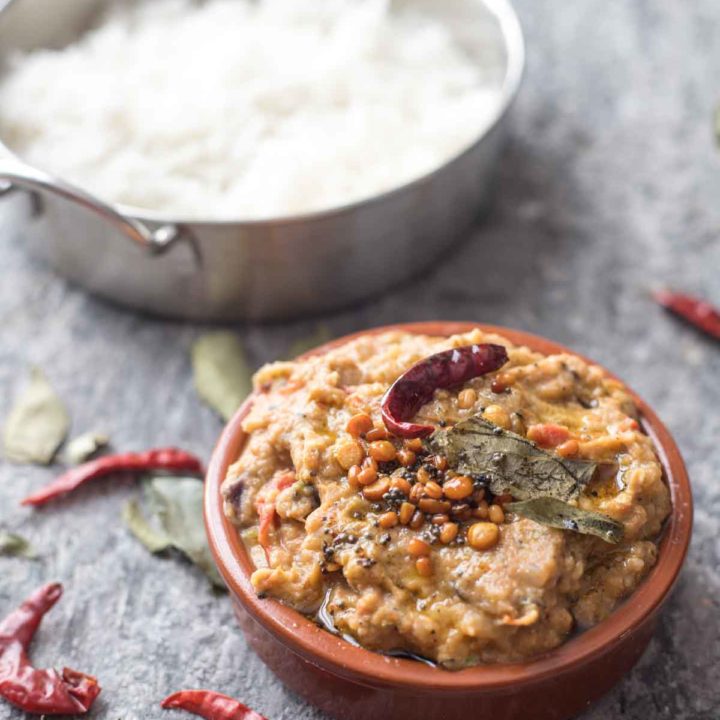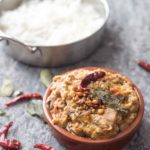 Kalchina Vankaya Pachadi Recipe
---
Author:

Siri of Fat Rainbow

Prep Time:

15

Cook Time:

10

Total Time:

25 minutes

Yield:

4

1

x

Diet:

Vegan
Description
A spicy tangy smoky eggplant chutney famously called as Andhra style kalchina vankaya pachadi in South Indian cuisine. Serve with rice or can be used a dip to crackers.
---
1

large Eggplant 

2

medium ripe tomatoes

4

–

5

green chillis

5

garlic pods

1

small lemon sized tamarind(soaked in warm water for

5

min)

½ tablespoon

cumin seeds

½ tablespoon

sesame seeds

½ tablespoon

groundnuts(optional)

1 teaspoon

sesame oil or groundnut or vegetable oil
rock salt or sea salt to taste ideal ½-1 teaspoon
For Tadka
1 teaspoon

oil

1 teaspoon

mustard seeds

1 teaspoon

urad dal

1 teaspoon

channa dal

2

dried red chilli broken

1

spring of curry leaves
---
Instructions
Preparing Eggplant
Wash the eggplant well and pat dry it. Rub a few drops of oil all over the eggplant and insert a metal skewer into the belly of the eggplant. 
Place the eggplant on direct flame, keep rotating and grill on all sides until the skin gets burnt.
Allow it to cool down and peel the skin carefully. Cube it and ideally place in a strainer so the recess liquids can be drained off.
Preparing tomato chilli mixture
While the eggplant is cooling down, heat oil in a pan and fry fenugreek seeds for a couple of minutes on low flame until they turn reddish-brown.
Add green chillis and fry for a minute carefully as they can splutter very easily. 
Add in chopped tomatoes and cook until soft. this will take 5- minutes on low to medium flame. In the last few minutes, add in tamarind and garlic cloves too. Switch off the flame and allow to cool down.
Grinding Chutney
Take a mixer jar, add toasted sesame seeds, roasted groundnuts(check notes), cumin seeds and grind into a coarse powder.
Then add in cooled down tomato chilli mixture, cubed eggplant, salt and pulse roughly to not a very smooth textured chutney.
Tadka/Seasoning
Heat oil in a pan and splutter mustard seeds, then add urad dal, channa dal, red chillis and curry leaves, fry for a couple of minutes and pour hot on the chutney.
Serve with hot rice or use as a dip for crackers.
Notes
Check for the detailed post above on tips to grill the eggplant on the flame.
Adjust the green chillis according to your spice preference and type of chillis.
You can use either sesame seeds or groundnuts or a combination of both.
If you don't have tamarind add another small tomato instead.
Always add less salt first while using rock salt as the measure can go wrong.
the nutritional information is only an estimate using online calculators,always check your food labels for accurate values.
Category:

Condiments

Method:

Stove Top

Cuisine:

Indian