Chocolate chia seed pudding is gluten-free and vegan that can be a quick breakfast or dessert which keeps you full for longer as it is rich in fibre content. Continue reading its benefits and how it can be helpful in your weight loss journey.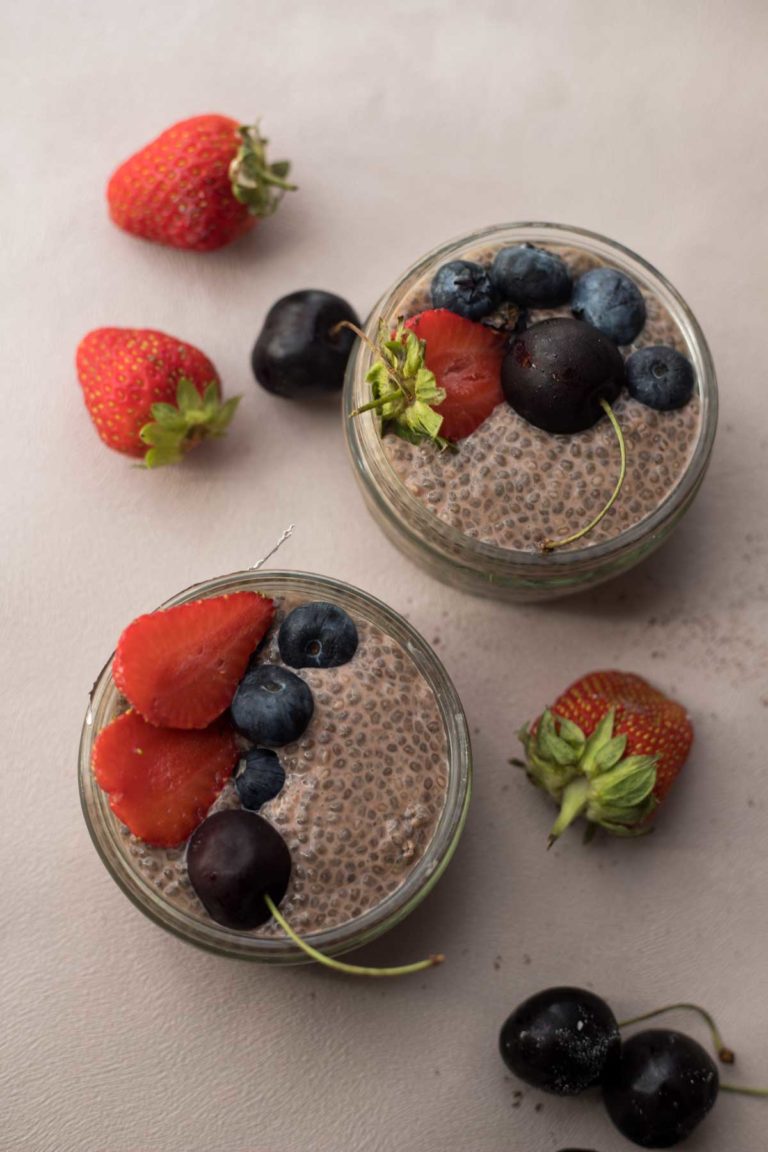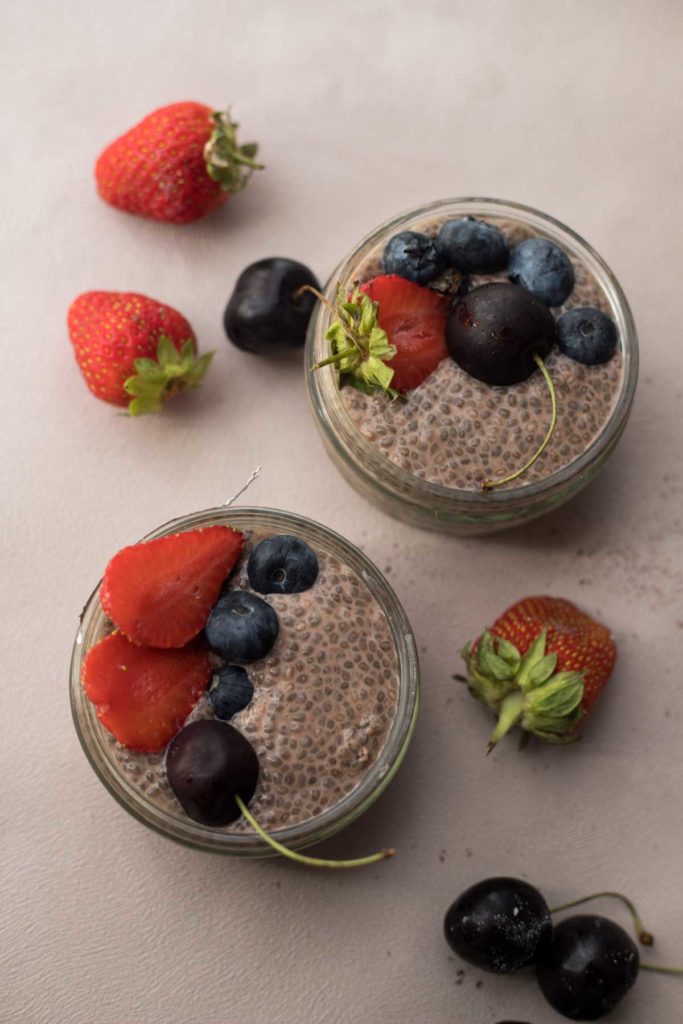 I understand you may not need yet another recipe for a chocolate chia seed pudding in your life right now as the Internet has full of fancy recipes for this. But am here to talk about more than just the recipe for a vegan chocolate chia pudding.
What are Chia seeds?
Chia seeds appear like grains but they are pseudo-grain in nature. They are apparently from mint/sage family that is native to Mexico. Chia seeds can absorb up to 12 times their own weight when soaked in water and form a gel-like structure which makes it ideal for smoothies and desserts like puddings.
Are chia seeds helpful for weight loss?
Chia seeds no doubt are superfoods as the Internet claims. They have several health benefits for sure but are also high in calories and fat. But the good news is they are very rich in fiber. Foods that are rich in fiber keeps your full for longer which eliminates the need for overeating technically, the key for weight loss. It is also rich in calcium which can help your bones to stay stronger. Also there is no scientific evidence that Chia seeds can exclusively be helpful for weight loss so always eat mindful portions.
Nutritional Information
Here is the nutrition information for 100 grams of chia seeds according to a standard nutrition calculator on the Internet.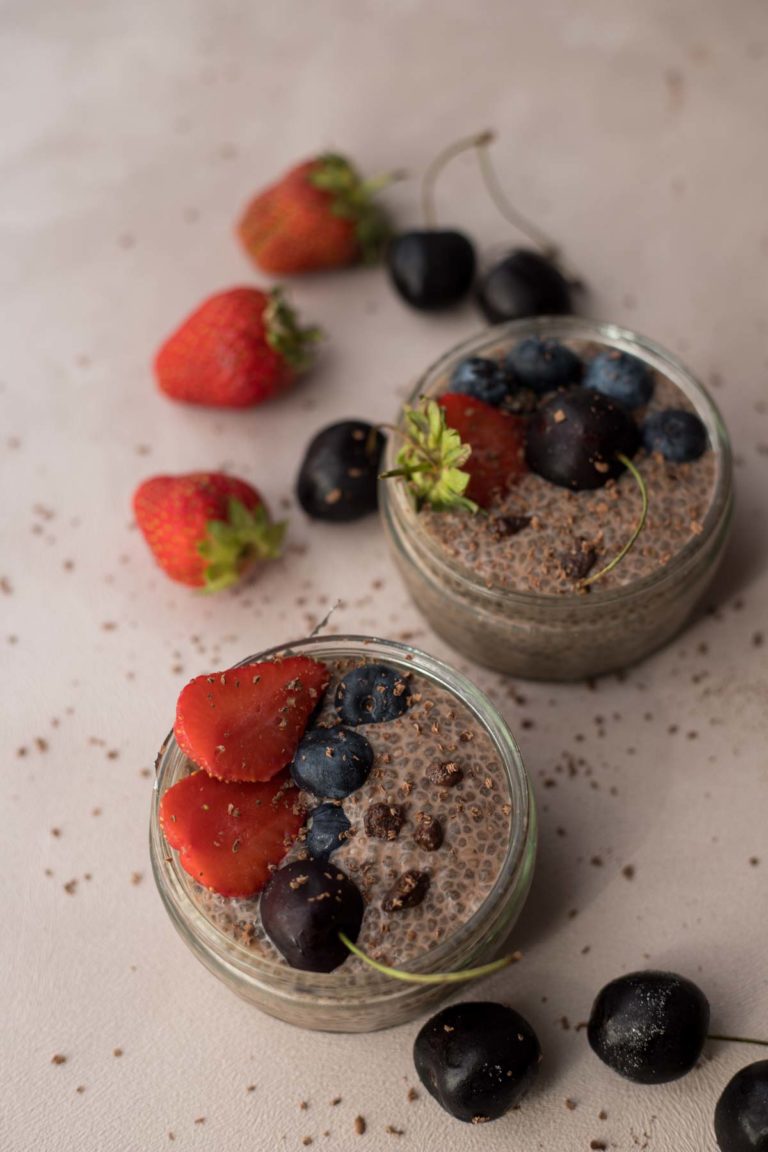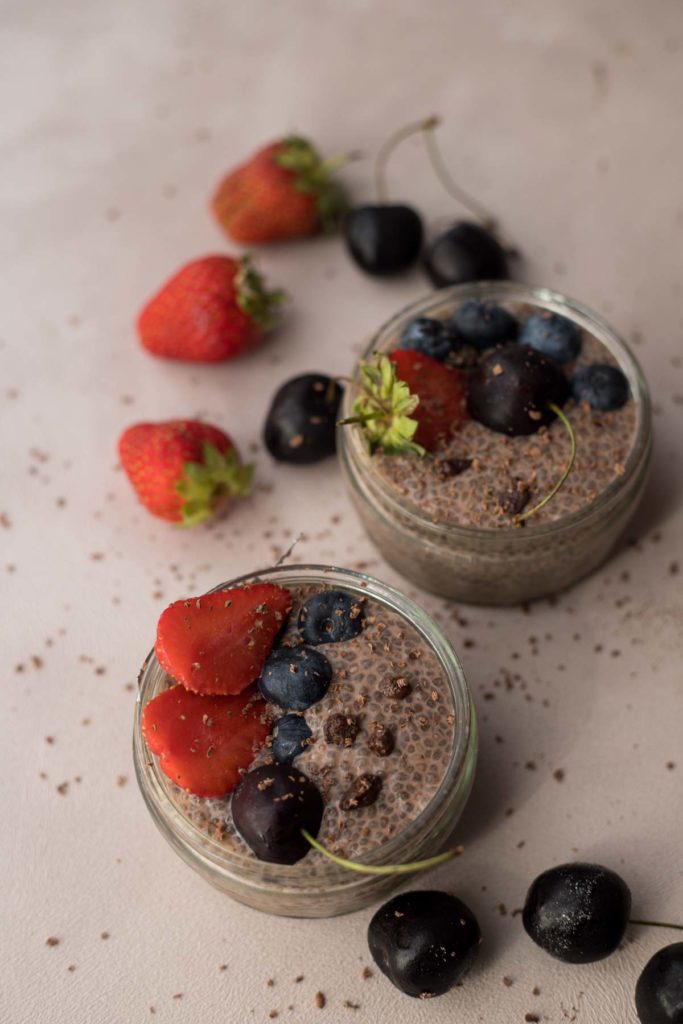 Ingredients and Substitutes
Chia seeds You can get these seeds in any supermarkets or on Amazon.
Unsweetened plant-based milk, I used almond milk, oat milk hasn't given a good taste to me personally but feel free to use. Coconut milk makes the pudding even creamier but it's very high on calories so I will stick to almond/oat/soya milk.
Maple Syrup, You can use honey or sweetener like agave.
Vanilla essence, optional and totally for the flavour.
Fruits /Nuts for topping, I use berries mostly as they are low in calories but feel free to use any fruit of your choice. I would personally stay away from nuts in this as chia seeds are already rich in calorie.
How to serve Chocolate Chia Pudding
This can be served as both breakfast or a dessert. Top with any fresh or frozen fruits ideally berries and I would stay away from nuts as chia seeds are already high in calories and good fats.
Vegan Chocolate Chia Pudding -Storage
This keeps well in the fridge for 4 to 5 days but I would prefer to make it fresh as it hardly takes 5 minutes.
This recipe is not suitable for freezing.
More Chocolate Recipes
Print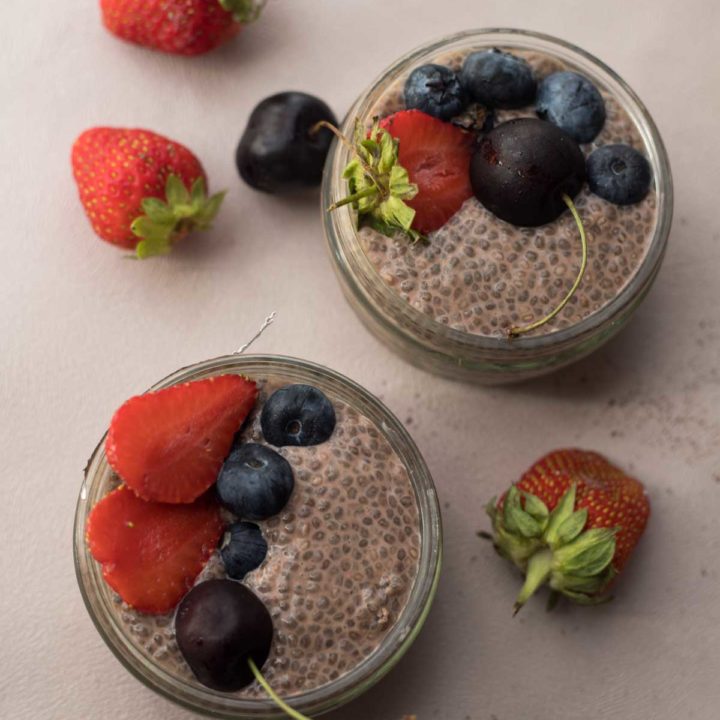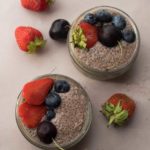 Vegan Chocolate Chia Seed Pudding
---
Author:

Siri

Prep Time:

3 hours 5 minutes

Total Time:

5

Yield:

2

1

x

Diet:

Vegan
Description
Vegan Chocolate Chia Seed Pudding is vegan, gluten-free that is ideal for a light breakfast or dessert, Very rich in fibre that keeps you full for a longer time helping your weight loss goals.
---
30 grams

Chia seeds

200

ml unsweetened almond or oat milk.

2 tablespoon

cocoa powder

1 tablespoon

maple syrup
Vanilla essence -few drops(optional)
Fresh or frozen berries for topping.
---
Instructions
In a mixing bowl, add cocoa powder and little milk along with vanilla essence to form a lump-free paste, slowly incorporate the remaining milk and mix well.
Add in chia seeds, maple syrup and mix well with a fork ideally.
Refrigerate overnight and allow seeds to soak up the liquid.
Top up with fresh berries or fruit of your choice.
Optionally add in cocoa nibs too on the top
Notes
Can you use any milk of your choice, coconut milk or dairy milk makes the pudding creamier but they are high in calories.
If you need it to be more chocolaty add additional cocoa powder and maple syrup accordingly.
Instead of cocoa, powder you can add in matcha, any fruit puree too. Mango works well.
Need to be soaked for at least 3 hours or preferably overnight. The prep time shows 5 minutes for mixing and rest time for 3 hours.
The nutrition information is a rough estimate according to the available tools on the internet. Always check your food labels for accurate information.
The colour of the pudding depends on the quality and quantity of your cocoa powder.
Category:

Breakfast,Dessert
Keywords: gluten-free, chia seeds, pudding, fiber-rich,chocolate
This post may contain affiliate links which means if you buy the product I will earn a small commission which goes into the maintenance of this website. Your purchase price will not get impacted at all.
If you ever make this recipe please consider rating the recipe and tag me on Instagram @fatrainbowgirl and using a hashtag #fatrainbowcooks.