If you want a low-calorie vegan spinach lentil meatballs to pair with spaghetti or to eat as a healthy appetizer, here is the recipe for you! These are completely vegan,low-calorie and have an option to make it completely gluten-free too!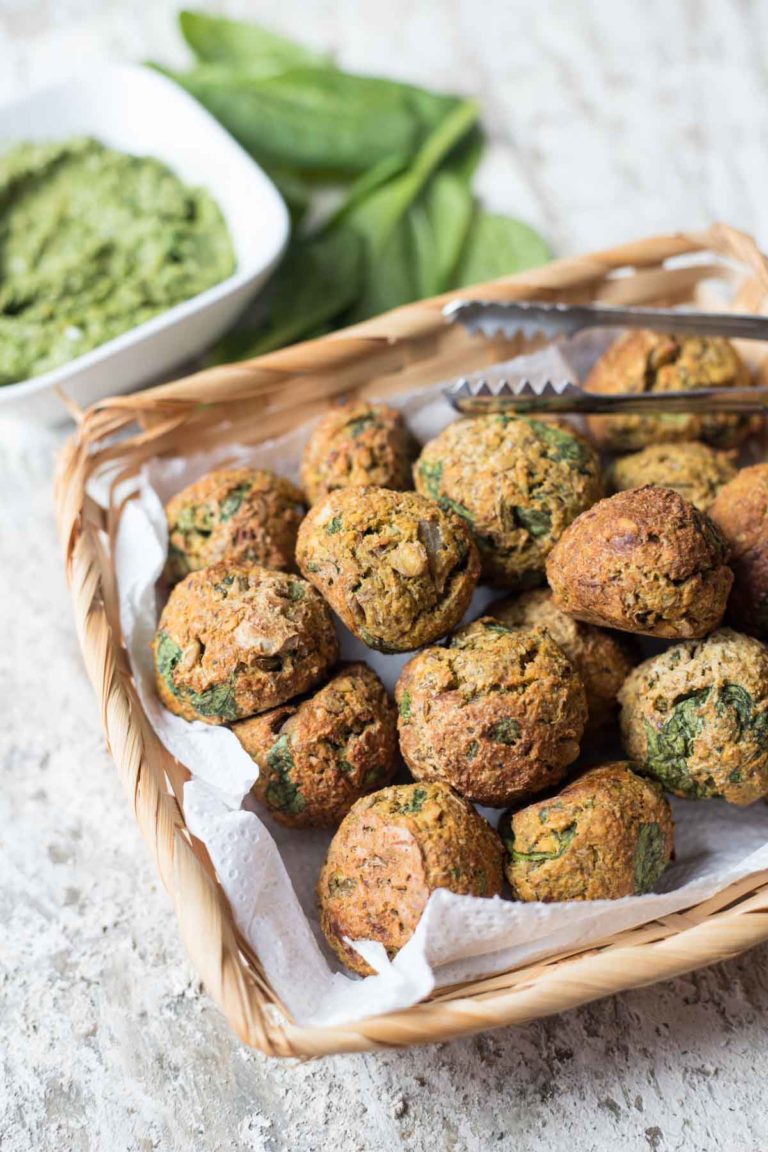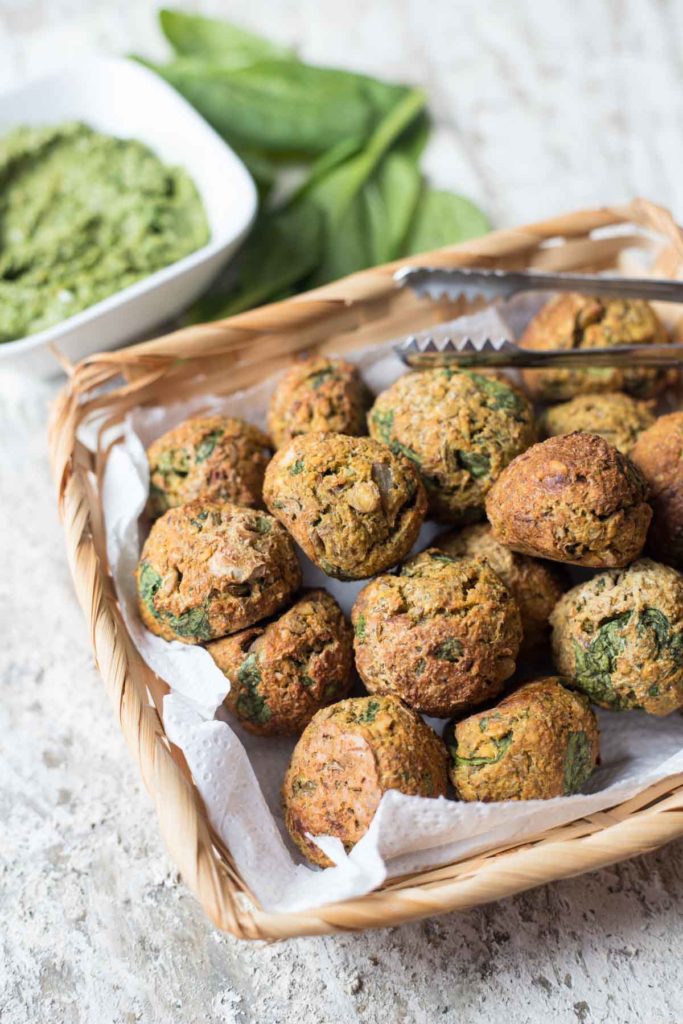 I love Italian food next to Indian, Mexican and Thai so it is only natural I try to make healthy versions at home to suit my weight loss and health goals. also, I am a vegetarian trying my hands on becoming vegan(one day) so these vegan lentil spinach balls absolutely fill my cravings for good meatballs without meat. Lentils are a great part of Indian cuisine and I personally grew up eating lots of lentils daily being the only vegetarian in my home along with my dad. My mum would daily make dal(made out of thoor dal) for me as I was a fussy child rejecting most of the vegetables even!
Keeping my stories aside, today we are learning all about the meatless meatballs made out of lentils and our very special homegrown spinach in a healthy cooking method.
Ingredients and Substitutes
Green Lentils You can also use brown lentils. Chickpeas can be used as well but it would make me feel am eating falafels so it's really up to you.
Onions -Use any type of red, yellow or white.
Spinach -Use as much as you want to get more nutrients.
Breadcrumbs and Oats This really is to get a fine texture and coating to the balls, I would experiment with different proportions. Feel free to use ½ cup oats or gluten-free bread crumbs if making a gluten-free version.
Flax-meal This is a replacement for an egg, you can replace this mixture with egg if you prefer.
Italian dried herbs to enhance the flavour.
Spices like paprika, turmeric, coriander powder, white pepper powder – coriander powder are optional and quite personal to my taste.
Low-Calorie cooking spray for frying onions and baking.
Am not using any cheese here for obvious reasons but you can add ¼ cup parmesan optionally.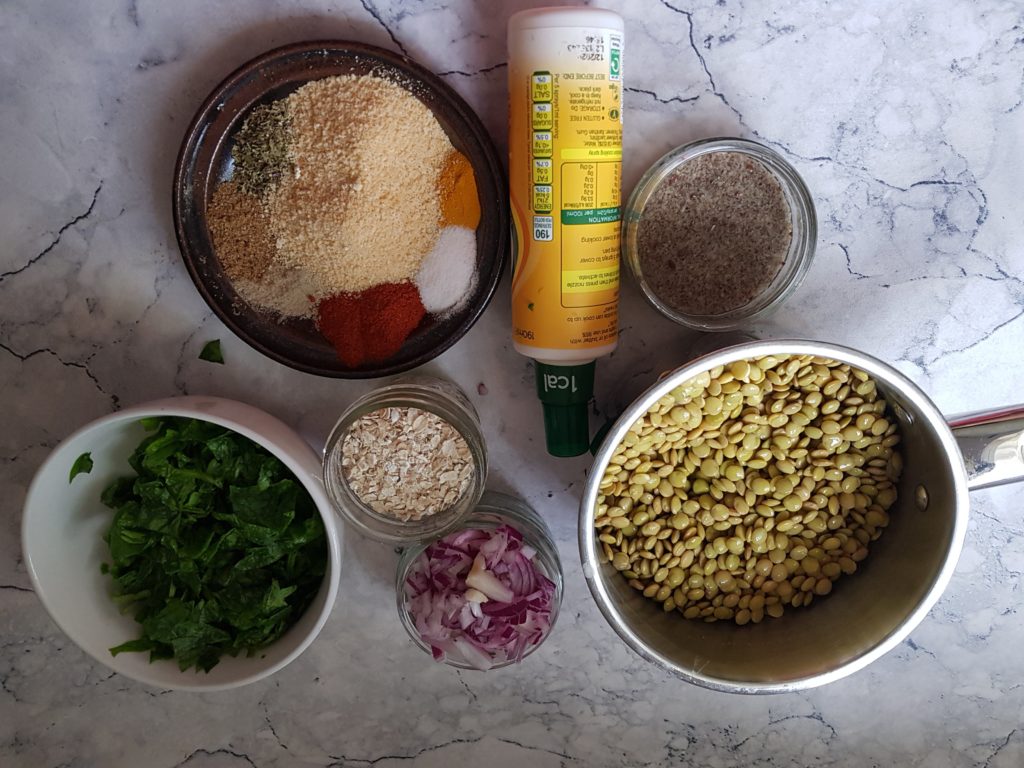 How are vegan spinach lentil meatballs ideal for weight loss?
Firstly am not using any oil here to fry the onions even and tried to use a low-calorie spray as always, this really does the job well.
Secondly, the meatballs aren't deep-fried, rather baked.
I haven't used any cheese in this recipe but still, meatballs tasted fine to me personally and when you cook these vegan meatballs in a tasty sauce, you will not even miss cheese/parmesan. You can always grate some on the top before serving which gives us total control on the amount of fat going into the meal.
And the lentils gives us a good dose of protein and fibre which helps in burning the fat while keeping the calorie count in control.
Taste and Texture of the vegan meatballs
I cannot promise these vegan spinach lentil meatballs will be extremely juicy like your traditional meatballs when eaten on their own, but they absolutely serve the purpose of having a healthy appetizer and taste fine when soaked in sauce(recipe coming soon).
The reason being they are made with lentils which tend to get dry when baked especially. Also, the more time you store them outside the more they become drier.
Serving Suggestions
Vegan spinach lentil meatballs can be a great appetizer and simply taste good on their own or with a classic Italian garden salad or simply some cucumber and cherry tomato salad.
Serve with classic Italian Pesto Pasta(recipe coming soon) or any kind of spaghetti dish.
Of course, dunk them in a simmering tomato sauce seasoned with spices and herbs.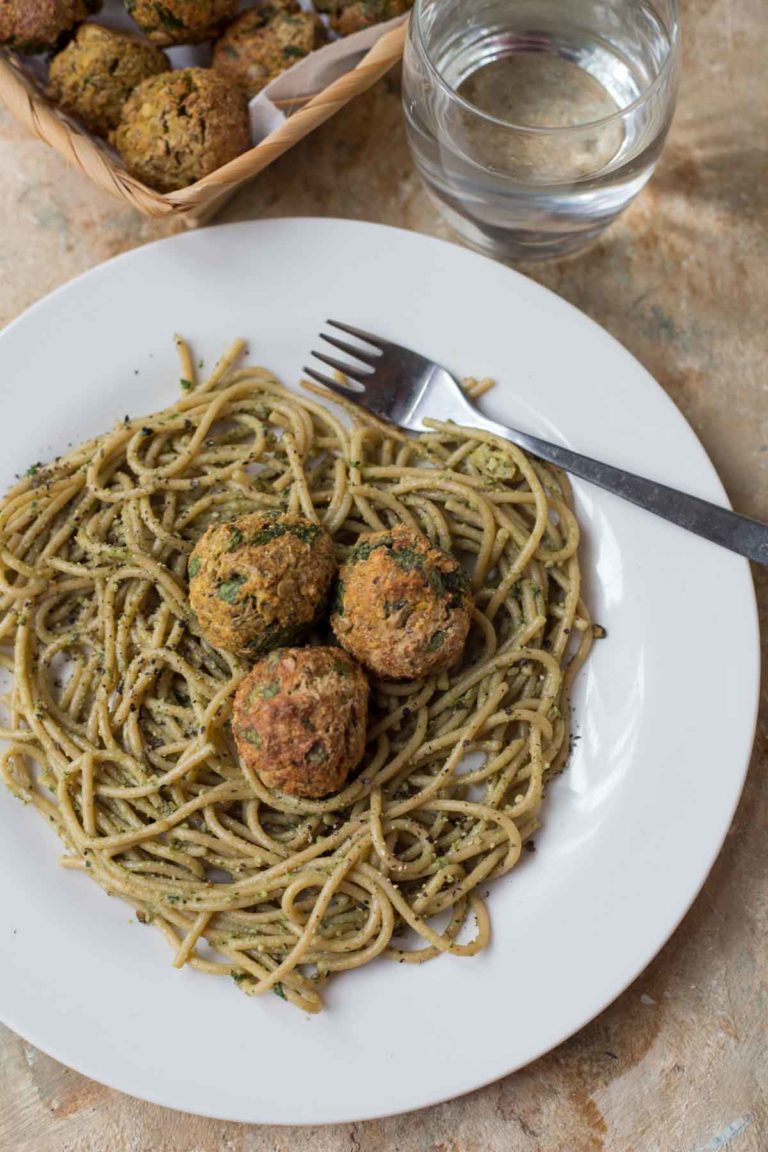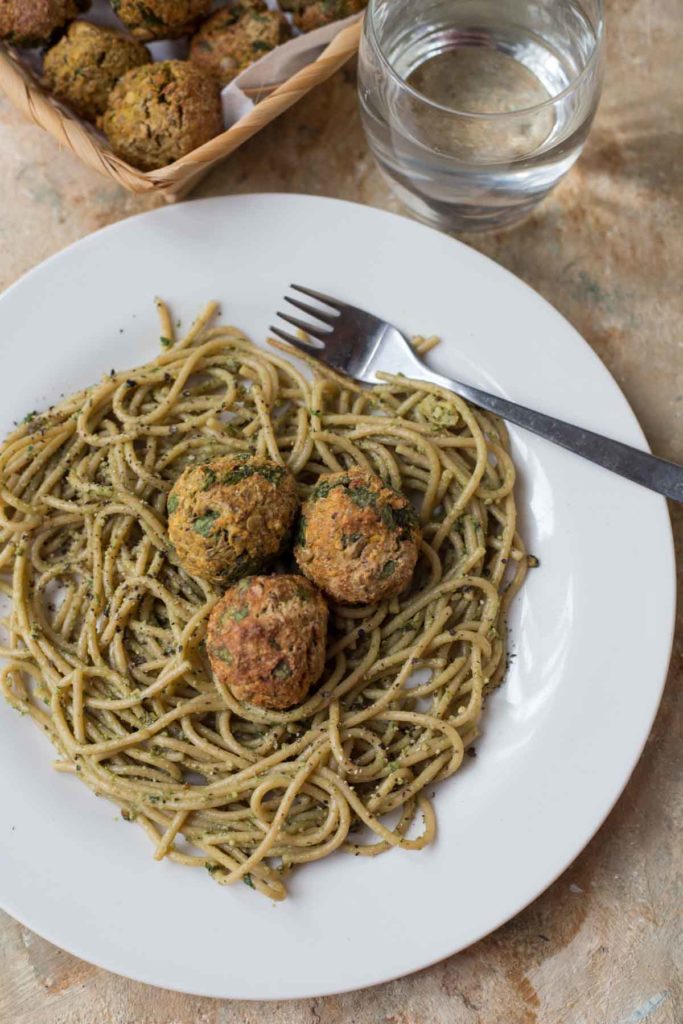 Storage and Freezing Suggestions
These vegan spinach lentil meatballs stay good in fridge for 5 days, store them in a closed lid container away from odors and simply reheat in microwave for 5 minute before serving.
The recipe for vegan meatballs is absolutely suitable for freezing, you can freeze the uncooked balls as well as baked ones for at least a month,
If freezing uncooked meatballs, first put them in fridge for at least 3 hours so they get hardened a bit. Lay them flat on a freezer friendly box with a baking paper lined.
You can cook them directly from freezer if using in a sauce or microwave them to have it as a snack.
Shopping Suggestions
Brown and green lentils are widely available in all major super markets in the UK. I buy mine in bulk in Indian grocery stores.
If you have even a small balcony space I would suggest growing your own spinach to have an uninterrupted supply of greens that play a vital role in your weight loss journey, it is very easy to grow and economical and environmental friendly.
Flax meal is also available in all supermarkets these days and you can buy online too in bulk if you are a vegan as it can be used in several recipes as an egg replacement.
Watch the video recipe for vegan meatballs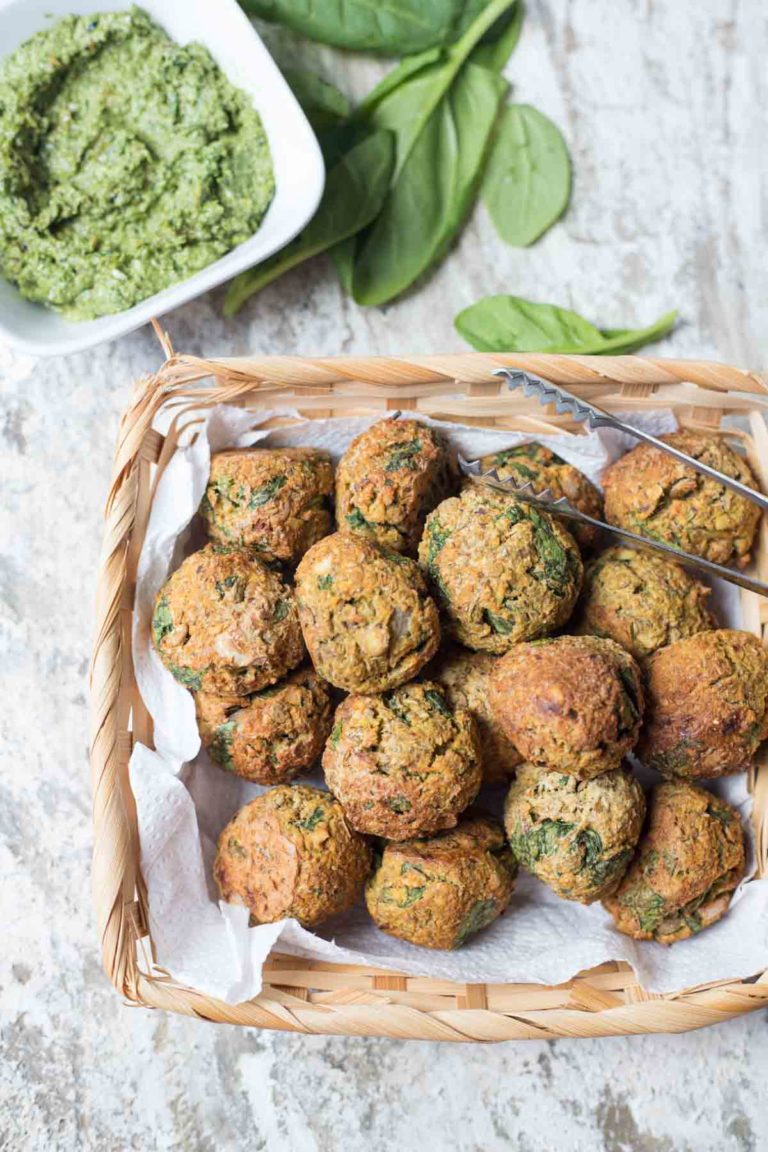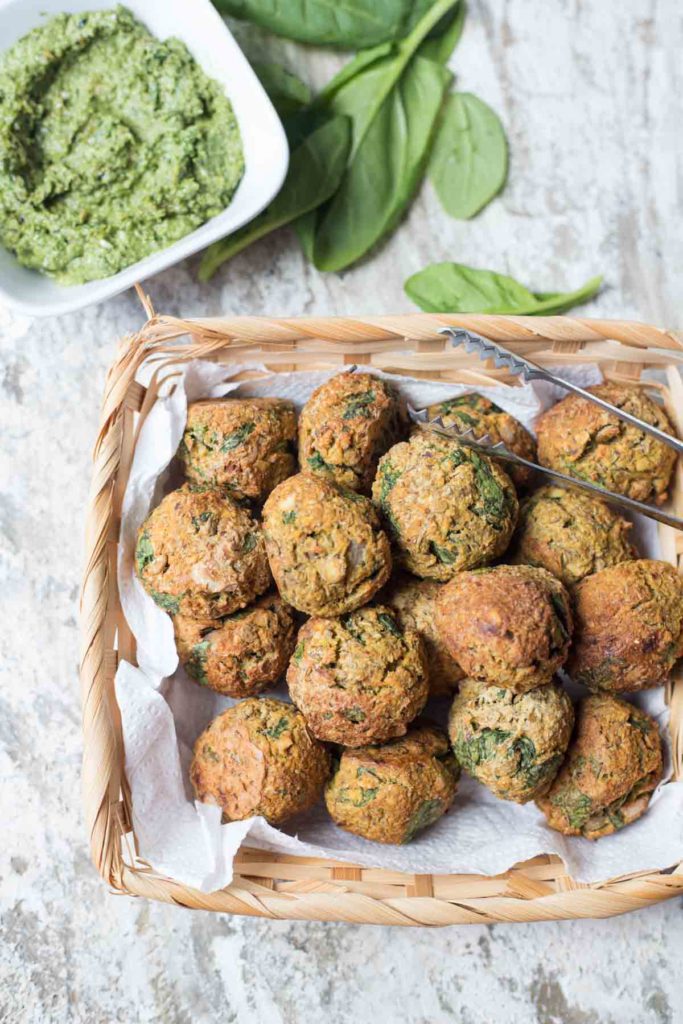 And when am not in great mood to cook, I totally rely on Swedish style Quorn meatballs which are totally meat-free and less in fat relative to the ones served in restaurants.they are good plant protein and a healthier option than greasy takeaways.
If you ever make this recipe, please consider rating it below and tag me on Instagram @fatrainbowgirl or use a hashtag #fatrainbowcooks so we can connect with each other.
Print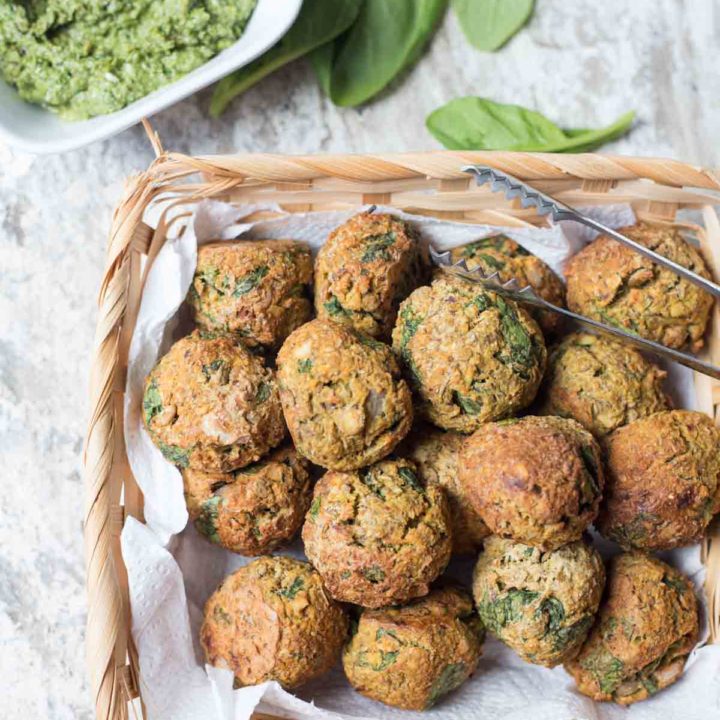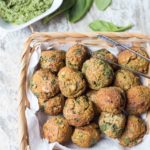 Vegan Spinach Lentil Meatballs
---
Author:

Siri

Prep Time:

20 minutes

Cook Time:

30 minutes

Total Time:

50 minutes

Yield:

25

balls

1

x

Diet:

Vegan
Description
Vegan Spinach lentil meatballs are a healthy baked version of traditional meatballs recipe, they can be had as an appetizer or simmer in an Italian tomato sauce to serve on pasta. Rich in protein and fibre thus making it as an ideal meal for weight loss diets.
---
1 Cup

Green Lentils

1 Cup

tightly packed Spinach

½ cup

roughly chopped onions
 4 garlic pods

¼ cup

bread crumbs

¼ Cup

Oats

2 tablespoon

flax meal mixed with 2 tbsp of water

1 tablespoon

paprika

1 tablespoon

coriander powder

1 teaspoon

turmeric powder

1 teaspoon

white pepper powder

1 teaspoon

Italian herbs or dried fenugreek leaves
Salt as required
Low Calorie cooking spray
---
Instructions
Wash the lentils well under running water and soak for 30 minutes at least. Cook in boiling water according to the packet instructions. I soaked them overnight which eliminates the need for any cooking though.
Wash the spinach well and blanch in hot water and immediately transfer to ice cold water optionally to preserve the colour.
Take 2 tablespoon flax meal mixed with approx 4 tablespoons of water and rest for 15 min at least.
In a heated pan, add cooking spray and fry roughly chopped garlic until brown.
Add in onions and fry for 5 min, add in 2 tbsp of water and cook until soft. Cooking in water eliminates excess calories. Allow it to cool down.
Take lentils, spice powders bread crumbs, oats into a blender jar and pulse coarsely. 
Add in blanched spinach and mix well.
Roll in small balls and optionally keep in the fridge for 15 minutes.
Line a baking tray with foil paper(or baking paper if available) and spray some oil.
Place the rolled balls without touching each other and spray cooking oil lightly.
Bake in a pre-heated oven for 15 min at 180C, then flip them over and bake for another 15 minutes.
Serve them with salad or simmer them in a tomato sauce to serve over spaghetti pasta.
Notes
If you don't' have flax meal, grind up some flax seeds to make a coarse powder.
Total time of the recipe is given assuming you use cooked lentils or overnight soaked lentils.
Baking time depends on the quality of your ingredients and oven, so adust timings accordingly.
Nutrition calculation is given for one ball, the recipe serves 25 balls approx and can be served for 5 people as part of mains.
This recipe has been inspired by Lazy Cat Kitchen
Category:

Appetizers, Lunch

Method:

Bake

Cuisine:

Italian
Keywords: vegan, Italian, lentils,flaxmeal
This post may contain affiliate links which means if you buy the product I will earn a small commission which goes into the maintenance of this website. Your purchase price will not get impacted at all.