Creamy, low fat? No kidding, we have got the magic dip/cream/sauce/dressing whatever you can call to make a dreamy creamy low-fat pasta salad with all the possible rainbow colours. This will be your quick choice for those weekday lunches without having to sacrifice on your weight loss goals.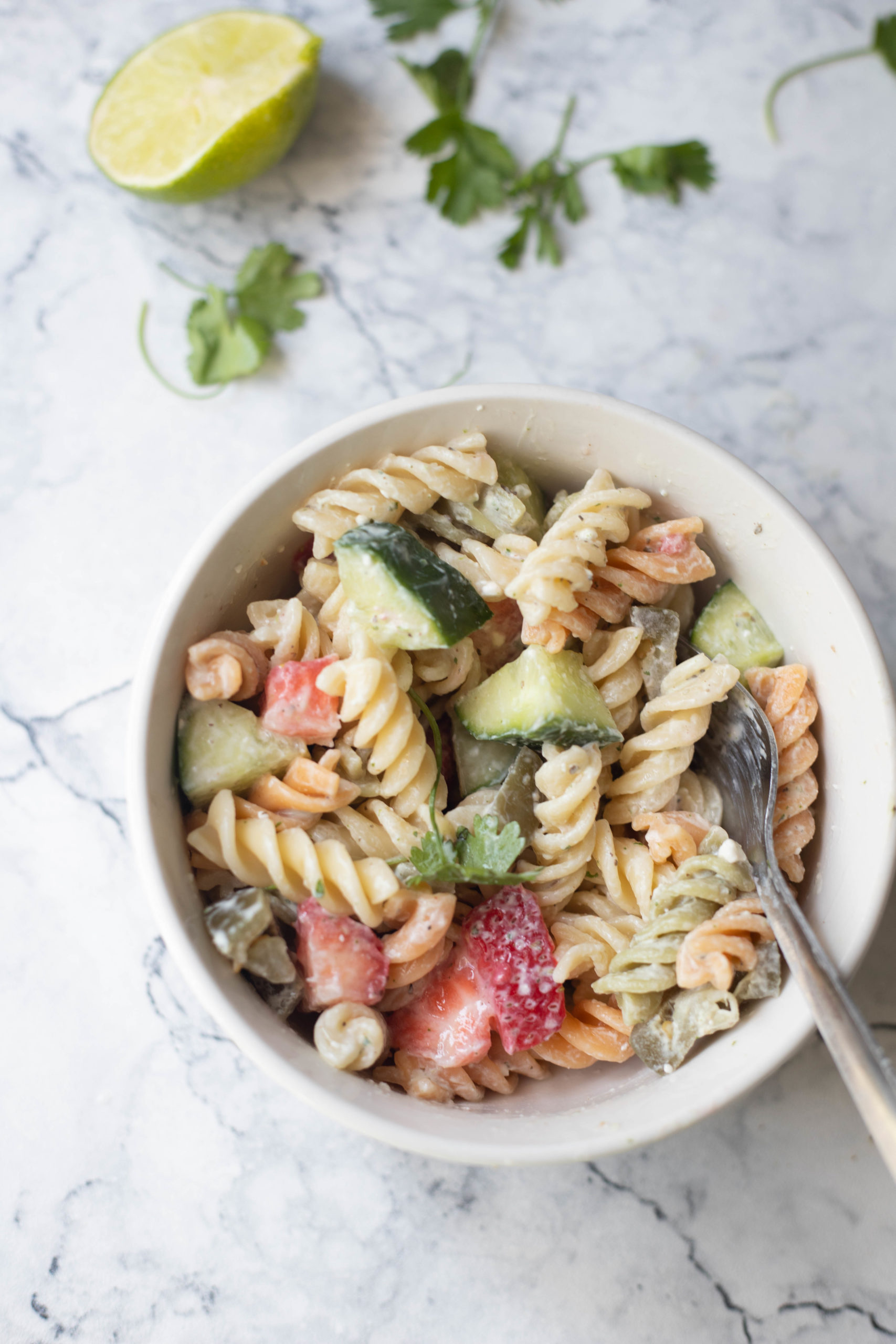 Healthy pasta salads are very easy to make at home. Often you will see people at food shops order unlimited salad bowls but you will also see them loading their salads with heavy dressings made of mayonnaise creams, loads of olive oils and vinegar. It doesn't do any good. If it's not low fat or low-calorie pasta salad, you better enjoy a tasty Pizza as a treat for that day.   If you are trying to lose weight, you need to look at every opportunity to make your next meal optimised. When I say optimised it's not just healthy but also have fewer calories and less fat. Keep in mind that low-fat pasta dressings are rare to find at restaurants unless you make your own(more on this in another post). For now, here am bringing you my version of a healthy creamy pasta salad with no mayo or no heavy creams etc.
Tips to make a healthy low-calorie pasta salad?
Choose your dressing wisely, avoid heavy creams, oils.
Lemon juice, low-fat yoghurts, cream cheese, quark, cottage cheese are great alternatives for traditional salad dressing ingredients.
Pick the whole-wheat pasta varieties and also things like  vegetable infused pasta
Include plenty of vegetables and less of the pasta.
Use plenty of herbs and spices to add flavour.
Be mindful on the amount of oil, you don't need tons when you balance the flavours with herbs and lemon juice.
Add in protein like chickpeas, kidney beans to fill you more so the need for more pasta is less.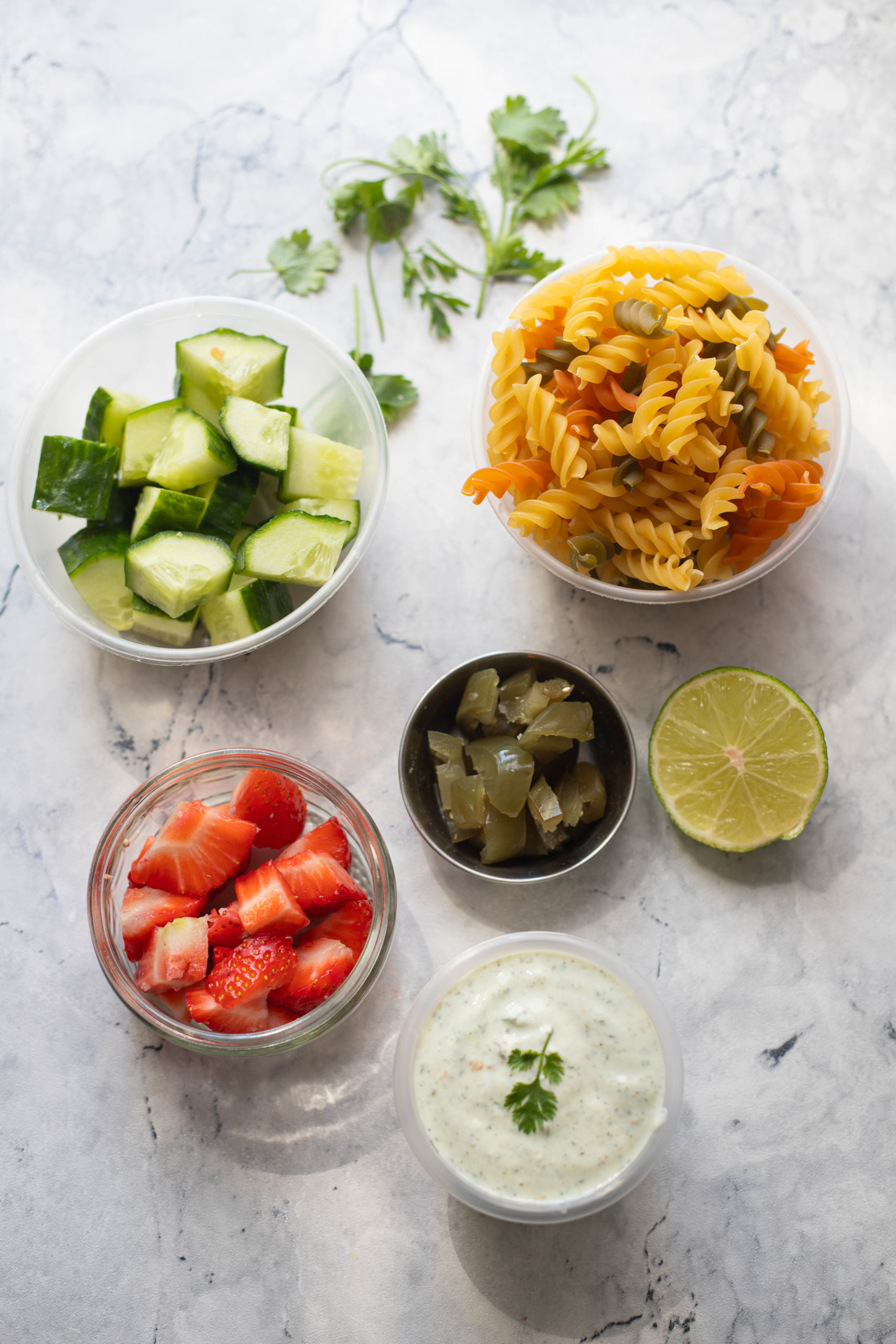 Ingredients for low-fat pasta salad dressing
fat-free cottage cheese
Lemon juice
Fresh herbs like coriander or parsley
Dried herbs of your choice
Optional 1 tbsp of olive oil.
Blend everything smoothly and depending on how your day goes and plan for calories you could include a tbsp of olive oil in it but I actually don't find the need.
Include many vegetables and fruits of your choice to fill up the pasta salad.
Another important tip, while you are on weight loss, is that I make my food to look pretty not just for these photographs but on a daily basis . Choosing plenty of naturally colourful foods as much as possible will brighten your  mood and motivate you that you are on the right path,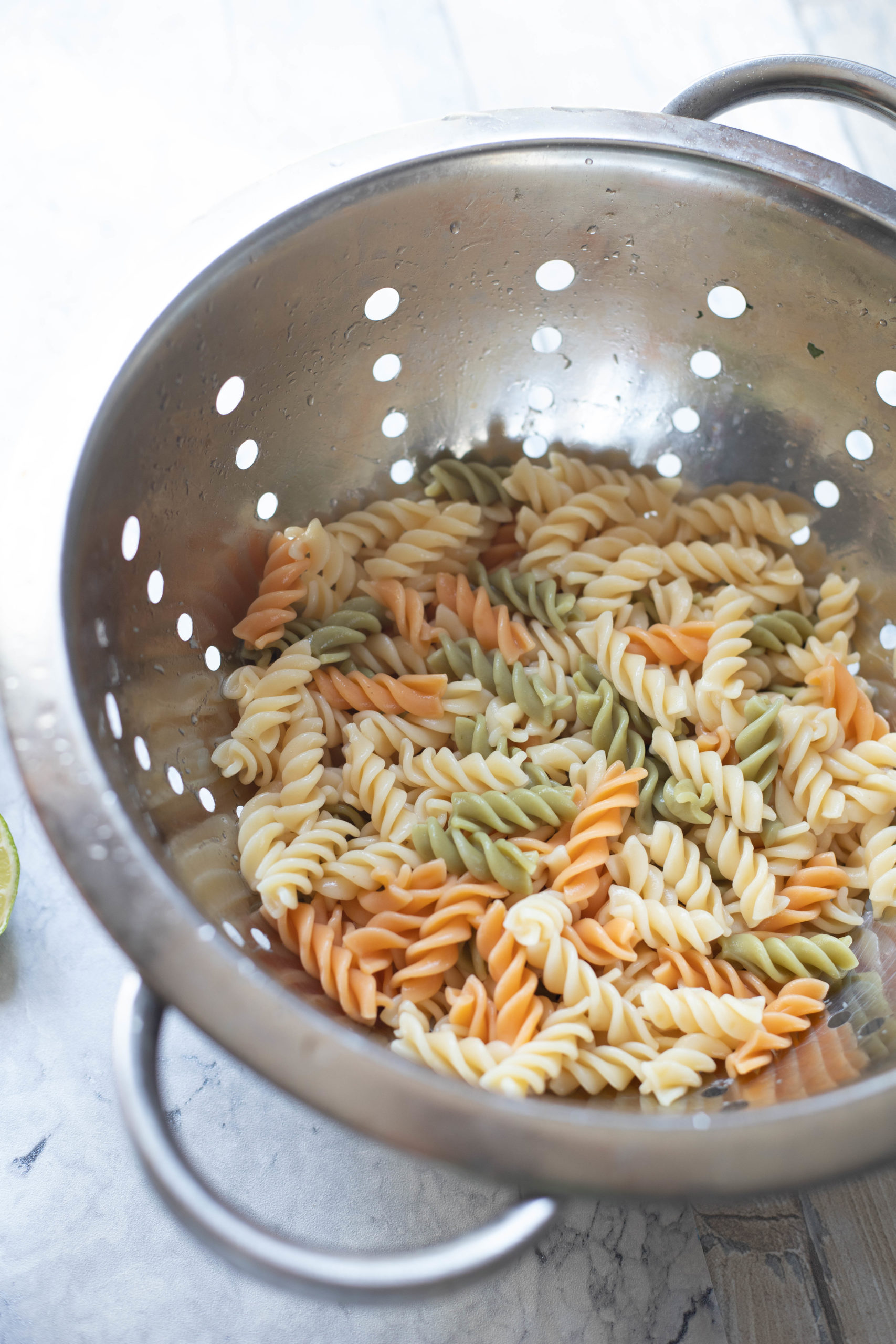 Can I make this low-fat pasta salad ahead and freeze?
I would not recommend freezing. however, you can freeze the boiled pasta if you like and make the pasta salad freshly.
You can absolutely keep  this low-fat pasta salad in the fridge for 3 days and top it up with additional dressing for that freshness
I always used to keep a full bo of this at my work fridge, such a handy light lunch or snack when you are too busy to cook. Saves you a ton of calories as you can avoid going to those high street chains selling 'healthy foods' .
How long this low fat creamy pasta dressing can be stored?
Absolutely! You can make ahead and store them for a week, It stays fresh and creamy! Please have an eye on the expiry date of the cottage cheese though. you can also use quark instead of cottage cheese.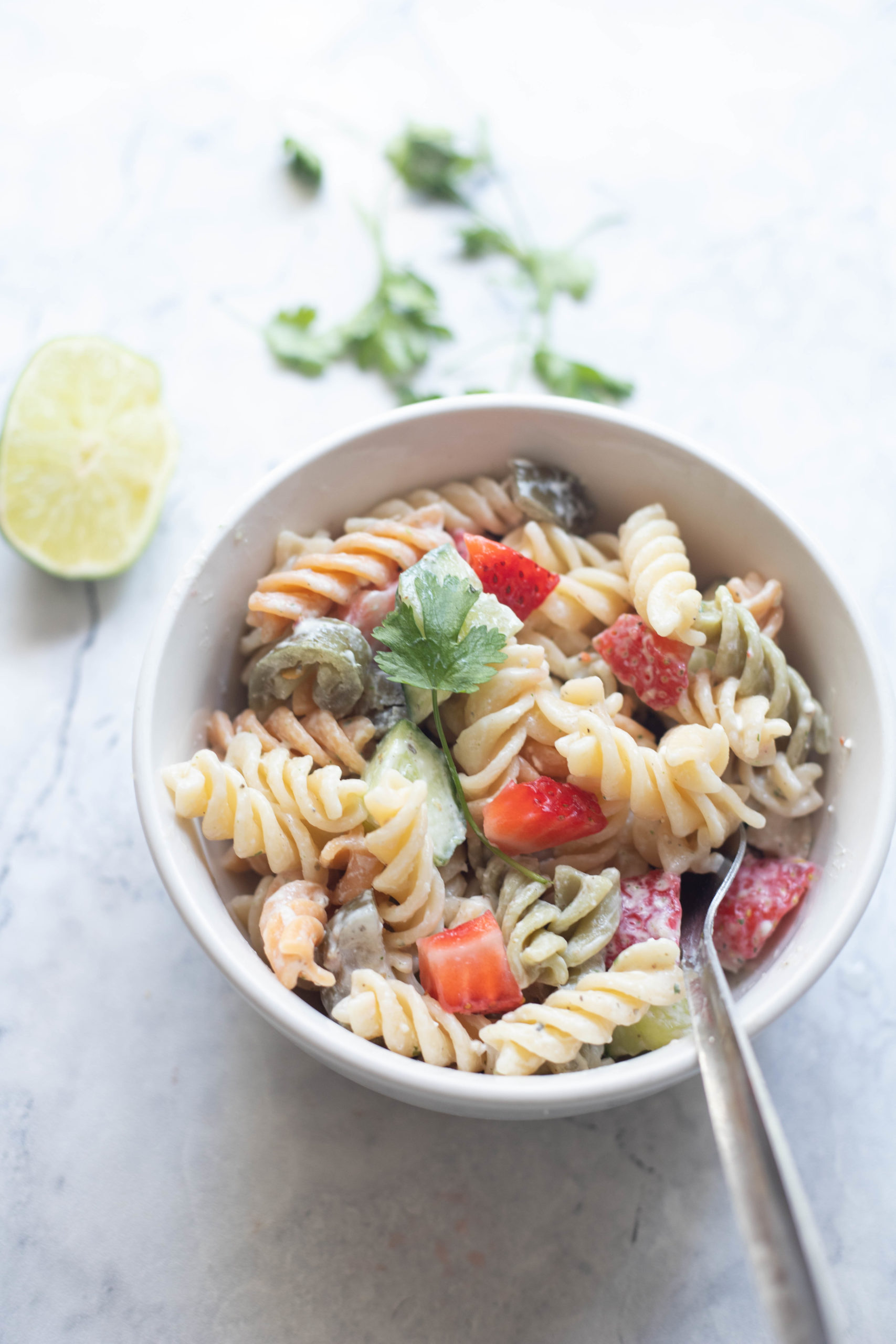 What can I serve this cold low-fat pasta salad with?
This is a meal on its own and also when you include loads of protein too like boiled chickpeas etc
otherwise, this can be served a light lunch as it is.
Check out the video recipe for this cold healthy pasta salad and subscribe to my Youtube channel for more weight loss recipes.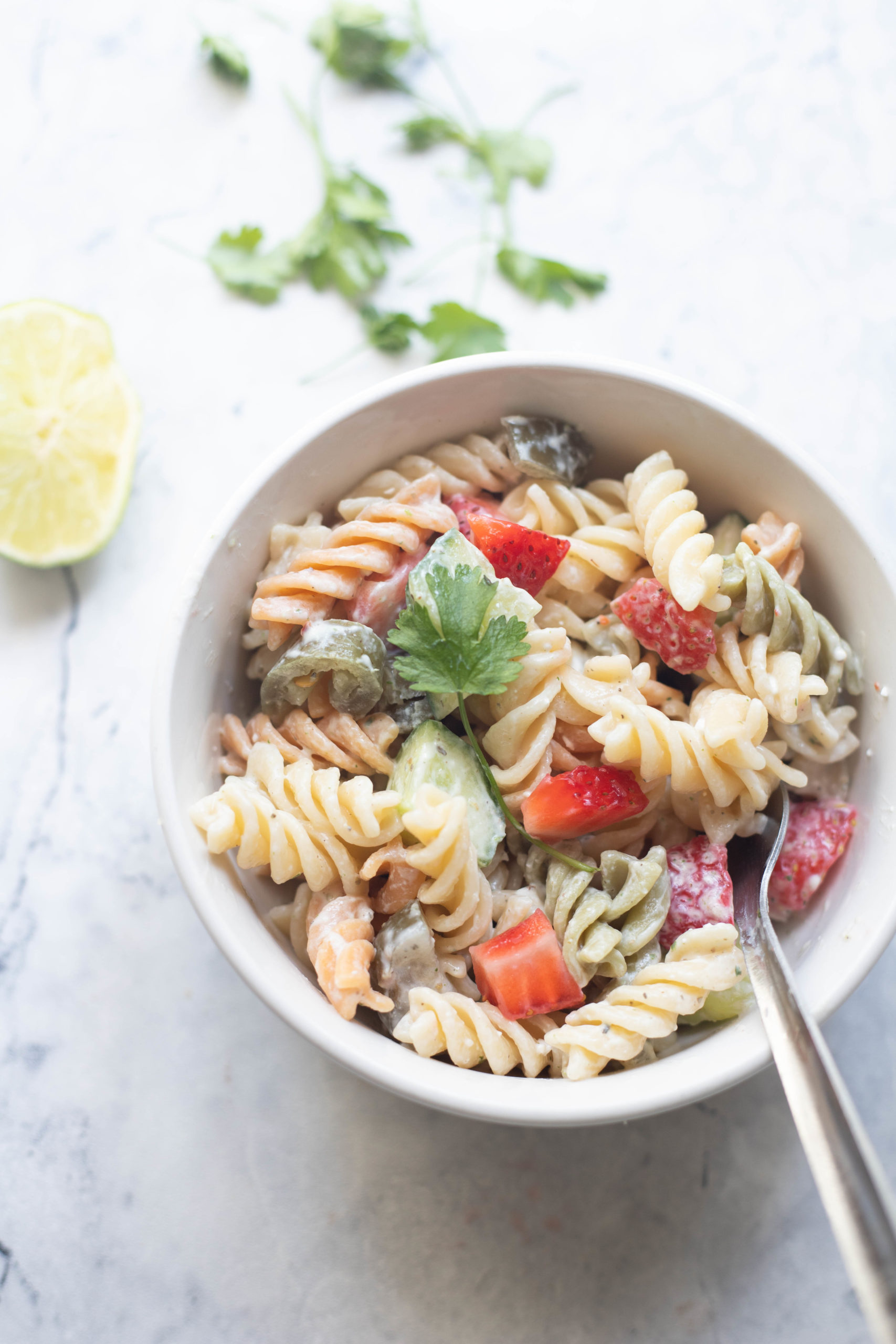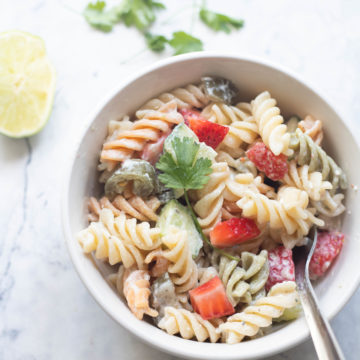 Creamy low fat pasta salad
A low-fat, low-calorie pasta salad using plenty of vegetables and cottage cheese as a dressing, ideal for weight loss and calorie counting diets.
Ingredients
For dressing
½

cup

fat-free cottage cheese

Lemon juice

Fresh herbs like coriander or parsley

Dried herbs of your choice

Optional 1 tbsp of olive oil.
For salad
300

g

cooked pasta of any variety

½

cup

cucumber

feel free to add more

½

cup

strawberries

3

tbsp

of jalapenos

and any other vegetables of your choice basically
Instructions
Cook the pasta according to the packet instructions and I usually don't add any oil

Mix everything together and garnish with fresh herbs.

https://www.youtube.com/watch?v=Om_WoF7JMy4&t=6s
Notes
I used lemon juice at the end as I forgot to add in my dressing.
Optional chilli flakes can be used if you want extra spice