I bring you the spicy healthy baked version of masala french fries or can we just call them masala chips? You decide!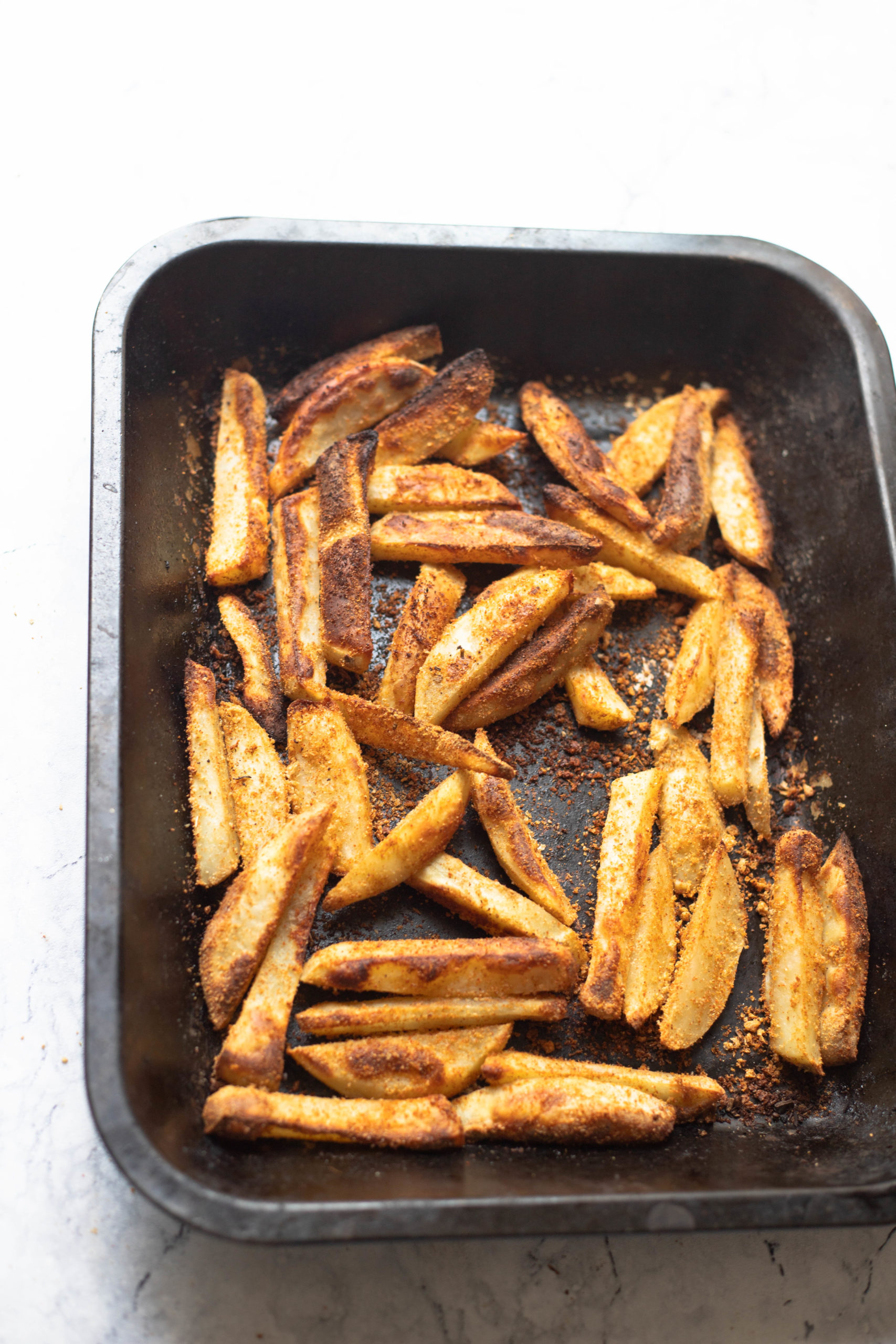 Before I talk about masala french fries, let's get back to few years ago.Back in 2011, when I moved to London from the Southern states of India, different foods here really excited me. True, I was working for a top MNC in one of the busiest metropolitan cities. But going to Mc Donalds was really reserved for very special occasions and I always used to get happier with their fries, being a potato lover. Most of the fat that I put on was contributed by these fries and milkshakes on the menu. Little did I know that a version of these french fries can be made easily at home in whatever shape and taste you like! Fast forward to few years I never turned back to Mc Donalds and rather get a heart attack if I think of those deep-fried chips!
Now call them as chips or fries but let me give you my healthy version of these potato beauties here and you can cut them in whatever shape you like. And still, follow the same recipe.
Being South Indian, how can I not add my masala ideas to the fries? There you go I present my version of these healthy baked masala french fries, I should rather just call them masala fries?
Gold crusted soft inside spice coated beauties! and what if we add a hint of protein instead of bread crumbs?!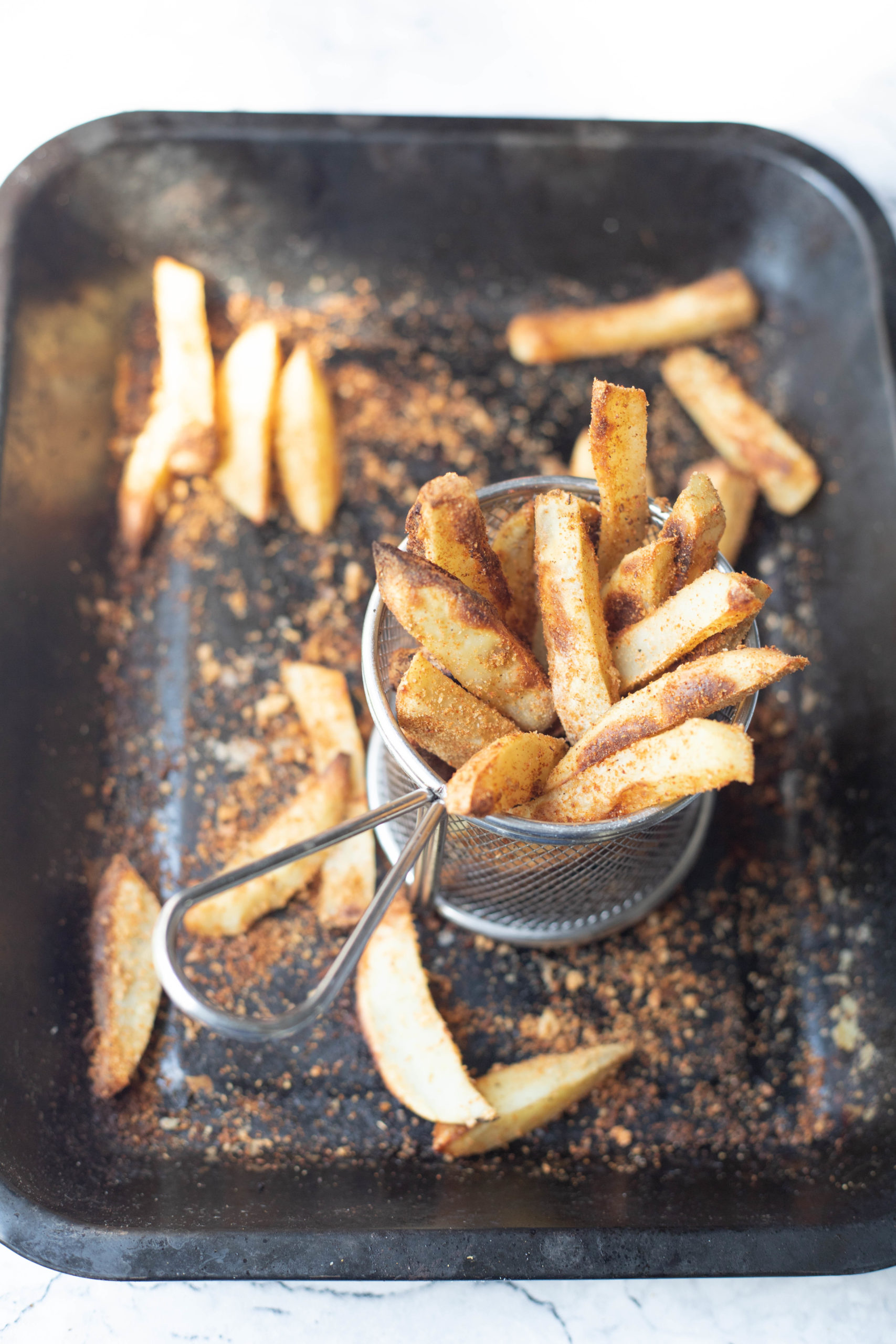 ingredients for healthy masala fries
Obviously the mighty potatoes whichever variety you like!
And we are not using any breadcrumbs here, that's right. I used my sad-looking soya granules as a nice coating to these fries. Sure you have some soya granules in your pantry too giving that 'when will you use me' look, I guess. If not you can buy them here which are already available in mince form so they no longer need to wait for years to get into the cooking pan. I am not a big fan of soya granules, I admit! But they can be pretty useful if you are a vegetarian weight loss aspirant!
And then the usual spices like salt, pepper and chilli powder. If you are scared of chilli, get our hands-on paprika which is less spicy usually. But we are spice lovers here!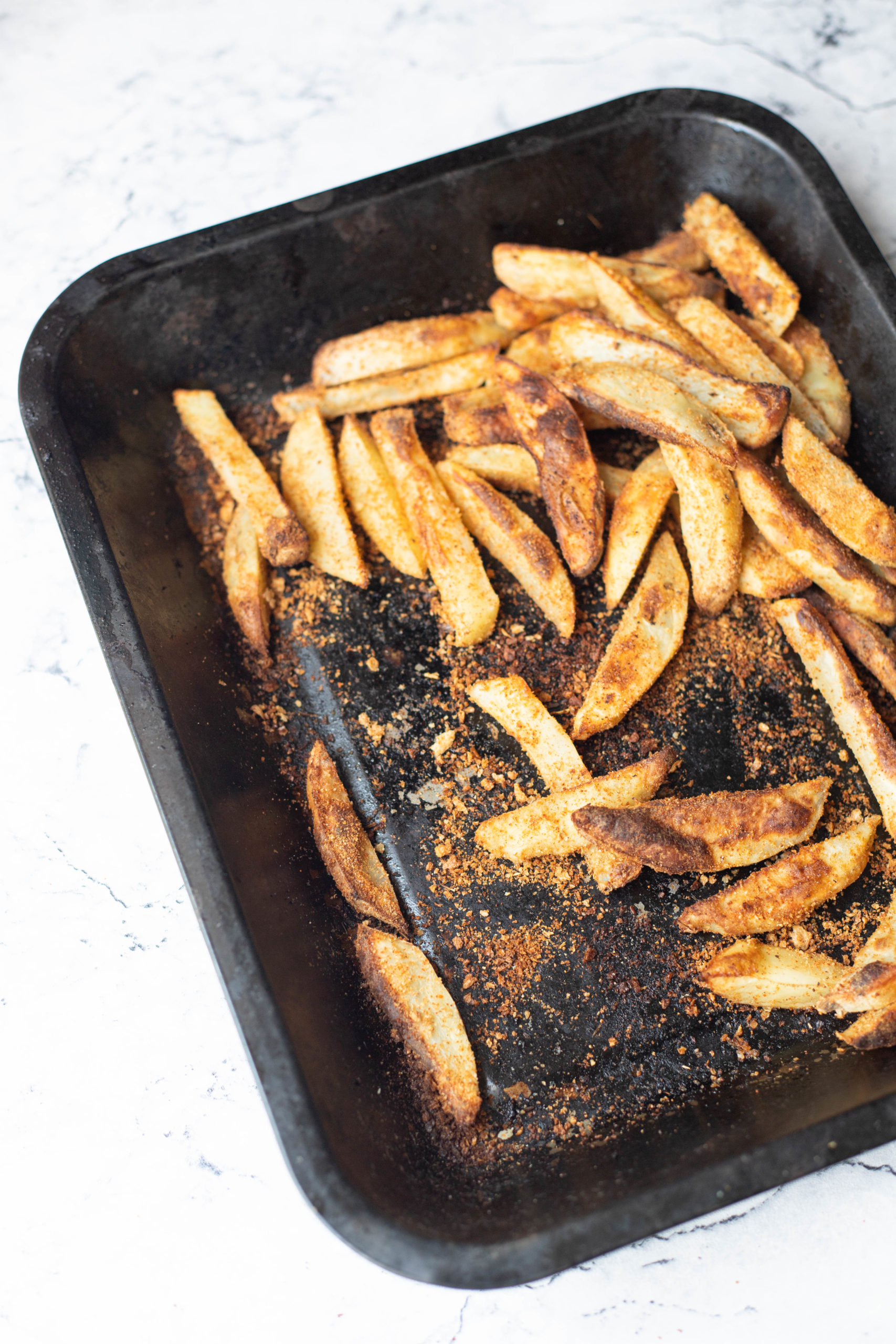 How baked healthy masala fries are suitable for your slimming journey?
These masala fries are not deep-fried or let's say not fried at all! We are baking.
We are using low-calorie cooking spray instead of oil so the fat portion is really controlled.
When you start weight loss journey and increase your intake of fruits and veggies should not really bore you or make you quit sooner. Hence herbs and spices keeps those healthy meals well balanced satisfying your taste buds, like these masala french fries exactly!
And I bet 50% of the weight loss aspirants lose their momentum and give up their dedication when it comes to SNACKS!
food pairing for masala french fries
These masala french fries can be had on its own or you could pair them with healthy homemade burgers. If you come from India like me. yes, you can pair these with curd rice, rasam and sambar rice too.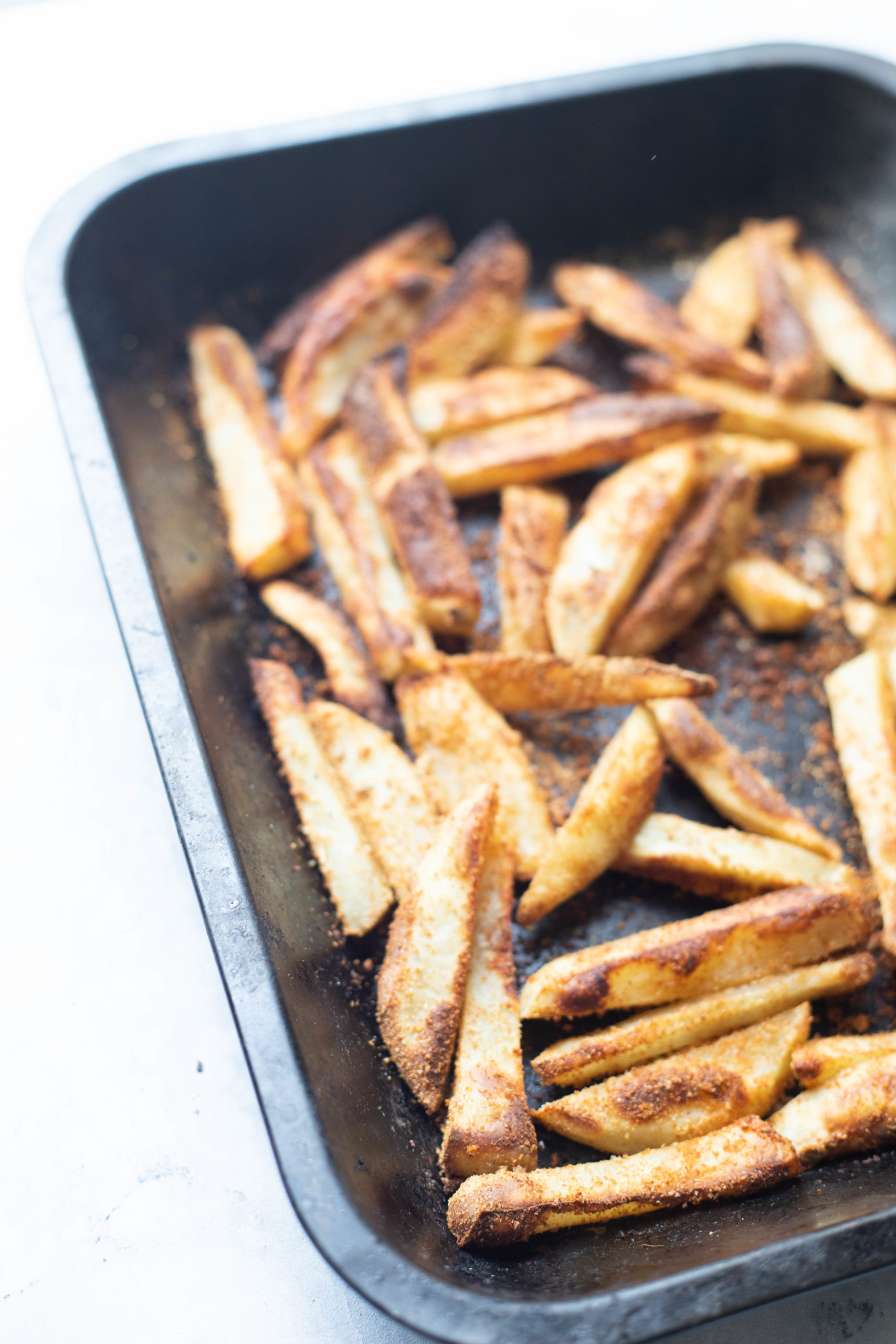 What diets these masala french fries are suitable for?
The recipe doesn't call for any flours or bread crumbs or egg so suitable for any anyone who's is following vegan or gluten-free lifestyle.
how to store masala french fries
I would recommend cooking them from scratch whenever you need as the recipe is not elaborate however I understand how busy we can get at times. You could try storing these coated chips re-usable freezer bags and bake them whenever you need. However, I don't recommend freezing them for more than a week as the coating can get softer as time passes.
These baked masala french fries can save tons of calories and points if you are following slimming plans like Weight Watchers or Slimming World. You can enjoy additional calories/points elsewhere for the day.
Make sure you check below video recipe for baked masala french fries for more understanding and clarity on how the coating is made.
Enjoy the rest of your week.
Print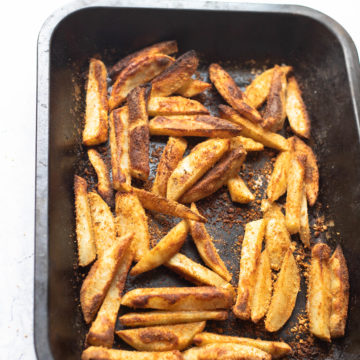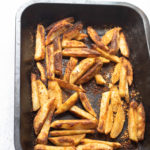 Healthy Masala French Fries
---
Author:

Fat Rainbow

Prep Time:

10

Cook Time:

30

Total Time:

40 minutes

Yield:

2

1

x

Diet:

Low Calorie
Description
Healthy masala french fries with a kick of protein using soya granules which give a nice crunchy coating to the fries. Guilt-free french fries perfect for your slimming journey.
---
3

medium potatoes

½ cup

soya granules

¾

  tsp salt

½ tsp

pepper

1 tsp

chilli powder
low-calorie cooking spray
---
Peel the potatoes and wash them well.
Pat dry and cut into thin strips length of your choice.
Quickly add soya granules in a mixer jar along with spices and grind into a coarse powder.
Spray some oil onto the chips, then coat them well with the soya crumbs.
Line them on a baking tray by not crowding them too much and give another coating of oil spray.
Bake the chips at 190C for roughly 30 minutes by checking in between.
Enjoy on their own or  some light ketchup or mayo
Check out my video recipe for healthy masala french fries!
Notes
Cooking time may vary depending upon the type of potatoes and your oven type and temperature.
Soya granules are usually tasteless, so if you reduce the spices the chips will be bland!
Make sure the coating is roughly pulsed and not into fine powder
Category:

Snacks

Method:

Bake

Cuisine:

Global
Keywords: low calorie, french fries, masala fries, baked fries, vegan snacks