If you are bored of eating porridge daily and are counting calories for your weight loss or fitness these sweet and easy blueberry banana quark pancakes are for you!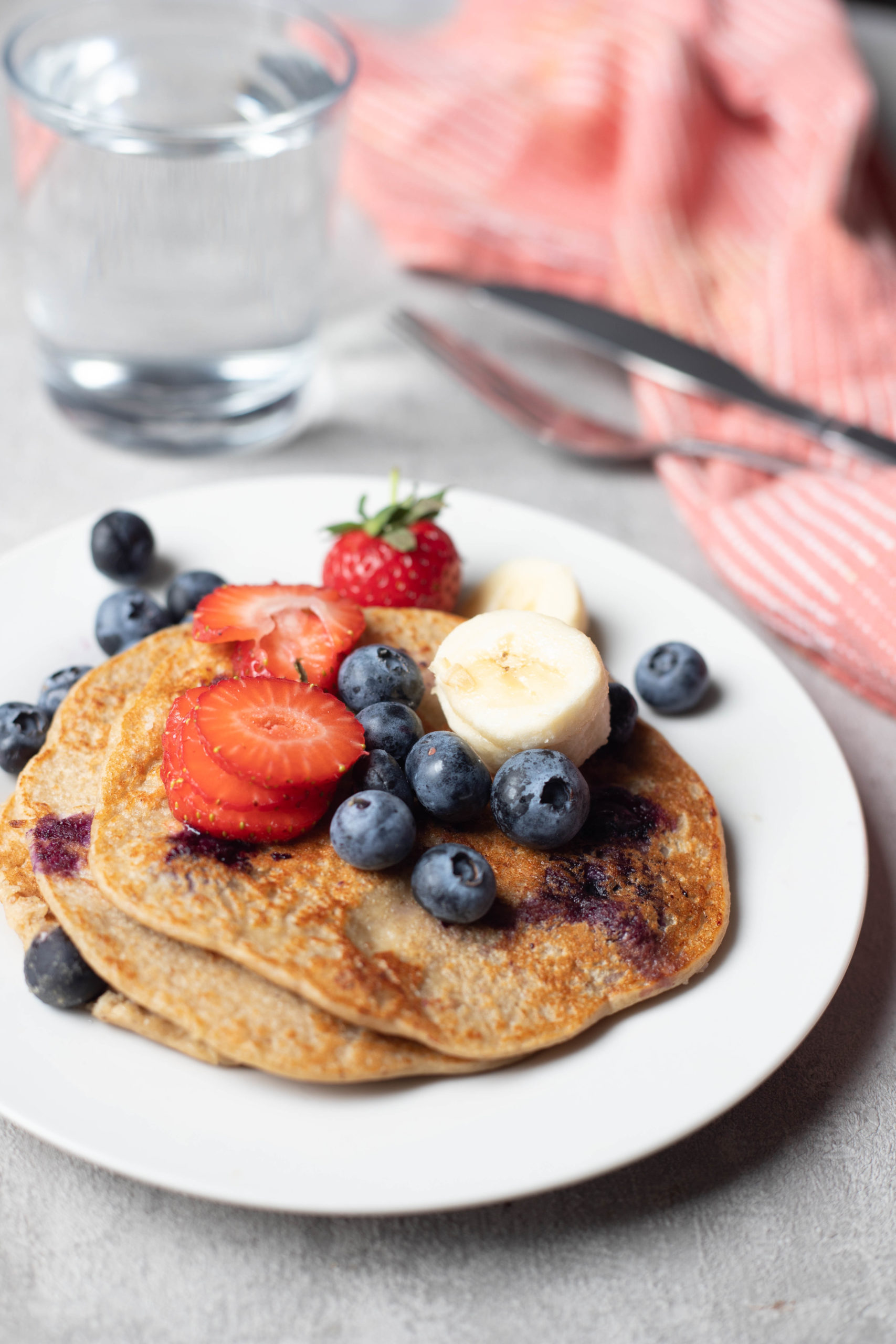 Eggs are my go-to item anytime to prepare a quick breakfast or as a side for my Indian dal chawal (rice and dal) in the form of an omelette. So that I don't need to cut vegetables and make elaborate side dishes. But if I end up eating my egg quota for breakfast I will have to make sure to work out something else for my other meals later in the day. So I prefer not to have eggs for breakfast on a few days but still want to include as much protein as possible.
Also having got bored with my regular oatmeal or Weetabix(which are the slimming staples) I developed my own version of pancakes using fresh fruit and quark. Yes, you read that right. We are making quark pancakes today. And how do we avoid adding refined sugar in the pancakes? Bananaaaa is our sweet friend here! There is a myth that anyone who is trying to lose weight should avoid eating bananas. I don't believe in it and banana, in fact, is a very filling fruit and also a natural sweetener. It's better than eating an ice-cream or mc Donalds fries!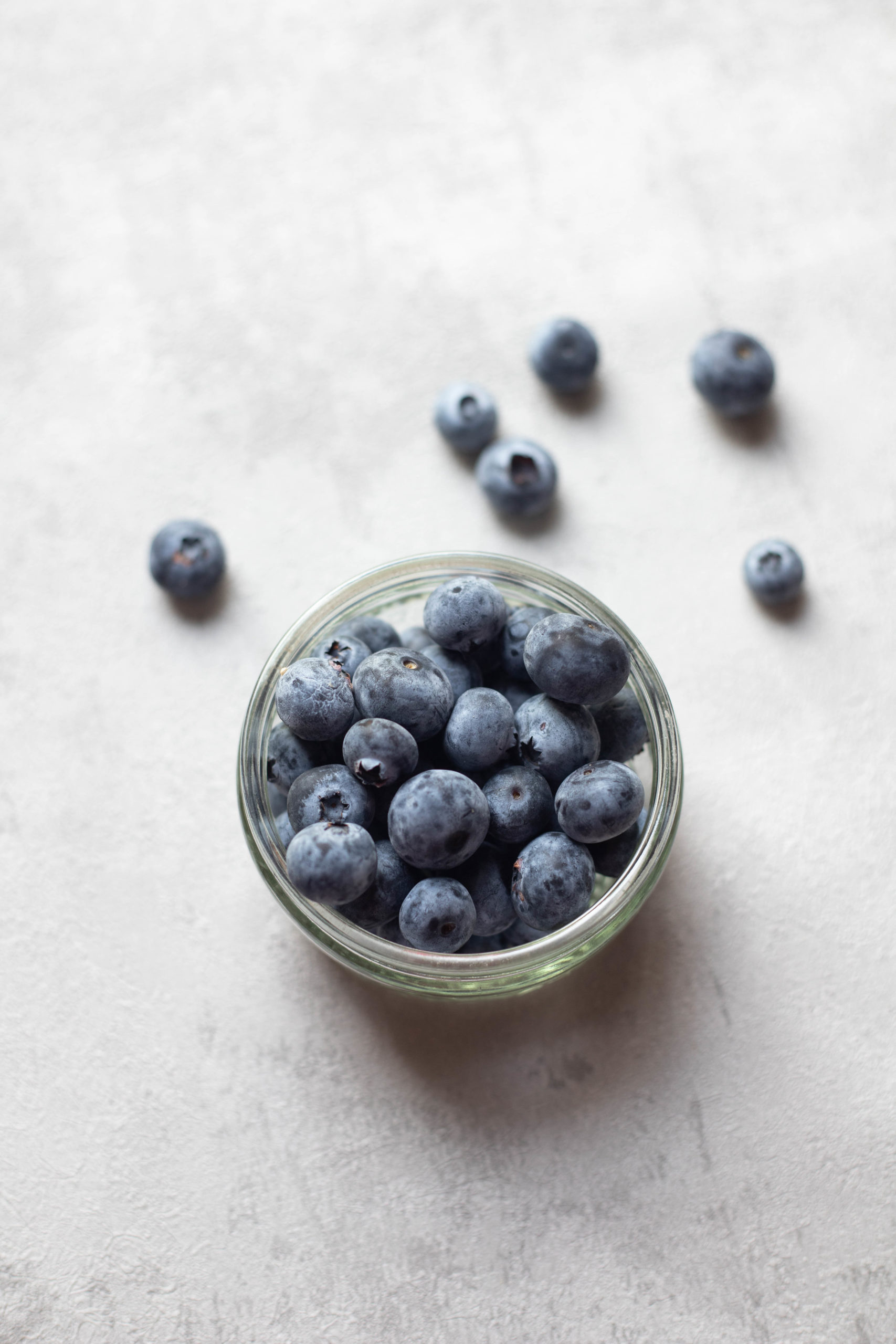 Ingredients for Blueberry Banana Oatmeal Quark Pancakes
Oats or powdered oats: Oats are naturally high in fibre content that is key for losing weight. You can use whole rolled oats or oat flour.
Quark: This is a low-fat cheese with a high amount of protein in it naturally. If you can't find quark, choose cottage cheese instead. Fruit flavoured quark versions are available too however I stick to the plain ones to avoid unwanted sugars.
Banana This acts as a solid sweetener for pancakes and feel free to include more of this. Also, this acts as a great base for pancakes thus reducing the need for more flour.
Blueberries: Coz it' summer and we want to get all the antioxidants from berries.
Frylight Low-calorie spray that saves you tons of calories.there are many varieties available in the market but this is my trusted brand.
Additional fruit of your choice to serve with like strawberries or cherries.
Am not a big fan of syrups and also the pancakes are sweet enough for me. So I normally would save my calories for something else later in the day.
Excuse me for the bad lighting in the below picture as British weather is quite mysterious and can change drastically in minutes.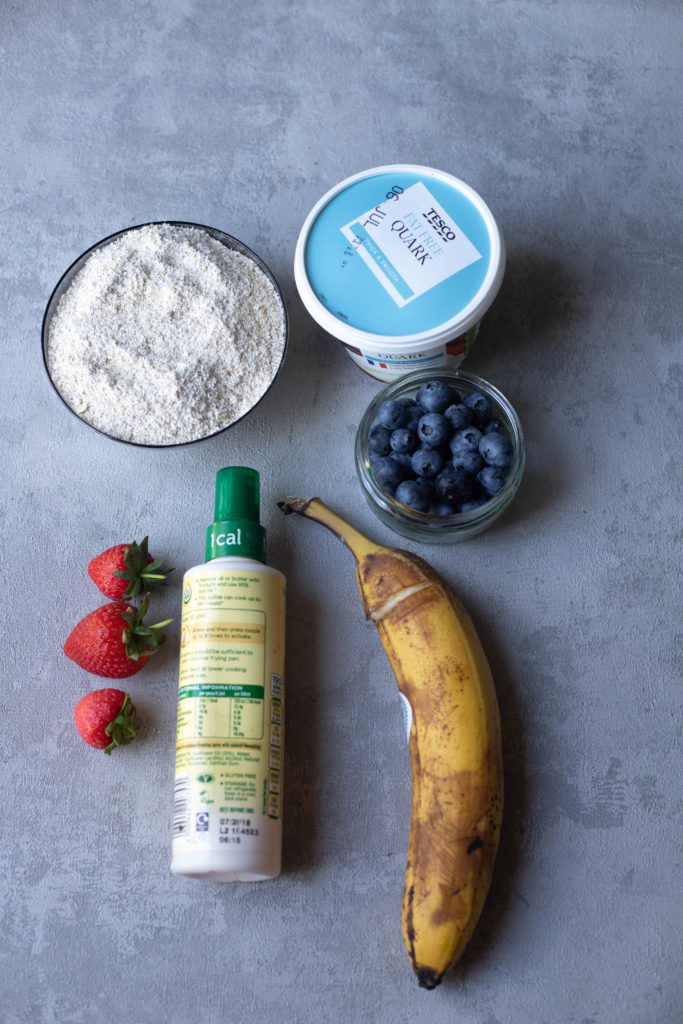 How are these quark pancakes ideal for weight loss?
We aren't using any additional sugars except fruit.
We are including more fibre-rich oats than any white flours that contain loads of empty calories. Fibre keeps us full for hours.
Also including fat-free quark that is naturally high in protein.
and as much as fruit possible to fill our stomach with good food.
Not using more butter or oils and calorie-controlled cooking spray.
What to serve these pancakes with?
Ideally as a breakfast with an additional amount of fruit. Also with maple syrup or honey but I personally feel its' not required if you are looking to lose weight and the banana quark pancakes are naturally sweet enough on their own. If required use a low-calorie thin choc shot or less maple syrup just for the sake.
Though they are traditionally eaten for breakfast you can also serve these banana quark pancakes as a light pudding or dessert after a meal.
What diets are these banana quark pancakes suitable for?
the quark pancakes are ideal for a vegetarian diet. Also,

these can be made gluten-free if you make sure the oats are gluten-free version.

they can be also made dairy-free if you include any plant-based milk instead of quark but the idea of adding quark is add additional protein for me.
Any special ingredients required to make these pancakes?
All the ingredients mentioned you can get in any supermarkets.
Quark is ideally found in the section where you get milk and cheese. In the UK, Tesco, Sainsbury, Asda, Iceland, Waitrose, Marks & Spencer and all major retailers sell it.
Please note that you may not get these in the local corner shops.
Are the pancakes suitable for freezing and making ahead?
I would recommend making the batter ahead than to store the pancakes in the fridge.
But you can make them ahead and let the pancakes cool down before storing in the fridge.
Place in an airtight container away from any odours and can store for 3 days. Re-heat them in an MW for less than a minute or place on a heated pan for 1 minute on both sides before eating.
I don't recommend freezing as the pancakes contain quark that has an expiry period.
Check out my other healthy dessert recipes below
Quick Cherry Bakewell Oats Muffins
Low-Calorie Chocolate Lava Mug Cakes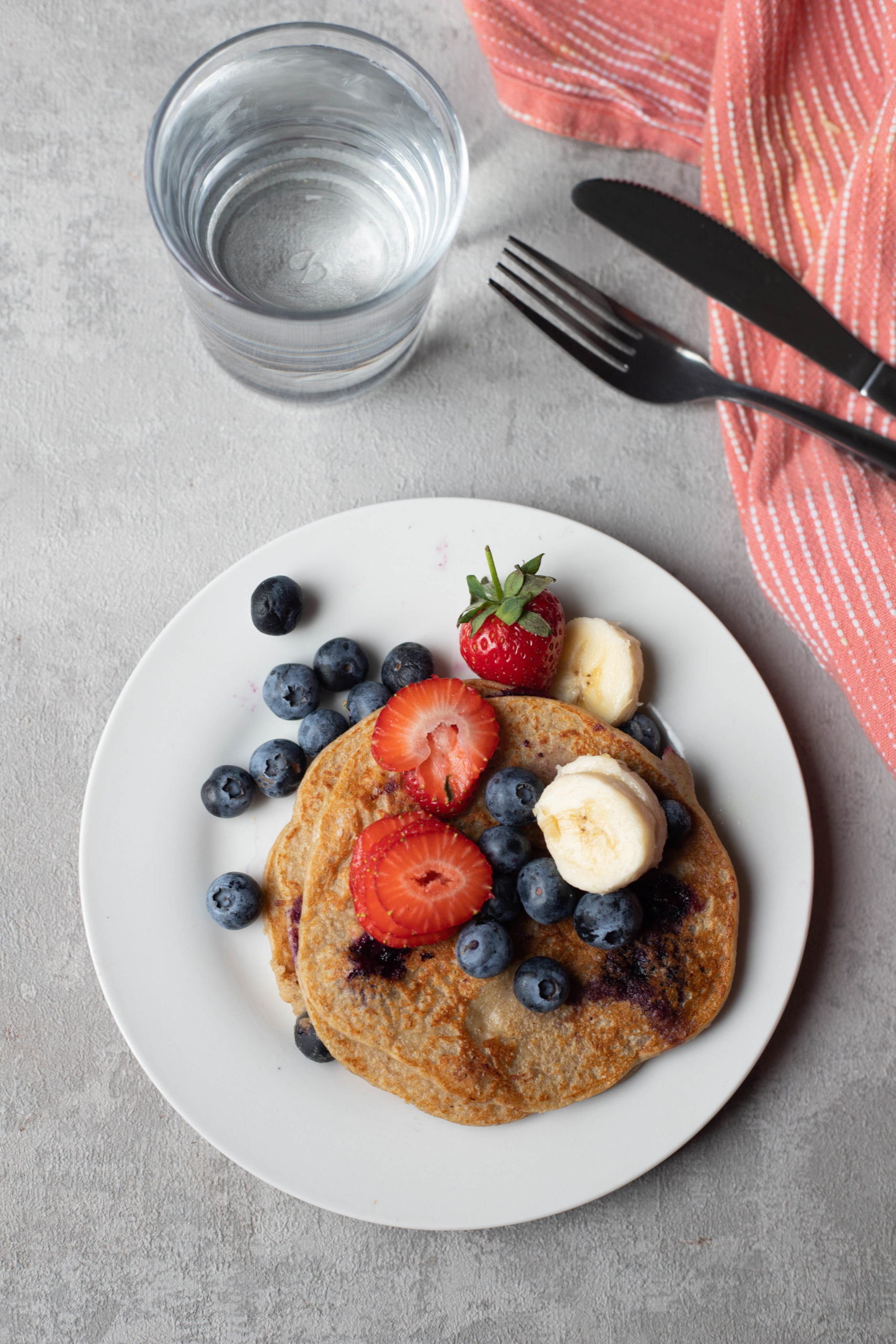 Here is the video recipe for banana quark pancakes
Print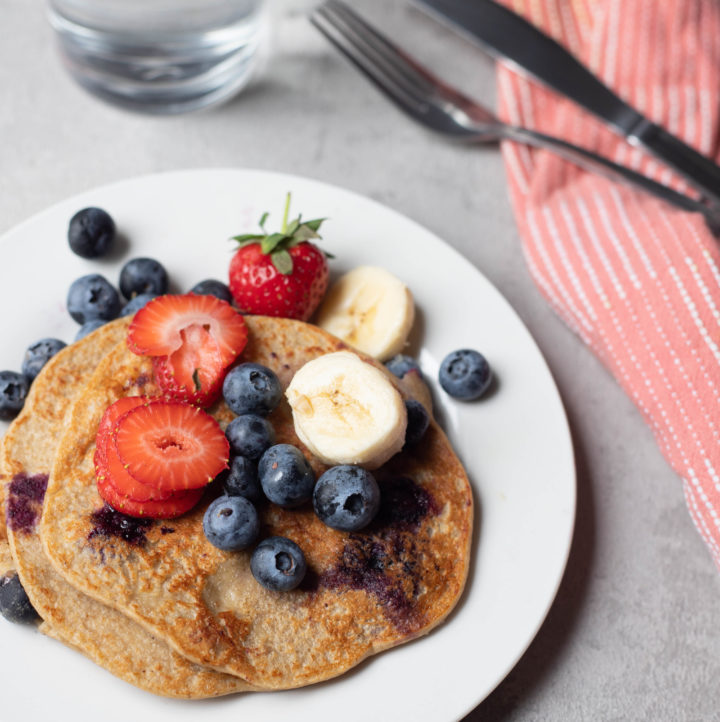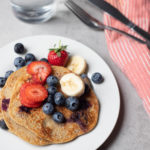 Egg-less Blueberry Banana Quark Pancakes
---
Author:

Siri

Prep Time:

5 min

Cook Time:

10

Total Time:

15 minutes

Yield:

2

1

x

Diet:

Vegetarian
Description
Low-calorie and healthy blueberry banana oatmeal quark pancakes are ideal for breakfast or as a light dessert. Perfect for weight loss and any calorie counting diets.
---
80 grams

oat flour or any kind of rolled oats

1

Banana

3 tbsp

quark
blueberries and strawberries to serve
Low-calorie cooking spray
---
Instructions
Take oats, banana and quark into a blending jar and blend smooth.
Add in blueberries and keep the batter aside for 2 minutes.
Heat a non-stick pan and spray low-calorie cooking spray.
Pour a ladle full of pancake batter and don't spread evenly. Pop in some additional blueberries and cook on medium flame by covering for 3-4 minutes.
Flip them and cook for 2 more minutes or as required.
Serve with additional fruit of your choice
Notes
You can add another banana and try reducing the amount of flour.
Ripe bananas will give more sweetness to the pancakes.
Use a low-calorie choc shot or less maple syrup if you wish but am fie to eat like this.
I haven't added any baking powder as I absolutely find no need but if you prefer to get puffy pancakes add a pinch of it in the batter.
Category:

Breakfast

Method:

Stove Top
Keywords: pancakes, oats, weight loss, sugar-free
[DISPLAY_ULTIMATE_SOCIAL_ICONS]