Perfectly crunchy corn tossed with cilantro, lime juice, red onion, and crumbled cheese bathed in lime olive dressing. This healthy Mexican street corn salad recipe is super easy to prepare with only a few ingredients and is the perfect summer side dish or, with the addition of protein, the perfect healthy lunch.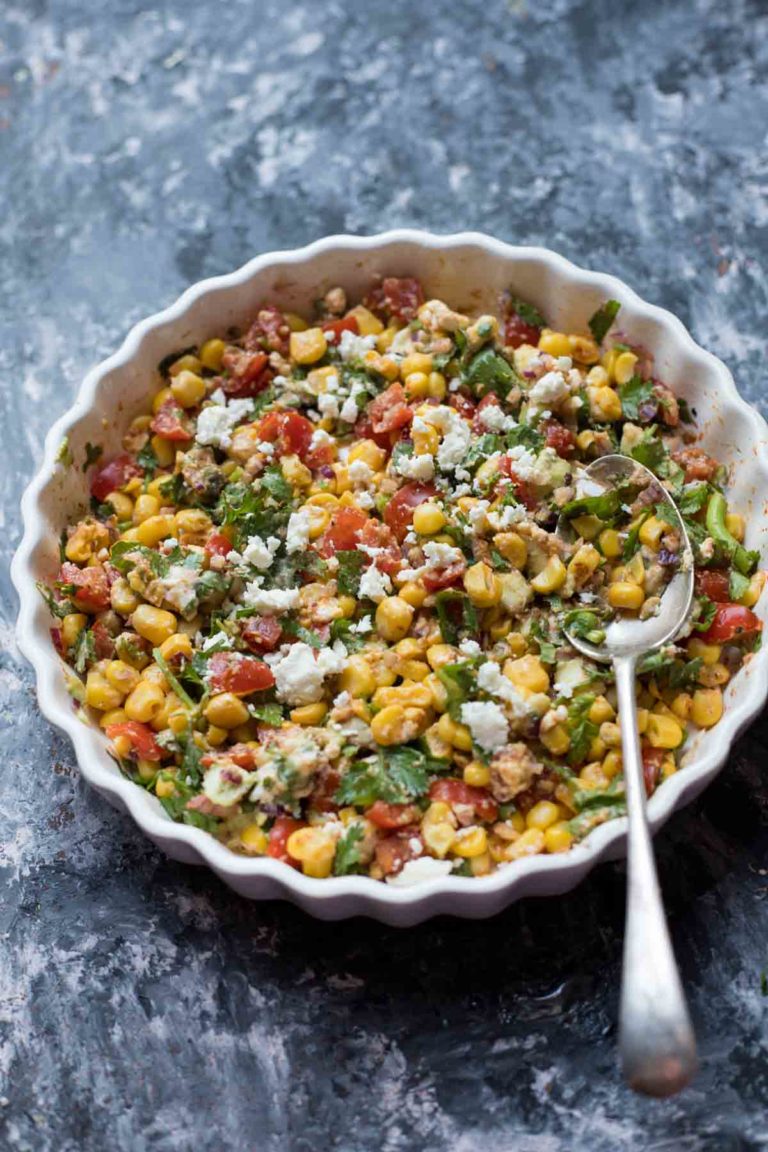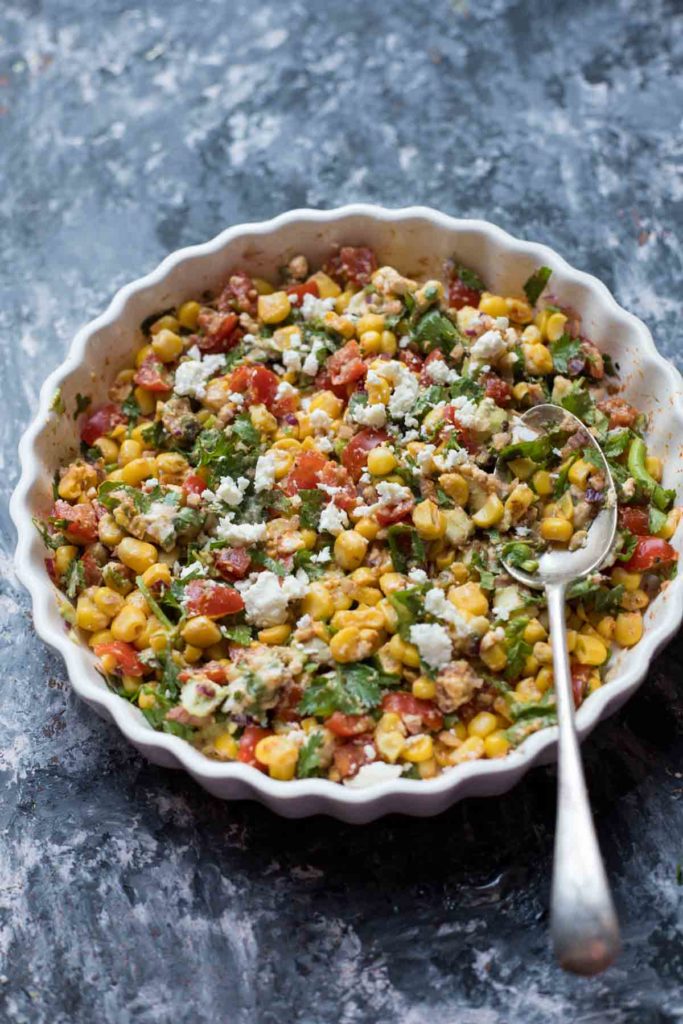 Hola…the sun is shining and my fridge is loaded with the loveliest avocados we picked from the forest farm market when we visited last weekend after our 5km boot sale walk. It's one of those sneaky ways to build up miles in your legs when you don't feel like doing the exercise. I love supporting local and small businesses and it's a joy to pick up fresh colourful produce than the ones wrapped in plastic bags. It was a good walk in the fresh air taking necessary social distancing measures. Then we hit an unlimited all-you-can-eat breakfast at the Toby's having left with no energy to come back home for making one.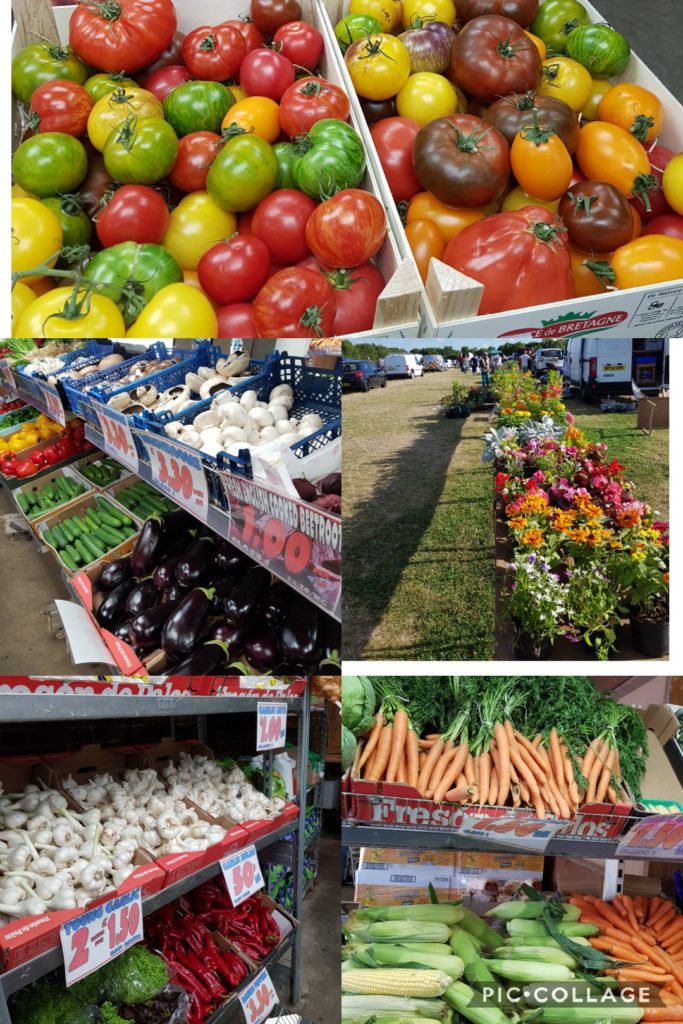 The avocados we bought were super fresh and the weather is hot enough pushing us to eat cold salads, so this healthy Mexican street corn salad happened. I actually had a load of frozen corn cobs left so didn't bother to buy fresh ones in the farm market but this salad tastes even better with lightly charred corn.
Ingredients
Corn kernels – Fresh ones are better but you can get adjusted with the frozen ones, however, I don't recommend the canned ones as I haven't tasted before.
Tomatoes – Fresh baby plum or cherry tomatoes both work well. Feel free to use red bell peppers too.
Avocados – add creaminess to the salad, contain good monounsaturated fatty acids that do good to your heart.
Red Onions – add the necessary punch to the salad.
Coriander – a must to any Mexican dish but if you are one to hate, go with parsley.
Cheese – Traditionally, Cotija cheese is used which is a Mexican dry grated cheese like Parmesan but I used the one I have in my fridge – Feta.
Quark – As weird as it sounds, this is a good replacement for mayonnaise and sour cream in the recipe. I used quark as it is naturally rich in protein and low in fat which is why it makes it an ideal choice for a weight loss meal.
Dressing – we are using more lime juice and little olive oil not to lose the flavour and still keeping the calorific value low. You could use fresh limes as the bottled juice will not have any natural flavour and hence the salad may taste like medicine.
Spices – cumin powder, smoked paprika, freshly ground pepper and rock salt.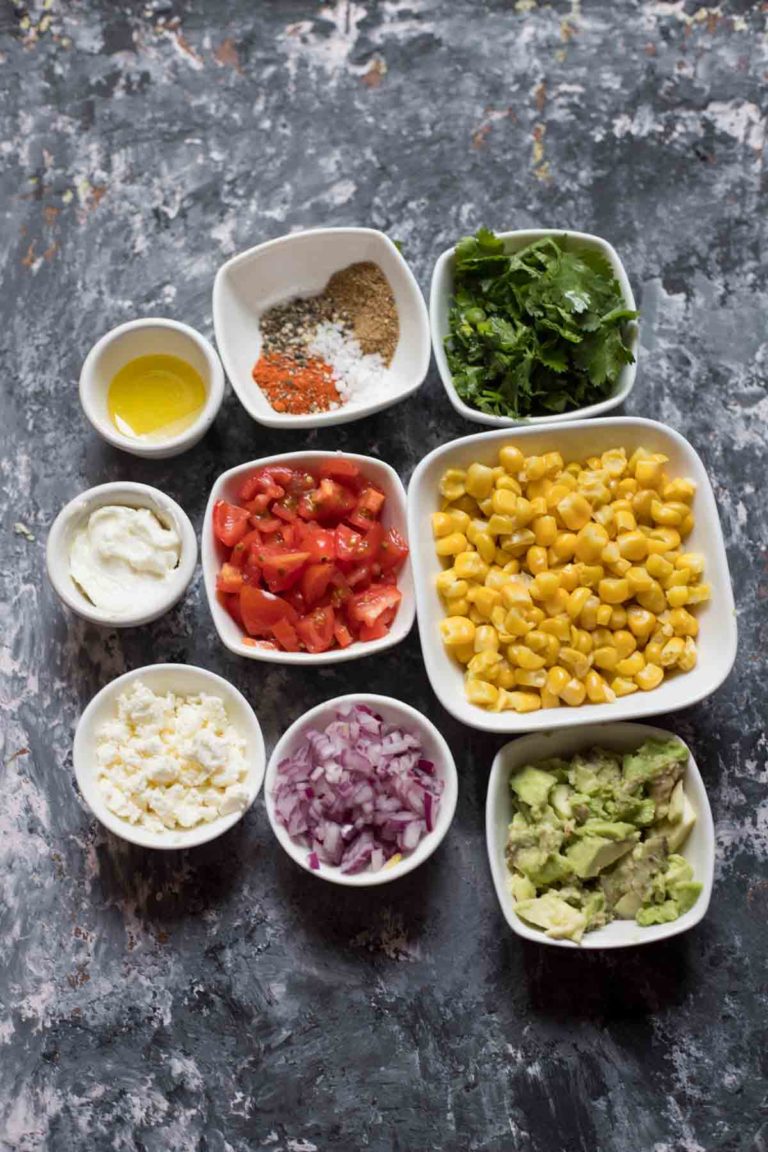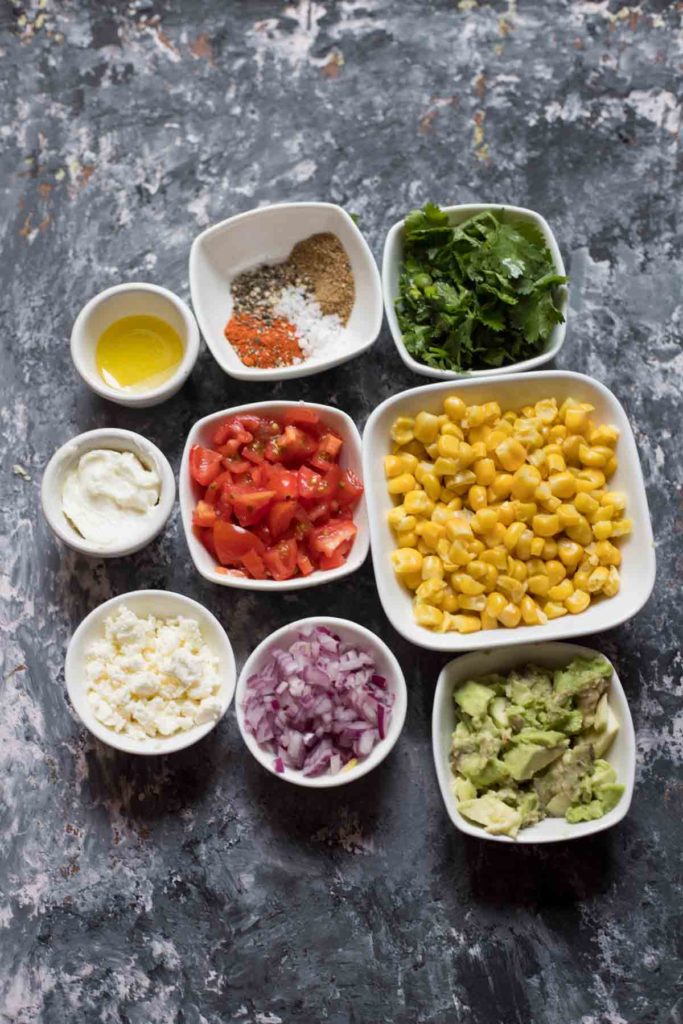 What diets the healthy Mexican street corn salad is suitable for?
This Mexican corn salad is suitable for vegetarian and gluten-free diets. Using a vegan cheese makes this salads suitable for vegan diet.
How is this suitable for weight loss?
Mexican street corn salad that you can get outside contains loads of fats defeating the very purpose of eating a salad if you are aiming to lose weight and hence always home-made salads are the best wherever possible.
Including all fresh vegetables and good fats from avocados and olive oil.
Adding only 1 teaspoon of olive oil to at least 3 parts of lime juice which makes the salad taste flavorful. The same salad served in restaurants can contain triple the amount of calories due to the oil present in dressings. One tip is to ask the staff to serve your salad with the dressing on the side so you can choose how much to consume.
Avoiding mayonnaise and sour cream and replacing with healthy quark which is ideally low in fat and high in protein.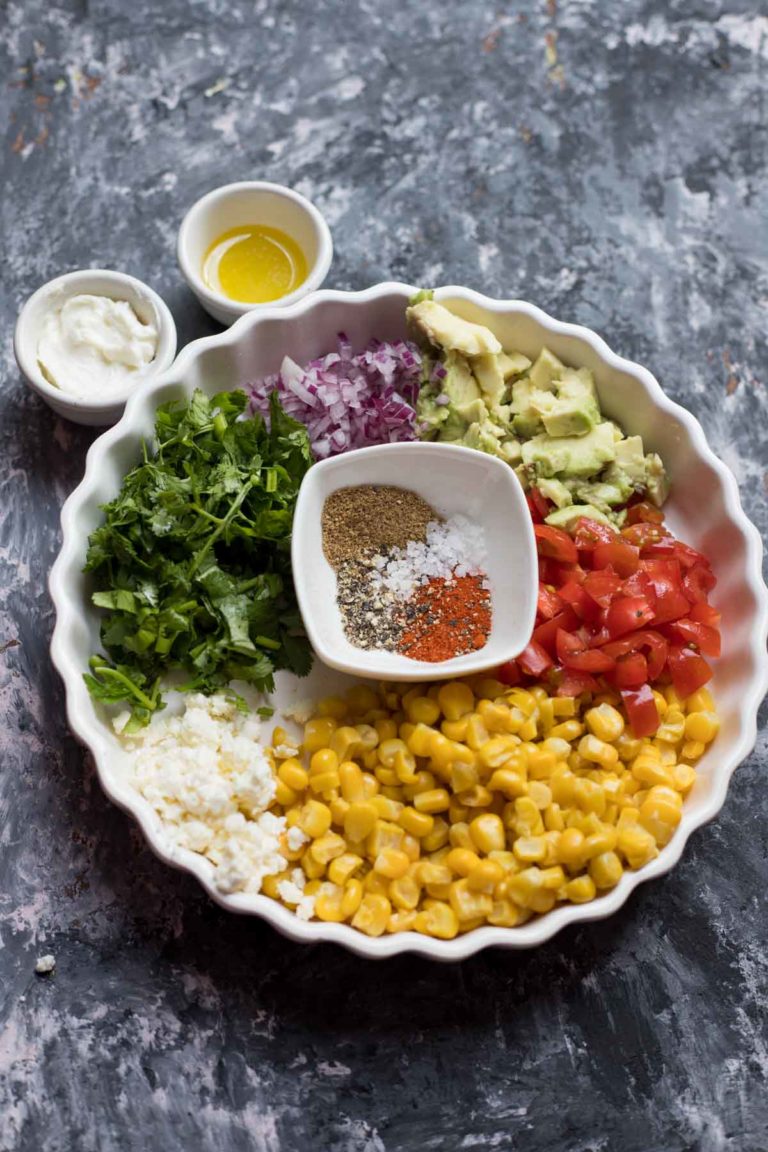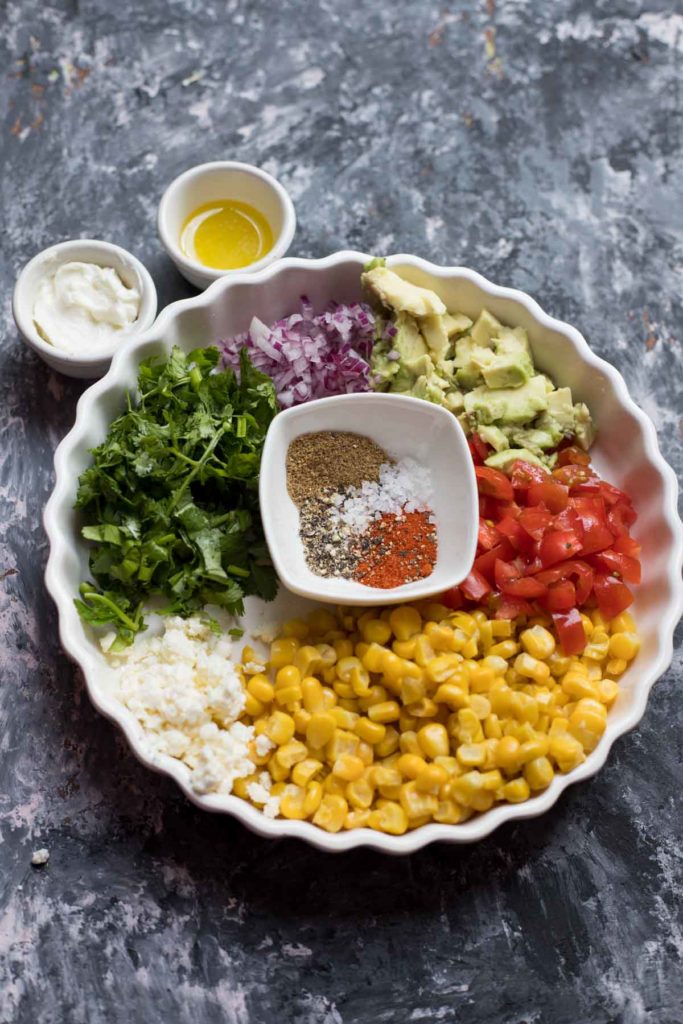 Storage and freezing instructions
Mexican street corn salad stays good in fridge for 3 days but as it is easy to prepare I would recommend doing it fresh. Sorry this is not suitable for freezing.
Video Recipe for Mexican Street Corn Salad
**i haven't made the dressing before in the video as mentioned in my recipe instructions, you can do both ways.
Serving Suggestions
Can be a great side dish or side salad for proteins like grilled tofu or chicken if you eat.
Can be used in burritos for extra nutrients.
I would even imagine using this as a sandwich filler or stuffing in south Indian crepes like Dosa or chapati(Indian flatbread)
This salad is a good option for day trips, just place everything in a box without mixing and pack the salad dressing separately if you want a fresh salad else mixing ahead also works well..and needless to say an ideal for summer BBQ parties!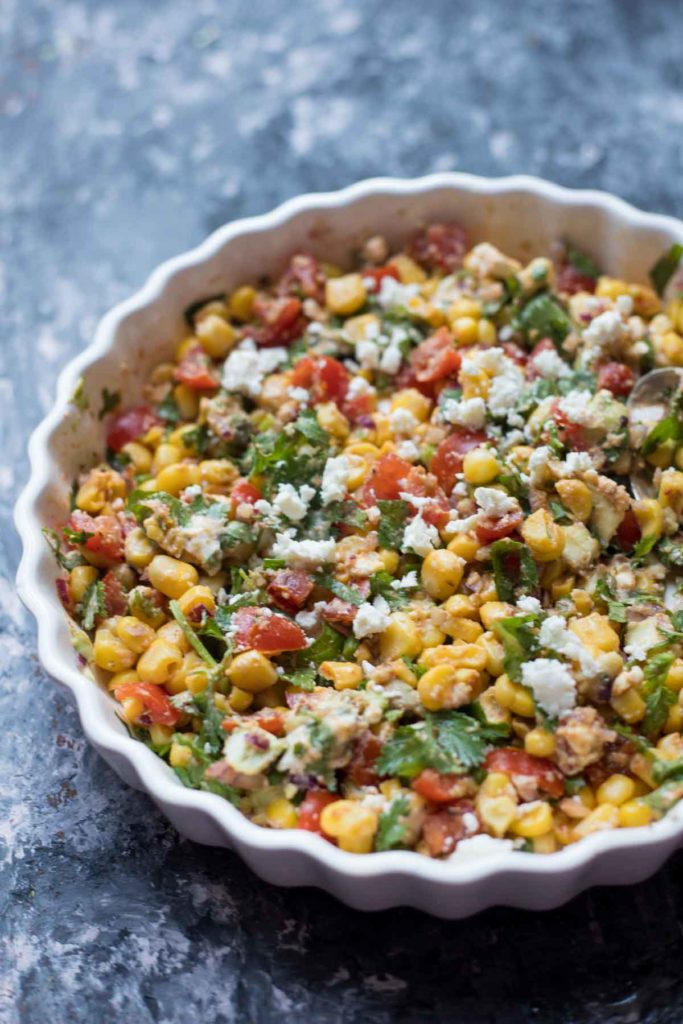 Print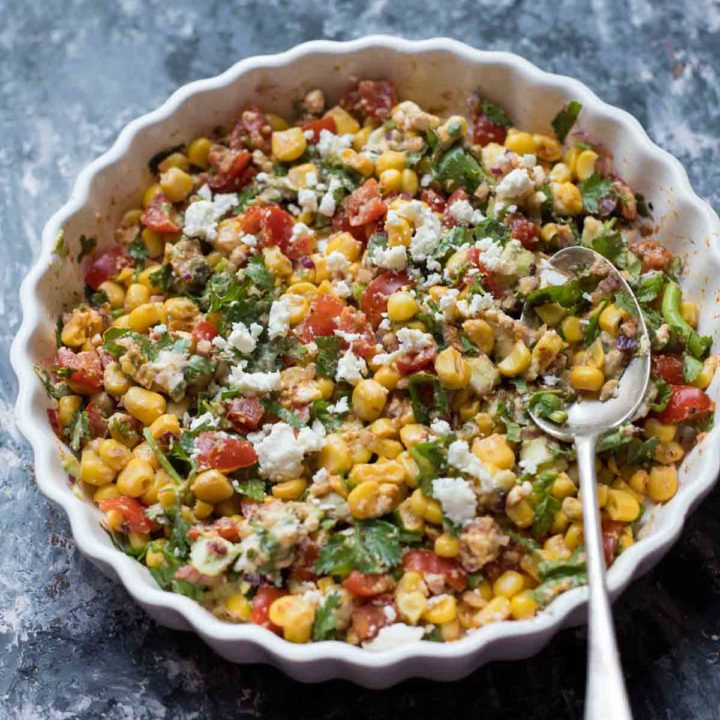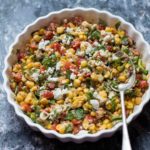 Healthy Mexican Street Corn Salad
---
Author:

Siri

Prep Time:

10

Total Time:

10

Yield:

3

1

x

Diet:

Vegetarian
Description
Healthy Mexican Street Corn salad can be a great side salad or a light lunch with good fats from avocados and limited portion of extra virgin olive oil. Perfect for summer  BBQ parties.
---
1

Fresh Corn on the cob or 1 cup frozen sweet corn (thawed)

8

Cherry tomatoes or plum tomatoes halved or chopped 

½

Avocado  cubed

1

small red onion chopped

½ cup

coriander or cilantro or parsley leaves

½ teaspoon

cumin powder

½ teaspoon

smoked paprika
Rock salt and freshly ground pepper to taste

1 teaspoon

extra virgin olive oil
freshly squeezed juice from 1 lime
---
Instructions
Take lime juice, olive oil , quark into a small mixing bowl and beat well with a fork to make a dressing. then add in the spices and mix well.
If using fresh corn cob, slightly grill it on an open gas flame carefully until lightly charred. Cut the corn off the cob and use in a salad. If using frozen, thaw it according to packet instructions.
Combine all other ingredients and pour the dressing to give a good mix.
Serve fresh as a side salad with any grilled protein or as a light main meal itself.
Notes
You can add chopped bell peppers too.
Parmesan can be used if feta or cotija cheese isn't available for you.
Always use fresh lime juice for salads to increase the flavour.
If smoked paprika isn't available to replace it with less than ½ teaspoon of red chilli powder and reduce a bit of ground pepper.
Store in an airtight container and refrigerate any left-overs, keeps good for 3 days.
The nutritional information is a rough estimate and always check the labels  of your own ingredients. 
Category:

Salads

Cuisine:

Mexican
Keywords: mexican, salads, low-fat, feta,avocado
This post may contain affiliate links which means if you buy the product I will earn a small commission which goes into the maintenance of this website. Your purchase price will not get impacted at all.
If you ever try this recipe, please consider rating it and tag me on Instagram with a hashtag #fatrainbowcooks.