Getting active amidst Nature is the best and fun way to get some exercises into your busy routine. Find out everything you need to know about Kentish coastal walk from Broadstairs to Margate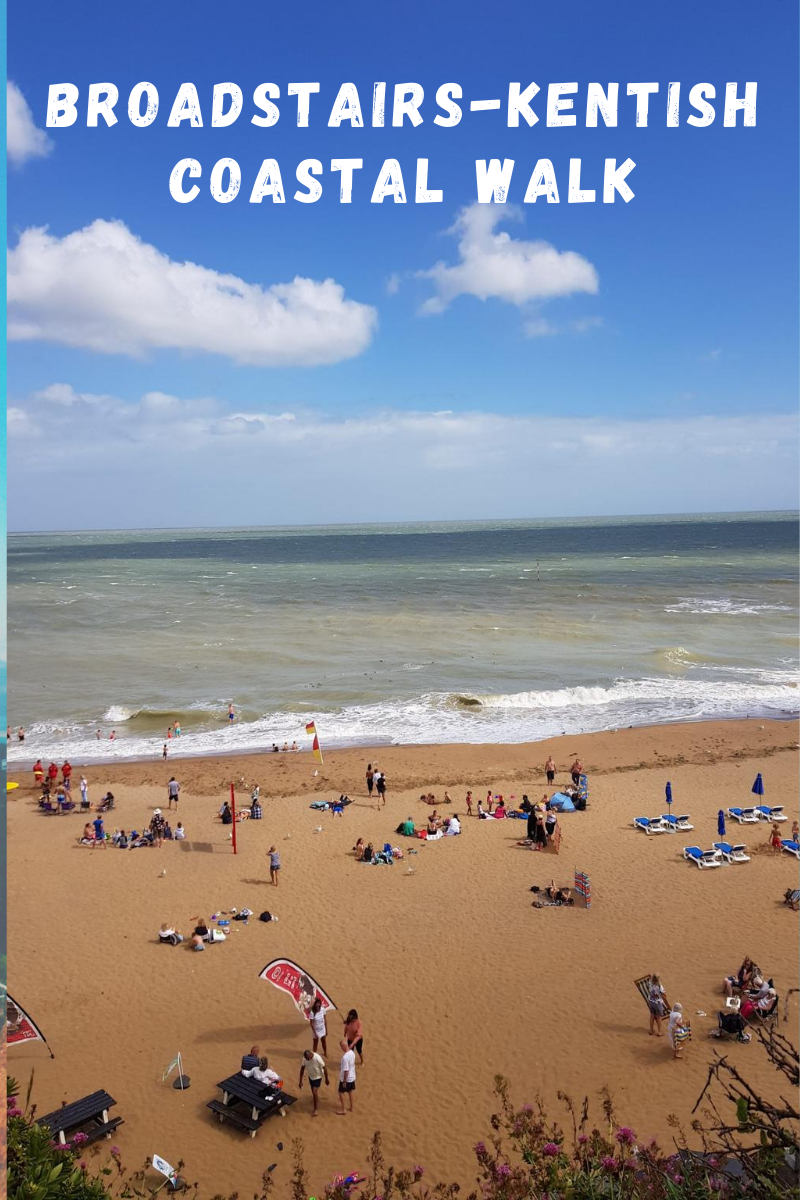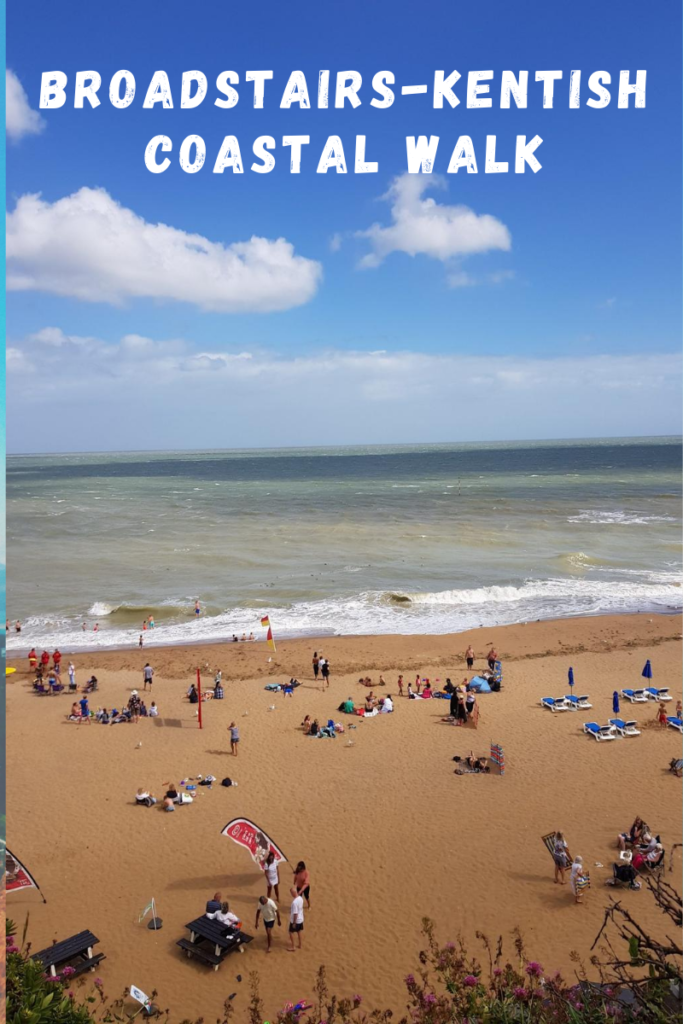 If you need a good day out packed with decent walking, this guide for Kentish coastal walk from Broadstairs to Margate is for you! I wish I had taken more beautiful pictures to convince you!
If you know me personally or followed me on any of my blog's social media platforms, I love travelling and particularly active trips that involve getting miles into my feet. I am never a big fan of doing workouts in the gym(although I used to love strength training) or self-motivated enough to follow a home workout except when the situation demands. I love getting lost in Nature and can walk miles and miles exploring greenery, mountains and things like that. Cute little lambs and cattle grazing in the grasslands and valleys still fascinate me as much as they did in my childhood. Likewise, my love for discovering hidden waterfalls and little streams to big sandy beaches filled with a variety of wildlife and stunning views has grown immensely over the years.
Enough said I will stick to the current topic for now. This lovely Kentish coastal path we explored recently was pure bliss. The summer is still here and I recommend you to take this trip if you want an active weekend.
Where and Why?
Broadstairs is a lovely coastal town on the Isle of Thanet in the Thanet district of east Kent, England, about 80 miles east of London. It has beautiful sand beaches with lovely seaside charm and is perfectly suitable as a day-out for total family. The town is vibrant with the bright seashores, and also full of beachside fun activities for kids. It also has this famous Charles Dickens House Museum which we could not visit due to the COVID restrictions in place at the moment.
How we reached
We drove ourselves from London and the drive was super fun and safe with no major surprises. It was close to 75-mile drive for us.
What to explore
Obviously , the Sea – the soothing waves were of a happy distraction to the otherwise mundane life and of course, the stunning sea views made my soul happy too.
Plenty of Coastal walks – Now to the active part of the trip, this town offers the pettiest Kentish coastal walk starting from the heart of the Broadstairs to Margate. We did a circular walk starting from the Victoria parade street walking towards Margate on the top of the high chalk cliff(its basically a town road that runs on the clifftop along the sea line) and got a chance to walk down the shore where we discovered a beachside path that goes back to the Victoria parade. It was really a happy and exciting moment to discover this path that runs along the seashore although the shore was hardly visible due to high tides. (see below). I bet it would have been a more thrilling experience at low tide walking along the beach. The beaches here are sandy and flat making it ideal for long walks and the tide goes out a long way!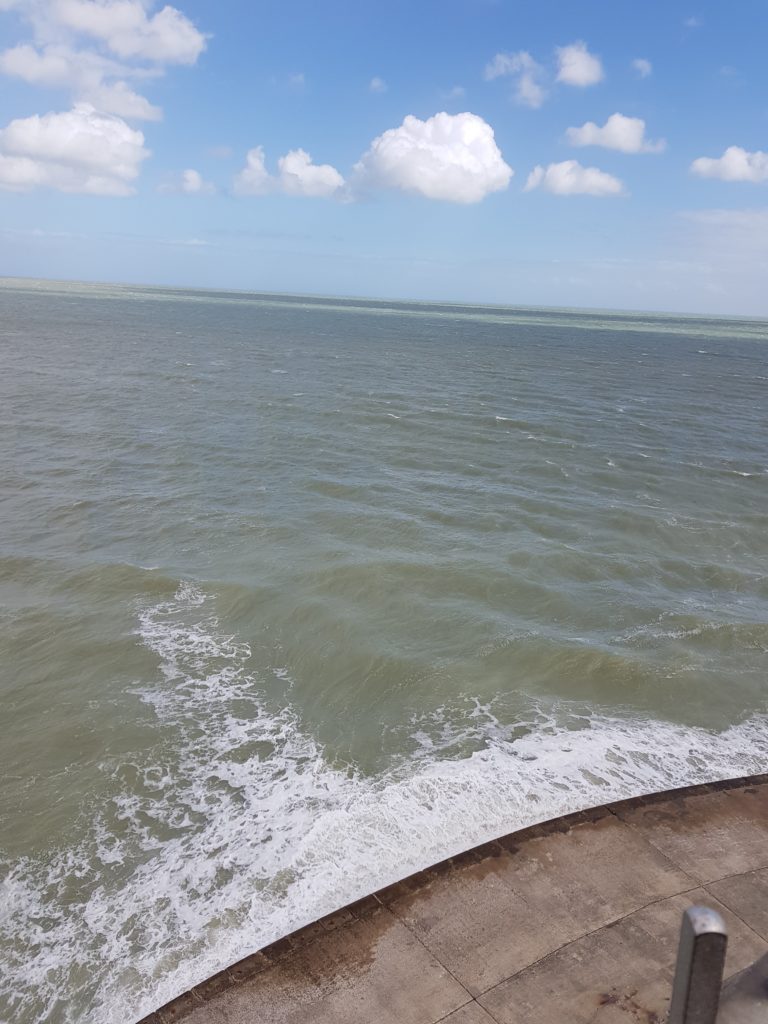 Joss Bay Surf School -For those who want to get immersed in water sports, this school offers both private and group surf lessons even for beginners. It was more fun even watching people learning to surf. They even have discounts for families and I think it can be a great day out filled with active workout and fun for the entire family. Joss Bay is a different beach to that of above and has a nice sandy beach and some rocky pools where hundreds of seagulls usually rest. A very pleasant view!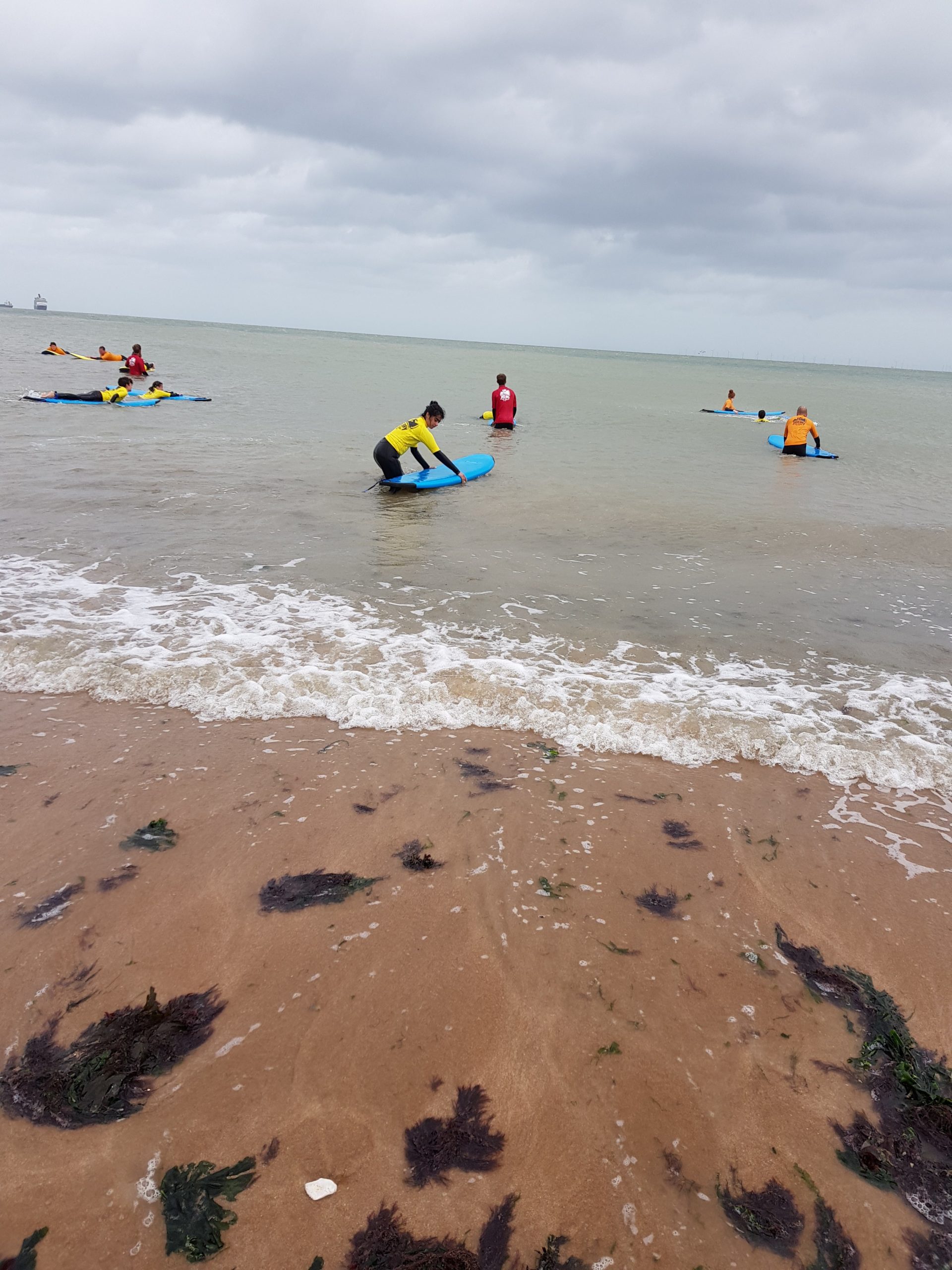 Where to eat
I normally am a big fan of packed food that is both economical and healthy especially when you are looking to lose weight. Also, this can save a lot of time searching for food and stuff when you are absolutely tired. But this time we consciously wanted to eat outside food to break the monotonous routine.
We ate at this pub called Charles Dickens but the vegetarian options are much limited though. I have ordered a cherry tomato pasta from the kids' menu which was customized for adults(priced at £9) and skin-on fries. The portion size for the pasta was huge and the taste was okay. But I would recommend you to try other options if you can. The mushroom soup was a stunner though! first time tasting a proper mushroom soup(somehow the thought of grinding mushrooms don't appeal me much) and it was fab!
Victoria parade and surrounding areas have so many restaurants offering food from Chinese, Italian to British cuisines but we were so hungry and the spectacular views from this pub(pictured below) convinced us to go for it in first 2 minutes of our search.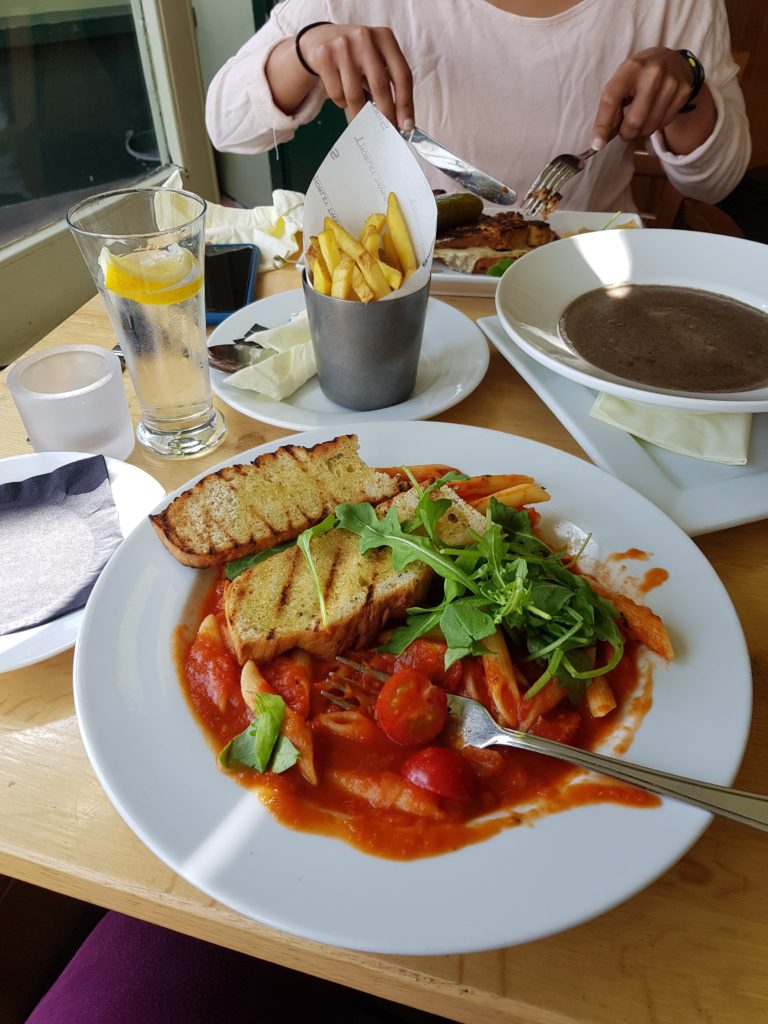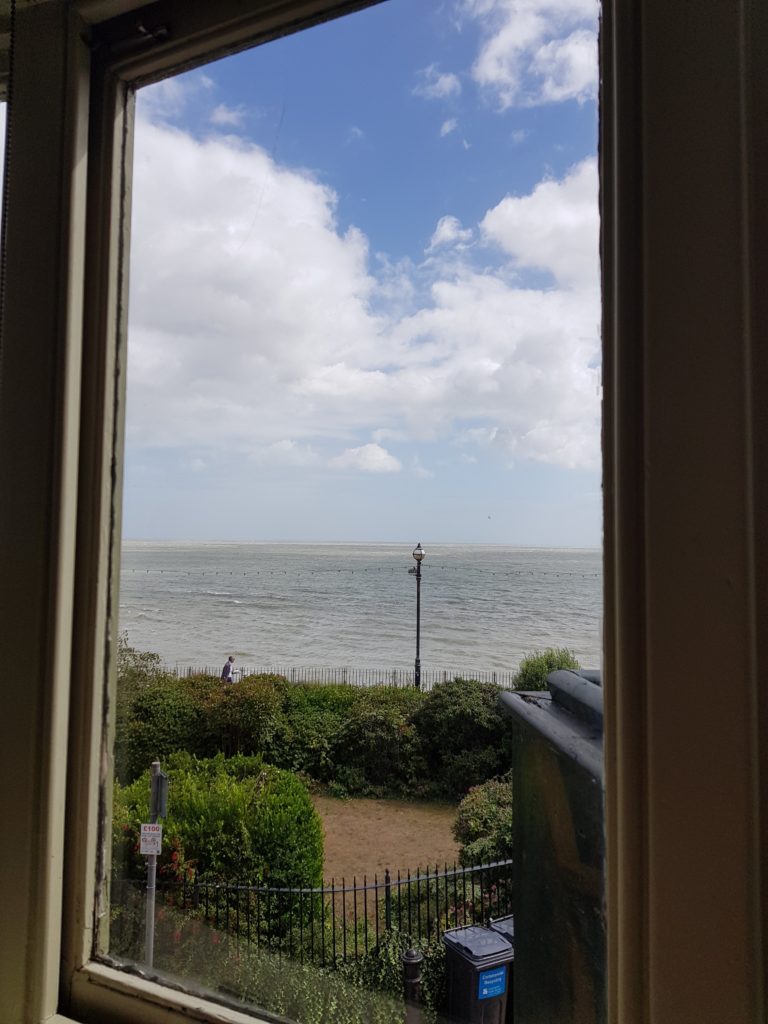 And the ice-cream from Morelli's is a must-try! We tasted honeycomb and pistachio flavours, both were finger-licking good. But mind you there might be long queues!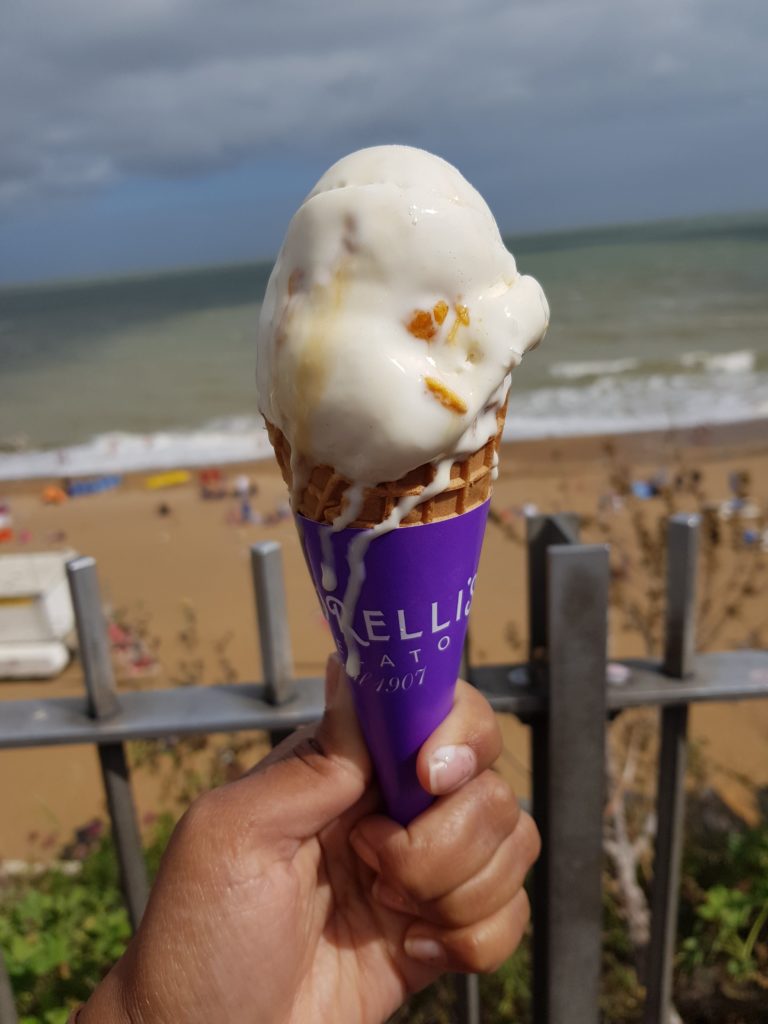 Things to pack for Kentish Coastal Walk
Obviously, swimsuits if you want to have a dip and get some extra dose of Vitamin D.
I would recommend good walking shoes as there are many coastal paths here.
Flip-flops to use in the seashore.
A resting mat if you have OCD and cannot sit on the sand directly.
The weather on the day we travelled (mid-August) was sunny but very windy so a light jacket would be good so you can tie it to your waist when not needed.
Shades and Hat.
Sunscreen – absolutely necessary.
A tight headband and a hairband for your hair not to annoy you in the sticky weather.
Parking Information
Joss Bay has pay and display car park which is a minute away from the beach, the machines were so slow so we had to pay with Ringo which costed us an additional amount.
Victoria Parade again has a pay and display car park that is located right in front of the beach where you start the coastal walk towards Margate. (this parking is few yards from to Morelli's ice cream parlour)
How much have I walked?
Though I have not measured intensionally my rough totals for this Kentish coastal walk came up-to 10.2 km which was pretty good to me, personally. Now, this cannot be an equivalent to that of a targeted high-intensity workout but you get my point already, I guess.
I love active outdoor trips like this which involve lots of walking and moving than sticking to a television at home. I wish I can dig in all the photos of my older trips to give you an idea of how much you can enjoy in the lap of Nature by getting good mileage into your legs at the same time. Walking is so therapeutic for me and played an important role in my earlier weight loss journeys too. Also if you are looking to start exercise after a long time, trips like this will motivate you enough.
I will leave you with a few more pictures that am hoping will convince you to take this trip. Please note that this post may not have all the information to plan perfectly but all am hoping is that this will inspire you to plan something outdoors next time you think of what to do on a weekend.
Have you explored any other Kentish coastal walk? I would love to hear.