An easy oil-free vegan microwave banana mug cake recipe for all of you sweet lovers. This is perfect as a breakfast or dessert you can have guilt-free. Totally vegan and gluten-free options included.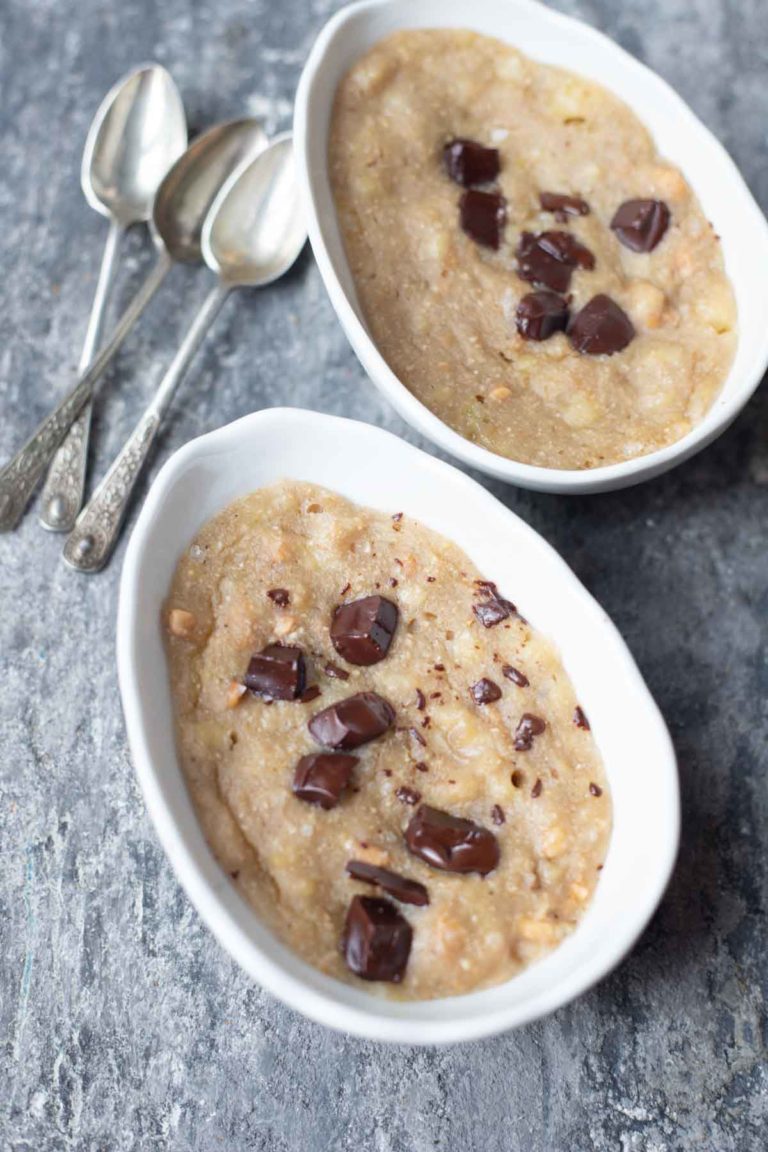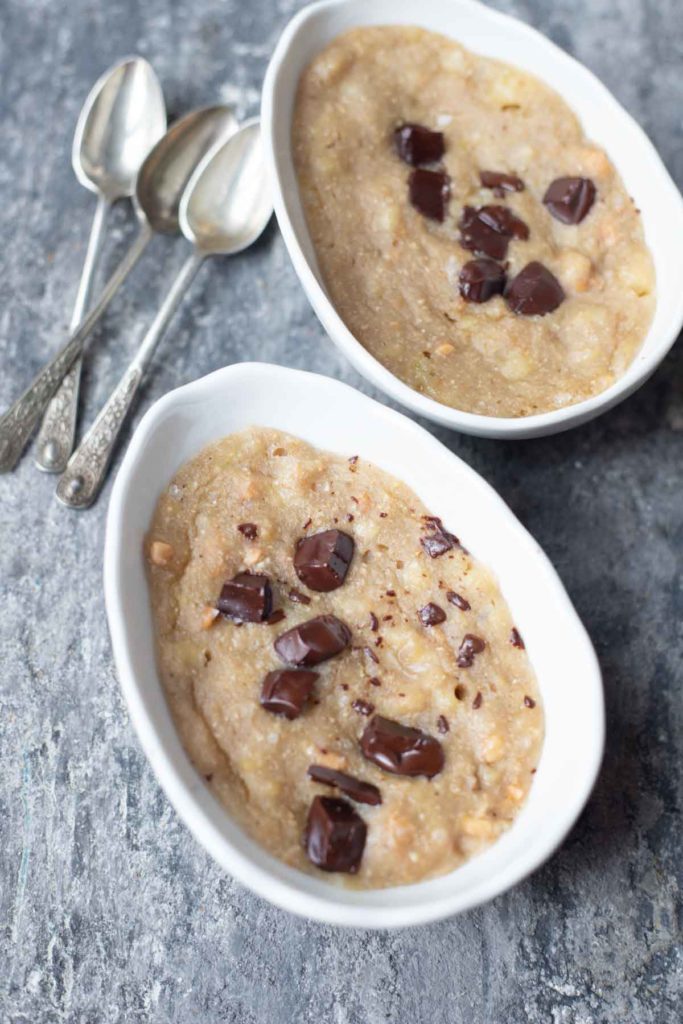 the more you control the more your cravings fail you in the weight loss game. One thing I have learnt is that its always better to make healthy desserts than to force yourself to ignore the sweet cravings. Luckily, I don't have a sweet tooth but once in a while I do give up and try to gobble whatever I have in the pantry just for the sake of it, you know those foodie problems? we feel bore if we don't eat anything for a long time, hi!
This vegan microwave banana mug cake is a match made in my mind(heaven?) that can be your best friends for breakfast times if not one of those do-nothing but wanting to eat sweets night. My friends. this easy banana mug cake is
✅totally oil-free and refined sugar free
✅naturally sweet from the bananas, gooey, fudgy and cakey!
✅quick and easy so your 7 year old also can make using a microwave.
✅free of refined flours and butter and any oil for that matter.
✅vegan and completely gluten-free
✅healthy and perfectly suitable for weight loss and calorie counting diets.
✅also a pudding and a bread or a cake!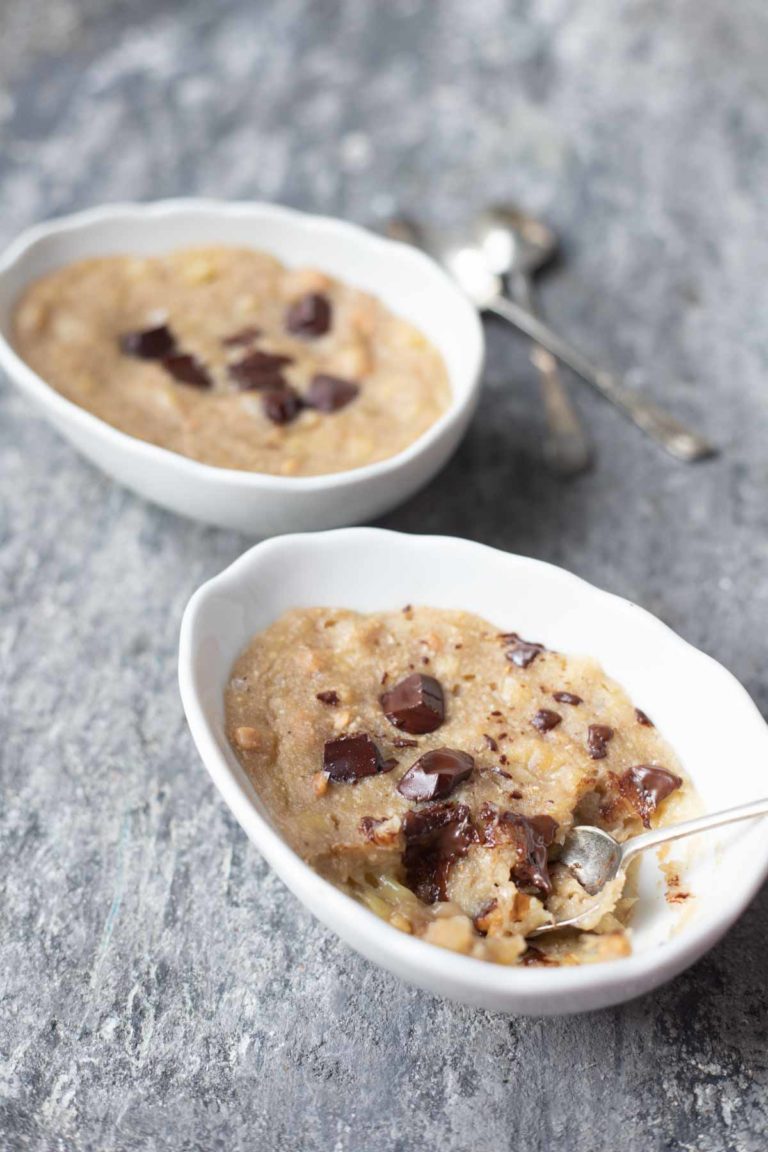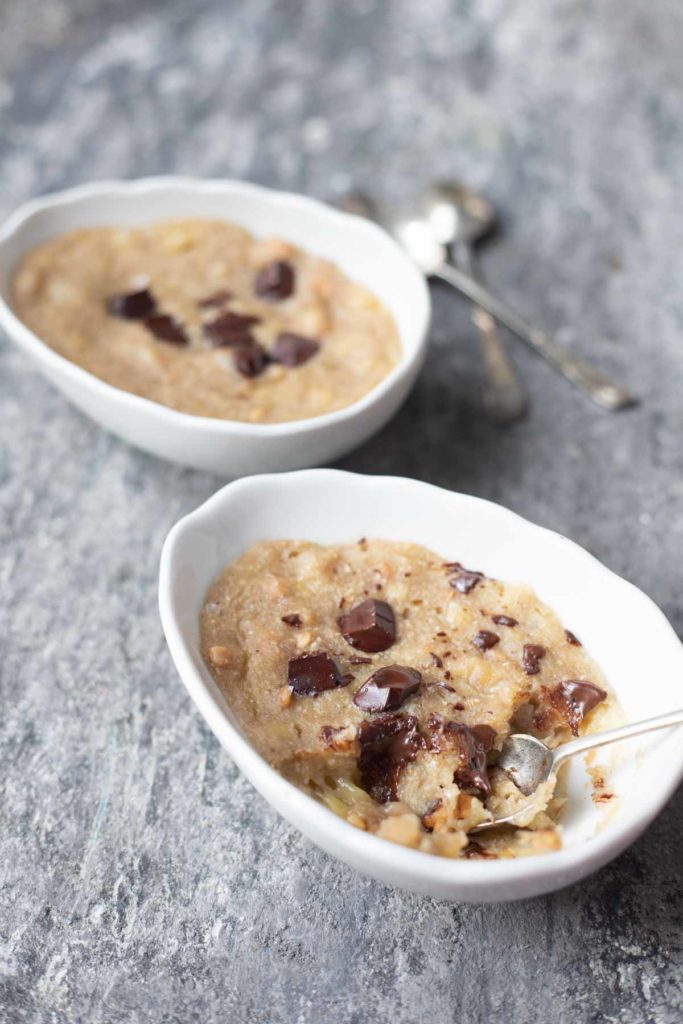 Ingredients and substitutions
this healthy and low-calorie microwave banana mug cake is so easy and versatile, you can customise the ingredients how you want according to your taste preference.
Oat Flour – use gluten-free or normal porridge oats, can use almond flour too.
Maple syrup- use a good quality local syrup than the sugary fake pancake syrups. You can also use honey or agave.
Banana – this star ingredient for our banana mug cake has to be really ripened to get the natural sweetness out of it.
Peanut Butter – I used a sugarless version, you can also use almond butter. If you can get chunky peanut butter the cake will be even more tasty with bits of peanuts in the cake.
Vanilla essence – a must as I noticed the smell of the cake is not that great without this esp when bananas are cooked in microwave.
Dark Chocolate- use vegan or normal milk chocolate of your choice with maximum cocoa content in it. even chocolate chips work perfect.
Sea-salt – this is a must for the recipe, the saltiness with a spoonful of gooey warm banana mug cake is out of the heaven combination.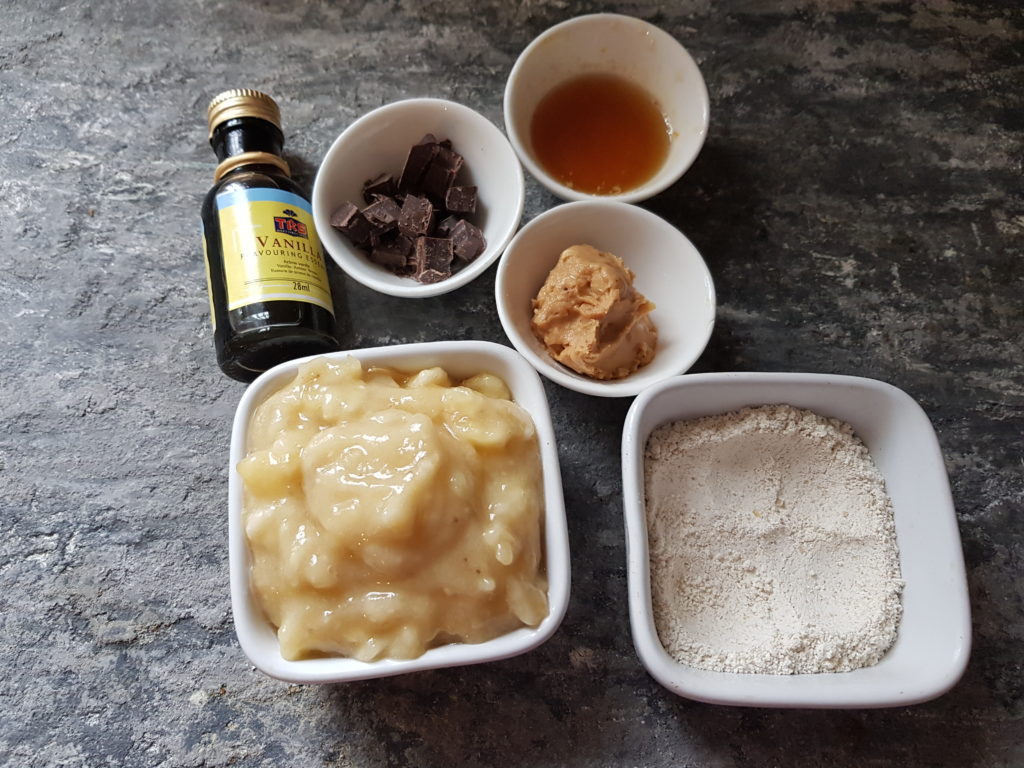 Texture and Taste
This healthy oil-free banana mug cake can be made into pudding as well if you want it that way. I made it as a pudding and both as a cake, both versions taste great.
banana mug cake tastes very sweet usually so you can skip the syrup if you don't have a sweet tooth.
Since we are using oat flour to make it healthy, don't expect a soft airy cake, it will be a bit dene but i promise taste great and perfectly satisfy your sweet cravings.
How to know when the mug cake is cooked?
If you want a pudding style, microwave banana mug cake for 1 minute and you are done.
For a more cake-like texture, do it at least for 2 minutes by checking in between, microwaving in intervals actually gave me the best results.
If you fork it, you can see a spongy texture(check video below)
That said, mug cake cook times all depend on the type of microwave and thickness of the mugs used. So use the above timings as a general guideline. I made in a cute Spanish tapa bowl to serve myself 🙂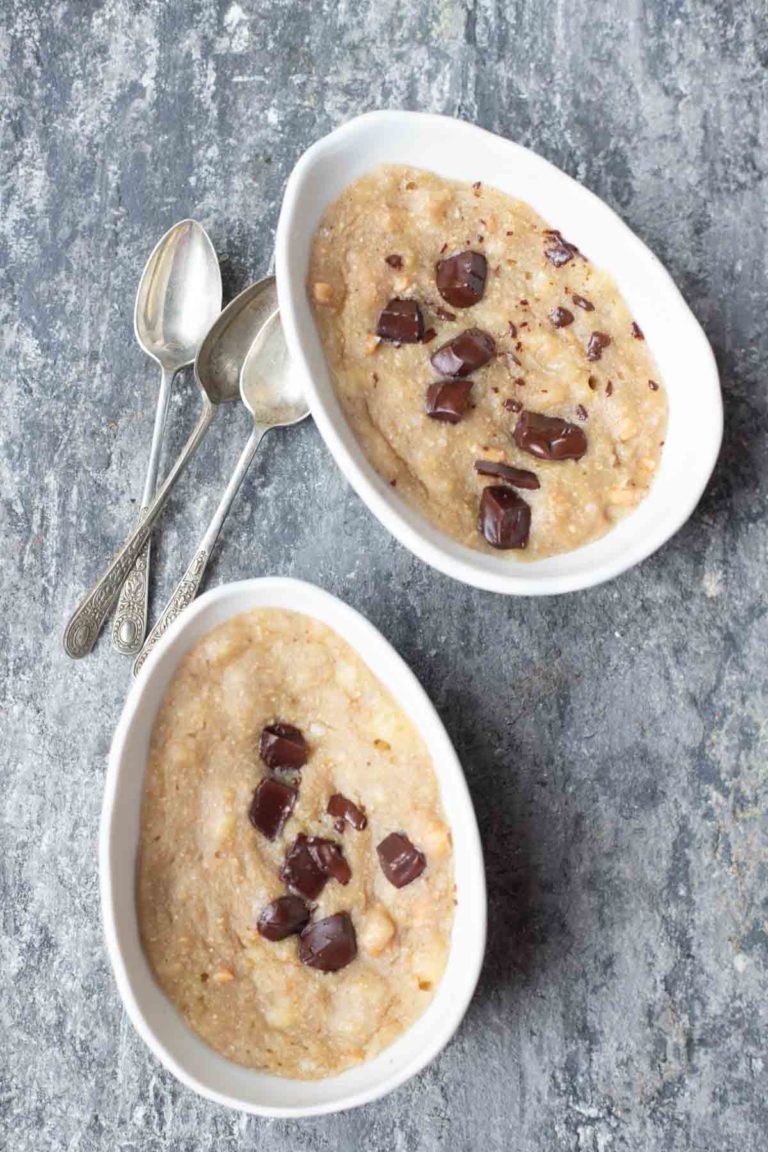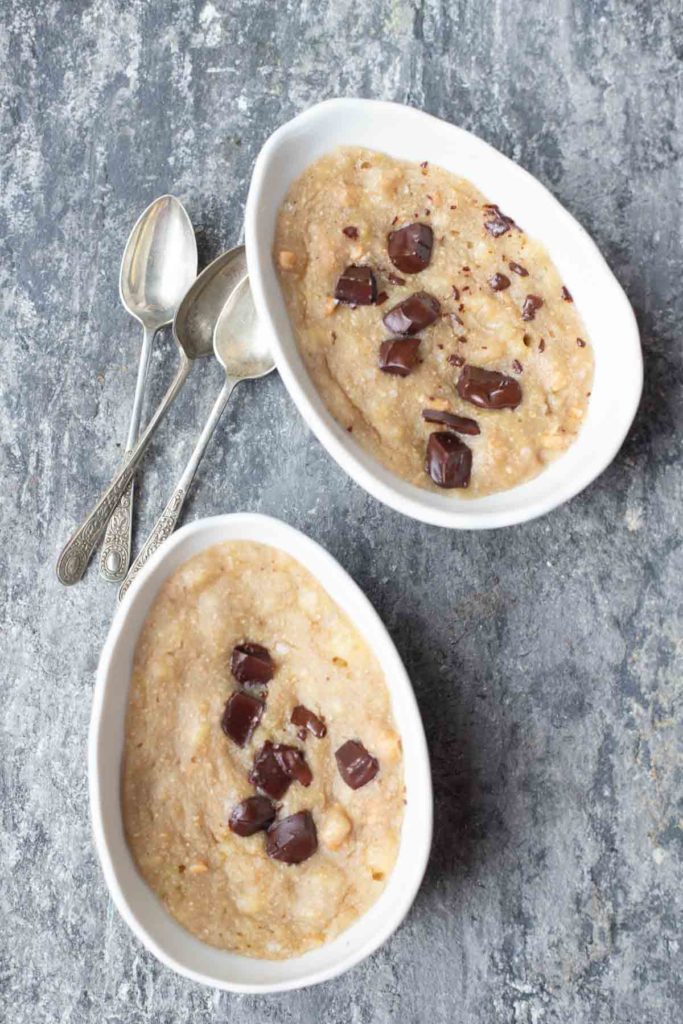 Video recipe for banana mug cake
I have shown the texture of both pudding and a cake when microwaved at different timings, watch the video till end.
Storage and Freezing
The obvious answer is not to store microwave mug cake for a long time, I ate the cake 4 hours after I made it, tasted fine so rightly suitable for a day trip but not longer than that.
No, don't try to freeze this cake.
How to serve banana mug cake?
You expect me to suggest you serve this warm banana mug cake with vanilla ice cream?
Depends on your daily calorie limit ,really. if eating to satisfy your sweet cravings, just serve it plain, this is the sweetest cake I have ever ate.
A scoop of vanilla ice-cream makes a great pair but if only your daily calorie limit permits.
Can I use other fruits?
I haven't tried myself but i do think this works well with apple sauce or blended apple, strawberries and mango to but banana is the best.
To serve gluten-free, choose gluten-free oats and for vegans, make sure to use maple syrup and vegan chocolate.
Print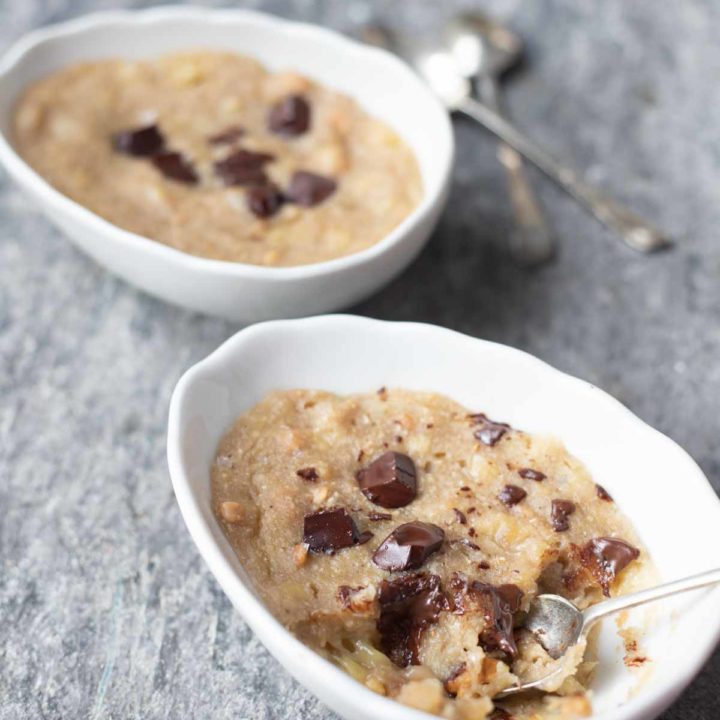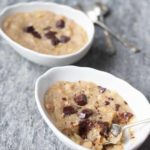 Oil-Free Vegan Banana Bread Mug Cake
---
Author:

Siri

Prep Time:

5

Cook Time:

2

Total Time:

7 minutes

Yield:

2

1

x

Diet:

Vegan
Description
a warm gooey oil-free vegan banana bread mug cake ready in less than 5 minutes. It is a healthy breakfast and dessert recipe
---
1

large banana

¼ cup

oat flour

1 tablespoon

crunchy peanut butter, no added sugar

1 tablespoon

maple syrup, optional

1 teaspoon

vanilla essence
dark chocolate chips or chocolate pieces.
few sprinkles of sea-salt, not to miss
---
Instructions
Mash the banana with a fork until mushy.
In a bowl, take mashed banana, oat flour, vanilla, peanut butter, maple syrup and beat well to form a runny batter.
Pour into mugs or microwave-safe bowls. Top with dark chocolate chips or chunks.
Sprinkle sea salt and microwave on full power for 2 minutes by checking in between. See notes for timings on different textures.
Allow it to cool down and enjoy wit a spoon.
Notes
the cooking times in microwave depends on the power of Microwave and the thickness of mug etc. So always check in between while you cook the mug cakes.
Also, this cake tastes better in any form like a pudding which can be achieved cooking for 1 minute. 
for a more cakey texture, microwave for 2 minutes or more in intervals.
You can totally skip the maple syrup if the bananas are ripened enough.Can use honey also instead.
Use dark cooking chocolate as it melts nicely on the top of the cake. 
Don't skip sea salt, it is a total game-changer.
Category:

Dessert

Method:

Microwave

Cuisine:

British
Keywords: mug cake, banana, chocolate, oats, vegan, healthy
More healthy sweet treats